Interview conducted October 10 2019
Interview published October 17 2019

"Focus is always on making great songs."
Swedish hard rockers Eclipse put out their new record Paradigm on October 11th. Metal Covenant met vocalist/guitarist Erik Mårtensson one day prior to release date at the band's release party at Hard Rock Cafe in Stockholm.

Tobbe: The new record is out tomorrow. What may Eclipse offer their fans this time?
Erik: As usual the best record so far. Well no, but it's great. Some new tricks, some new sounds, some new thinking in the songwriting. It's still a whole lot of Eclipse, but to us it feels fresh, you know.
Tobbe: As a listener and someone who knows about Eclipse's catalogue, I see no huge surprises and you haven't exactly changed style.
Erik: No, we don't want to do that. We don't want to make an industrial metal album. Focus is always on making great songs. But strictly melodically, there's quite a few differences. The thing is also to make different stuff, but try to get the production to make it familiar.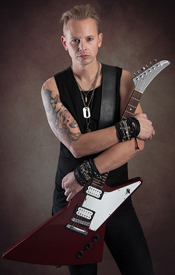 Tobbe: If it's truly the case, what makes Eclipse's records a little bit better than your so-called competitors' records? What do you have, that many other bands don't, that makes people enjoy your music?
Erik: We try to not sound like someone else. We always try to find little things all the time. Our influences are different from what people might think they are. We never listen to bands similar to us for influences, but influences come from kind of like everywhere. And that's, I guess, to not… Well, I don't know. But we do what we like ourselves.

And we're very tough to ourselves too. Nobody comes through with something that's kind of good, but we immediately tell each other if it's not good enough. Then you have a certain time to make a record and these are the best songs we could make during this time. We couldn't have made this record better, because we had this certain time to write, and then it was like "Now it must be recorded, and then it's over!".
Tobbe: You've released a couple of singles so far and tell me about those ones.
Erik: Well, you know, my favorite songs aren't the singles. There were long discussions about which singles to release. We didn't agree within the band. When we each picked some songs, we ended up with 8 in total and "How will we be able to pick 2 out of these?". The record company [Frontiers] had a completely different idea than what we had. So we sent out the whole record to 30 people, in order to say which songs would be singles. But every song was chosen by someone as the first single. But Viva La Victoria was a song that stuck out, and I guess I like that one as well.

The album is pretty wide and there's quite a few things on it, you know. From heavy to light, and to almost indie rock and semi metal, you know. So, you know, the singles, like, "Well, which side is going to be shown?". But at the same time: well, whatever, it's just songs, and you don't have to take it too seriously and just "Okay, let's just take these.". The record company really wanted The Masquerade, but we didn't believe in that one whatsoever. I was even doubtful about having that song on the record actually. But it turned out good in the end.

It was quite tricky to record. We rewrote it many times and when you start rewriting stuff you get worried. Viva La Victoria: We finished that one on the double. On the first day we wrote it, it sounds pretty much like it does now. And that feels safe. But some songs are hard to get together immediately.

United was a song like that and we remade it a gazillion of times. I was happy with the first rough, but Magnus Henriksson [guitar] wasn't happy with it at all. The chorus was a cappella at first. That was the single, you know. If it would have stayed in its original it would have been a really hot single. Now we destroyed it a little bit. [Laughs] But we're a band, and we have to meet in the middle sometimes. You have to compromise. And that's what makes a band great, you know.
Tobbe: You mentioned in the beginning something about that this is your best record so far, and I respect that opinion, but out of a fan perspective, can't this album just be as great as Armageddonize [2015] is and can't this album just be as great as Monumentum [2017] is?
Erik: Absolutely. But I don't like the old, you know. I like to do new things. I like to write new stuff. But I feel that I'm very happy about it. The record was finished in January and I still think it's really great to listen to it. I still like it. There's something about these songs that makes them stick. They have some kind of a length, which makes the record not so direct as the previous ones. But I think this album will last in the long run.

If you give it a chance and listen to it a few times, then you will discover that it's great. The goal with this record was to make songs that crawl under your skin. That give you a feeling of something. That isn't just great, but something more. And that was the criterion for a song, you know.
Tobbe: You've written a lot of lyrics and in what way does your lyrics develop over the years? Or don't they? How do you look at this?
Erik: When we made Are You Ready To Rock [2008], the goal was to make immature lyrics. But along the road it has become more serious. And I like a little bit more serious subjects in my lyrics and not only about party. But there's also tongue-in-cheek lyrics like Mary Leigh, but it suits the song, you know. But it feels more serious today. But what's most important is that they match the song. If it's a serious song it needs a serious text, you know.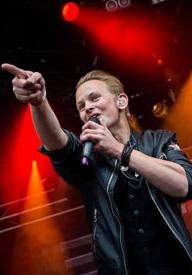 Tobbe: You have announced that your bassist Magnus Ulfstedt is no longer part of the band, and I say, what happened? And no sweet talk now, okay?
Erik: We started fighting and he won and then I thought that it wasn't fun anymore. [Not to be taken seriously.] But it has been in the works for some time. It has been a long process. To be in a band is like having an additional family and it really takes a lot of time. It takes a lot from everyone to do this. It's a lot of hard work, that isn't fun, but you have to stay positive and have a nice attitude when you enter that period. No one wins if there's a shitty atmosphere and negativity. Things became better for Mange when he had to kind of take a step aside and focus on his life, you know.
Tobbe: But you announced it pretty late. Just 3 weeks before the record is out.
Erik: Well, but it came to a critical point there somewhere. And now this whole touring life starts and that takes a lot from you personally. We felt that it didn't really work the way it was. It would have just gotten worse and we didn't want to end up being adversaries for life. So it was better to just part ways.
Tobbe: The tour starts on October 22nd and who will play the bass?
Erik: Victor Crusner, who is [drummer] Philip's little brother. He's playing with us tonight as well.
Tobbe: Is this a temporary or a permanent solution?
Erik: Well, we will see. We will be out on tour for almost a month and if it's still fun after a month together, then we will know. This is his trial by fire. If it's still just as fun to hang out after 4 weeks, then maybe he is the right guy for the job, you know. Or maybe he will feel that it doesn't feel right, or maybe we will feel that it's completely wrong. But he's a really sweet guy and a good player. And musically he comes from a somewhat different place, which is nothing but good. Different is always good, you know.
Tobbe: It's probably hard to become a member of Eclipse, considering you and Henriksson is such a cohesive unit as songwriting partners, you know.
Erik: Yes, we're like brothers, you know. It's like we're two pairs of brothers in this band. Two real and two almost brothers. Me and Mange have hung out for 20 years. It feels like it's a lifetime. For my entire adult life I've been working with Mange, you know.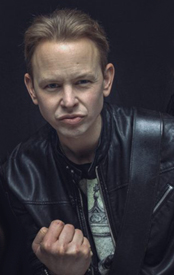 Tobbe: And to a really sad thing. Your partner in Nordic Union, Ronnie Atkins [vocals], recently told everyone that he is being treated for lung cancer, and how did you react to this sad news, as a person who knows him?
Erik: It's terrible. You know, I knew about this a couple of weeks ago. Something happened to him, you know, when he was out on tour with Pretty Maids. And then he has been examined several times, but they didn't find anything. But now they found this. But as he said "I feel well. I feel like I'm in super shape. They say that I've got cancer and is seriously ill, but I feel really well.".

Of course it's really sad. I'm thinking about him a lot right now. I really like Ronnie and we're talking quite a lot on the phone, on and off, you know. He's fantastic. And he's a really serious musician. Most artists are kind of nonchalant when they're over 50, you know. But he gives 110 percent. Really serious, and I like him.
Tobbe: What's the status of Ammunition right now? Do you guys have any plans?
Erik: I haven't got a clue actually. Åge [Sten Nilsen, vocals] has released a solo album. He seems to do a complete TV race. He's been on a TV show in Norway. I don't know at all. It has been a while since I talked with Åge actually. At the moment it's total peace and quiet, you know. But we've been texting each other and maybe we will start writing something soon.
Tobbe: Do you have something else going on at the moment?
Erik: Yes! This is really fun: I'm working on a new Sha-Boom album with Dag Finn [vocals]. It's becoming really great. It's just so sick how great it is. We're just sitting there laughing about it. It's so cool. It's undoubtedly the best Sha-Boom album really. It's so damn good. We're so psyched. We have laid down vocals on almost the whole album. It's almost finished. Thomas Broman from Electric Boys [1993-1994] on drums, and Jonas Öijvall, a really great keyboarder, is onboard.

Related links:

www.eclipsemania.com
www.facebook.com/eclipsesweden