Interview conducted September 26 2009
Interview published October 01 2009
Echoes Of Eternity have just released their sophomore outing - 'As Shadows Burn'. I have seen them on tour, and had the privilege of getting to know the band members, personally. When an opportunity to converse with leading lady - Francine Boucher - presented itself to me, I seized the chance to exchange a ton of words; even if the gist of our conversation was mostly convivial.
Francine brought me up to date on the progression of the band, their new guitarist, the new album, and a whole host of memories good and bold. Enjoy our echoes of fraternity...

MettleAngel: Well Hello there Francine. It is always good to hear from you. We have met on a number of occasions, when you toured with Edguy, and with Symphony X. I still have the poster from the Peabody's show with Sanctity on July 20th, 2007, hanging on my wall, in my bedroom. It is a hachured blue, grey image with you donning that derby.
Francine: I remember you, you are that tall blonde, with long hair, who knows everything there is to know about metal.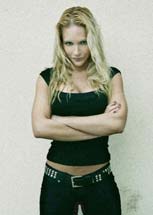 MettleAngel: Thank You for the vote of confidence, but honestly I only wish I did. I do try to keep up with all the changing trends, but there are just so many new bands, labels, shows, friends at My Space, etc. Everyone wants me to review their new album, and everyone has a new album out! It all becomes so damn frustrating. I just do what I can to serve the metal community.
MettleAngel: I love metal, and I treasure every opportunity I am given. I appreciate all the bands sending me music. I will work with as many as my freedom and patience allow.
MettleAngel: Thanks, again! I totally missed your first interview run. Once I finally got through all my E-mail, the time slots had come and gone. LoAna from Nuclear Blast was very understanding, and gave me first dibs on the second round.
Francine: LoAna is a real sweet heart. Living here in California, we get to know the Nuclear Blast staff personally. We get along with them so well. The Century Media family is in the same building, on another floor.
MettleAngel: I wish I had a better rapport with Century Media. I have had my issues with their P&R department. I do work very well with Nuclear Blast, though, and they have better bands, for the most part. So, let us get this interview underway. I assume that I am your last one for this Saturday?
MettleAngel: Cool, this is how I wanted it to be. I certainly do no want to ask you the same questions, which you may have already answered, ad nauseum. I do want to focus on your new album - 'As Shadows Burn'.
MettleAngel: Indeed it is! That was just released yesterday Sept. 25th all throughout Europe, via Massacre Records Distro.
MettleAngel: I saw on the Nuclear Blast web page that you are offering a killer promo package consisting of the CD / DVD, T-Shirt, & signed poster. That sounds cool!
MettleAngel: That is good news! It is always encouraging to know that metal fans are still striving for the CD package, and not just the digital music, which is what we writers are offered, and given.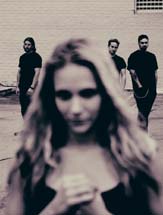 MettleAngel: The DVD is not part of the actual CD release, right? It is just part of the promo pack. Does it not just consist of footage of the band in the studio?
MettleAngel: I am sure those filmed interviews are more productive than our idle conversation, and my bullshit ramblings?
MettleAngel: I was only gibing you, as I enjoy conversing with you as well, and have in the past, too.
MettleAngel: I am full of it, alright! Your album was released by Nuclear Blast the same day as the new Sonata Arctica, which was a remarkable turnabout for them, and the new Vader - their debut for Nuclear Blast.
MettleAngel: My point is that this shows the diversity of the label to release three totally different, but accomplished metal acts on the same day. Echoes Of Eternity is a hard band to categorize.
MettleAngel: The music is thrashy, and aggressive, but your vocals are more somber. You are neither a soprano, nor harsh like Angela in Arch Enemy. I describe the music as a mix of Benedictum, the late After Forever, Epica and Slayer (whose new albums I am excited to hear!) .
Francine: My singing style is a bit unique, I guess. Even though the album just came out, we were actually in the studio last December.
MettleAngel: Oh really, how long did it take you to record the album?
Francine: The drums took about three days for Kirk to lay down. We all were in and out of there for about a month, give or take. We went in when we could, nights, weekends, etc.
MettleAngel: Your debut release - 'The Forgotten Goddess' - was heavily promoted because Roy Z assisted with your demo. The album received mixed reviews from BW&BK, and Blabbermouth. With so many female fronted acts, you may have been lost in the shuffle. On the new album, I hear more intense riffs, and melodies more akin to Détente or Fear Of God from the late Dawn Crosby, or perhaps some Sentinel Beast, and Hellion, but not as Traditional or melodic.
MettleAngel: The sticker on the CD case describes the music as being, "A much more aggressive, and passionate album...the heaviness of extreme metal incorporated with the angelic vocals...". I assume that Logan Mader worked you hard in the studio.
Francine: Yes, he really pushed us hard. The album was all ready in January of this year, but it was delayed due to the artwork.
MettleAngel: What happened with that?
Francine: The original album cover concept was just not clicking with us, so we felt the need to search for a better artist. This took a few more months, but once we found Gustavo Sazes we knew we had the right guy. Then the label decided we should opt for a fall release.
MettleAngel: The canicular season is a busy one for metal, so the label were smart in planning this. I understand that Gustavo has done some other metal covers like Old Man's Child, Firewind, God Forbid, etc. right?
Francine: I think so, he is Brazilian, and was referred to us. We are all very happy with the end result.
MettleAngel: That is good to hear. In 2008, you worked with Sam Young on guitar. He has since been replaced with your current guitarist - Brian Eagle - who plays on the new album. What happened with Sam?
MettleAngel: So he is essentially an old friend, and not just a replacement musician?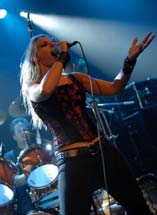 MettleAngel: Then you could say he is part of the EOE family. I would assert that having two guitarists does enhance the sound, and make the metal more rippin' and ragin'.
MettleAngel: I have watched the band play live on a number of occasions, but only with Brandon S. Patton on guitars. I look forward to witnessing the two guitarists in tandem shredding. On the CD, I do notice that live vibe, which you describe. I also feel that your vocals have improved, allowing for more variation.
Francine: It is difficult for me to sing softly in a live venue. This was the main problem with my vocals on - 'The Forgotten Goddess'. On this new album, every song was written with a live environment in mind, and heart. I acknowledge the heavy contrast.
MettleAngel: Your vocal range is more mid-tempo, not really guttural, but also somewhat commercial, like Pat Benetar, Blondie, or Susanna Hoffs. You have told me though, that you do have a certain fondness for Death Metal music.
MettleAngel: You described to me how you like to drive down the streets of L.A. blaring some obscure Death Metal bands. This is hardly a stereotype for a woman, no less one as professional as yourself.
MettleAngel: I read that before you joined up with the boys and formed Echoes Of Eternity, you were working on film scores, kindly explain, and elaborate.
Francine: I was working with some symphonic stuff and electronica. Honestly, I did not feel the urge to follow through. I interned for Hans Zimmer. The work load was far too demanding. They would be at it 14 hours a day seven days a week.
MettleAngel: So you did not want to be hoisted upon your own petard?
Francine: Let's just say that I wanted to have a life, and this was not going to be it. I worked a bit with post-production, but then I knew I had to get out.
MettleAngel: So this is when you hooked up with Brandon, and were dating Kirk Clarrison?
MettleAngel: I assume that is because Metal is truly your forte' (pronounced fort), I learned that by watching an episode of - "Unhappily Ever After" - A WB TV sit-com from the writers of "Married With Children". I also imagine that moving to California, from Florida really has it perks, besides the pleasant climate.
Francine: Definitely, there are so many shows that come through here. No one ever passes us by. Sometime we get so spoiled trying to decide what band we want to watch play.
MettleAngel: I am envious, unless we drive to Cleveland, or Chicago, we seldom get too many Metal acts in Cincy. We only ever get a handful of acts to swing by. Thankfully, Metallica / Lamb Of God/ & Gojira were just in town, and that was awesome!
MettleAngel: Well, we will travel to Dayton to catch Stryper in their full Yellow & Black regalia, for their reunion tour, in a week. Speaking of touring, you were part of some great packages for your last release, what do you have lined up for this album?
MettleAngel: We just caught Doro a few weeks ago in Cleveland.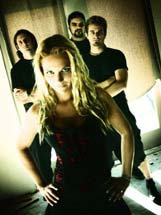 MettleAngel: That sounds promising. Doro has been keeping it true, celebrating 25 years. She had Veronica Freeman from San Diego's Benedictum sing with her on her 'Celebrate' (EP). Who knows, maybe she will ask you to serve as a guest vocalist on her next big project.
MettleAngel: Are there plans for filming a video for the new album?
MettleAngel: That is the first track off the new CD. I am curious, does that have a Tarot connotation?
Francine: Yes the Ten Of Swords is the grimmest card in the Tarot deck, but its also a card of hope because when you hit rock bottom, the only way from there is up.
MettleAngel: That is a wise assumption. I have always been fascinated with the Tarot. Wendy is quite proficient with it. I myself prefer the Runes. Did you finish filming the whole video, then?
Francine: Yes, we have to edit it, so that may take a few more weeks, or even up to a month. We want to take our time with it, and make it worthwhile.
MettleAngel: Where was this footage shot?
Francine: There is this really awesome location called Joshua Tree, just east of L.A., near Palm Springs. This is such a beautiful locale. You and your family would love to camp there.
MettleAngel: I am familiar with this, being myself from California. My wife has been bugging me to take a vacation, and visit where I grew up, which was on Coronado Island, in San Diego.
MettleAngel: We will keep it in mind. Thank You for your time, and as always, it is a real plasure to speak with you.
Francine: Michael, it was great to talk to you again, too. If you have any more questions you want to ask, feel free to contact me.
MettleAngel: I will be in touch. Congratulations on the new album. Send my best to the rest of the guys in the band.
Related links:
www.myspace.com/echoesofeternity
www.vampirefreaks.com/u/echoesofeternity