- Interview by David, 26 November 2005
--------------------------------------------
Mikael Stanne, singer in Dark Tranquillity, has been the perhaps most recurrent interviewee on Metal Covenant. But when I met him at Växjö Metal Festival I took the opportunity to ask some more questions.

You're going on a quite intensive tour now in December…
- Yeah, starting on Monday in England. So we will just go home for a few hours after this gig and then on to catch the flight. It will be a headline tour so we will be able to play a bit longer and offer a few surprises in the set. At the same time all the bands [also including Chimaira and Hatesphere] will be treated as equals. It will last for four weeks, until Christmas.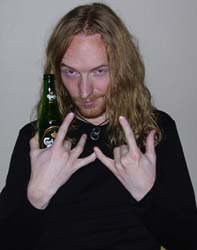 I read somewhere that you don't really like long, intensive touring…
- It's very bad for your health and destructive for your body, haha… But we have done longer tours, six to seven weeks, so it will be okay. Actually it feels very relaxed this time. Everything will be taken care of by the crew. And we don't have to do promotion or anything like that between the concerts.
Did you ever think that you could have reached even further as a band with more touring?
- Not really, it's now we feel that we really have something to offer, so it's now we want to present ourselves for the world. We also have a great management now, so it's all falling into place. Maybe we have some more work to do on the American market. Anyway we will play live as much as possible from now on.
What can we expect from you on this tour?
- We will experiment more with the set and play some older, maybe unexpected songs, some longer songs and some slower ones. We will probably change the set slightly form night to night. Some fans follow you on tour and see many gigs in a row, so we want to give them something unique. At the same time there will always be those who miss a song they've heard that we played the night before. We will do a couple of songs from Character that we didn't play this summer and something from Projector that we haven't played for a while.
FreeCard?
- That's one of them, yeah, one of my favorites. Maybe not tonight though, I don't remember…
Well, you have to put it in then! Speaking of Character, how has it been received?
- Very well, it has sold almost the double compared to Damage Done. Part of the explanation is that we got much better promotion this time. Our greatest markets are in Germany, Italy, Japan, France and Spain. Sweden and USA are good as well.
How do you feel about the label 'Gothenburg Death Metal'?
- We don't think about it really. What is it? High quality and more melodic? But it is interesting to see that we have got some American followers. It is always flattering with appreciation for what you do. There seems to be a second wave around now. But it can also be a restraining factor for new bands from the Gothenburg area. They automatically get a label that they perhaps don't want.
One can get the impression that all of the bands who started this wave know each other, is that so?
- Actually, yes it's close to the truth. Many of us grow up in the same blocks, we started to play at the same time, inspired each other and exchanged members between us. It was really exciting during those first years when everything went on underground. Those who showed up for the gigs were those in the closest circle and we had a lot of fun.
I saw that you were enjoying Masterplan at Gates Of Metal this summer…
- Yes, they are great, and Jorn Lande is a great source of inspiration for me. Well, this show may not have been the best, but…
But Lande's style of singing is quite far from your own…
- Yeah, but there is so much else to learn from: expressions, feelings and stage personality. Those things are crossing all genres.
You played a 45-minute set at Metaltown and 1hour and 15 minutes at Gates Of Metal the weekend after, how come?
- It was simply the way the arrangers wanted it. Also the Swedish radio P3 taped the gig at Gates Of Metal so they probably wanted a longer set which they could edit before sending it. It would be up soon I think. The biggest difference is that when you do a longer set you cannot hold the same intensity as when you do a short one. Gates Of Metal must be the best festival in Sweden now when 1000 Decibel is closed down. It has just the right size.
Do you have any clear idea about how your next album will sound like?
- It's impossible to say. We have written a couple of songs, but how it will sound in the end is too early to decide. It usually doesn't appear until when we've entered the studio.

Related links: