Prior to the gig Dark Tranquillity performed in Stockholm on March 05, our photographer Michael and our live reviewer Niklas got the opportunity to have a chat with singer Mikael M. Stanne. Below you can read the result of that meeting........

Metal Covenant: With your new album "Character" you climbed to the 3rd place on the Swedish album chart. Why, do you think?
M. Stanne: Well, Century Media did a hell of a job promoting it. Maybe it was timing? To us this feels like the least commercial album we have released. That it has entered the charts all around the globe feels really strange. It helps that we have released a single and a video, people have discovered Dark Tranquillity. We have always done our own thing and believed in it.

Metal Covenant: Your music is often described as "melodic death metal". Is that a term you feel satisfied with?
M. Stanne: If someone asks I usually say death metal, the melodic kind. It feels stupid to start calling it something else. I've heard so many descriptions of our music that I can't keep up with it anymore. People may call it whatever they like.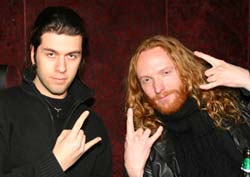 Metal Covenant: How has the tour with Kreator been so far?

M. Stanne: Really, really great. We have been playing for five weeks straight now, every single day. We've had one day off and this is the final show.
Metal Covenant: Will there be anything special tonight, then?
Metal Covenant: You have an upcoming tour in the US, together with Soilwork, Hypocrisy and Mnemic. What are your expectations?
M. Stanne: I think it will be a blast! Just us Scandinavians and lots of drinking. Usually when you tour the US it's an American band that headlines, but this time we just go there and kick ass. We've been touring with Soilwork and Hypocrisy before, so it feels right. "Character" has done really well over there. Soilwork's new album will be released there soon and it will be a success, too.
Metal Covenant: What kind of music do you listen to yourself?
M. Stanne: Everything! All different kinds of music. We sit here in our tour-bus and listen to everything from really brutal stuff to more soft music. Personally, I mostly listen to progressive rock and lots of stuff from the 70's. Everybody listens to everything, especially when you're on tour. Then you want to block out everything that has to do with death metal and just listen to something entirely else.
Metal Covenant: Where do you get your inspiration to writing lyrics from?
M. Stanne: As for me, it comes a lot from the music itself. It inspires me to lure out frustration and anger. Stuff I hate about myself and people in general are the things that make me want to write.
Metal Covenant: Where will Dark Tranquillity be in about 2-3 years?
M. Stanne: We have probably released a new album and sitting here, with a new tour. We've done better and better for every record released. Since we love to write, everything else is just a bonus. I believe we'll be doing the exact same thing and if we're lucky even more people will appreciate it.
Metal Covenant: Describe a typical Dark Tranquillity-concert!
Metal Covenant: How do you reason when you put together a set list?
M. Stanne: It's really difficult. First, we have the best tracks from the new album, but we have to make sure they work well live, as well. Then we obviously have to play the classics. We also try to play something new on every tour, something we've never played live before. On this particular tour we've been using different set lists every night, basically.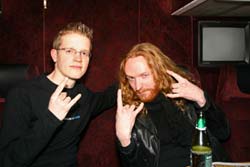 Metal Covenant: Which country is the most fun to tour? You seem to have many fans in the Far East, Korea and Japan for example?
M. Stanne: It's really exotic over there, since you're so far away from home. It's fantastic since the whole thing is so huge, and you get treated so well it's almost ridiculous. When it comes to playing I think I prefer Italy, people are totally wild over there!
Metal Covenant: You've been seeing quite excellent reviews on your new album "Character"…
M. Stanne: It's totally awesome; I've never experienced something like this. We've been spoiled with good reviews on our earlier albums, but this is something else. I certainly cannot complain. When it comes to sales, "Character" has sold better than our last album, "Damage Done".
Metal Covenant: Which one of your own albums and songs do you prefer?
M. Stanne: When it comes to album, I have to say "Character", obviously. My favourite song is probably "Razor Fever", from Enter Suicide Angels. We rarely play it live, though.
Metal Covenant: Best album and song of all-time?
M. Stanne: Best album: Änglagård - "Hybris". Best song: Jeff Buckley - "Lover, you should have come over". It's not metal, but it works wonders. It's not easy to say when it comes to metal. Best album… Judas Priest - "Painkiller"? When it comes to songs it's impossible to narrow it down to one.
Metal Covenant: Your sharing this tour with Kreator, but now when you've become more popular than ever, perhaps the fans will want a tour with just Dark Tranquillity?
M. Stanne: Our plan with this tour was to go out and play to a whole lot of people, then it's festivals in the summer and after that we will do our own tour. I think it will be sometimes during November or December.
Metal Covenant: What is the one question that you never have been asked during an interview, but you wish you had?
Metal Covenant: Let's put it this way then: Which is the sickest question you've been asked?
M. Stanne: There are always those who pretend to be psychologists and ask questions like: If you were an animal, what kind would you be? I got a weird question a few weeks ago: Imagine a garden that you could only fill with one thing, what would it be? *sighs* I said myself!
Metal Covenant: Any more of those sick questions, Mr. Stanne?
M. Stanne: I received a questionnaire once, with 30 questions about Sweden, classical physics and sports. The Swedish questions were about when some politicians died and how high the mountain Kebnekaise is. The fun part was that the interviewer taped me writing the answers on the questions, so the only thing heard on the tape afterwards must have been a pen writing on a paper. That makes me so angry! *laughs*
-------------------------------------------------------------------
Make sure to check the live review by Niklas and the photos from the gig taken by Michael.
-------------------------------------------------------------------

Related links: