After the split from Dark Moor, we can now find Elisa C. Martin in her newly formed band Dreamaker. They have recently released their debut album Human Device and we got the opportunity to feel her a bit on the pulse about the new effort and about her as a person.

Tommy: Perhaps we can start with a short introduction to the band, and how it all began. What brought Dreamaker to live, and how would you describe the musical visions you had in the band when it all started? Looking at the finished debut album, how well do you feel that you have managed to fulfill those visions?
Elisa: We want to make music that leaves to us the heart and not to reject good songs because they do not sound power metal. This was not possible under the name of Dark Moor. We prefered to be a new band (although it is necessary to fight a lot) but making music without censorships. When I look at the finished debut album I feel that I'm very proud but I know that with our second album we will be more Dreamaker...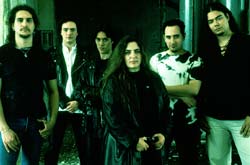 Tommy: The news section on your labels website states that the music of Dreamaker shouldn't be described as a Power Metal album but instead "a new step in the metal genre". I personally think that your album nevertheless easily qualifies more or less as a power/heavy metal one, but how would you categorize your music in your own words? What is the biggest difference from your previous band Dark Moor, according to you, for the ones that have not heard Dreamaker yet?
Elisa: Dreamaker is not a power metal band. I think that in this first album there are three song that can remember to the sound of Dark Moor but I can say to you that we do aggressive, melodic and direct music… I think that we are offering a new way for the future in the Heavy Metal, people is bored to listen always the same kind of riffs, the same vocal lines… we are offering something new and something different. In our second album we'll be more Dreamaker.

Tommy: The new album Human Device was produced and mixed by Nino Laurenne, guitarist and main songwriter of Thunderstone, and was mastered by Mikka Jussila in Finnvox Studios. How did it happen to be them, since the two bands are not even on the same label, and what is your impression about working with these guys?

Elisa: Our music needed a powerful sound and we looked for a studio for it, all of us decided to record the album at Sonic Pump ´cos we have good references about it, and sincerely the sound of our cd is really good. We're very satisfied with the work of Nino and Mikka Jussila, they are two professionals. Honestly, there are good studios in Spain but not for Metal.

Tommy: You are the one writing all the lyrics in the band and in comparison with the words you wrote for Dark Moor, your recent work for Dreamaker feels much darker and less "happy" - is that the kind of lyrical approach we should expect from Dreamaker also in the future? Tell us a bit about how the creation of lyrics works. Where do the inspiration mostly come from, and how do you like to work? Do you build the music around a ready lyrical concept, or create a story on the musical mood?
Elisa: Well, when I write lyrics from Dark Moor I must to write about history or fantasy or something like that because was imposible to do other things inside of this band. Now I'm free for to write about all that I want so when I started to write the songs all the time I write about myself, my sentiments, my experiences because I like that you read my lyrics and you think "is my life!!!".
Sometimes I like to write about a book who I read, for example "welcome to my hell" or simply I write about something irreal...
Normally first I do the vocal line and then I write the lyric and the last we make the music. Other times they give me the music and I write the lyric inspiring me in the music.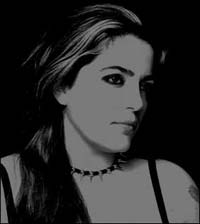 Tommy: Was it the split of Dark Moor that led to the birth of Dreamaker, or was it because Dreamaker formed that Dark Moor eventually parted ways? Dreamaker has been described as "a new band where they could represent all their own ideas" - this sounds like there were mainly musical differences that caused the separation. Am I right, or were there a more deeper story to it?
Elisa: When Dark Moor split Jorge, Albert and me knew that had the same way of seeing and feeling the music, the same way of knowing what is a band. We had to be still united, to continue doing music that is what always we had done together... DREAMAKER was born of an illusion.
Tommy: You are also involved as vocalist in the critically acclaimed French band Fairyland. Which one of the two do you consider to be your main band nowadays, and how exactly did it turn to be that you ended up in yet another band shortly after joining Fairyland? Can you shortly also tell us a little bit about the plans for the nearest future regarding that band?
Elisa: Well, I sang with "Fairyland" because they wanted my voice in the albun though I have to say that it was never "my second band". I really don't know if maybe in a future they'll return to call me but really I don't have too much time for anything that is not DREAMAKER.
Tommy: You have before answered a short question for our website where we learned that your other great passion in life besides music is to travel around on a Harley Davidson. Do you consider yourself a biker-girl then? And if you had the chance to make the journey of your dreams, without concerns about money or time - where would you like to go, and why?
Elisa: Yes, of course that I'm a biker-girl. When I was 18 years old I buyed my first bike and I went to London only for to test it... hahaha I was living there one year!!! My mother wanted to kill me!!!
The journey of my life will be ride around Iceland because this countrie have something special for me.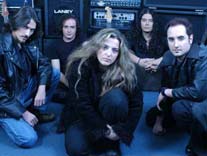 Tommy: You have in my opinion a delightful voice. One of the best in the business. Have you ever in your life attended any vocal schools or classes to train it to what it have become? Do you have any special tricks or daily trainings that you perform to preserve your voice?
Elisa: I am a lucky woman because the nature has given a very elastic voice to me and I can make many things, to sing many kind of music. I don't study very much so I must take care of me! I don't do something special to preserve my voice... simply I sing every day...
Tommy: Being a woman in the mainly male dominated metal business - has that given any troubles or nasty comments from people over the years? Do you have any advice to give to other women who want to make it in this genre of music?
Elisa: Yes, over the years too much men (never women) said to me bad comments but I never listen to they because I'm a fighting woman but I tell you that was very hard for me. Luckily everything has changed.
Hey, metal women, if you want to be a piece of this metal world you must fight with all your heart and never surrender... we have balls!!!
Tommy: How does the nearest future look for you? Are there any festivals planned for the summer and autumn, and which bands will you in that case be touring with?
Elisa: I'm writing songs for the second album and helping to some spanish bands to record. We will play in some festivals in Spain, in may will play in Japan with Labyrinth and we'll finish the Spanish tour in June. After summer we want to make a european tour and we want to record the next album as soon as possible!
Tommy: I thank you very much for participating in this interview and sharing this information and your thoughts with us - these last lines are entirely for you. Any final words you would like to round off with - a tip, a recommendation or a thought for the future?
Elisa: I love to sing and I hope to be able to do it in your country because I promise to you that you will never forget a concert of Dreamaker. Many kisses from Spain, your friend Elisa.

That was all I had for now, Elisa - the staff at metalcovenant.com wish you all the very best for the future, and we sincerely want to thank you for keeping the spirit of Metal alive!

Related links: