After the show I met with most members of Dragonforce for an informal interview and some good times. Herman Li unfortunately, had the flu, and ZP was pre-occupied with other matters, so I spoke with the others, most of my time was spent with Sam who by now was quite innebriated but still surprisingly coherent. I addressed him as the Demoniac on a Powerquest for more beer. He was instantly astonished with my knowledge of his cult band from Downunder - Demoniac, so I began to interrogate him.

MettleAngel: I'm a huge fan of the Demoniac CD - The Fire and the Wind! What inspired the raunchy CD cover artwork of seedy back door lovin'? On the cover of this CD is the outline of a man sodomizing someone with a beer in his hand flexing the metal sign. I assume this is all in good fun, right?
Sam: That's me Mate! I was doing a barmaid and a bloke snapped a shot of it. Later when me mates were deciding on an album cover, that picture was suggested, and I was like hell-yeah let's do it. So you can tell all Demoniac fans that is really me on the cover!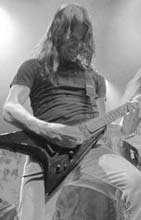 MettleAngel: I also relish the shot of you in the booklet with your bullet belt lying in a chalk-outline surrounded by beer cans. Is there any chance that you will re-issue the Demoniac titles which were on Osmose Records?
Sam: Those were good times mate, but I see no need to bother as Dragonforce, the band on your shirt, are the best band around, right?

MettleAngel: Dragonforce fans worship Demoniac, that is if they can locate it. I have a CD which I have copied countless times for friends, I hope you don't mind that, it's not like your losing money, right? It's a shame someone out there is making a bundle off bootlegs on E-bay!
Sam: Yeah, well, what can you do...do Dragonforce fans really like me on that CD, I really sucked in those days, and I'm not much better now...
MettleAngel: Huh, Excuse me? You and Herman absolutely shred on those CDs! Whatever happened to the vocalist?
MettleAngel: I really don't consider Dragonforce to be a Power Metal band despite what my wife's shirt depicts, how would you categorize the music?
MettleAngel: Yes I do, matter of fact I have my own term for it, I call it "Bleed Metal". Is Dragonforce then essentially a "Bleed Metal" band with soaring vocals?
MettleAngel: I never heard anyone else reference it. Black + Speed = "Bleed Metal". I know you get asked 'ad nauseum' who your favorite guitar influences are; but given your incredible guitar talent do you care to comment on this, who are your main influences?
Sam: I'm not really that good mate. I hang me guitar low so I don't look too gay; basically, I'm just wanking on stage, you know. Actually, I prefer thrash, mate! You know like early Slayer, Forbidden, Whiplash, bands like that are why I decided to play guitar.

MettleAngel: What about Chuck Shuldiner and James Murphy, were they influential?
MettleAngel: So you would agree that Chuck & James are an exceptional talent?
MettleAngel: Yeah, and now James has cancer, and a few years ago the bass player of Whiplash tragically died. I just heard that Spike from D.R.I. also has lung cancer.
Sam: No way! That's just not fair..I better slow down as I'm not getting any younger you know.
MettleAngel: And just how old are you?
Sam: Old enough...you know I just got into this whole new internet thing like five years ago, so I don't keep up with all the news. This is definitely the case with music on the internet.
MettleAngel: Yeah! Did you know that several fans admitting to downloading your new CD since they can't get it in the States, does this concern you?
Sam: Fu#k no! I don't know much about downloading, as I only recently started doing it myself. I'm still used to playing tapes on my walkman. Fu#k Metallica and Slayer those bastards, getting rich only hurt them. We do this for our fans! All our dedicated fans came to the show and even bought a shirt. It's not like we make any money doing this...well except for the free beer...that's a bonus! We will definitely be returning in July on a bigger bill.
MettleAngel: There was even a decent turn out for the female persuasion at least 20% die-hard women were crowding around the stage.
MettleAngel: Did you know that Exodus are playing in Cleveland tonight as well, I wish they could have played with you instead of Protest the Hero.
Sam: Exodus, really, I was never a fan of them, sorry. I love Forbidden though...

MettleAngel: Wow! I would have thought that Rick & Gary and now Lee Altus would have been a major influence on you. They do have Paul Bostoph on drums now too.
Sam: That's cool, but I gotta run as I still need to stow some of my gear. Now this was for Metal Covenant right? I've heard of you guys, so feel free to qoute me on the Demoniac cover, so long and cheers mate, I mean that was a cool interview so informal, where's your recorder or stationary?
MettleAngel: I've got it all in my head, and I will be quoting you, so look for it coming soon at Metal Covenant. Thank you again!
*********************************
I only spent a few minutes with Dave Mackintosh who was also quite ill and bombarded by fans asking him the same old drumming technique questions. I did ask him some rather surprising questions which he did enjoy though.
*********************************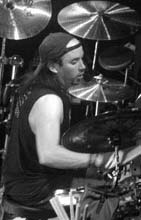 MettleAngel: Dave, off the top of your head name the first two Bal-Sagoth releases?
MettleAngel: I was just kidding, but that second CD has to be the longest CD title in metal ever...and just try to follow the lyrics with the booklet. So how do you like it now that you are playing for Dragonforce, a band which matches your drumming capabilities?
Dave: Man I love it! Especially, coming to America and meeting all you wonderful fans. Playing to a crowd like tonight was incredible. We were nervous in New York since it was so packed, but we really thought Cleveland would be a smaller group since the show had yet to sell-out before we arrived. Man were we wrong!
*********************************
Next up was Fred Leclercq the ex-guitarist of Heavenly, now a full-time member of Dragonforce, playing bass. I only asked him a few questions as well, since he too was busy with fans.
*********************************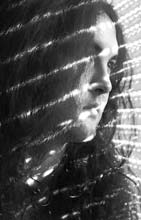 MettleAngel: Hey Fred, you are the ex-guitarist of Heavenly, right? You just joined Dragonforce as their new bassist, correct?
Fred: Who's Heavenly, never heard of them...are they gay? No just kidding, yes I played guitar and keys for them a few years ago. I also have my own band now called Maladaptive. I play bass for Dragonforce, but I also play guitar with them on stage for some encores, where all three of us just shred.
MettleAngel: Wow! You did not do that tonight though, as I would have really killed to see that.
Fred: Yeah, we wanted too, but by the end of the show, Herman was just too sick to carry on, since we played longer than anticipated.
*********************************
The last person whom I frequented was spending all his time talking to my wife and a few fans. Vadim the keyboardist was just so energetic and frenetic on stage that I was thrilled to finally drill him on his technique. He was also the most salubrious of the band.
*********************************
MettleAngel: Vadim you are from the Ukraine right? Since you are the youngest member of the band, how do you like playing keyboards in Dragonforce. You sure do have a great deal of fun on stage while you perform.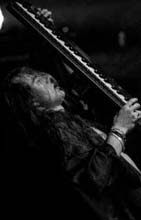 MettleAngel: That was a crazy keyboard solo you played, hyperfast and yet still melodic. You must really love the keyboards?
Vadim: Yes, I mean when I was growing up, my parents compelled me to take piano lessons. I just wanted to hang out with my friends, but I stuck with it and I guess it finally paid off. Since now I can do this full-time.
MettleAngel: Yes indeed, and I've never seen a keyboardist have such enthusiam and flexibility. You were playing with your various parts of your face, I even heard the Simpson's theme in your solo, and the Godfather.
MettleAngel: I totally agree and thank you and all your brothers for taking the time to indulge me. Send my love to Herman for a quick recovery.
After a very long night the wife and I said our final farewells and called it a night!

See also: review of the gig the same night 2006 05 05 »»


Related links: