Metal Covenant met Vadim Pruzhanov and Herman Li from Dragonforce in the office of Sound Pollution, Stockholm Sweden, in October 20 2005.

Michael: You released Valley Of The Damned in 2003 and Sonic Firestorm in 2004. What have you been up to since the release of Sonic Firestorm?
Vadim/Herman: (Herman:) It's been long touring, pretty much non-stop. We did the Wasp-tour for 7 weeks. We did a festival in Sweden, Gates of Metal, only I missed my flight but I got a T-shirt so i wear this instead (points to his chest). That was the only show I missed. Then we did our headline show in the UK, that was really good. Then we went out with the tour of Iron Maiden and the festivals in the summer and then we finished a UK tour again and that has brought us right up to here, I guess we recorded the new album during that time as well, just forgot about that.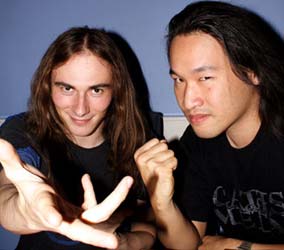 Michael: The new album Inhuman Rampage will be released in January 2006. Waht are your thoughts about it?
Vadim/Herman: (Vadim:) I think we are quite pleased with it, because it's like a step upwards from previous studio albums, it's like, much more of everything but at the same time sounds a lot better not just productionwise but also song-structurewise, the songs evolved a lot more themselves from the previous two records. (Herman:) I didn't expect you to say that because earlier when we were listening to the cd he was sitting here going: "Fuck man! Why doesn't anyone like this? How come anyone doesn't like this?" It's basically Sonic Firestorm pushed to a new level, a next step instead of finding a safe formula and sticking to it.

Michael: I read a previous interview with Herman where you said that you didn't want to release an album too early like in 9-12 months because you thought that the band wouldn't have developed enough. Do you belive that you have developed enough now?
Michael: Do you think that the songs developed enough if you only had a month to write them?
Vadim/Herman: (Herman:) Well, the thing is, we only had a month to write them before doing to the studio but during the recording we were still writing the songs and keep changing ang changing. (Vadim:) So the structure never stays the same, it's allways being improved by us. Thing that we add, things that we change.

Michael: You have an upcoming US concert, the first one in the United States, is that something you have waiting for?
Vadim/Herman: (Herman:) Yeah, we have been planing this US show for a long time. Fans allways keep email us. Instead of getting mails saying "come to the US, come to the US!" now thay are saying: "Are you going to play that song?" But now the problem is they are saying "we can't get tickets!" because it sold out in one day. That was like a shock, It's cool but dissapointing that not everybody can get tickets. No one expected that..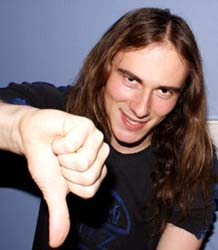 Michael: You have already played on the Wacken and Graspop festivals. What other big festivals would you like to play?
Vadim/Herman: (Herman:) Download festival in the UK, thats massive, i've been there to see Iron Maiden a couple of years ago.
Michael: How big is it?
Vadim/Herman: (Herman:) I don't know, but Wacken is a small place compared to it. (Vadim:) Over 50-60 thousand people? (Herman:) We were going to play this year, but we had to do Gods Of Metal with Iron Maiden. And we would like to play Sweden Rock Festival!

Michael: The best country to play in?
Vadim/Herman: (Vadim:) Difficult to tell, different countries have different fans and they all like the songs. (Herman:) The ones where the fans actually show up. The craziest fans right now are in the UK. (Vadim:) They got plastic swords and armor, jump of the stage, moshpit..

Michael: Why do they wear armor and swords. Is that something you have in your image?
Vadim/Herman: (Vadim:) I think it all began back in the days... (Herman:) No he doesn't know! (points to Vadim), because he's the keyboard player, he doesn't know the story! He hasn't watched the video. right, when we played 2003 in the UK Bloodstock festival, we met a group of 5-6-10 people, came with swords and axe, plastic ones, it was pretty funny so we took their swords and used them at the right moment in the show when he says in The Valley Of The Damned: "Our swords will shine over the light!". They all went mental! And then when we made Sonic Firestorm, we hate this boring photoshoot where we just stand there and look like a boyband or something. We did the funny photoshots as well, we went to the toyshop and bought some plastic swords, because we thought it was funny, so there is a photo in the Sonic Firestorm album, like a tribute to those guys who did it and then everybody started doing it. (Vadim:) There was a guy with a real sword at one of the venues, but they wouldn't let him in.

Michael: Who writes the lyrics and who writes the music?
Vadim/Herman: (Vadim:) For this album, Sam did the majority of the songs and I did some and Herman did some but we all write songs in our own houses and once we did a structure we will all work on it and exchange ideas and share things. (Herman:) It's pretty much like the 2 last albums, we allways work on the ideas together.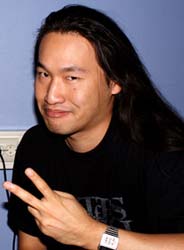 Michael: Where do you personally get the inspiration to write music?
Vadim/Herman: (Vadim:) I wouldn't be able to tell that, because you could get inspairation from anything, once you start writing a song and you got the tools, allready that we have experience recording so we know how the studio work. The other thing is to listen to a idea and be creative with things. I wouldn't be able to tell you that "this band" made me want to come up with a certain part.. You just try different things. (Herman:) I think the main influence for this album is Sonic Firestorm, we basically look at Sonic Firestorm and say: We need to make it better and push it up! Up! UP! Thats pretty much that. The inlfuence has allways been the same if you look externally, from death metal to soft rock to brutal stuff.
Michael: What does the future hold for Dragonforce?
Vadim/Herman: (Vadim:) So far it has been looking really good for us, being able to record albums, tour with Maiden and doing headline tours, it has been really cool. Looking to the future, when the album comes out, we want to do a big tour around the UK and do the European tour but we can't really pre-plan things... (Herman:) Well, the plan is to tour. Us and Japan, lots of headliners, the possibilities to reach out to more people.
Michael: Do you have any sideprojects?
Michael: What do you do in your spare time?
Vadim/Herman: (Herman:) What do you do? (talking to Vadim) (Vadim:) I don't have time for myself. (Herman:) Before we started recording. When you have time, what do you actually do? (talking to Vadim) (Vadim:) Play computer games and go out and drink beer. (Herman:) I like to do martial arts, jiu-jitsu and that kind of stuff.. mess up my fingers.. So when we go on tour I become very unhealthy, takes me a while to recover.

Michael: Who inspired you to develop your skills and become the musicians you are today?
Vadim/Herman: (Herman:) Steve Vai, Joe Satriani they are my guitarheroes, i tried to play and learn stuff. and obviously metalband like Iron Maiden to heavy rockbands. (Vadim:) Yeah similar bands like that. I also like Steve Vai. I grew up listening to Yngwie Malmsteen and Van Halen and bands like that then I moved on to heavier stuff like Strapping and Devin Townsend. I love his album, , thats the main influence for the keyboard part of it because he got lots of weird noices and samples, but i wouldnt say something was the main thing that made me wanted to play. I just got ideas from different places, different bands and developed my own style of playing. (Herman:) Just listening to Symphony X and Dream Theater and other stuff. You still listen to it but when you do your own thing you have to change your vision and look differently.
Michael: Whats the one question that you never got during an interview but wish you had?
Vadim/Herman: (Herman:) A beutiful female interviewer asking: Can i suck your cock? (Vadim:) Yeah! I never heard that? OK! let me think! "Can i put the album on while your doing it?" (Herman:) BEAT THAT! Thats my one, I think I set a standard... Vadim: I think we score quite a lot. (Herman:) But thats not the question man. (Vadim:) I dont know what I would like to answer, it would be simillar or something... (Herman:) Have you got a big cock? You say Yes! (Vadim:) Yeah! or have you.. Are you really good in bed? So.. Yes. Even though it's not true, still that's what I would answer. (Herman:) Tell that to the female fans, no thats a good one. Good move man. (Vadim:)"Do you have a email adress i can get in touch with you and get laid later on?" - Yeah I do! vadim@dragonforce.com. SEE YOU LATER!
Michael: Thank you very much Vadim and Hermin, Good luck with your new album and the upcoming tour!

Dragonforce loves Metal Covenant

Review of the album Inhuman Rampage

Footnote: I met these guys in Stockholm on a Thursday for the interview, Then I went to Paris for a concert. Monday night I was looking for a nice restaurant to have a bite. After more then half an hour later I decided for an italian restaurant. So I went in and ordered a Bolognese... Guess who walks in a minute later? VADIM AND HERMAN from Dragonforce! Now what are the odds of that?


Related links: