Interview conducted August 09 2014
Interview published October 10 2014
After the concert with Doro at Getaway Rock Festival, Metal Covenant got the great pleasure to have a chat with the metal queen herself, Doro Pesch. As the band were leaving the site the same night, time was limited, but this meeting was memorable. There are few artists in the heavy metal scene, or anywhere I dare say, that have the same passion for what they do as the German singer, and as a person, she is very gracious, warm-hearted and positive.

Mozzy: So, how was your debut at Getaway Rock Festival?
Doro: It was great, I loved it! I think the fans were awesome and the response was great. Everyone was singing along and everyone's fist was up in the air during Raise Your Fist. We had a great time and are happy and pleased.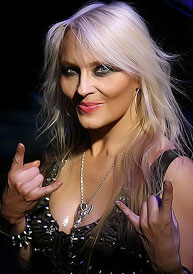 Mozzy: Is it good to play these festivals which are a bit smaller? There are still many people here but much less than Wacken for instance.
Doro: Yes, I think it's quite optimal in size. And there are two stages which is always good for the fans, to see different bands. And the treatment was great, everyone was so kind. I have to say that Sweden is great in general, like last year at Sweden Rock and at Skogsröjet the year before.
Mozzy: I saw you those times as well. You played as the last band of the festival at Skogsröjet, when it was very dark.
Doro: Oh yeah, that's true! And did you enjoy it today?
Mozzy: Oh yes, it was very good.
Doro: Yes, even in daylight (smiles). Such nice weather too.
Mozzy: You went down to greet the fans after the gig today.
Doro: Yes, of course.
Mozzy: That's quite rare to see. You seem to have a great connection with your fans.
Doro: Yeah, always. That's definitely what I live for. It's the most important thing in my life, since 30 years (laughs).
Mozzy: So you're doing a 30th anniversary tour at the moment. That must feel special, and especially when you played in your hometown Dusseldorf, I guess?
Doro: Yes! We did two nights with long shows. The second one was like three and a half hours long, with many guests: Biff from Saxon, Sabina Clasen (Holy Moses), Hansi Kursch (Blind Guardian), Marc Storace (Krokus), Lordi…. And there were tons of fans and friends from all over the world, even from Japan, and Brazil. Many from South America.
Mozzy: That must be fun, to have those great guests onstage.
Doro: Yeah!
Mozzy: Because you have done guest appearances too. I saw you onstage with Saxon one time.
Doro: Oh yeah! And I think I will be a guest in December again, they're celebrating something too. This time in Dusseldorf, we did Denim And Leather, and a Priest song; You've Got Another Thing Coming. And the first night we had an orchestra. Blaze Bayley was there and we did Fear Of The Dark. He was the first guest and it was just great from there on. We're celebrating not only our songs and stuff, but also celebrating metal. All my heroes were there, except Ronnie, unfortunately… But he was there in spirit, I know that. And we played many of his songs, like Egypt (The Chains Are On) and also Hero.
Mozzy: Will this be released on DVD?
Doro: Yes, next year. We're working on it. There tons of stuff, from festivals and smaller gigs. And then I want to have one more from New York to include a couple of new songs. Plus we have the Wacken show last year which kicked off the 30th anniversary tour. It was a great show with many guests too, from Sabaton for example, and Biff was there too… So it will take time to cut and so on. The record company are saying like 'you would need 10 discs for these shows!'. So we have to make a decision on what to include.
Mozzy: In the US in October, you will have the fans deciding the setlist. That must be exciting for you as well?
Doro: Yes. You never know what they will choose. I love doing it. I'm going over next week for some promotion and to meet the American metalheads.
Mozzy: Metallica did this recently, it was called Metallica By Request.
Doro: Cool, that is a good idea. I know some bands that have done it, and who else should decide but the fans? We try to be in tune with the fans, but every show usually has a different setlist.
Mozzy: You received two big awards recently. Metal Hammer in Germany and Golden Gods in London. I was in London and saw that, actually.
Doro: Oh! Yeah, it meant so much to me because when we started, it was important to do good in the UK. Because they were deciding everything; if you would get a worldwide record release and go on tour. Plus I was raised with the New Wave Of British Heavy Metal! So it was quite an honour.

See also: review of the gig the same night
Related links:

www.doromusic.de
www.facebook.com/doroofficial