Interview conducted April 25 2013
Interview published April 29 2013

A few hours before Doro's gig in Stockholm, Sweden, I had the pleasure to talk with the Metal Queen for 30 minutes. There were lots of laughter and smiles and she seems to be an adorable person from what I could tell and also her behavior seems a bit shy.
The venue, Klubben, is located in a former industrial area and has a long wharf by the canal. Nowadays only harboring new and thereby expensive apartments and mostly offices. A total make over of the area was done due to its location close to Stockholm's inner city some decade ago. I park my car and start my mighty two minute walk down to the venue and soon I hear children's voices and I pass by kindergarten and think; really? here? The view of the venue's hundred feet tall Eastern facade, with its gray tone and a stairwell, visible through the windows are totally depressing. Poor kids.
I pick up my phone to inform Doro's representative for tonight about my arrival. No answer and I start to walk to the rear of the building, wait two minutes and pick up my phone again. 30 seconds later I'm guided through the inner halls of the venue's backstage area, which actually holds almost nothing more than a tight corridor and a few rooms. Although I'm listed as Doro's second interview for the day, we're already 15 minutes behind schedule and I just have to face that the schedule's are tight in this business, so I actually don't give it much thought. I talk to her representative and occasionally to a pair of members of Doro's band and since I'm wearing a Monsters Of Rock Cruise cap, drummer Johnny Dee, gladly tells me that they will play that cruise next year.
I'm once again guided through the hallway and enter a small space and meet Doro. She offers me something to drink before we get down to business. Beer or water, so there we are drinking water from bottles. Very metal, huh? We chit chat for a few seconds as I get my gear set. A recording device also known as iPhone 4. Classy! I tell her that I'm now recording as Johnny Dee enters and read the logo on my cap for Doro. She smiles and tell me Johnny were there this year too, as he close the door and leave.

Tobbe: So let's start with your latest album. What are your and the fans' reflections of it after about 6 months past its release?
She looks excited when she tells me:
Doro: So far it's been great. We're always playing Raise Your Fist In The Air. I think it's like our new All We Are (huge smile). It's a great anthem and it's going down very well. And Hero, the song dedicated to Ronnie. That's always something the fans wanna hear. Very touching and a few lines are just like aah. It's very soulful. Then we usually do Rock Till Death which has a good sing-a-long part and Revenge is a song that everybody seem to like.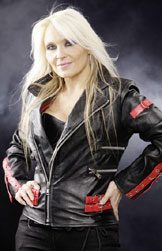 Tobbe: Yes, I like that song. I think it's the best one on the album. I kinda like the speedier songs.
Tobbe: Not many people have tributes to them like with Hero. When will you have songs like this, dedicated to you? Or have someone already did this?
Doro now twists and turns and she seems shy trying to answer this straight to the heart-question with good manners.
Doro: Sabaton did Für Immer and it sounded great. The singer was perfect and I understood every word. A couple of years ago I got this version and I thought, very nice. They're from? I know Sabaton is from Scandinavia.
Tobbe: Yes, they're from Sweden. From Falun, a town about 200 kilometers (125 miles) north of Stockholm. You know these guys have their own festival and recently renamed it to Sabaton Open Air?
Doro: Yeah, I heard. That's great (she truthfully says). I'm always happy when people make it. I know it's so hard. So complicated. Since I've been doing this for over twenty-nine years I definitely respect this.
Tobbe: What about the duet with Lemmy? I suppose you're long-time friends.
Doro: Yes, long-time friends. From the early eighties. We did two duets before on the Calling The Wild album and one time we covered the Motörhead classic Love Me Forever. I love that song so much and also we did Alone Again, which is a song Lemmy wrote and he played it for me on an acoustic guitar and I said; ooh that's so soulful. So when I wrote It Still Hurts, then I thought I want to ask (whispering) Lemmy if he wants to learn that song and I made a little demo and played it for him and he said; let's do it. I did it the same night as when I did Eddie Trunk's That Metal Show in L.A. We did that show in the afternoon and at night we recorded Lemmy's vocals. Every word he sang gave me the chills. It was super, so it's a great honor to have Lemmy singing on the record. We did a couple of things together in the past and toured together, I love Lemmy, but who doesn't? (sighs)
Tobbe: Well, I've never met him, but I've heard stories. I guess I've got to head for the Rainbow Bar to meet him. He's probably sitting in his chair or something.
Doro: Yes exactly, he loves that (laughs). Playing games and so. But it's awesome. It makes every record special when you have really great special guests. I love that and to me it's always a highlight.
Tobbe: Let's focus on your younger days for a while. When you where young, like ten years old or so, did you have hopes to be on stage and perform in front of larger crowds?
Said with great empathy and passion. Whispering, laughing:
Doro: Actually I wanted to become a singer when I was three years old. Back then there was no heavy metal, remember. There was some other music and one song that totally got me hooked was Little Richard's Lucille. I listened to it over and over and over and my parents thought that there's something wrong with that girl, and I wanted to become a singer from that day on actually. Then I grew up in like the glam rock times when I was like seven, eight, nine years old. Alice Cooper, Sweet, Slade, T-Rex and later Led Zeppelin and then when I was fifteen I had my first band and I just loved it. I didn't think of any career or about making a record. We just had a band and we were rehearsing every day, every day to get better. Then I had another band and another band and then we founded Warlock and then we had a fan club and we didn't even know that the fan club guys sent out little cassette tapes, you know like self-made.

Suddenly we had four record deals on the table from independent record labels and a couple of the guys in the band said that they didn't want to make a record and some said; let's do one. You know, then we convinced the other guys who said they didn't want to do a record and we said; let's do it, and then we did Burning The Witches. We had no idea that anybody would know about it or find out and suddenly it sold like 25000 copies in the first months. We said; what the hell, who even knows that we exist? It was such a surprise. Yeah, and then we did another record, Hellbound and a third one, True As Steel and then we got the Judas Priest tour. That was my first time in Sweden. That's was actually also the time when I quit my job and wanted to do this for the rest of my life.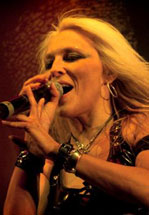 Tobbe: That was actually my next question, you know, when you realized you would make a career out of this? What eventually brought you into metal then? You said your influences were mostly early seventies.
Doro: Actually when I had my first bands, we were just playing what we liked and writing our own songs. Then some fans came into our rehearsal room and asked us if we were a metal band and we said; we don't know (whispering), but it sounded cool. Back then, there weren't any magazines, nothing. Of course no internet, nothing. It was just like it all went through, you know, mouth to mouth. If a band came to town, you know, a friend or a brother of the friend would tell you. It was 1980 and I saw my first concert. I actually started in 1980, but we count from our first record release. That's how we count, the real years, like the professional years. Whitesnake was my first rock concert and then Judas Priest with Accept and the third one was Dio, and then we kind of knew that we were a metal band. That's how things went. I've always loved the real deal, the high energy, very soulful stuff and I never liked pop music. I've always liked the real shit, the real deal and the more we saw, wow, the better it was. I saw Raven and Venom and then we played with Metallica. Actually when they just had their first record out. It was the first couple of gigs in some small clubs and we didn't even think about it any more. We were part of the metal community (laughs).
Tobbe: You've been pretty consistent through the years with album releases and stuff. Don't you ever get fed up with it and want to go into pottery or something and feel you don't want to do this anymore?
Doro: Oh no, never (looks surprised). Still the songs I loved in 1983, I still love. I'm always happy when I see songs like All We Are, Für Immer and Burning The Witches on the playlist, because I know the fans will go like crazy and that's my biggest joy, to see the fans happy. Not one song ever bored me. Not one song ever got old to me. Every day is a new challenge and I'm always like highly self motivated, so when I see something it's all new again. Even if I've been doing this for over twenty-nine years, I still feel like I've just started a couple of things recently.
Tobbe: Perhaps it's easier for you, considering what you do and people chanting your name, comparing to a regular guy going to his office or something where people don't say shit to him? You have all these fans telling they love you and it's probably easier for you to get up and do your job.
Doro: Absolutely, absolutely (nods). You always wanna do something good and give something back and it makes you feel so good. Even if there's only ten people there, I would act the same as when playing Sweden Rock and Wacken. It all about feeling connected.
Tobbe: You're playing both those festival this summer.
Doro: Yes, what a start to celebrate the thirty year anniversary in Wacken. You know, Burning The Witches came out in '83, '84.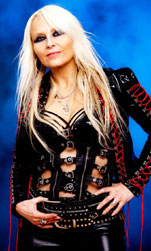 Tobbe: Do you sometimes reflect on your past and take pride in what you've done? Lying in your bed and think that you've achieved pretty much in your life?
Doro: Oh, you know what, I… (a breathtaking moment followed by a long pause and she really don't know what to say). Not really, because every day is a new place. You know going to Stockholm and to another place the next day and I want to concentrate at the moment and make a great concert, so it doesn't matter what you've done ten years ago, or what you've done yesterday or twenty years ago. You wanna do good right now and that's always a big challenge to do your best every day. I face every day like this could be the last concert, but then when you're totally exhausted, totally you know. like tired and beaten and the body is like oh, you know, and you know the next day is coming in a couple of hours, it's sometimes rough, but it's okay. I mean, sometimes when I see all the photos and special fans have their record collections and they bring old photos (now excited). My first tour was actually with Judas Priest in Europe and then we hopped on the W.A.S.P. tour and then on the Dio tour in '87 and when I see photos or old tickets, that's wow. Was that me thirty years ago? Wow, that's something. That's sometimes unreal.

But yes, there are times I think about it, but it always motivates me to do every day my best. Sometimes you know, when everybody were going crazy on metal and then in the nineties it was so tough, when Guns was big. Some bands weren't given any support by the industry. I think the fans were still there, but the industry suddenly dropped bands, so it was hard to hang in there. I know the best and the worst times of metal and I wanna concentrate on the positive things (whispers). Actually we always had enough fans in the nineties just to go and play. Not everywhere, because the records weren't released world wide anymore.

For example, in America it was totally dead. It was only grunge. I did pretty much all the records in America and I was so happy when something was done and finished, and then I went to the record company and said the new record is done and they were all excited and said; that's great, let's hear it and they said it doesn't sound grunge. I said; no, what do you mean? They told me this is the grunge times and I said I didn't feel it and that's not my thing. I could never do that and I can't even listen to it, so it was record after record like that. But then in 1999, I felt metal is slowly, but truly coming back and then in 2000 we did a long tour with Ronnie James Dio in America and there we became really good friends. In '87, we toured together for the first time, but I couldn't speak English that well. Our conversations were very limited. Then it was in 2000 and he was very, very funny. He definitely could crack the best jokes.
Tobbe: So where do you see yourself in ten years?
Doro: (thinking) I hope I will have done (whispers in excitement) many more records that hopefully mean something to the fans. More great songs, more great collaborations. At the moment I'm just in the middle of writing music for the movie Anuk - The Path Of The Warrior part 2. I just filmed it. We filmed the first part in 2007 and I did all the music together with the guy who's doing the movie, Luke Gasser. So now we're just in the middle of doing the second part and it's always a big challenge to do nice music for movies. Usually it's without words, maybe just in the end of the movie, but that's nice and it will come out next year and then we're ready to celebrate the thirty year anniversary. Maybe I wanna do another record, maybe with an orchestra or an unplugged thing. Something special and then playing all the nice ruins and castles, something magical and mystical. But basically just doing more records, more shows, touring around the world. Doing like the cruise ships. Now it's the Full Metal Cruise coming up in May, departing from Hamburg, goes to Amsterdam, Paris, London and then I guess the Monsters Of Rock Cruise next year (she has spotted my cap with the cruise's logo).
Tobbe: And 70000 Tons Of Metal this January too. What's your thing with cruises?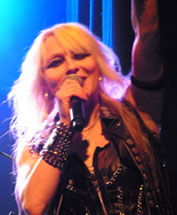 Tobbe: Yes, there's a good atmosphere there and the weather is great on the Florida cruises. People are having a good time, drinking beer or whatever.
Doro: We did some great jam sessions on 70000 Tons Of Metal (filled with joy). All kinds of people were combining and we covered all kinds of songs. It was great. The fans were so cool. Yeah, it was an awesome experience.
Tobbe: Yeah, that's a great cruise. I was there in '11 and '12, but this year I went to the Monsters Of Rock Cruise, because my buddies wanted to go on that one.
Tobbe: Let's focus on an infected topic. Illegal downloading. What are your thoughts about that?
She sighs and says:
Doro: I'll tell you what. On one hand it's great that everybody have access to all kinds of music. On the other hand, I know it hurts the music business so much (heavy sighing) and some of the record companies I've been with don't exist anymore. They couldn't keep it going anymore, because there's not enough record sales. That's really sad. They were good people, good companies and I'm missing all the record stores. For example, in America there are no more record stores. Just very rare, hard to find. All the big record chains, like Tower Records, which I remember we always did great on sessions at and they supported the new record and they always did something special. You could go there 24 hours. At 6 a.m. to get your favorite records or just to look at them. I miss that so much.

Today, you can get everything online, but I'm an old school person. I love the album artworks, I still love vinyls. (her whole body is now talking to me) I love the old stuff, like the package, the booklets, the photos, the paintings. Most of the time, we had a painting and I think it's so sad when you just get the song over the internet. I think, for a band, usually it's the whole package of art, artwork and music. It's all one. It's not just only one song, so I think, on one hand it's very ambivalent and it's sad that some really good stuff is totally gone. (a knock on the door and I see an index finger, meaning we've got one minute to go.) On the other hand, I guess it's great, very convenient. It's good and bad at the same. But all the record companies I loved, the people are out of jobs and it's tough.
We are now interrupted when a pair of guys enter the room and Doro's schedule is checked. She says no to food at the moment and says she's in a talking mode right now, so we get about five minutes more eventually.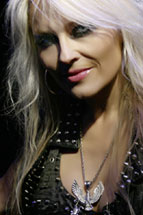 Tobbe: You seem to have a thing for singing a few tracks on your records in different languages. Why don't you do all of them in English? Is this a way to express yourself better?
Doro: I love to sing in different languages. On some records, I've sung in French, Portuguese and Spanish. It feels good. For example, in Spain, not many people speak English, so sometimes I feel an extra connection when I sing in Spanish. The same with Brazil, with Portuguese. It's like making an effort to click with the fans, you know. I know in Sweden, everybody speaks English, but sometimes the lyrics just pop up in German. The first idea was actually Für Immer on the Triumph And Agony album and it was a big, big song. World wide I sing the song in German. Actually a little English and a Spanish sentence, but when something comes out, maybe it's meant to be? On the last record it was Herzblut. I translated it into other languages, but English didn't work, because the word Herzblut has a special meaning. I tried to describe it in different ways in French and it was okay. Spanish was okay, but the English version somehow didn't feel right, so sometimes the song tells you what it wants. It's very interesting when you listen close. Once in a while, I think it's something different and if people are into it that's good and (whispers) if they don't like the German ones, they can skip it.
Tobbe: So what's easiest or most difficult to write lyrics to? The ballads or the metal songs? You know, emotions versus raw power.
Doro: I can't say which is easiest. Everything is always equal. Sometimes something just pops out and it's just like wow. For example, I'll tell you, for the Triumph And Agony album, we had the whole album written. Everything was done and I was completely happy. I was satisfied and I was at peace, that's when I can sleep. I now have the songs and I'm happy and then I talked to the producer Joey Balin and said I wanted to do just one more song and he said; what the hell, we've got nothing to lose, what do you wanna do? (really excited now) I said; I wanna have the most brutal, the most aggressive, the most speed, hard core song in the world, and out came Für Immer. So sometimes it's a miracle when stuff comes out. Don't think about it too much, just let it come out of your deepest soul and heart. I think that's the best.

Sometimes a song is written immediately, sometimes it takes a longer time and sometimes something is very important to me like the Ronnie James Dio song, Hero. It was very important to me, so I went to sleep and suddenly I had the melody and the lyrics in my head, and then I asked Joey to help me finish the verses, because it needs to be perfect. He was on tour with me in '87, so that's why I called him and he knew Ronnie, and I wanted to make sure that every word was just right. So if you wanna write a song about a certain person or a certain subject, that's actually very easy, I would say. Because you know exactly what you wanna say or how you wanna do it, but if you just like let it flow, it's sometimes an adventure. Usually it's not easy, but once in a while you get that magical thing that happens very fast. When I hear my heart is beating like crazy and I can't sleep because I'm so excited about it. Then I know it's something and then I feel if I get totally excited about it, then I think, yes I can show it to the fans and maybe they'll feel the same. When you love something totally, then you can present it to other people and there's a big chance they might love it as well.
Tobbe: Well, that's it. We're out of time. I guess we're done here. They'll probably break the door soon. Thank you very much, Doro. It was a pleasure to see you.
Tobbe: There were a few left, but you will never get to see them.
(This is where I turned off my recordings, which was rather stupid, because we talked for a couple of minutes in the hallway about tonight's show, and among other things she asked me which songs I wanted to hear and also we talked more about the Florida/Caribbean/Bahamas cruises, before we eventually said goodbye.)

See also: review of the gig the same night
Related links:

www.doromusic.de
www.myspace.com/doroband
www.facebook.com/doroofficial