Interview conducted September 28 2010
Interview published October 09 2010
There is no disputing that Doro Pesch is the Metal Queen. Over the years we have become close friends. While she briefly toured the US, I arranged for the Dame Warrior Soul to give me a friendly call, so that we could catch up an all things pertaining to the mettle and might of the Warlock.
She has just signed with Nuclear Blast overseas, and plans to release her new DVD - '25 Years In Rock' just in time for the unHoliday Season. Come celebrate this mettle encounter now and für immer.

MettleAngel: Hello there Doro, it is always good to hear your voice.
MettleAngel: We all miss you, since you were unable to play this year in Cleveland. I am so glad that we were able to reschedule our interview so quickly after you cancelled yesterday.
MettleAngel: We have not been to Cleveland since we caught the back to back MSG & Y&T shows, earlier this summer. We will head up there again on October 8th to see Accept, though. I assume that you will be in Japan by then.
Doro: Yes, that is right, and it is funny you should mention Accept, as that is why I had to cancel our interview last night. You see we went to see Accept at the last minute when they played the legendary B.B. King Blues Club in New York. This was the inauguration of their highly anticipated world tour.
MettleAngel: Did Doro opened for Accept at that show?
Doro: Oh no, we went as fans, inconspicuously. We hung out with the band after the show, and took some pictures, but we did not play with them. I so love Accept, and their new singer Mark Tornillo is amazing! He really fits the band in the absence of Udo.
MettleAngel: I agree, and I know what good friends you are with Udo too. Did you not even join them on stage for a song or two?
Doro: Oh no, I just wanted to be a fan and enjoy the show. They were excellent, right on their game. I enjoyed their new material, as well as all my favourite classic hits.
MettleAngel: This is what I have heard, and we are so excited to attend the meet and greet, and finally see them live. We have faced a number of obstacles, including constant car troubles, but Wendy and I are determined to see this show, and experience Accept together!
MettleAngel: She is quite busy being a Mother and Wife. We are also going to celebrate our 10th Anniversary at a Renaissance Festival on October 10th. You know now that I think of it, our first date was actually at an U.D.O. show together. Raven was supposed to play, but had to cancel.
MettleAngel: Yes! Wow, have we really had those titles now for almost ten years?
Doro: A decade goes fast when you are having fun. When you see Accept, and speak with Peter and Wolf in person, let them know that I would love to work with them, and perhaps do a duet, or possibly a full tour.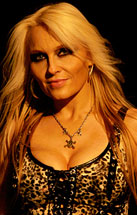 MettleAngel: I am sure you can ask them that yourself. Surely, you and Wolf's wife Gaby are friends and can attend to this?
MettleAngel: Wow, an accomplished artist such as yourself has no need to be shy? I know you have more clout than I, but I will speak on your behalf, you can be assured of that! I would love to see you do a duet with Mark Tornillo,or just sing an Accept song on stage with the band.
MettleAngel: You have worked with so many talented artists in the past, like Tarja Turunen on 'The Seer' (EP), as well as several of the other "Ladies Of Metal" like Veronica Freeman, Sabine Classen, or Floor Jansen.
MettleAngel: I see that you are about to embark on a big tour with Motörhead. I know you are a big fan of them, too. Every time I see you before a show, you usually are donning a Motörhead T-shirt.
Doro: You are right, and I am wearing that as we speak. Yes, this is going to be such a big tour for us in Europe. In December we are going to be performing at some of the biggest venues ever. We are talking stadiums of 7,00 to 10,000.
MettleAngel: Well, it is about time that you finally get the recognition you and other longevity acts truly deserve. We are going to be doing the 70,000 Tons Of Metal Cruise with Saxon and Raven, and now the original line-up of Seattle's own Sanctuary!
Doro: That is excellent! I love Saxon and Raven, they are such good guys, and my friends. We wanted to play on the cruise, but we have so many other committments. I would just love to be on the boat as a fan, myself. I certaintly could use a Metal vacation.
MettleAngel: Wendy and I are taking our son, and we are going as fans first and foremost! I see that you have just signed a record deal with Nuclear Blast Europe. Were you unhappy with AFM?
Doro: Oh no, not at all. AFM treated us very well. Our contract expired, and we decided to explore other options. Nuclear Blast approached us several times in the past, and we are very pleased with how they treat their bands. We know this would be the best label for the future plans of Doro.
MettleAngel: Nuclear Blast will release your new double DVD/CD ''25 Years In Rock' on November 26th. Will there also be a US release date pending?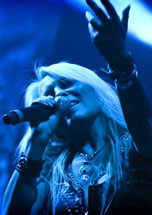 MettleAngel: I have read about this DVD package and it looks like you have performed with a number of notable artists, a cross-polinization of Metal genres, from Thrash to Traditional.
Doro: This is true, there is so much footage on the DVDs, and a load of extras as well. I sing with Marc Storace of Krokus, Bobby "Blitz" Ellsworth of Overkill, Warrell Dane of Nevermore, (and now Sanctuary), Tom "Angelripper" Such of Sodom, etc.
MettleAngel: Sodom are poised to release their new CD in November called 'War In Pieces'. They too will be on the cruise. Even the NWOBHM band Tank have a new album due out soon called 'War Machine'! They are now fronted by Doogie White. I understand that you also were joined by many of your lady friends as well like the lovely Liv Kristine, and Liv of Sister Sin.
Doro: Yes, and one of the real highlights for me was when I sang with the Scorpions. I also did a duet with Marcel "Schmier" Schirmer of Destruction and Headhunter, but this is in the outtakes from our 2500th concert performance.
MettleAngel: Amazing 2.500 shows and still going! I interviewed Liv when Sister Sin opened for Michael Schenker. They are now touring with the Genitorturers. I have not seen the new cover art for the DVD, have you?
MettleAngel: I hope it is not too risque. Do you recall all the fuss about the poster for the show you played with Destructor last time you were in Cleveland?
Doro: Yes, and that still makes me laugh. I can not believe that people were so offended by this image. With all the adult content on the Internet, I do not find this the least bit offensive. It is a painting and I am wearing clothes, and not nude. I do not understand why the people of Cleveland pushed for Destructor and My Space to remove this Tour poster.
MettleAngel: Neither do I, as it was basically a close up shot of the very album cover for 'Fear No Evil'. This is the very same image on your webpage.
Doro: I guess the whole Heavy Metal image intimidated these naysayers, who prefer their conservative views. If they really knew me, they would not in the least bit be concerned.
MettleAngel: I know. They just sit back in judgement, based on their arrogance and ignorance. This brings me to my next point. How is that for over 25 years you have continued to serve the Metal milieu with no signs of ever backing down. You truly give it your all, each and every night!
Doro: I do this because I love my fans. They are my only true family. I have fans all over the world, and they are the reason I keep going on. I am not married, and I do not have any children. All the Metalheads out there are my children, and I am their Mother.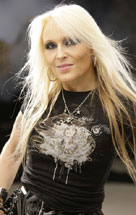 MettleAngel: Well spoken, and we so adore you for all your die hard dedication. It is like I always tell you about how much I love the song "Strangers Yesterday" off my favourite Doro album 'Warrior Soul'. The words so ring true with my mettle experiences.
Doro: I know and this warms my heart. You mentioned Sabine of Holy Moses, earlier. Well, I was so touched when the Holy Moses fan club gave me a very special present.
MettleAngel: Oh really what was it?
MettleAngel: Well, you are true as steel!
Doro: Thank You! I just love what Germany has done for me. I was a bit nervous working with legends like the Scorpions, but they left their egos at the door, and were all perfect gentlemen.
MettleAngel: I was so sad that I did not get to see them on their final tour. They had to cancel the Colombus show earlier this year. At least Uli Jon Roth will also be on the cruise. I am amazed that you never burn out. I know that you try your best to stay healthy.
Doro: Actually, I am battling a bit of a cold right now. I do get quite ill, but once I hit the stage all my worries, and ills just disappear, and I am there doing what I exist for, to play and please my fans.
MettleAngel: That is such dedication, a true embodiment of the true mettle spirit. This is why you make such lifelong friends with the musicians and fans alike. You have no ego either, you are so humble and so sincere.
Doro: I am open and honest, and I have nothing to hide. I just wish I could spend even more time with my fans after the show, who so want to meet me.
MettleAngel: This is why your Ohio family baked and made you those special Doro designed desert cakes in Cleveland, when you toured with Chris Caffery as your guitarist.
MettleAngel: This is when I met Nick Douglas and Johnny Dee for the first time. I know you also work well with Oliver Palotai, but he has so many other committments with Kamelot, and other projects. How long have Nick and Johnny been with you?
MettleAngel: Wow, and yet he still keeps his other bands like Deadly Blessing active.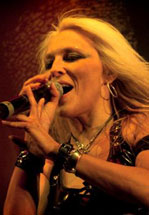 MettleAngel: You might be surprised, but it may be closer to 17. When we saw you last year with Destructor, you had added Bas Maas on bass. He used to play in After Forever.
Doro: Yes, and he is working so well with the band. Our guitarist Luca Princiotta is also a wonderful edition. He used to play with Blaze Bayley. Unfortunately, he was not able to get his visa for this US tour, so we have another guitarist named Harrison Young filling in for us.
MettleAngel: I assume you met Bass thru Floor Jansen when they were both in After Forever. Wendy interviewed Floor ealier this year. Like you, she loves to work with many famous female musicians. She has interviewed Oliver's girlfriend Simone Simmons of Epica twice.
MettleAngel: Indeed (I hand the phone to Wendy, but I do not listen to their conversation).
Doro: (Wendy returns the phone to me) It is so nice to speak with you both, but now I must run, as I lost track of the time.
MettleAngel: Doro, it is always a pleasure! Thank you so much for everything you do! We sure hope to see you in Cleveland sometime next year.
MettleAngel: We will when we see Accept soon. All the best!
Related links:

www.doromusic.de
www.myspace.com/doroband