Interview conducted June 14 2007
Interview published June 23 2007
In the hellbound world of Metal. no Maiden means more to the fans than Doro Pesch! When Wendy and I were blessed with the opportunity to interview this amazing Warrior Soul, we instantly seized the moment. Then, we felt the earth shake and rock, almost out of control. Doro's sincerity, dedication, and desire to fight for truth, and her ability to rise above the ashes; is the very reason why she is still going strong 20 years after the disillusion of Warlock. She always lives to win, like a metal racer. Her true as steel heartfelt passion, and true at heart love for her fans is the pure demonstration of true diligence. She is a bonafide rocker and a real hellraiser. We truly cherish the time we shared.
Initially, when Wendy and I sat down to interview Doro, we were awestruck and I must admit, a bit nervous; as we hold such admiration for her, and her art. Before we began, we were mere strangers, yesterday; now we are touched by her holy love; because, all we are is because of her. Dearest Doro - Majesty: You're like Family!

MettleAngel: Doro, we are so truly honoured by your presence. Thank you so much for agreeing to do this personal interview. Wendy & I are such true fans, and have been since your Warlock days. I remember hearing the song - Homicide Rocker on Metal Shop when I was a teenager in California. We have always considered you as the "Queen Of Metal"! We are so pleased that you decided to come to America to tour, it's been almost three years, since your last visit, correct?
Doro: Yes, Michael, I so miss coming to America to visit all my friends and fans. Last time we were in Cleveland at "BWBK: Six Pack Weekend", we had so much fun and met so many exciting people.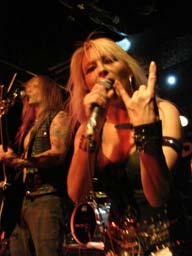 MettleAngel: You have been touring extensively for Warrior Soul; but you also just released an awesome new double live DVD: 20 Years A Warrior Soul, celebrating your 20th anniversary as a solo artist. Is this tour to promote that release as well?
Doro: We have been waiting so long to return to America and see all of our fans for they are my family like I sing in the song: You're My Family. So, yes we are promoting the DVD and Warrior Soul; but also we are just happy to finally play for all of you again.

MettleAngel: The new DVD is exceptional and fully loaded with so much footage. We were actually able to rent it from www.Netflix.com, which is similar to an online Blockbuster DVD rental company. I watched it and wanted to buy it instantly. Unfortunately, I did not locate it for sale, until almost a week later through The End Records. Now I see you have it with you on this tour at your merch booth. After watching it, I became so excited for seeing you; especially when I heard songs with which I was not too familiar. I thought we had an extensive Doro/ Warlock CD collection; but after seeing your discography listed at www.Metal -Archives.com, I realized we were missing several titles like True At Heart, Angels Never Die, Machine To Machine, and Love Me In Black.

Doro: Yes, sadly, so many great albums were not released in the USA. Love Me In Black is so dear and personal to me. I love that album so much. This is why coming to America is so important to us. We view it as being something sacred - the whole experience. There are still several dedicated Doro/Warlock fans across the board. It means so much for us to come here and finally perform for you once again.

MettleAngel: Thank you so much, Doro; we are just as honoured to have you here in our presence. Now, your keyboardist/guitarist Oliver Palotai is not touring with you because of his committments to Kamelot, correct?
Doro: Yes, he is still in the band, and we love him, but we have a replacement for this tour. Nick and Johnny are here and have been in the band for quite awhile.

MettleAngel: I also see you have Chris Caffery playing guitar as well as serving as one of you opening acts to promote his new album - Pins And Needles. We saw Chris play the World Series of Metal with Beyond Fear, Jon Oliva's Pain, and Therion. You also played BWBK here with him a few years ago, isn't that right?
MettleAngel: I see on the DVD that you have such quality male role models and icons supporting you like Lemmy, Biff Byford (Saxon), Udo, and Blaze Bailey. You have even recorded with several of these men like Udo - Dance With An Angel and the Judas Priest cover of Breaking The Law. On the DVD you sing several covers. I like the duet between you and Blaze on Billy Idol's White Wedding.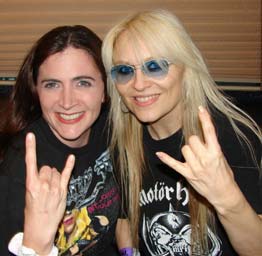 MettleAngel: I love his vocals and I'm pleased he has been successful outside of Maiden. I also love the version of Man On A Silver Mountain you performed with Mago De Oz (which is not on the DVD). I assume Lemmy and Mickey Dee have supported you as well, over the years.
MettleMaiden: I've heard that you are trying to promote older Warlock songs for the fans as well. Something for which I've always been curious is why and how Warlock were forced to change their name in the late 80's?
Doro: Yes, it was all bad business, also due to poor management. We were all so very heartbroken when it happened. Now after 20 years, we have battled the courts and earned back the rights to the name. Now we can promote the Return Of The Warlock Tour.
MettleMaiden: How did all this come to be? Why did the band lose the name in the first place?
Doro: Our selfish manager was only after the money. He took such advantage of us. He kept the Warlock name to sell our merchandise. The justice system sided with him. He robbed the band of our name and identity. For us the justice system failed. We just recorded the next album under my name and called ourselves Doro. I was never anticipating going solo. The band just fell apart - but I kept going strong.
MettleAngel: So by your next album after Force Majeure, you were a solo artist. It helped having Gene Simmons produce your Doro release. Also by now Dio and Ozzy had made quite a career out of being solo.
Doro: Exactly, and Gene really helped out the band. He really cared and treated me so professionally. The music was maturing and changing. Doro was becoming a differnet project then Warlock, altogether. We have kept quite a consistent line-up too throughout the years.
MettleMaiden: How long has Johnny Dee been in the band?
Doro: Johnny has been with us for about 14 years; Nick already 17. Warlock was over, they no longer wanted to tour; feeling too much pressure from the record company and mangement. I would not give up so I kept playing music and created all new fans for my music. Warlock fans followed me as well. I really love writing and playing music for the fans - my family; but it's hard work and never easy. There have been good times and bad times. I struggle to keep this going, you know?
MettleAngel: I know, we love doing what we do meeting and interviewing bands; but it can be a real hassle. We hold such admiration and respect for all metal artists, and their dedication and perserverance. I know I personally could not endure being on tour, and away for such long periods. I enjoy being home with my family. (MettleMaiden:) As a fan of Britny Fox, how did Johnny Dee get asked to join Doro?
Doro: It's a long story - but I'll tell you anyway. I liked the Girlschool video. Our ex-drummer at the time was not cut out for touring and playing all these festivals in Europe. We had just recorded a live videotape and our keyboardist Jimmy suggested his friend Johnny from Britney Fox. Unexpectedly, the phone rang and Johnny was calling me about the vacant drum position.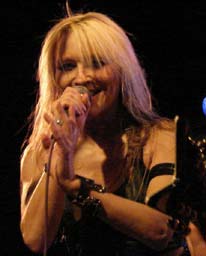 MettleAngel: So serendipity was working on your behalf?
Doro: Yes, I mean I had not even given it much thought, then he called. We agreed to meet. When I saw him, I looked into his eyes - as we are the same size - I knew he was the one. We shook hands and he was in.
MettleMaiden: How did Jimmy know Johnny?
MettleMaiden: Of course, and Britney Fox was pretty much over, leaving Johnny available to audition for you. Obviously, that worked out well. (MettleAngel:) Now, he also handles so much of the business side of things. Therefore, you now have a friend, confident, and excellent drummer too.
MettleAngel: As your solo career enhanced, the music became more commercial. Many metal fans became disenchanted with your more pop and industrialized sound. I think it was around the Fight album where you began to develop a heavier sound again.
Doro: Actually, we became heavy again with Calling The Wild around 2000. In the early 90's the music industry had more pull. The bands had no real control over their music. Artists could even get fired by their record company. Take for example my album - Love Me In Black. I so love this recording, but fans were a bit surprised. They were not used to hearing something so different, so personal. People were and still are happy with traditional metal sound. Each album we made we began recording with a different vibe and feel.
MettleAngel: It seems that in the early 90's, like you were becoming influenced by sucessful bands like Rammstein.
Doro: Actually, they were not even popular at the time. When I released Machine To Machine - they were still in their demo days. Don't get me wrong. I love those guys. We are such good friends. I really love their music. In the mid 90's times were changing. Everyone was trying out something different. There was a departure from the norm. Like Rob Halford's Two project.
MettleAngel: I see what you mean. Even Megadeth and Slayer were doing remixes with Trent Reznor while White Zombie and Nine Inch Nails became extremely successful.
Doro: Around 2000 or so when we did our first American Tour with Dio and Yngwie Malmsteen, we realized metal fans still loved the old Warlock and Doro sound. With Fight and Calling The Wild we strove to re-create this metal vibe.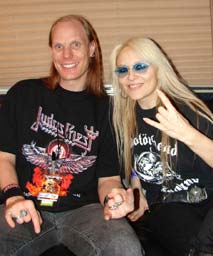 MettleAngel: So this metal tango, so to speak sparked interest in the plans to re-unite Warlock, right?
Doro: Yes, we played several festivals in Europe, like Wacken. Our bass player had not picked up his bass in 16 years - and was not used to the road. These men now had jobs and families.
MettleAngel: I even noticed that you brought Warlock members to play with you on the new DVD as well.
MettleAngel: I think that it so cool that you include so many killer Warlock songs in your set list too. Will you be playing Homicidse Rocker?
MettleAngel: Awesome, I'll be ragin' to that one for sure! It means, so much to us Americans to have you return and play for us. Lately, we seem to be inundated with too many nu-metal mallcore and death metal bands playing all of our shows and festivals like Ozzfest and Sounds Of The Underground. We much prefer to cover shows like Heaven & Hell and Doro. We will be going to Chicago to cover even more killer true metal bands Saturday like Widow from Raleigh, North Carolina, Bible Of The Devil from Chicago, and Crescent Shield from California. They have a female bass player named Mel, whom we have also become great friends with over the years.
Doro: I am so pleased to hear this. I know that you Americans really appreciate traditional metal. We so love our US fans. Fans are the most important aspect of my life. Dio agrees, we have such a deep understanding with our fans. They are our inspiration and motivation.
MettleAngel: I sincerely agree, and that song "My Family" on Warrior Soul expresses this feeling. I also love the lyrics for "Strangers Yesterday". I so much relish passionate lyrics. This is another reason I hold such admiration for you - Doro - Queen Of Metal. You really care about your lyrics, and how the fans interpret them. I can totally relate to a song like "Strangers Yesterday". All our friends are our mettle friends. This is the connection - the key to our relationship. Many friends including Ron and Chris, who helped us to attain this interview, we met at a metal show. They were literally strangers yesterday - stangers no more. We have made such true metal friends because of our love for the music. Later, we discover we even attended the same shows - but our paths did not cross until the right time. This is even true of Wendy and I - we both attended the same shows in the past - oblivious of one anothers presence - until we finally met and realized we had both been at these same show - with our own agendas and friends unaware of each other. This song really expresses the truth of our mettle hearts. (Wendy and I were honoured later that night when before Doro played the song, she alluded to our interview and dedicated this song to us.)
MettleMaiden: Being a woman, you are the center for female strength in metal - a man's world; how have you been able to keep going for so long?
Doro: Because of the fans and my friends - our hearts and souls are aligned. I am truly thankful for everything in my life. I always give it 120...no, 200% when I write,play, and perform.
MettleAngel: Your alacrity and sincerity is amazing. You truly are mettle! You are so genuine - so positive - so enthusiastic. So joyful and abundant. You are our inspiration!
Doro: Thank you, yes, it's a fight - a continuous struggle. I can easily become overwhelmed and upset. I easily become disillusioned, and negative emotions can overtake me like a domino effect. That is why I need my band - my team - I can't do this by myself or I'll collapse. One sour ingredient in the recipe, ruins the whole pie. It hurts that the record company did not release my music in the US. With no radioplay and no contact how am I to keep in touch with my fans?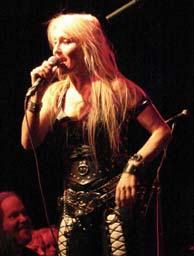 MettleMaiden: Your fans are what eventually helped you overcome your grief?
Doro: Yes, indeed. In 1983 it was an American who helped Warlock get signed to Mausoleum. Then in 2000 Dave from Koch helped distribute Calling The Wild because our American fan club helped implement and make all the arrangements. Our music is now made available to you because of the fans! No lawyer - no mangaer - no record company - just fans for the sake of fans!
MettleAngel: That is so awesome! I also love the way other metal bands speak so highly of you. You helped Schmier with Alliance Of Hellhounds and Powergod when they covered Burning The Witches.


MettleAngel: When does that come out?
MettleAngel: How much longer will you tour America?
MettleAngel: That is so cool. I can't wait to hear the new mix of All We Are. I'm looking forward to the duet with the Krokus singer for On My Own, as well. We are still going to strive to locate those original copies of your imports, when we can. We are so excited for finally seeing you live this evening. We hold such admiration for you. We truly see you as the Queen Of Metal. Revolver Magazine recently listed the Top 10 most beautiful women in metal with no mention of yourself; nor any other true female metal hearts like Simone Simmons or Sabine Edelsbacher. You will always be #1 on our list. Thank you, again for such an honour and welcomed opportunity to spend some time with you, and share our enthusiasm.
Related links:
www.doropesch.com
www.doromusic.com
www.dororocks.net
www.geocities.com/nc_douglas
www.myspace.com/nickdouglasmusic
www.chriscaffery.com
www.myspace.com/chriscaffery