Interview conducted March 9 2017
Interview published April 8 2017

"There was never a threat of the band breaking up or quitting."
The American metallers Disturbed made a stop in Stockholm, Sweden on their recently finished Euro run with Avenged Sevenfold and Metal Covenant seized the opportunity to get a moment with the band's guitarist Dan Donegan.

Tobbe: So, has it been tough for you guys to try to reach the same kind of level you had world wide before you went on hiatus?
Dan: I know a lot of other musician friends of ours probably commented how risky it may be to walk away when we were at the height of our career and to go away for 4 years and return and hope that people still care. We felt confident that we built such a big, dedicated fanbase that they would return; that they'd be there with us, and sure enough, as soon as we released the album [Immortalized, 2015] and it goes to number 1 again, in the States, and it's done very well around the world, it's just encouraging to know that there's such a loyal fanbase to us. That's why they mean everything to us. We've done everything we can to stay connected with them, even during the hiatus, keep them in the loop and, you know, it's been amazing.
Tobbe: And making a single out of a cover song, The Sound Of Silence, certainly turned out to a great success for your band, but still, is it even possible to, like, get back to your previous level?
Dan: I think we've surpassed it at this moment. Everywhere we've gone, around the world, on this whole touring cycle. We've been out for, you know, 13 or 14 months and we're seeing a wider demographic and a wider age range of our fanbase, from an older generation who's now having an open mind because of Sound Of Silence and they're like "Oh, wait! This is not your typical metal band and maybe there's some more depth to this?".

And to a new, younger generation of fans who are just discovering us for the first time. And we've seen a big obvious growth in every market we've gone to. From New Zealand and Australia, who've always been big markets for us before, and Japan, but it seem to grow in all 3 of those territories. Throughout the States, last summer we were co-headlining the big sheds, the big outdoor pavilions, with Breaking Benjamin, Alter Bridge and Saint Asonia and we were packing 'em and even on a weekday, Monday, Tuesday, Wednesday nights, they were packed. So it was great, not only for us, but just for the genre in general, because the package that was put together was great.

So there's a lot of value with those bands as well. And even coming over here in last June to the European festivals and just seeing the reaction and the response from the fans. It keeps us, obviously, very motivated, 'cause we've been away from it and we've returned to it and we see the reaction and we hear the roar of the crowd and it keeps the train rolling. You know, we're feeling very good, 'cause we're firing on all cylinders and it just makes the band and the bond between us even stronger.
Tobbe: You know, even if the band has developed over the years of course, the basic formula is very recognizable still, so to what extent could you possibly diverge from that path and still come out valid with what you do?
Dan: You know, I think with the break… Yeah I mean, 4 years is a long time to be away from each other, but it's allowed us to explore other areas and try other things. John [Moyer, bass] had played with many other bands and in other projects and David [Draiman, vocals] had a side project with Device and me and Mike [Wengren, drums] were doing Fight Or Flight and it allowed us creatively to work with other people and try other things.

In my and Mike's situation we were in a band that was a little bit more straight of rock, but a lot of harmonies, and it allowed us to go in an area that we haven't gone really here with Disturbed. So it helped bringing something more to the table to Disturbed when we returned, because we were developing a new skill. So when we came back with Disturbed, and just being in the studio and being excited to be back in the room together after a long break, it's so much like a marriage. And you may hear that comparison with most bands.Being in a band is like a marriage, 'cause I spend more time with these guys than I do with my own wife. [Laughs]

It's like you get separated from your wife and, I don't wanna say, like, we took it for granted, but we needed a break from each other and then when you're away and you realize how important we are to each other and we return to each other we appreciate each other even more and I think it's the best thing that we ever did and, like I said, we can't thank the fans enough for waiting patiently. There was never a threat of the band breaking up or quitting. We just felt we needed a break, for other reasons as well too, but it just made it so much better when we got back.
Tobbe: So when you get in the room together, what do you try to do nowadays to come out with completely new vocal melodies? I mean, David must kind of end up in the same kind of track once in a while.
Dan: It's definitely challenging, because we've written over a 100 songs together. So we get very involved with pushing each other. And it's not everybody worry about their own instrument. We worry about everybody's role. We wanna inspire each other, but if we're doing something that sounds like it's rehashed or been done before then we try to switch gears or suggest something else. But stylistically there's always gonna be those trademark things that are us and you can't avoid that. I play the way I play and David sings the way he sings, but we just try to push each other to think outside the box once in a while and try to continue to evolve the sound.
Tobbe: Do you have people who are telling you that this riff is recognizable or do you find out that within the band?
Dan: I don't care what anybody else thinks outside of the band, you know. I try to come up with something that is fresh enough within the band that's gonna inspire us. There might be certain things or certain elements that have a familiar vibe to it and that's just 'cause the way we play. But I try to do different tunings, or stylistically, or whatever is inspiring me at the moment. If I'm listening to an older album or a newer album or whatever.

I mean, I could be inspired by anything. Sometimes I'm not even listening to another album and I just pick up the guitar and play. And some days it just comes out naturally and it's easy. And some days it's not there and I just put the guitar down or I pick up a bass or I get on the keyboard and try it somewhere else. But we can never force it out. I think that if we're on to something we know it just by the reaction from each other.
Tobbe: The word is out that you're gonna put out an acoustic EP before you start to work with the next studio album. So what does the band really gain on putting out such an EP instead of concentrating fully on a full-length studio record?
Dan: Well, it's not so much what we're trying to gain out of it. It's more so of just another area to try to be creative and show another side. I don't know the timeframe of it. We've talked about doing it for years and it only came about recently to where we started actually writing a little bit and getting those ideas out there. Like I said, the timeframe, it's really up in the air. It just depends on how it develops. If we're vibing it and we're feeling it, then we'll see it through and then we put it out.

There is no rush to it and whether it's an acoustic album or the next studio album we don't release stuff just for the sake of having a product out there. We take our time and when we feel like we have the absolute best songs that we can write together then it will come out, so. But when the time comes, if it ends up being the acoustic album first or whatever it is, for me, ultimately I would like to show just a different area, a different interpretation of the songs. We might, you know, do remakes of some of the older material or maybe write a couple of brand new acoustic versions. So it's all a whole new challenge for us to go down that road.
Tobbe: So this is actually something you do more for yourselves than for your fans?
Dan: Well, I mean, it's for them too, but it's not for the sole purpose of trying to gain something, other than what I'm trying to gain to just become a better musician and to push and to go down a different road and to show another side to the band. And there's more colors to this band. You know, it's not just black and white.

I like to, not only shock the world, but shock ourselves with what we can do and it takes each other to encourage ourselves, like we did with Sound Of Silence. It took encouraging words and pushing each other to go somewhere we haven't gone before and hitting it out of the park. I mean, you could go to the gym to go workout and you might get a good workout, but if you go with a partner that's gonna make you push a little harder and a few more reps you're gonna get more out of it. So we try to push each other in the sense to get the absolute best we can get out of each other.
Tobbe: About Live At Red Rocks [Out November 18th 2016]. Why was it time to release, like, your first real live album at this point?
Dan: Just because we felt we hit the ground running. The energy was so high and the bond within the band was the best it's been in years. We were feeling good. We felt like we were playing better than we've ever played together. We were all in the right headspace. We were all totally focused on just the performance and being on that stage again. We missed the stage together, so it was definitely encouraging to be back out there.

Once we felt like the show was really going great and we were playing tight we discussed doing a live album. And Red Rocks is a pretty historic venue in the States, in Colorado. It's very beautiful, in the mountains, very scenic and, you know, there's a lot of history behind it. I mean, from Jimi Hendrix and Janis Joplin and a lot of the greats throughout the 60's up 'til today. And there's like plaques in the hallways of the venue that have all the artists that have played there since, so. It's always been on our list of venues that we wanted to play, just for the historic value of it, and we had an opportunity to do it there.
Tobbe: But people probably don't listen really intense to live albums, like I did when I was younger, so what will make people sit down and really listen to this specific live album?
Dan: You know, I guess maybe it's more for the fans who like to hear that live atmosphere. I mean, it's probably more of the hardcore fanbase that just wants, you know, another piece of that. I wasn't as much myself, when I was younger, into the live albums as I was into studio albums, but obviously over the years and being in this business I've grown a new appreciation for it. So I think it's just another way to get the music out there for fans who maybe live in a small town or maybe somewhere we've never been before. It gives them a chance to kind of get a feel for the interaction and hear the crowd response for David speaking to them and addressing them. So just another way to get it out there.
Tobbe: And there's nothing wrong with polishing stuff just a little bit in the studio. So, in all honesty, how much is the real deal on that album and how much did you actually change in the studio, just little things and stuff?
Dan: We didn't go back in the studio to touch anything. The mix was, you know, done. It wasn't just recorded in one blast and that was it. But as far as, you know, cleaning up tracks we have our engineer out here who does our in-ear monitors and he mixed the album. So he did that on the road. He did a little bit, I think, at home too, during the breaks between tours. But yeah, I mean, what you hear is just a great mixed version of the live performance, so.
Tobbe: So why were you so late with trying to make it bigger in Europe? I understand that your success early on in the States was more than enough at the moment, but shouldn't your management or the band, you know, have looked a bit further in the beginning too?
Dan: I think there just wasn't a presence known yet for us. I mean, we were here. We came in 2001 with Marilyn Manson on an arena tour. So we were only around for one year and we had already seen success in the States and it was our first time over here. It was a 5 week tour that we did with him.

So we hit all the major markets, but I think being a brand new band and there was, you know, very little known about us here, we had to keep coming back and trust me, we would get frustrated coming over and not seeing advertisement, not seeing posters out, and we were like "What the hell! We're spending a lot of money to come over here and we make the investment to commit and we're not seeing advertisement out.". So we played a lot of small rooms, a lot of empty rooms, in a lot of these markets, but we never gave up that fight. We realized and we've been told by many other friends, who have been, you know, around the block a lot longer than us, to not give up on these markets.

And I think once we were picking up fans, and just like with any territory in the world, if we expect them to commit to us we gotta commit to them and once they see that we're gonna keep coming back and we're gonna keep clawing and fighting our way and we're gonna give our best… It just takes time to build that and we've gotten to the point to where the fans know, in all these markets, especially in Sweden too, that we're gonna keep coming back and they can commit to us 'cause we've made that commitment to them.
Tobbe: When you put your first record out [The Sickness, 2000], as far as I know, you were kind of unique with what you did. But today it's extremely hard to break any kind of new ground, so do you feel privileged to belong to another generation than bands starting out today?
Dan: Yeah, I don't know. Today's bands… I mean, I feel sorry because it's a whole different world the way things are and a lot of great, talented kids have a hard time getting opportunities and the chances. And the internet is a blessing and a curse, you know. We weren't faced with those problems, on our first album, of Napster and other streaming services, 'cause they didn't exist, so we weren't affected by that. [Actually Napster did exist back then, but streaming was kind of just starting to grow.]

And it was a whole different thing too. When we came up we had to be our own promotional street team. We didn't have those luxuries of the internet, of promoting your band in these websites, to do that promotion. So we had the old-school way of doing it, which, you know, has developed quite the work ethic within this band, because we were used to having to kick down the doors and do the work ourselves.

Bands today have the luxury of, you know, easier ways of promoting, but it also creates, you know, a little lazier way of doing things. But it is what it is. I can't hate on it, but it doesn't give the work ethic. I'm not saying all bands, but a lot of them, they don't have to go out and grind as hard.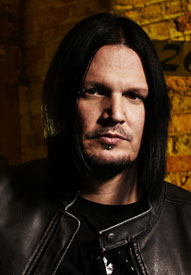 Tobbe: In your own personal opinion, is coming out with something in the right time period just as important as making really good music in order to get to a certain level?
Dan: For me, I've always liked bands that have an identity and don't try to be somebody else. There might be talented musicians, but you hear them and the next song you hear from the band sounds like the one they played right before that.

You know, it's a little tougher, but I like bands that are unique and have an identity, whether it's System Of A Down, because they sound like System Of A Down, or Korn sounds like Korn, and luckily we have an identity and, you know, the second you hear the band you know it's Disturbed. And I like seeing more of that. And it's just any band throughout history. You know, you hear Ozzy Osbourne, you hear his voice, you know it's Ozzy. So, I like bands that are gonna have their own identity.
Tobbe: So my final question. Almost every band kind of has to play lots of classic songs to please the majority of its audience, so if you would play for only the die-hard fans, how different would your setlist be?
Dan: You know, a majority of the time we play the hits, that people wanna hear, but we also throw in some oddballs in that and we might put in a couple of b-sides and stuff so the hardcore fans, that know every song we ever wrote, will experience something that they wouldn't expect from us to do. The other night we played the song Hell, which is on the b-side album [The Lost Children, 2011] and we figured "Well, let's play it in Helsinki.". Kind of something, you know, to tie them with that.

There's so many songs in our catalogue that we haven't played in years that we would love to get back to, so I think we're making more of a conscious effort during this album cycle, and probably in the future throughout our career, to start digging a little bit deeper in the catalogue and give them a taste of some of the material that they've never heard live before.

Related links:

www.disturbed1.com
www.facebook.com/disturbed