Interview conducted May 03 2007
Interview published May 24 2007
Few Metal bands have enough of a loyal following to successfully tour the US. Even fewer are successful enough, to actually play in my hometown of Cincinnati. So, when the opportunity came to interview Dimmu Borgir's founding member Silenoz, I could not pass it up. As I arrived for my interview, I noticed that the Dimmu Borgir fans had already begun lining up; wearing make-up, costumes, and all other attributes. So, I grabbed my pen, paper, camera, and Michael and I wistfully approached the tour bus to speak with the man, whom these devoted fans have come to see.


MettleMaiden: Hey, it is really cool to finally meet you in person. We actually reviewed the debut show for the Invaluable Darkness Tour Pt. 1, when you played in Cleveland, at the Agora last year. It's hard to believe that already a year has transpired, and now Dimmu Borgir is on the second leg of the tour. So, tell me how has it been going so far?
Silenoz: Rather well, really, not as many people are in attendance, the second time around; but still, a good response, overall. With Behemoth on this bill, it really makes a difference. This is their second time in the states with their album The Apostasy, and we've always wanted to tour with a band like Behemoth, who are more in our style, for quite some time. Normally, we like to bring bands that have a different sound, but we decided, full on, to do it the way Dimmu wanted, that's why we brought on Keep Of Kalessin, as well.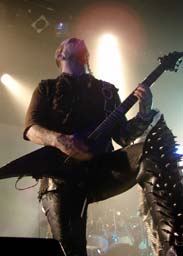 MettleMaiden: That's cool! I know that when we last saw you, Hellhammer was drumming, is he still with you?
Silenoz: No, we have Tony Laureano helping out. He has played with several Death Metal bands like Nile, God Dethroned, & Angelcorpse. Thankfully, Hellhammer is doing better, after having suffered such a traumatic neck injury. Hopefully, he might not need surgery. At least he's been able to play a few shows with his main band Mayhem.
MettleMaiden: That is reassuring, now your latest album - In Sorte Diaboli has been out for over a year, how well has it been received in the US?
Silenoz: It has been getting a great response all over the world. It's not selling as well as Death Cult Armaggedon, which, of course, had that limited edition metal box, and other unique versions; but our fans are loyal, and they always buy the CD.

MettleMaiden: That is good to hear, because nowadays, people seem to be focusing more on digital music than the CDs.
MettleMaiden: This is why we bought the digipack version with the bonus track and DVD. The first time we saw the Invaluable Darkness tour, you had only added two new songs to the set list. Have you added more for the second leg?
Silenoz: Yeah, we've added five songs into the set. On the first leg, the album was too fresh, but now that the album has been out more than a year, fans are ready to hear these songs live.
MettleMaiden: So far you have recorded two videos from the album, both very high budget explaining the concept. Have you been receiving favorable feedback for them?
Silenoz: Definitely, although those were edited for content, leaving two versions. Thankfully, we've just completed working on a third video for The Chosen Legacy.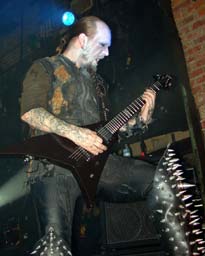 MettleMaiden: I love the videos, they are like mini-movies, not a typical performance video.
Silenoz: Well, those are always the easiest kind, but we've had great people helping us to achieve this goal. By the way, I must mention that I love your husband's shirt (points to Michael's Sabbat Dreamweaver shirt). History Of A Time To Come is my favorite album ever.
MettleMaiden: Martin is Michael's favorite lyricist of all time.
Silenoz: Mine too! When I ran into Andy Sneap at Wacken, he easily recognized that our guitar riffs sound like Sabbat's and said, "I want those riffs back!" (laughs)


MettleMaiden: Martin Walkyier has become our good friend, and he expressed interest in working with you. He would love to write some Dimmu lyrics, sing on some songs, or cover some Sabbat, like he did with Dani Filth on 'For Those Who Died'.
Silenoz: I would love to work with him too! That would just be awesome!
MettleMaiden: Being from Norway, with all the iconography, you tend to automatically be classified as Black Metal, personal I disagree. Your music has more to it than that...
Silenoz: Norweigan Black Metal is so limited, Dimmu Borgir's sound is so much more intense, pushing beyond the limits of everyday Black Metal. I don't care for categories, that's for labels and stores. If people look at us as Black Metal then that's fine, you know; but if people don't then that's more than fine.
MettleMaiden: I agree. Lyrically, Dimmu writes and expands on so much more than Black Metal themes.
MettleMaiden: So, then you are a true Satanist? You see the essence of Satanism like King Diamond. Namely, that of the Nietzche philosophy of the Ubermenschen or survival of the fittest.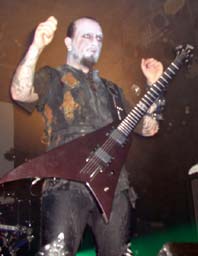 MettleAngel: Like the cover of Metal Maniacs reads, "The power of Christ repels them!" (MettleMaiden:) Switching gears, I've always been a fan of Dimmu Borgir's cover songs; especially the 'Metal Heart' & 'Burn In Hell' versions. Would you like to do more traditional covers, even beyond the metal genre?
Silenoz: Actually, many of our young fans thought 'Burn In Hell' was an original. It surprises me that they did not know about Twisted Sister, or even Accept; but given their age, this makes sense. I personally would like to see King Diamond cover the Bee Gees. But, if I can get the band to agree and we can create the time, we'll probably aim for something in the vain of Pink Floyd.



MettleMaiden: You should hear Carol King Diamond or Barry Manowar! I know everyone in Dimmu has other bands, for instance I knew you had the band Nocturnal Breed, but tell me about your new band Insidious.
Silenoz: Well, we got Shane from Napalm Death, and the album is complete, but we haven't got a label, we are still shopping around.
MettleMaiden: Is the music going to be like Shagrath's Chrome Division?
MettleMaiden: Oh, so more like Dismember meets Grave?
Silenoz: Exactly, in fact we we're going to call one song 'One Foot In The Grave', because it sounds exactly like Grave. We all keep busy with our side projects: Galder already has the Old Man's Child already written, and the new Chrome Division is killer.
MettleMaiden: You mean the CD that has that Kiss/Motörhead meets the Cult 80's vibe?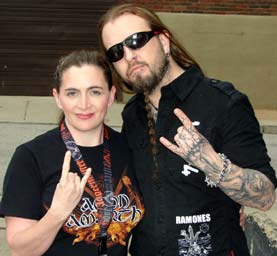 MettleMaiden: As a founding member, when you started this band back in '93, did you ever think you would reach the level of success the band has accomplished?
MettleMaiden: Well, what about the make-up Dimmu Borgir still wears, while other bands have lost the facade?



Silenoz: Make-up is very important to the ideal and character of Dimmu. Even Sabbat, and before that Hell, wore make-up. They were one of the first, along with Slayer & Celtic Frost.
MettleMaiden: Going back to everyone's side projects, has it been difficult for Dimmu Borgir to do a tour as extensive as this one?
Silenoz: No, not really. Dimmu is everyone's priority, everything else just gets put on ice, for the time being.
MettleMaiden: Well, thank you for your time and making my first official interview, easier! I have enjoyed speaking with you, and look forward to seeing you live again!

See also: review of the album In Sorte Diaboli
Related links:
www.dimmu-borgir.com
www.myspace.com/dimmuborgir