Interview conducted April 03 2008
Interview published April 13 2008
Even though it has been more than 20 years since the tragic death of Dave "Holocaust" Iannicca the bassist of Destructor, the remaining members still continue to bring down the hammer as the True Gods of Cleveland Thrash. Having just released their latest album - Forever In Leather - after being together for 25 years, these pounding warriors take command, sending poseurs straight to hell.
Dave "Overkill" Just is the skullsplitter, whose precision devastation guitar/vocal storm of steel will tear down the heavens. Matt "Flammable" Schindelar will smash your skulls in the same sonic bullet manner in which he pounds the skins. Pat "Rabid" Wolowiecki & Jamie "Boulder" Walters show power and aggression while they unearth the dearth, and maintain damage control. Destructor still write amazing music, which is very enjoyable and a blast to hear. They are ready to strike, amped with a steel vengeance; their own heavy artillery, an iron courage which always sates. Old and new school thrashers should defer to their talent and poise.
I spoke with Dave & Matt after they had just unleashed their maximum destruction on stage, opening for Trouble. Enjoy the overdose of memories, and word war of decibal casualities.

MettleAngel: I have been listening to Destructor for 20 years. I'm thankful to have seen you many times in the last year. Unfortunately, when I was going to interview you last October, at your album release party, my voice was completely gone. I am so glad that we finally get a chance to speak. I have tried to review the new CD: Forever In Leather several times, and I always run into opposition. Whether it is a crashed computer from a storm, or any other of a number of frustrating incidents, I finally plan to review your new album favorably, very soon. They say timing is everything. Now that Testament and Death Angel have just released true thrash classics, it is time for the world to rediscover Destructor.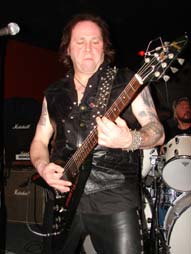 MettleAngel: Everything! I was not able to speak for two weeks, and it was ever so humbling. I had such a difficult time trying to communicate. I wanted to thank you for playing my favorite Destructor song: The Iron Curtain then, and tonight. I will definitely mention that as a highlight in my forthcoming live review. I'm also pleased to hear Overdose about our favorite drug, that being metal! I want to let you know that I sincerely love the new album. After all these years you are still creating some excellent and quality metal.
Dave: Well thanks, I mean we don't just want to be another band capitalizing on our past glory. We want to stay current. We feel we are quite capable of writing songs which hold up to today's listener.


MettleAngel: Yes you do, every song on Forever In Leather is well-written. Most metal fans should find it truly enjoyable. You still kick ass live every time I witness your mayhem. Matt your drumming tonight was tight.

Matt: Well, thank you, you really think so? I mean once I get up there on stage, I just focus, and all the energy comes back to me, like in the old days.

MettleAngel: You are no spring chicken, but you can contend with the best of them. I'm just grateful that Destructor have unleashed a new album, which I can whole-heartedly promote. I know the band has been together for over two decades. This is surprising given that Forever In Leather is your second full length release after Maximum Destruction.
MettleAngel: Well, two and one-half; from what I understand, Sonic Bullet was only an EP.
Dave: Yes, and No, we consider it a full-length. Storm Of Steel is an EP we released last year before we played Keep It True.
MettleAngel: Fair enough, Sonic Bullet saw the debut of Jamie "Boulder" Walters on Bass. So, given your longevity, this is still a small number of CD releases. I know about the personal tragedy with your bassist Dave "Holocaust" Iannicca, who was stabbed to death. Now, I imagine the hiatus between albums is due to personal obligations like work and family.
Dave: We have been around in one form or another for 25 years now. Situations like our jobs, wives, kids, etc. do keep us busy. Hell, even Boston make albums faster than we do!
MettleAngel: That is true (laughing), yet due to the success of Forever In Leather, your appearance at Keep It True, and Destructor's reputation for being Cleveland Gods of Thrash, I'm sure you are excited about playing Wacken for the first time in your career.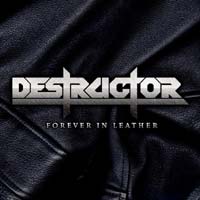 MettleAngel: Yes I know, that will be an awesome show, as a host of other recently reformed thrash acts will also participate. Many New Renaissance bands will perform like Amulance & At War; Detente is also doing that. I want your Keep It True hoodie that you are now wearing. I'm envious that you were able to share the stage with Sabbat. Did you know they are playing only four dates in the states in April? They will play in Chicago, Ney York, California and at Jaxx In Virginia, and that is it. I know many metal heads who will make the pilgrimage to witness Martin Walkyier & Andy Sneap bring about a History Of A Time To Come. Wendy & I plan to be two of these soul devotees. Did you know that Wacken has already sold out?
Dave: Yeah, and this makes us even more excited. We are so glad to be a part of this. 70.000 fans in attendance, is quite impressive. This marks our third trip to Germany. We expect to play for about 3-4,000 adoring fans, on a side stage. We love doing this, because this gives us a chance to be recognized by metal heads from all over the world; some who may not even know about us. We have an early afternoon time slot, so that we don't have to worry about competing with the mainstage bands.
MettleAngel: This also gives you a chance to enjoy the show for yourselves. Does Destructor have any plans to tour in the off season?
Dave: We may do a show in the states with our good friends Pile Driver, like the one we played in September with Anvil & Raven. Honestly, we would like to tour Europe, but the festivals are so big, that this ends up becoming our main gig.
MettleAngel: Destructor will definitely appeal to the HOA crowd. Thrashers will celebrate your appearance. Are you familiar with the Battle Cry band Solitaire from Finland, they are total Destructor clones. Matt, they even named their second album Extremely Flammable. Their fanbase will identify with you immediately. With such a major thrash resurgence in play, Destructor have chosen the perfect time to play new material.
Dave: Absolutely, we want to really show our older fans, and the new ones, that we can still write great music, and compete with the best.
MettleAngel: As far as I am concerned, there is no thrash act quite like Destructor. You are originators. You were essentially the primary thrash band on Auburn Records. Before that Bill Peters was working with mostly Classic Metal bands like Shok Paris and Breaker, who also recently reformed. I'll never forget when I first purchased Maximum Destruction on cassette. I still have this, I was a senior in High School, and I loved the fact that on the cover Matt was wearing glasses, while the band was adorned in studs and leather. It appealed to the metal geek inside me.
MettleAngel: I'll never forget when I put the tape in my car deck, as I began driving home the opener: Prelude In Sledge Minor, Opus 7, 1st Movement made me almost crash. There was all this smashing of glass, loud inchoate chanting, and then that shrill scream, I had never heard anything like this, I was astounded. After this caustic violent intro, it lead into the song Maximum Destruction, and I was hooked. What in the world were you shattering?
MettleAngel: You mean like one of those Curtis Mathis or Magnavox units from the late 60's early 70's? It sounds like you were imitating Nasty Ronnie of Nasty Savage?
MettleAngel: It sure sounds like you had some serious fun. I have always wanted to get the Maximum Destruction album on CD. I paid through the nose just to get the version on Listenable Records. I was gratful for those bonus demo tracks that came with it.
MettleAngel: Bill Peters expressed his desire to properly re-release Maximum Destruction in the way it was originally recorded, and of course, include a bunch of goodies to go with it. This is what he is currently doing with Black Death; especially after the recent death of drummer Phil Bullard who passed away in February from colon cancer.
Dave: We are excited for Bill to do this, when he can create the time. The whole Decibel Casualities mix was wrong. This was the album to immediately follow Maximum, before the issue with our bass player. We want to rework those Decibel Casualties songs, and re-record the whole thing. That mix on Listenable is not as heavy as we want. We will begin this process by soon releasing a 7" vinyl EP. We will include one old song along with a new track we just wrote called: The Steel. We also plan to release a vinyl version of Forever In Leather before we attend Wacken.
MettleAngel: I want that, as well as a vinyl version of Maximum Destruction, if I can find it. I want as much Destructor as I can collect. This is why I bought Wendy a shirt. I want everyone to know that Destructor is still ragin'! She ran into a gas station employee who recognized the name, but did not know you had 're-united', even though I know you never disbanded.
Dave: Our attitude is that we don't want to rest on our past laurels, just playing old stuff. There are several Cleveland Metal acts reforming, but several artists' new music cannot hold a candle to what they once created.
MettleAngel: Oh I agree, and several great musicians like Jeff Hatrix from Purgatory, now sing as the Doctor Butcher character in the annoying Mushroomhead. Destructor are still so vibrant, so full of life, and your live theatrics only serve to exemplify this notion. Other thrash reformations by the likes of Hallow's Eve, Wrath, and Bloodfeast are really unneccesary, as they just can't recapture their trademark sound anymore.
Matt: Yes, last I checked, we are still alive! (Dave:) We refuse to live in our past. Destructor is all about the present tense. Actually, we opted to leave off one song from Forever In Leather, because we decided that a good 45 minute CD summed it all up. We did not want to be one of these bands who pads a release with a bunch of filler, to make the purchae more mandatory. The song: We Are Ready was initially released in demo format on the Storm Of Steel EP last year.
MettleAngel: Yes, I know I have that and it sounds great. I respect the band's attitude. I know how frustrating it is when I go to review a CD loaded with a bunch of mediocre material. I must say that 45 minutes seems to be a common mean used by many thrash acts today, as it was two decades ago. Kai Hansen suggests that any album over 50 minutes is just too much for a new release.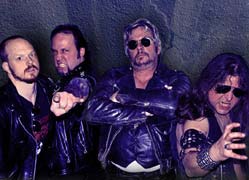 MettleAngel: We all appreciate you doing this. Destructor were a real groundbreaking band back in the day, when you signed with Auburn Records. Many of Bill's bands had aggression and intensity, but noone could compare to the mighty Destructor. I'm surprised you never journeyed to Cincinnati to play with the likes of Thruster, Chastain, or CJSS.
Dave: Me too, we have never played either Cincy or Columbus.
MettleAngel: In the late 80's I witnessed Shok Paris opening for Nasty Savage and even Savatage at Bogarts, in Cincinnati.
MettleAngel: Don't bother, they just closed two major metal/rock bars: Sudsie Malones (which was also a laundrymat), and Top Cats. There is no metal scene. Transfusion Productions booked Joey Belladonna, but they don't expect a big crowd, which is so sad, but true. The great news, is that Destructor have a loyal following in Cleveland, and you will be so succesful in Europe. Tell me about this Torch cover of Watcher Of the Night which you did as a 7" split with Nunslaughter. I know you like those early Swedish acts like Torch, Heavy Load, Overdrive, etc. do you have any plans to release this cool cover on CD? I enjoyed it when you played it live at your album release party.
MettleAngel: I look forward to hearing that, as I don't have the vinyl yet. I'll have to bug Jim from Nunslaughter. I'm also enthused about the re-release of Maximum Destruction & Decibel Casualities, done right. As you know Destructor are still my favorite Cleveland band of all time; just as Thruster is my favorite Cincinnati act, and I am continually bugging them to finish their new album. They also have a number of personal issues with which to contend, like work and family. Dave & Matt, Jamie (who is present but did not contribute), and Pat (who had to leave early), I congratulate you on yet another excellent show and a killer CD. Iron Curtain is still my favorite song, after all these years, I love the bass parts. Thank you so much from all my heart for creating the time to finally indulge me. Now let's all go check out the amazing Gods - Trouble!
Dave: Michael, it is always a pleasure speaking with you. I'm glad we could finally do this. (Matt:) Yeah, Man, you really know your shit! Thanks again, and do keep in touch!
Related links:
www.myspace.com/maximumdestructor
www.auburnrecords.com