Interview conducted February 24 2013
Interview published March 12 2013
One of the Big Teutonic 4 Thrash 'til death deciders - those Mad butchers known as Destruction - have just discharged their new metal album 'Spiritual Genocide' and it continues the legacy of the past, while allowing for some novel variations.
On my day of reckoning, I spoke with the inventor of evil himself - Marcel "Schmier" Schirmer - about the recording of the new album; their second with youthful Polish drummer - Wawrzniec "Vaaver" Dramowicz, the experience of sharing his renegade thrash anthems worldwide, and the absolute base joy of celebrating 30 years of delivering the sentence of death, releasing us all from agony, and best of all, invading our lives with the infernal overkill of Destruction.

MettleAngel: Hey Brother, it is so great to speak with you again. I know you are always doing interviews, but when I was asked to participate, I was excited because I always enjoy discussing what is new with you.
Schmier: Michael, I genuinely look forward to speaking with you, because I know this will both be an informative interview, as well as an engaging, light, and fun conversation.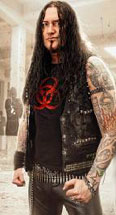 MettleAngel: Indeed it shall be. We had so much fun hanging out and getting our picture taken by the crusie director on the first voyage of "70,000 Tons Of Metal". I actually have not spoken with you since we deaparted the ship. I was so excited to hear your new album then called 'Day Of Reckoning'. You had just let me hear advanced samples of "Hate Is My Fuel" and "The Price".
Schmier: Ahh yes, I remember how excited you were about our new album, and we introduced you to our new drummer.
MettleAngel: I am amazed that now we are here to discuss the follow-up to that album, your latest called 'Spiritual Genocide'. Man, you do not waste any time creating new material, do you?
Schmier: Well you know there is really no time to waste. We love doing this, and making it our career. After all, we were one of the originators of this style. We started this whole thing, and we know how to perpetuate it. I have come to realize that thrash is here to stay.
MettleAngel: I agree and you are truly one of the Big Teutonic 4. Congratulations on 30 years of writing thrash anthems. I just heard your cover of "Hammered" by Motörhead. I also like your rendition of "(We Are) The Road Crew". I wish I could have seen the show with you Kreator, Sodom, and Tankard. Did you film this landmark event for a DVD?
Schmier: No, and we were honoured to play that show. That was the first time all of us ever shared the same stage. It is amazing, because we have all been doing this for so long, but we never played a show like this before.
MettleAngel: Is there a chance that this "Big Teutonic 4" idea could become an actual tour?
Schmier: I am open to it, but we all have such hectic schedules. Tom from Sodom wants to tour less, and the Tankard guys can really only do it on weekends, as they all have real jobs. Mille is very professional about everything, and I think he would like to see it better organized.
MettleAngel: Well at least you put out the CD. I was quite surprised by Kreator's take on "Number Of The Beast", and what Tankard did with "The Prisoner". I am also impressed with the new Destruction album. I noticed you re-recorded several songs from 'Metal Discharge' for the exclusive U.S. edition.
Schmier: Yeah, we wanted to give the U.S. market something unique. America has always been a strong supporter of us. We want to tour there more, but we are wrapped up in litigation right now with a promoter who ripped us off, and still owes us money. We will soon return to the U.S. to play a handful of shows, but we do not have any tour plans booked yet.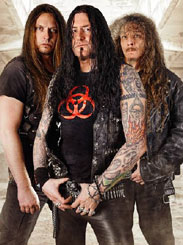 MettleAngel: Man, I would so love to see you live again. You had such poor time slots on "70K-1". Although, you did have every other thrash musician playing the boat from Exodus to Testament moshing in the pit, with Mean Gene Hoglan moderating. I do like the direction of the some of the newer songs on this album. I also was surprised with some of the guest appearances on the bonus track version of "Carnivore".
MettleAngel: I assumed that you and Mike did the bulk of all the writing. Also, has not your drummer Vaaver already been in the band for over three years?
Schmier: Yes, but he is still new to us. Our last drummer had grown lazy, and was not really open to new ideas. Whereas, Wawrzniec is an accomplished musician in his own right. He has a very strong musical background. He is very open to new ideas, and mixing things up a bit. Also, with this band we are like a family, so we all have to get along. He has truly become one of us.
MettleAngel: When I met him on the cruise, he seemed cool. I also find it interesting, that when we were hanging out with Saxon, and they were discussing their then new album called " Call To Arms", you admitted to being a big fan. Now, here on your new album, you are covering "Princess Of The Night". Oh, and by the way, like Destruction, Saxon also have a new album out called 'Sacrifice'. Damn you too are juggernauts of justice! Speaking of which Anvil will also deliver new material in May!
Schmier: We have been considering covering Saxon for quite sometime. We have become friends with them over the years. When we were all just kids, before we formed Destruction, Mike and I would go to see them live. I love this type of music. Mike plays "Princess" when he does soundchecks and warm ups. We just did not want our version to sully the original. We had to give it our own touch, and I think we did just that.
MettleAngel: I think it is killer. I was so impressed with your DIO cover too. As you know I also like Headhunter's cover of "18 And Life" by Skid Row, even though I know you get a lot of criticism for doing that song.
Schmier: Yeah, I get the feeling that fans think that because I am in Destruction, I can only like and play Thrash and Punk music. This is absurd, as I like Classic Rock and Metal. I should not have to defend my taste in music to others.
MettleAngel: I agree, which is why 'Alliance Of Hellhoundz" was such a great idea. Is there ever a chance that you wil do a sequel to this with other great guest musicians?
Schmier: I would love to, as this was such an honour for me to work with those who made me want to do this. Paul DiAnno, Biff, and several other NWOBHM acts is why we began Destruction, in the first place. I will always view this as one of my greatest achievements. It is truly a hi-light of my career, but right now, I have not made plans to do another.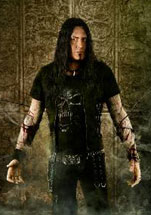 MettleAngel: The souls and singers of that contibuted to the heart of Destruction...whoah... now I just got chills, because my Ipod is on shuffle in the background, and as we conduct this interview, "Alliance" is playing purely by random!
MettleAngel: Maybe it is a sign of fear! You are afterall the Godfather of slander.
Schmier: (laughs) Yeah, and I am such a busy man, but these type of interviews add... what is the English word I am thinking of...?
MettleAngel: Perhaps levity? It also allows you to breathe and know that you are on the right path.
Schmier: I will tell you this is so very true. I never thought Thrash would endure for so long. We just played the Firelands in Argentina. Who would have thought at that remote location so many Destruction fans would show, and pledge to die for our performance. I felt so honoured. I have also come to realize that there is a whole new generation of Destruction fans out there. They are younger, and really into our newer albums.
MettleAngel: Well, I am a longtime fan, and I love all levels of Destruction, save the one 'Cannonball' fiasco. I think it is great that you find bliss in what you are doing. I know that when you reformed the band in 1999, you had also been a restaurant proprietor. You had that Pizzeria called Barracuda located in Istein. You had to sell the business to focus on the band, right?
Schmier: Yes, and that almost killed me. I was working so hard to keep both active. Finally, I chose the band, and I know I made the right decision. I have seen all the comments fans make about Destruction over the years. Older fans want us to focus on the first few album, newer fans, on the later work. When it all comes to a head. I have to make the music I want to hear. This is what I love about Punk. I admire the DIY attitude. I have to do this for me, and me alone.
MettleAngel: I hear you. Always focus on service by following your bliss.
Schmier: Over the years, I have come to realize that Thrash is a real form of music. It has an honest energy and unrelenting aggression. This form of youth rebellion is always evolving. I know I am not getting any younger. I just want to continue to make the music that inspired me to do this in the first place.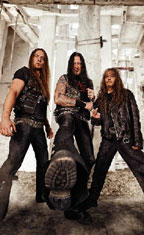 MettleAngel: Well, you are only a few years older than I, and a few inches taller. I admire your level of perseverance. I always love to see Destruction live. I am amazed it has been eight years since I have seen you on U.S. shores. I think the new album is excellent.
MettleAngel: I like the fact that some songs are not of the expected formula. I have felt this for quite some time. I was vey impressed on what you did with 'D.E.V.I.L.O.U.T.I.O.N.' I even got a kick out of the acrostichon with each song.
MettleAngel: I need to revisit 'Metal Discharge' in light of the re-recorded material. Obviously, I will always be a fan of the '80s albums I first heard. You know my favourite song is still "Black Death". Damn, if we still need to figure out the lyrics to this song. Have you recalled them yet?
MettleAngel: No worries, just keep on doing what you do best. Thank You again for sharing the time with me. I know it has already been five years since the last Headhunter album, and with Jörg Michael's cancer scare there may not be another. One can only hope. I am just totally grateful that you have continued to be the inventor of evil and have kept Destruction going for this long. Here is to another 30 years of releasing us from agony for your eternal band's thrash attack!
MettleAngel: Hopefully, the rest of your interviews this day will not be too tedious.
MettleAngel: The feeling is mutual.
Related links:

www.destruction.de
www.myspace.com/destruction
www.facebook.com/destruction
www.youtube.com/destructionofficial