Curse the Gods! The Mad Butcher strikes back with the ultimate thrash attack! As a dedicated thrash fan addict for Teutonic steel, I no longer experience my dissatisfied existence or fall prey to unconscious ruins; since Tuesday, June 6, 2006, I finally got to celebrate the ritual of Destruction's Metal Discharge; after having waited patiently, for almost two decades to see them play live. My release from agony of the antichrist culminated when I finally got to sit down and solve the confound games of my confused mind, with the inventor of evil himself: Schmier.

MettleAngel: Schmier is not your first name, is it your middle name or perhaps your nickname?
Schmier: That's me I'm Schmier, forget about Blabbermouth calling me Marcel, I am Schmier that's who I am.

MettleAngel: How did you get the name Schmier?
Schmier: I was like any other kid listening to Heavy Metal back then, who wanted to start his own band. Me and my friends painted the logo on the back of our jackets. After I did this I got so excited to wear my jacket, but the paint wasn't dry and it "schmiered". I was the one who smeared the artwork, I was givin a hard time by my buddies, and the name just stuck. Now only my mom calls me Marcel because I am Schmier.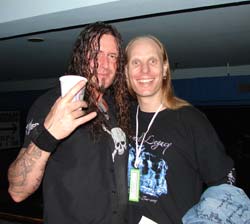 MettleAngel: So a smudge on your jacket led to the appellative, which essentially carries no evil connotation. In the '80s, it seems that everyone was trying to come up with the most evil sounding names to use as a gimmick; now the black metal genre continues this tradition even today unto "reductio ad absurdum". (the point of absurdity)

MettleAngel: That's the name that resonates with who you truly are. It may not be your birth name but it defines your "soul identity". For example: Kim Bendix Pedersen is better known to everyone as King Diamond.
Schmier: Yeah, I'm Schmier, not just for Destruction either, but for everything, everyone calls me Schmier.

MettleAngel: That's so cool! What a anecdote to tell all metal enthusiasts and Destruction fans! Now let's talk about Headhunter. I absolutely love your work with this band, especially the first CD "Parody of Life" with Kai Hansen and Jorg Michael. I even paid $45 for a used copy and burned several copies for friends since Headhunter CDs are so hard to find. I love the silly songs on "Bizzare Gardening Accidents" ( itself, a Spinal Tap reference) like "Don't Bogart the Joint" from the movie "Easy Rider" and the hyper fast rendition of "Ram-a-lama-ding-dong". Any chance if you were given a million dollars to reissue these CDs you would be interested in doing so, for all of those fans who may not have heard these excellent recordings?
MettleAngel: By the time Destruction recorded "Release From Agony" with an additional guitarist, the band was becoming more melodic thrash and with Headhunter you were definitely Power Metal and even becoming more progressive oriented.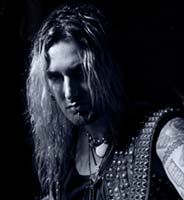 MettleAngel: Yeah, and you played power metal thrash when death metal dominated the European market in the early '90s. Only a few dedicated bands from Germany like Rage, Gamma Ray, Blind Guardian, or Running Wild still remained steadfast and true to the power metal vibe. Meanwhile Destruction went another direction, although I loved "Cracked Brain". (At this point I turned my attention to Mike who was sitting at the table three feet away) Mike, I respect what you did in the early '90s, but finding your "Least Successfull Human Cannonball" and EPs is next to impossible. Any chance that you would reissue those releases?
MettleAngel: Personally I've only heard "Cracked Brain" and I'm a huge Poltergiest fan, I was even going to wear my "Cracked Brain" T-shirt, but it's a bit small and I didn't want to create any controversy. So Schmier, we are so glad that you finally came to Cincinnati, as I never got to see you in the glory days.
Schmier: We came in '89 I think...(then there is a discourse concerning Celtic Frost and their evolution over the years which leads to a discussion about early American Destruction fans)... Katon of Hirax was our first true American fan. Here was this black guy from Los Angeles who wrote us to tell us that he so loved Destruction, and that he was forming his own band. As far as I'm concerned Katon was our first official US fan.
MettleAngel: Well I was a big fan too, but I was more pre-occupied with trying to contact Deathrow and Vendetta! So Katon was for Destruction what King Fowley was for Voi Vod. I even got to see and meet Kreator on the "Flag of Hate" tour with Voi Vod on the "Killing Technology" Tournado in '87 (this leads to a discussion about the early days) So I hear you are planning to redo some classic tracks for a greatest hits CD.
Schmier: Yeah, we have all these great songs which we made which we would love to re-record and play for old and new fans alike. We would even call previous band members like Harry and Olli to play on a few songs.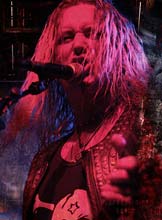 MettleAngel: Yeah, like Tom did on the "Lords of Depravity" DVD?
Schmier: Yes, but this would be for a CD, and I'm not concerned what others say about re-recording classic tracks just because they like the horrible, distorted production of the '80s.
MettleAngel: Hey man, to thine own self be true, follow your heart and do what you want to do. I loved the show tonight, I just wished you would have played "Eternal Ban" or my personal favorite "Black Death".
Schmier: : "Black Death" is a great song, but a bit too long. We would have loved to have played "Eternal Ban" if we would have had more time.
MettleAngel: I think it is so cool that you filled in when Nuclear Assault dropped off the bill. Many dedicated old school fans drove great distances just to see you play tonight. So that recent article in "Metal Maniacs" where you were concerned about the older fans not attending shows has now officially been dispelled this evening.
Schmier: In Europe it's always the kids that attend the shows. But here on this US tour we are definitely meeting some older fans. Everyone keeps referring to this "Metal Maniacs" interview which I have not even seen yet! Michael, you should write for "Metal Maniacs" as you are yourself a metal dictionary.( At this point my wife Wendy, who took all of tonight's photos, chimes in with "I call him my encyclopaedia of useless information, as he knows the most obscure stuff, and being married to him is never a dull moment.")
MettleAngel: Thank you so much for taking the time to answer my probing questions.
Schmier: It's no problem, I really enjoyed it. You ask great questions, not the typical boring ones I'm asked over and over again.

Wendy & I then hung out with Schmier and members of the rest of the bands until the buses finally departed.

See also: review of the gig the same night 2006 06 06 »»

Related links: