Interview conducted July 03 2007
Interview published July 12 2007
Their albums and singles always tops the Japanese indie-charts, they have played at both Wacken and Tuska Open Air. But now they make a quick stop at Klubben in Stockholm for their first Swedish gig ever. Metal Covenant sat down with the guitarist/songwriter Karyu and the bassist Zero a few hours before the concert.

Niklas: You've been touring in Europe more than most Japanese bands have. Why is that?
Karyo: First of all, we really want to come here! We want to experience new things. Since people nowadays can get our CDs here in Europe, we also want to come and play here.

Niklas: To me, D'espairsRay sound like both metal, pop, industrial, punk and goth music… How would you like to describe your sound?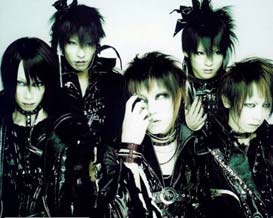 Niklas: But you must have been influenced by a variety of bands, surely?

Niklas: You just released your second album Mirror here in Europe. What can you tell us about that one?



Karyo: The second album is definitely more melodious compared to the first album. At the same time we have tried to retain the hard and heavy parts. There is no concept behind this album, we just wrote about things we think of and feel at the moment.

Niklas: I noticed that there is a big difference between the song Garnet from your first album Coll:set, which had scary videos and distorted vocals, and the new song Squall, which has a more pop/rock-like feeling. Was this intentional?
Karyo: It's not intentional, it's rather a natural progress. At the time when we made our first album, it just happened so that we made these types of songs, and their message was reflected in our videos. We've always listened to pop and rock, so our taste hasn't changed that much, really.
Niklas: Would you consider D'espairsRay to be part of the Visual Kei-culture?
Niklas: The name D'espairsRay sounds kind of mysterious… What does it mean?
Karyo: It's about the struggle between darkness and light, really. You know, like yin and yang? Despair is something that is really dark, while rays often stand for brightness and light. That's really what we try to bring into our music as well, and it's what D'espairsRay is all about.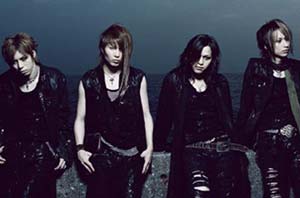 Niklas: How would you describe your live shows?
Niklas: If somebody were curious about D'espairsRay, which song would you recommend they would start with listening to?



Karyo: (after a long pause) Closer To Ideal, from our new album. (Zero:) I would choose the title track from our new album, Mirror.
Niklas: Any last words to your fans?
Karyo: It's our first time here, so it's very exciting to meet all the fans and see their reactions. We'd love to come back to Europe, and Sweden of course.
The interview is over, but I offer D'espairsRay the chance to ask me some questions. This seems to have been something that Karyu and Zero have looked forward to, because there are lots of questions to be had. How old are you? Are you Swedish? What are Swedish girls like? What are Swedish meatballs ("they are, like, balls of meat… that you can eat")? Then it's time to say goodbye. Later the same evening, D'espairsRay put on a striking performance in the same venue. Follw the link below and read all about it:

See also: review of the gig the same night
Related links:

www.despairsray.jp
www.newnippon.net