Last year the american band Delian League released a promising 3 track demo titled Day Of Question. After that everything has been pretty quiet about them, at this part of the world at least. We decided to let singer Jude Andrade bring us up to date on what is happening in the band camp, and what to except regarding releases and touring in the nearest future. The following is what he shares with us..........

Tommy: After hearing your demo Day Of Question last year, I was intreagued to hear more of your material and especially with a better production and more experience from the band members resulting in perhaps a more mature and exciting material from you. Alas, not much news have broke from your camp lately about any new releases, or even work on such. Can you please give us a brief overview over the happenings since last summer and the thoughts, desires/wishes and plans for the band that have been going on since, and hopefully still are cooking? In short - what are you up to, and can we expect to hear something big from you in a near future?
Jude: The band has gone through a major transition. We have since parted ways with Chris Kaminsky (our old drummer) and join forces with Joe Dooling. Joe is an amazing addition to what I think is an already amazing ensemble. We have been spending the time getting Joe up to speed as well as writing new material. We are in the process of recording a full-length album and have been in negotiations with a record label. The details of that I can't reveal at this time - but should be revealed shortly.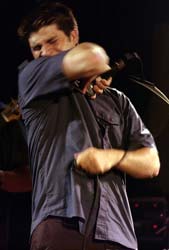 Tommy: In your own words, what can we expect to hear on the next release - demo or fulllength album - from Delian League?
Jude: We have definitely progressed as a band. Our sound more intricate and technical. A mixture of new and old metal will be exposed within the new album as never heard before. We feel we have captured a new style within the metal genre. The attention to detail within each song will dictate the sound. It is sick!!!
Tommy: Have the musical direction changed along the way the past years, or are you still going pretty much for the more or less "heavy metal, spiced with some progressive elements" way? If there are some significant changes, what influences have you embraced lately for this change to take place?


Jude: I feel that metal itself has changed. As the oldest member of the band - My influences vary from Dave and Rich(who are more into progressive, and Swedish metal like In Flames and Soilwork)or Shane and Joe(Faith No More, Tool…) - while we have some of the same influences - I grew up listening to early Carnivore, Megadeth, Metallica, Overkill, Anthrax, Maiden - "Old School" metal. But have grasped on the some "newer" sounds such as Alice and Chains, Disturbed, Korn. So the mixture is apparent within the new material. We have always not worried about the "norm" and played what we feel, regardless of trends and popularity. We truly feel its all about the music. If a song turns out too much one style we don't care as long as we are comfortable with the song; its classification does not matter. It's the sound that matters.
Tommy: What kind of music and what bands are your main influences nowadays? Is it mainly from the traditional metal scene, or are you looking elsewhere for elements to implement in your creations?
Jude: I have been listening to a lot of classic rock lately. Led Zepplin, Rolling Stones. Trying to re-establish my roots. I was raised as a "hippy child" and have always been amazed at how the progression of rock is evident in metal. Black Sabbath - I believe the founders of metal - created a new sound that at first frightened - but later revealed the evolution of a great new sound. That's the feeling we are trying to capture within our sound. Together we are a mixture of a classic metal sound and one of today.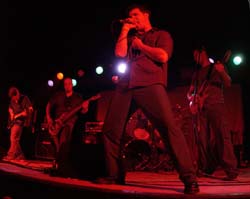 Tommy: How is the climate in the club scene in the US for a band at your level nowdays? Describe a typical Delian League concert, and try to give an overview over the average attender to the gigs.
Jude: We have started playing shows again after a long 5 month holiday. Our shows range in attendance. Depending upon the venue. One of our favorite local metal/sports bar "The Cup" in Linden NJ can draw well over 100 strong. We have also played for crowds of 3000 which in itself is an amazing experience. It has been harder and harder to find new venue's to play at. Our genre of music is more underground than main stream and this limits us as far as performances go within our immediate area. Discussions have started in regards to touring.
Tommy: You play quite a lot, mostly in the NY and NJ area - how is the response from the audience and agents/promotors that check you out during these events? Have you ever had a really good offer, and/or do you have something cooking at the moment?
Jude: We are generally approached at every show by someone or another wanting to be a part of what we are trying to create. Any offer/help in meeting these goals we, without question, graciously accept. If there is someone out there that believes in our sound enough to help out whether it is promoting or wanting us to play a show then that's a big plus. As mentioned before we are in the negotiation process of a great deal that will bring us to the next level.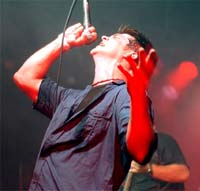 Tommy: What kind of material does your live setlist contain? Considering the fact that your back catalogue is not still big enough for an extensive setlist of own songs, I assume there must be room for some covers thrown in here and there? Am I correct in that assumption, and in that case: what songs and bands do you cover?

Jude: We have over 15 songs strong of our own and counting. Our set list usually depends upon how we feel at the start of the show. We have tried covers - Megadeth, Testament, Death - but for some reason it never works out!!…we really try to concentrate our time on our sound, not the sound of others.
Tommy: You have also been playing at shows together with Overkill, Anthrax, Morbid Angel, Symphony X, Killswitch Engage, Shadows Fall, among others. What has it been like playing at these events, and what has the response been from the mentioned bands, if anything? It is told that Steve DiGiorgio of Testament recently wore a Delian League t-shirt on stage during a show. What is your reaction to that? :)
Jude: I can't tell you enough how amazing it was being on the same stage as the bands you idolize. Watching the Overkill sound check in an empty club to partying with some of those other bands just makes this so much more enjoyable. And the whole Steve DiGiorgio thing just blew me away!!! We'd started out as a bunch of guys from NJ just fuckin around, I never imagined someone like that would ever be sportin our shirt at metalfest!!!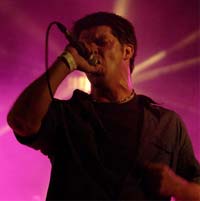 Tommy: If you stare into the crystal ball, let's say 2-3 years from now, and with another album in the back - how do you realistically see the situation to be for Delian League? What would an ideal situation be, according to you?
Tommy: I thank you very much for participating in this interview and sharing this information and your thoughts with us - these last lines are entirely for you. Any final words you would like to round off with - a tip, a recommendation or a thought for the future?


Jude: Delian League will release a full length album shortly and begin touring in the beginning of 2005. Our fans have been amazing and the support overwhelming. Our love of music and the fans support in the main reason we keep doing what we do and hopefully everyone will be able to sense that with our new release.
That was all I had for now, Jude - the staff at metalcovenant.com wish you all the very best for the future, and we sincerely want to thank you for keeping the spirit of Metal alive!

Related links:

Demo review: Day Of Question