Interview conducted September 27 2019
Interview published November 25 2019

Metal Covenant met Degreed's frontman Robin Ericsson in Stockholm, Sweden, to talk about the band's new album Lost Generation. [Out November 15th.]

Tobbe: Tell me about your new album, Lost Generation.
Robin: The first thing that comes to mind is that we have released a lot of singles, which is a pretty new way of working, really. It's going to be 6 singles out and everyone of them will be on the record. So it's kind of a new way of working, but that's also kind of how it works, you know. People say it's a track business, and I guess that's pretty valid. I come from a generation where you buy records, you know.

But, well, I still think it's interesting to try it this way too. We have in a way decided along the road which songs will go on the album. We put out the first single, Body Of Work, in September of 2018, which was over a year ago, and at that point we had no plan whatsoever. So decisions were made along the road, you know. But I think we have outdone ourselves again, in terms of song material and sound.
Tobbe: If one of the singles wouldn't have ended up on the album, would it have been forgotten for all time then?
Robin: Well, we left all decisions open, like "We don't have to put this one on the record.". But I guess we wouldn't forget it. Well, I don't know. The great thing about this progress is you can get the statistics, like "This song doesn't seem to be so appreciated, so let's ditch it.". We were given that opportunity, but we put every song on the record anyway. And that feels great! It would maybe be kind of fake if, you know, you come out with a single and then "This song didn't go down so well. So, goodbye! You're not welcome anymore.".
Tobbe: If strictly looking at the song material, what might make this record a bit special?
Robin: We have done quite a few soft things on this record, but at the same time we have come out with some of the most heavy metal-ish songs we have ever made as well. I think we never repeat ourselves too much, I would say. But that's always up to the listener. I can think whatever I like to, but the listeners decide, really.
Tobbe: You have recorded a Ted Gärdestad cover [Blue Virgin Isles] and what led up to such a decision? [Ted Gärdestad is a Swedish artist mainly known for his work in the '70s.]
Robin: Our manager, Erik Grönwall [Also lead singer of H.E.A.T], suggested it. In the beginning it felt a little weird, but as we got used to it, it felt really fun and like a great idea. He has a fine musical legacy, so it feels good to celebrate him. And it's a great song too. The English version of the song didn't become so successful for him, so I hope this is a second chance for him.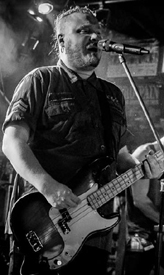 Tobbe: Is there anything you want to say to people with your lyrics?
Robin: You know, I often write about personal stuff, like emotions, experiences and situations. But sometimes I just write a lyric because something comes up, or maybe I have a title and then I build the lyrics around that. You All Know My Name is really about my hard way of living, which was going on for many years. I'm sober now and I've put down all that shit, you know. An ironic disquisition about how it might end up, you know.

Ruins is about my home village, Kopparberg, which I have moved back to. I think it's a part of my process of getting better and change my life. So it's a tribute to Kopparberg, even if it's called Ruins. You can see the village falling. People are moving. I moved from there to Stockholm, and lived here for 16 years, and now I've just moved back. You know, stores, cafes, restaurants, industries are closing, so it's falling. But I love the village anyway, so this is a declaration of love. So it's often personal stuff.
Tobbe: Degreed hasn't got that real breakthrough yet, so what do you see as your strongest driving force to keep making music?
Robin: Well, first of all you must remember why you started in the first place, which you tend to forget. But you get kind of greedy, in terms of going forward and wanting that breakthrough. I've seen myself looking up number of streams on Spotify and, like, "There's too few hits!", and you tend to compare yourself to others. So it's important to remember why you started doing this. You know, I didn't start with this in order to make money. It would be nice to do that though. [Laughs]

But it wasn't because of that I started, but this is my calling, in a way. This is what I am. I define myself with music. I live and breathe music. I'm a total nerd and I love doing this. But to answer your question: We go forward all the time. If someone would have told me when I was 10 years old that I was going to experience what I now have experienced, I wouldn't have believed it. I mean, a lot of my dreams have come true, but as it happens you don't think about it, you know.

One of my dreams was to release an album, and now we're releasing our fifth, and I'm still not content. I mean, I'm happy about it, but I want more. You push your goal forward along the road, and that's a really strong driving force. Getting airtime on the radio was a big thing, and now we've got airtime on radio. Just to play outside of Sweden was big, and now we're playing all over Europe. Touring and get to be in a tour bus was a big thing, and we get to do that now.

We've had the opportunity to be out playing with many of my idols. It started with Dan Reed Network. You know, I'm a huge megafan of that band. And then we went out with Pretty Maids, who are even bigger to me and that I've listened to since I was young. To get to know these people is sick. One must be grateful. So that's also a driving force.
Tobbe: It seems like most kids today don't have time to sit down and really learn to play an instrument and in what way do you personally look at this situation?
Robin: I'm, thankfully, of a generation where people still work hard and practice on their instrument. Of course there were video games back then as well, but I wasn't really interested in that. I play video games with my son now. I have a rule that says that I don't play unless I play together with him. And I stick to that rule. But it's a little frightening of course, because everything is so approachable and you can make a record on a computer, you know. It's the way it is, but you have to accept that as well.

If we take Idol and all those TV shows as an example, a lot of the kids there don't even know what a rehearsal room is. They don't know what it's like to not hear yourself, or scream just to hear your voice, or playing loud. You know, the whole thing. I wish that they could experience that, like step into your garage and just go for it. I learned the hard way. I started there, which I'm glad for. But maybe it works differently now.

Related links:

www.degreedmusic.com
www.facebook.com/degreedmusic