Interview conducted September 05 2010
Interview published September 19 2010
The swarm is upon us, as Death Angel return with 'Relentless Retribution', disturbing the peaceful, and stirring our voracious souls. The road mutants have spawned another sonic beatdown of mindraping volcanic riffs, and mirrored devil metal disorganization. Each soulless slice of experimental mayhem will thrust the confused one into the arms of righteous fervour, but never leave him feeling bored .
Through seemingly endless time, the thicker than blood new line-up verifies that these faithful thrashers are ever determined to recreate the ultra-violence. I spoke with one seasoned, skilled professional - Mark Osegueda - all about the dark theory of Death Angel, the art of touring, his dying obsession with the new album, and the ultimate question: Why you do this? Come sail the shores of sin, fall from grace, open up your eyes, and frolic with us.

MettleAngel: Hey Man how is it going?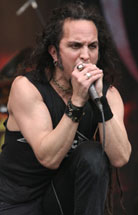 MettleAngel: I am good, and very excited to speak with you.
MettleAngel: I have met you before, and we discussed the glory days of Death Angel, but this is the first time I am finally interviewing you. I usually speak with Rob Cavestany. When I saw that you were available, I seized the opportunity.
MettleAngel: I do not know where to begin, as I am such a fan of early Death Angel. I have always felt that the band was always one step above their Bay Area counterparts.
MettleAngel: Every way, Man! I recall when I first purchased 'Frolic Through The Park', which is still my favourite album. Already, you were beginning to experiment with songs. The first time I heard the slow chugging of "Confused" I did not like it, but then it suddenly grew on me. This was the same when I first bought 'Act III'. After several listens, that proved to be a masterpiece.
Mark: This seems to be the general consensus. You are right, one thing about Death Angel, we are always trying something new, always pushing the envelope.
MettleAngel: This is why I so respect the diligence of the band. This was the same when the band broke up and formed both The Organization and Swarm.
MettleAngel: I never did like those bands back then, but I can appreciate them now. I know when Swarm has performed live you have played with Kirk Hammett, Les Claypool, and even Jerry Cantrell.
Mark: Yes this is true, and a band like Swarm is geared for experimentation in a live atmosphere. There we are prone to cosmic noodling, and just having fun. With Death Angel we are more mature, and very focused on what we are doing.
MettleAngel: I am glad that I have followed your seasoned professionalism ever since I first purchased 'The Ultra-Violence'. This allows me to be more opened minded about the recording of 'Relentless Retribution'. I have to admit, I was shocked when I noticed all the modern touches, breakdowns, blastbeats, time changes, etc. Older fans, may be a bit leery to tolerate this.
Mark: Yeah, we are constantly reinventing ourselves, and this time we wanted to return to our roots, but also open ourselves up to the music which our younger fans appreciate.
MettleAngel: This was probably very effective when you recently toured with Soilwork. You also were in Europe last year with Ex Deo and Keep of Kalessin.
MettleAngel: For the recording of the new album, this time you had Jason Suecof produce the album. On 'Killing Season' you worked with Nick Raskulinecz. Do you think that by also using these newer, more modern producers, who are known for working with many metalcore acts, that this has affected how the music has ultimately turned out?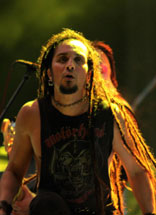 MettleAngel: This is how Andy Sneap viewed the recording of the new Accept.
MettleAngel: I noticed that even the cover artwork you selected for the new album was painted by Brent Elliot White, who has worked with Job For A Cowboy, Carnifex, and Whitechapel. I am sure that also has an appeal for your newer fans.
Mark: We had several artists interested in doing the cover art. Brent was the one who seamed most eager. He requested a transcript of the lyrics before he even began to make suggestions. Once he read all the lyrics, he formulated this cover, and we are so damn pleased.
MettleAngel: I have to admit it is a killer depiction, and a far cry from the abstract cover of 'Frolic'. It is as if we have been thrown to the wolves!
MettleAngel: I guess another reason the band's sound is more modern and updated would be that this is your first album release without the classic line-up of your cousins.
MettleAngel: I know Ted Aguilar has been with you for awhile replacing Gus Pepa when the band reunited in 2001, and then released 'The Art Of Dying', but now Andy Galeon and Dennis Pepa have left the band just leaving you and Rob.
Mark: Yeah, and Rob and I are still cousins, but we have welcomed two new guys to the family: Will Carroll on drums and Damien Sisson on bass.
MettleAngel: This is the first time ever that the band is not Filipino. Hell, you have two white guys, not to sound controversial, but we all relate to Death Angel as being blood kin.
MettleAngel: Rob has children too. When I last interviewed him a few years ago in Colombus, it was his son's birthday.
Mark: Yes, this is true, but his family is very supportive of him being in Death Angel. With this band we are all about the touring and making of new albums. We wish Dennis and Andy all the best, but they just can no longer commit to the rigours of being on the road.
MettleAngel: Man this is surreal, as you are the ultimate road mutants. Hell, if it was not for Andy's horrible, near fatal accident, you would have been on 'Clash Of The Titans', back in '90 in the US with Megadeth, Slayer, and Anthrax. It was because of this tragedy, that you were replaced with Alice In Chains, who went on to garner enormous success.
MettleAngel: In 2001, you did play the Chuck Billy benefit concert "Thrash of The Titans". He has made a remarkable comeback. What is really bizarre, is that I cannot picture Andy as a father. I mean, when you recorded 'The Ultra-Violence' he was only 13 years old.
Mark: Yeah, and he joined the band when he was ten, and avidly toured with us. He now has two kids, and this is the most important thing for him.
MettleAngel: I really respect that. I guess we are all showing our age.
Mark: The cool thing is that early next year, we are finally going to be doing our first US headlining tour, since 'Act III'. We have selected some upcoming and well-known thrash acts to join us which the fans will definitely treasure! We have Lazarus A.D., Early Man, Bonded By Blood, and Hexen.
MettleAngel: This is what Overkill and Exodus have recently done, with Bonded By Blood opening for both bands. I just saw them the other night, Man, they were boring. The new album is not that great, compared to their debut, and they had no stage presence.
MettleAngel: Perhaps they were having an off night. I will see them again twice this fall once with Overkill, once without. I assume the Hexen band to which you refer is the LA act who released 'State Of Insurgency' in 2008. I think they have a new album coming out soon.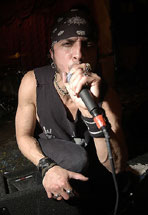 MettleAngel: Actually yes, they are a thrash act from New Jersey. Their guitarist Scott Gregory was murdered earlier this summer. They just changed their name to Fiakra to avoid any confusion. I know they got their name from the popular video game.
MettleAngel: Indeed it does, but there are so many bands using the same name these days, Thankfully, you are the only Death Angel, ever since the early '80s. Tell me a bit about your new musicians. I know that Will Carroll has been in the SF underground scene for quite sometime. He played with Ulysses Siren.
Mark: Yes, and even Machine Head and Vicious Rumors. The thing about Will is that he is a technical drummer, which might explain the blastbeats you mentioned earlier. Andy was always into rhythms and blues, which is why he would tend to experiment, like with The Organization.
MettleAngel: I can definitely notice a dynamic difference in the drum styles between the two. I also can hear a more polished humming bass frentic with Damien; whereas, Dennis was clearly more funky like Robert Trujillo.
Mark: Yes, and this all went into how we approached the new album. We knew we did not want to enter the studio until we road tested these dudes through extensive touring. After we put them through hell, we knew they were up to the challenge of writing a new album with us. They have really developed as musicians. With repeated listens to the album, you can really notice their strengths.
MettleAngel: You can tell from the very beginning of the album, that this is a new evolution of Death Angel. The title track really sums it all up. By the time you get to the second track "Claws In So Deep", there is that Spanish acoustic guitar outro, and an almost jazzy flavour.
MettleAngel: As I mentioned before, Death Angel is never a band that you can absorb with just one listen. It is usually the third act, (ha, ha) or rotation which floors me.
Mark: (Laughs) Yes! That is what we want. We want this album, and everything we do to grow on you, and get under your skin. Once you sit down to play it with lyrics, it will hit you where you live, and shoot you right into the pits of hell.
MettleAngel: This is what I have come to expect with the band.
Mark: Good for you! Your longevity and loyal support is why you appreciate our art. We are hellbent and determined to always break new ground. We want to always create a sadistic, twisted, aggressively crushing album that will dominate your soul.
MettleAngel: Man, you sure are enthusiastic about this new album.
Mark: Hell yeah, Man, we have so much to be proud of! Rob and I have sat down and decided this is our life, and we are going to make the most out of it.
MettleAngel: Good for you! Switching gears a bit, I noticed that you will be playing on the "70,000 Tons Of Metal Cruise". Man, this is becoming a recurring interview question for me.
Mark: You bet we are, and we are so f'n thrilled. Man, what a line-up of thrashing and killer acts! Are you going?
MettleAngel: You bet we are! Every week, they announce another band. Unleashed and Rage were just added. I am so excited to see Agent Steel with John Cyriis.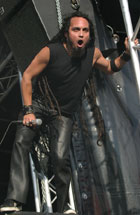 MettleAngel: I know you have a good memory, and can recall even the most obscure, chance encounters. When we see you on the cruise, I know you will recognize me.
Mark: Yeah, just talking to you, I am beginning to recall our gathering in Colombus when we played with Arsis. We have done the overnight Swedish Rock Cruise, and that was a blast, but this gig is four days, I hope we do not sink the ship.
MettleAngel: That is the new tag, "All Beer And Gear". I was just talking to Gary Of Exodus about this. We are so excited, but we will probably also catch you on the headlining tour when you visit Kentucky.
Mark: It will be cool to play with Forbidden again. We are really excited about Raven, Saxon, and Uli Jon Roth.
MettleAngel: I have interviewed Raven and Uli, but I have never even seen Saxon! Just make sure you do not get too seasick, sailing the shores of sin!
MettleAngel: Congratulations on another great new album. I am waiting for my CD to arrive so I can play it with lyrics. I really loved the dark theory of 'Killing Season'. Mark, it has been so cool to jam with you and frolic through the past and future of Death Angel.
Mark: Dude, we have fallen so many times, but we are damned determined to never surrender. We now have a fresh start, and a killer new album which everyone needs to hear. Rob, the rest of the guys, and I are ready to conquer the new fans and those who think that we have lost our way.
MettleAngel: I wish you all the best, and I will see you for sure early next year.
Mark: Hell yeah, we will hang on the cruise. Michael, thanks for all the years of relentless retribution and support!
MettleAngel: You are welcome! Now I truly understand why you do this!

See also: review of the album Relentless Retribution
Related links:

www.deathangel.us
www.myspace.com/deathangel