Spain is at the moment on the rise on the metal market, and one of the most established bands hailing from the region is Dark Moor. They recently went through a change in lineup, where among others the characteristic singeress Elisa C. Martin stepped aside and in came Alfred Romero. We decided to have a few words with him about their latest fulllength release simply entitled Dark Moor, and other things.

Mat: Since you for me and probably for most of our readers are a new character on the metal scene, could you to begin with briefly describing yourself both on a more personal level and also on a more musical one?
Alfred: I am a really normal guy, I like books and cinema and of course music. In a musical level, I started playing guitar when I was 13, and then I started with drums at 16 and finally singing around two years ago.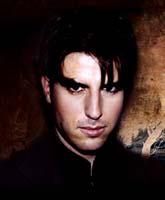 Mat: What kind of musical background do you have? Do you have a musical education of some kind and have you been a full or part time member of some other band/bands before Dark Moor or have you perhaps even participated in some other band's productions as a guest musician or such?
Alfred: I am a self-learning musician. I would have liked to study music but never had the chance. I have been part of several bands since I was 14, as guitarist, drummer and bass player.

Mat: Some information I've read about the process of finding a new vocalist for Dark Moor stated that Erik Garcia and Anan Kaddouri staged some very hard auditions. How tough were these in reality? How hard was the competition on your way towards the vocal position in the band?
Alfred: I went to do the audition but Enrik and Anan arranged everything to test the vocalists at different times, so I don't know how hard was the competition. I just did my thing and walked away. Two days after they rang me to have an interview with me and after a long afternoon they told me I was the chosen one.

Mat: How have these first couple of months in the band been for you personally? No offense but you weren't exactly assigned an easy task when you filled Elisa Martin's former position. How has the response been from both the fans and critics up to now?
Alfred: Certainly it was not an easy task, but as I always say, I am not here to substitute Elisa. She had her time in Dark Moor and now it is a new stage for the band with me at the vocals, that's all.

Mat: The new album, Dark Moor, was of course your first with the band. What are your personal thoughts and reflections about this experience? Are you satisfied with your own performance?
Alfred: It is a really hard album for a begginer singer like me, I am really satisfied with my work, but I must say I had a lot of help from my band mates.
Mat: The new album also besides the change in vocals also saw the band going for a bit darker, heavier and overall also slower approach. Was this a one time occurance or is this the Dark Moor we will face even further on? How has the majority of the fans and media reacted to this somewhat different and new direction?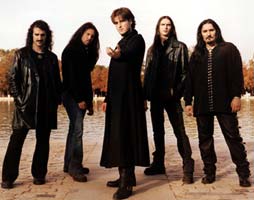 Mat: What do you think that you yourself have contributed with to the sound and track- material on the new album? Are there any special areas where you feel that you want more freedom to develop further on coming releases and have more influence over?
Alfred: Well, most of the songs were written for Elisa, as the band didn't split yet. So I had to sing the songs written for her. I am sure I will contribute a lot more in the next album, where you will see my own style.
Mat: What can you tell us about why the former Dark Moor decided to part ways? The information given more publicly is that it above all was due to major disagreements regarding the future development of Dark Moor's musical direction that lead to this break, but can you perhaps shed some more light on this from your point of view?
Alfred: That is the only truth. As I told you, there were disagreements about the musical direction. This album was written for the old line up and Elisa, Albert and Jorge didn't like it. They all decided the best was to take different ways.
Mat: Do you still keep in touch with these former members, nowadays in their own band Dreamaker? Can we even expect to see you both on tour together and performing as headliner and opening act?
Mat: You are currently signed with the major label JVC for the Asian market. How has the response been from that part of the globe? Is this an important market for you in terms of both fans but also of course sales figures?
Alfred: Yes it is. We have lots of fans there and we are expecting to tour Japan soon.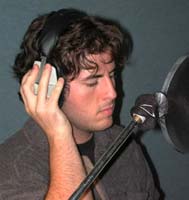 Mat: On the Between Light and Darkness your band collaborated with a string quartet and the results I think turned out great. Is that something that will be more implemented in your sound in the future you think? Are there even any plans of making film music or soundtracks which seems to be a popular project for many bands of today in this genre, since I personally think you have just the sound and type of music that will fit for such compositions?
Mat: What's your opinion of the metal scene, not just power/heavy metal but also death and black of today both in Spain and in a more global aspect in the present almost overheated metal area? What do you think of Dark Moor's position and situation in that whole deal?
Alfred: There are really good bands in the actual metal scene, but you know, my favorite style is hard rock, A.O.R., and metal from the eighties. I don't listen to any death, black or any of these stuff.
Mat: Lets round off with some more speculative issues. If you could use a crystal ball and be able to stare into the future of Dark Moor, what do you think you would see? And if you had the chance to control your own and the band's destiny- what would you want to see?
Alfred: I can not tell you what I think I would see, because nobody knows that. I can only say that I hope we succeed to survive with the music. I don't wanna be very famous and rich, I would be happy if I could spend all my time working for my band and the music, learning more and more every day.
Mat: I thank you very much for participating in this interview and sharing this information and your thoughts with us. These lines are entirely for you. Any final words you would like to round off with- a tip, a recommendation or a thought for the future?
That was all I had for now, Alfred - the staff at metalcovenant.com wish you all the very best for the future, and we sincerely want to thank you for keeping the spirit of Metal alive!

Related links: