Interview conducted September 27 2011
Interview published October 17 2011
Fights, scams, or revolution... such is the storied career of Mike "Cyco Miko" Muir. This suicidal maniac has been waking the dead for over 30 years. Being controlled by hatred, he sure knows how to feed the hits. Showing no mercy, and still psycho after all these years; fueled by the art of rebellion, Mike has just released his second solo offering featuring more music from all his projects called: 'The Mad Mad Muir Musical Tour'. Institutionalized fans take note because when this goes out, murder is still in!
I recently spoke with Mr. "You Can't Bring Me Down" about all kinda' crazy, F.U.B.A.R. madness. Man, after hearing the logical thoughts of a lone lunatic, I was totally trippin' at the brain! So come join the harmony! Laugh, and smile today, and experience some happiness, and begin to feel the infectious grooves of sweet soulvation.

MettleAngel: Hey brother! It is so refreshing to finally speak with the man himself! In the past I have interviewed members of both Suicidal Tendencies and Infectious Grooves, namely Mike Clark and Dean Pleasants; however, it is a real privilege to finally get to converse with you.
Mike: Thank you, it is probably just as well, as you can never really trust what Mike says (laughs)!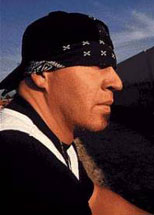 MettleAngel: I want to let you know, I am a big fan of all your work. Dean has already regaled me with anecdotes of the early Infectious Grooves experiences, especially with Ozzy. We are all grateful that Rob has made a name for himself with Metallica. Although, I am a bit suspect about their upcoming effort teaming up with Lou Reed.
MettleAngel: I have always been fascinated with the videos you have done which are both funny and entertaining.
Mike: That is because they are never dated, and remain timeless. Many years ago parents were shocked by the name Suicidal Tendencies, but now those same people show our videos to their kids on You Tube. Now they have a more relaxed attitude and laugh about it.
MettleAngel: That is good to hear...
Mike: Some people never did quite get what we set out to do. They would just judge us by our appearance or other misnomers. However, I feel everything we do has a logical progression and the ideas continue to manifest, even up to this date.
MettleAngel: I am amazed Suicidal Tendencies is celebrating its 30th anniversary. I also would like to comment on how Infectious Grooves were wearing costumes, masks, and portraying certain characters way before the more successful bands doing it now.
Mike: Really it was all about having a good time and trying out new things. As far as the costumes that we wore in the Infectious Grooves videos, they all followed the arch of Sarsippius and the varied storylines.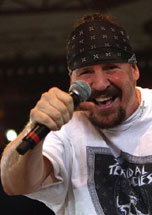 MettleAngel: Well, even for those who could not keep up with the conceptual story elements, the videos are still very entertaining and, as you pointed out, they still stand the test of time. Have you ever made plans to release all the Suicidal and Infectious Grooves videos on a compilation?
Mike: Over the years we discussed this with Sony Records, but every time we would refer back to our rep, he had either been fired or replaced. After a while this just became futile, and now there is nobody working for Sony or Epic that we know or who dealt with either band back then.
MettleAngel: Such is the state of the music biz' today, eh!
MettleAngel: I remember Mike commenting on how, a few years ago, Epic released an unauthorized Greatest Hits, whereby the band had no say in the song selection; in order to fulfill contractual obligations.
MettleAngel: Speaking of some of your best videos, I first heard 'Institutionalized' when I was in high school, but when you filmed the video for it, when you released the album 'Still Cyco After All These Years', I found that version to be very humorous. It included many guest cameos. I often wonder how you got Bobcat Goldthwait to be in it.
Mike: One of the guys making the video just knew him, and he was totally into doing it for us. In both our music and our videos we have often involved several "celebrities". For example, I was very excited to work with Steve Jones who played guitar on several songs on my first solo effort called: 'Lost My Brain (Once Again)'.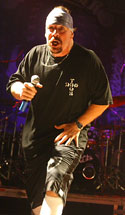 MettleAngel: Well, speaking of solo efforts you have just finished working on your sophomore debut: 'The Mad Mad Muir Musical Tour'. When I listened to my digital promo of this, I instantly noticed that there was a new version of the song 'Alone' as well as, what seemed like, some Infectious Grooves songs.
MettleAngel: This is what I figured. I was happy with the release of the reworked songs from 'Join The Army', and No Mercy, that was released last year, as well as the live Cyco Miko & Infectious material that you put out on your own label.
Mike: We have banked a ton of demos that we are still in the process of converting and hopefully plan to release in the near future. On top of this we are working on both new Suicidal and Infectious material, which we want to get out to our fans as soon as possible.
MettleAngel: Did Rob Trujillo play bass on any of the new songs?
Mike: Rob definitely plays bass on some of these songs, but they were recorded a while back. We also were able to employ Fletcher from Pennywise to play on a number of tracks. A good example of this is the song 'Happiness (Is For People That Can't Stand Being Miserable)'.
MettleAngel: I thought that this song had a real "How Can I Laugh..." type vibe to it. I have always championed your work in all the bands. You went from being "Skate Rock" to "Crossover", to Thrash to straightforward Metal with a Funk edge, similar to what the band Mordred were doing at the time.
Mike: We do not really like labels, because we were never really Punk, or "Crossover", and we were Thrash before there was even a term for it.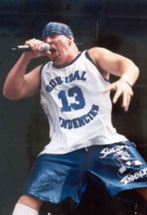 MettleAngel: I guess it is like Motörhead, because you played hyper-intense music even before the so-called "Big 4" came to fruition. You were mixing Funk before the Red Hot Chili Peppers ascended.
MettleAngel: I guess you could say that pretty much the only other early '90s contemporary band who were able to keep the Metal and Funk balance during this time were Ugly Kid Joe. Both your fellow band mate Dean, as well as Stephen Perkins from Infectious recorded with them on their amazing album: 'America's Least Wanted'. I am so excited that this band is back with Shannon Larkin on drums, and the classic line-up. They are poised to release a new (EP) very soon.
MettleAngel: I was referring more to the album "Mother's Milk", but then in retrospect I see what you mean, as a number of their so called hits back then were nothing more than mere covers like Stevie Wonder. Perhaps the Infectious Grooves should best be associated with creating monster skankin' type riffs.
MettleAngel: Well to this day I still use the terminology of monster skank to refer to a certain league of bitches who think they are all that! Switching gears a bit, are you familiar with several of the bands out there who are highly influenced by Suicidal Tendencies? The band Dr. Living Dead from Sweden instantly comes to mind.
Mike: I am not familiar with them per se, but I do know that there are several bands in South America who mirror what we have established. We always like to tour there as well as play other festivals, sometimes with both bands, for our fans.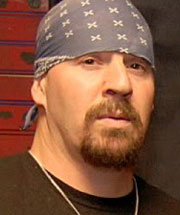 MettleAngel: I remember wanting to see you front both Suicidal and Infectious in the '90s but I never got the chance.
Mike: This is why what we do is beyond description. What is cool about what we do is we treat ourselves like a family, who are always doing something worthwhile and creating music that is very important to us. Given the style of the bands in which I play, we have performed for festivals that are all Metal, and not Metal at all. Recently we just performed in France and the crowd went wild. We also played a gig where we were the only band that was plugged in.
MettleAngel: You mean some kind of Folk type artsy-fartsy deal?
MettleAngel: Well, all the music you created these past three decades has been enduring andd influential.
Mike: For us it is never an escape, it is something we love to do. Every time we create new material, our standards go way up.
MettleAngel: I imagine it must be quite a challenge for you, both living in Australia, raising a family, and doing all this avid touring; especially having undergone three major back surgeries in the last couple of years.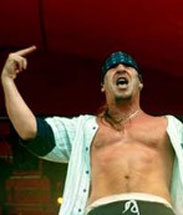 MettleAngel: I hear that! I was going to see you last year when you played the Halloween gig in Cleveland, but I was saddened when the tour was canceled shortly thereafter, due to a death in the family.
MettleAngel: That's real mettle! This is why, even to this day, no one, or no thing can bring you down. I so respect you and your brothers for having this type of integrity.
MettleAngel: I realize that life is a real challenge for all of us now, but it was so great to have this conversation with someone who I have always respected and honored. I will always support everything you do, thanks for three decades of aggression, inspiration, and fascination.
Related links:

www.myspace.com/cycomusic