Interview conducted June 19 2010
Interview published June 21 2010
When I saw that Crucified Barbara was about to play in my very small hometown on the countryside in northern Sweden, I was not late to sign up for a chat with singer/guitarist Mia Coldheart an hour or so before they went out and played a solid gig, alas for a very scarce crowd. A very friendly and down to earth girl who were more than happy to share a few things about the past, present and future in the Crucified Barbara camp with us.

Tommy: The band has existed for quite a while now, you started in 1998 but you have only released two albums up until now. It took a long while from the formation to In Distortion We Trust (2005) and then again a long while up to 'Til Death Do Us Party (2009). How come? Is that a calculated move, to go easy forward?
Mia: When we started, or rather when I joined the band, it was still on a demo level. We were not ready to release an album at that point, it was more that we met, we started playing and it felt really good. It was on a very basic level then. When we released the first album 2005, we did not have any big expections on what would come out of it all, since the record company said that "we'll make this album, we'll shoot a video and release everything in Sweden". We got no promises from their side, but everything just grew with time. The album was released in several countries, we got booked as support act for tours and the ball was rolling. When we really would have needed to enter the studio again, we got the offer to go on tour with Motörhead and to go to Australia and there seemed to be no end to things. It's was also very hard to turn those things down when you were being offered it hands down at that time. And after all this we were pretty exhausted, so when we decided to take a break from playing, it took quite some time to reload, so to speak. And then, when the new album finally was finished we had to wait over half a year for the appropriate time to release it. Indeed, it took a long time, but we are really satisfied with it and it feels like it was worth the wait and we got to do everything we wanted in the meanwhile.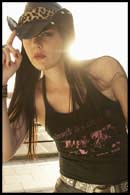 Tommy: How does the planning look for the next album? That is a little bit in the works, if I am not completely mistaken? At least you have started to write a bit?
Mia: Yes, you are correct, we have started the writing. However, we have not planned anything about where we are going to record it, and I hope we can work with Mats Levén again as a producer but nothing of this is decided on. It's just my personal wish, since it worked very well the last time. We have a lot of song ideas already, and a heap of material that did not end up on the last album which we'll see what we can do with this time. But first we have a pretty tough summer schedule and we are going to work that out first and then we can concentrate on a new album during the coming fall. We hope to be able to record it this year.
Tommy: Now this is a just a guess from my side, and I know I may very well be out on a limb here. It may be fifty-fifty with this, but; can you make a living out of this at this point? You are, and have been, touring quite a lot. Or do you all still have to have jobs on the side to get by?
Mia: You are more or less spot on there, it's fifty-fifty (laughs). It kind of depends, when we are touring a lot, as you say, we can make it on this alone. You kind of have to, really. It is damn hard, though, and during periods with less shows we work a bit on the side. At least as far as we can, since it's hard to puzzle everything together and it's not the easiest thing to find a job where you can come and go as you please on a relatively short notice; "On Friday I will be leaving and I'm gonna be away for two weeks", you know. But we'll get by and we are doing what we want to do. After ten years doing this we have found a way that works.
Tommy: Now when you have reached this level of recognition and appreciation, where you (at least partially) can make a living out of it, does it feel like you thought it would feel when you dreamed about it years ago starting this band up?
Mia: For me personally, I don't think it would feel any different from now if I we did this completely full time. Difficult question, I have not really thought about it that way. The "rock star" life can have many sides to it. It would be one thing if you went by limo everyday and had a completely different life. But we are very pleased at the moment. We were actually just a moment ago discussing how fun it is to be on the road playing gigs. We are very pepped (laughs).
Tommy: You are about to play at Wacken this year also. You have to tell me how that feels. That's quite an acknowledgment to have been invited there.
Mia: That's really something. I did not think it would happen so soon. I mean, you hear stories about how hard it is to get a foot in there and that record labels have to buy themselves a spot for their bands there, and that has not been an option in our case. It's a really big thing for us to have landed this, and it's gonna be damn fun. It's the highlight of this year for sure. Very mighty. I can not really imagine what it's going to be like, but we'll just have to wait and see (laughs).
Tommy: It's sort of a milestone in your career.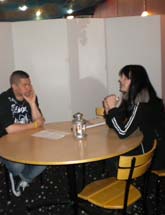 Tommy: One thing that I ask in many of my interviews: What is the next big goal for Crucified Barbara? Where do you want to land after the next big step? And how are you going to bring it there? Are these things that you think about and discuss?
Mia: The next step is really to do another, damn good album. We just want it to hit off big time. You always want to do everything better every time. That's really the only focus and where we want to land.
Tommy: Do you have one single, specific thing that you are working towards that you have not done yet? For example a certain festival to visit, a certain band to open for.
Mia: Hmm.. difficult, we have not really thought about anything like that. On a personal level, I would really like to go back to Australia to play (laughs). That was so much fun. Right now the name of it escapes my mind but there is this touring festival in Australia, which is really big down there. That would be so much fun. When we were there the last time, in 2006, I think I have never felt so strongly that I could consider abandoning Sweden to live someplace else. We travel a lot and see so many places and countries, but you seldom stay long enough to explore it more deeply. But in Australia we had a few days off, and it was damn nice, great gigs, nice and friendly people. And great wheather (laughs).
Tommy: In Distortion We Trust was released in a big part of Europe when it came, but also in the USA. In terms of sales, how did it go there and how is it holding up today? Have you seen any figures lately?
Mia: Well, it did somewhat good. The new album is not even out there, I believe. After the release it got some publicity, but since we never went over there to play shows, it's so hard to stick out on the market.
Tommy: You have never to this day played there?
Mia: No, we haven't. We keep getting a lot of emails from people that want to see us there, but... well, it has to be arranged and financed somehow, and I believe that it would work out good but at the moment we have so many other things going on.
Tommy: 'Til Death Do Us Party on the other hand has only been released in Europe, not in the USA. How come?
Mia: Since we are on a smaller label with relatively small partners along the line, where everyone is working more or less on their own side of the field, it has simply not really caught on there yet. That is of course the advantage with being on a major label, who has tentacles everywhere and gets things going in a whole different way. But I feel pretty confident about the small scale situation at the moment, it's nice to at least be able to have control over certain things yourself in the way that we do. That's pretty nice, actually. But the american market would indeed be an awesome journey to embark on in a near future (laughs).
Tommy: As mentioned before, you have earlier been on the road with Motörhead. Personally I think that their fans could appreciate Crucified Barbara quite a lot. What kind of response did you get at the time, and also afterwards?
Mia: Yes, we did a tour with them in England for a month. You know, it's hard to know before how the reception is going to be. They have pretty loyal and dedicated fans, you know. But it turned out to be a damn good tour. Often we played almost just when the doors opened and so on, but there were quite big venues so eventually there were big crowds. We really hit it off a few times and it was very valuable and satisfying to just be a part of the whole thing. It was after that tour that we were so tired, so I could not stand even looking at a guitar for the next three months (laughs). But yeah, it was really great, and just fact that we have that as a merit is very nice. Having toured with Motörhead is always a good thing to have in your portfolio.
Tommy: The european headline tour together with Bonafide, then. How did that go down?
Mia: That was equally awesome and fun. That was the first real headline tour we did on that scale, having our own nightliner and playing our own gigs like that. It was really cool. It varied a lot, however, some places were absolutely packed and intense and some gigs were merely half sold out. But it spanned from big cities to small country side villages, so that's just normal. It was up and down, a lot of long and hard days, but some really cool things happening in between. Just like a tour should be. That one was pretty long, almost six weeks over the fall and winter. But we got it steaming pretty good (laughs).
Tommy: About your recent participation in the Eurovision Song Contest; would you consider entering again with a more "metal" type of song? This time it was with a more laidback and softer power ballad.
Mia: Well, perhaps with a song that is taken off an album or something like that, in that case. The thing with that ESC song (Heaven Or Hell) is that we got asked to perform it in the swedish qualifications, since I had been singing on it on a demo a long time ago. Originally we were not supposed to play it but it was sent in and it was picked as one of the qualifying songs and we got the gig. It came right out of the blue, really, and we decided to go for it.
Tommy: Holding on to what you said there about singing on that demo; I remember reading somewhere that you also write songs for other bands?
Mia: No, I am not a song writer for others in that way. I have however earlier had as a sidejob to sing on various demos. The persons that wrote Heaven Or Hell wrote several songs for the ESC but this was the only one that made it to the end this time. And when we as a band were asked to do this, we thought "If they want us to do this so bad, we're going for it". In some part because of the actual song, but I also know that the arrangers of the event specifically wanted Crucified Barbara since I guess it breaks off nicely to the rest of the starting field. Some people said "but now you can write an own song and try out for next year". But we have never wanted to participate in that contest in that kind of way, meaning writing an own song, send it in, hoping to get picked and then perform it ourselves. That is not really for us, but this thing we did this year was first and foremost a fun and nice thing.
Tommy: A lot of other bands who have participated in ESC have talked badly about the whole thing in the media at the same time as they play there just to be seen and to do promotion for themselves, but you have all the time seemed genuinly happy and interested in the whole thing.
Mia: That is very true. At first I was against the whole thing, even though I like to watch it every year. I believe that if you are to do a thing like that you have to be able to stand up for it with your head high. We thought the song was good and that it would be fun to do it. The only thing that made us think an extra time around was the hardrock fans and what they would think about it all. But refraining from doing it because of what certain people might think just feels so wrong. We just jumped into this and saw it as a big and funky adventure, which is exactly what it turned out to be. A very fun experience, to put it simple. Something completely different, and I can tell you, it was the first time in many years that I was nervous about something. So looking at it that way, it is also just nice to have pulled a thing like that off.
Tommy: What was your experience of the arrangement of the whole big spectacle?
Mia: It was very nice, we got an amazing vip treatment all the way, there were great parties and just plain fun in general. I had expected it to be more posh with a lot of noses high in the air, so to speak, considering the type of artists present, but the majority were really nice and friendly and it was a nice mix of people. Really nice. We also though that the media would be way worse than they turned out to be, but Crucified Barbara does not have many secrets. We get everything out in the open right away, so there were not many skeletones to be dug out from the closet (laughs).
Tommy: Would you recommend other rock/metal bands to do the same thing?
Mia: I definitely think that we will see one rock band in the contest every year from now on. They want it that way, I believe. The only thing that people had against us this year, unless they are talking about other things behind our backs, is that they are happy for us and everything but some are pissed because they felt forced to watch the show (laughs). There is not much cred in the rock world for watching a show like that. But I think people will have to get used to doing that every year from now on. But as an answer to the question: yes, I would absolutely recommend it, if you want a few weeks of fun.
Tommy: Just a few final words about the rest of the summer ahead for Crucified Barbara. What's on the schedule? A handful of festivals, I presume?
Mia: Yes indeed and speaking of Wacken, as we discussed earlier; since we landed that gig quite some time ago, it has for some time felt like a nice anchor to fall back on in case people would have flamed us and spat on us for playing in the ESC (laughs). In that case we always have Wacken. We have some other awesome festivals lined up, yes, and the usual club gigs, both in Sweden and abroad. Right after this gig we drive directly to Stockholm and then we fly to Italy early in the morning to play at a biker festival tomorrow.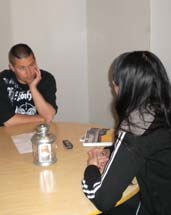 Tommy: A big contrast compared to this little godforsaken village.
Mia: Indeed, but I like those contrasts.
Tribe: How hard is it to motivate yourself for small gigs like this in these kind of small towns? Look outside: it's cold, it's rainy and the risk of a scarce audience is pretty big. And you have sunny Italy waiting around the corner.
Mia: Not hard at all, it's up and down all the time. One day you play for several thousand people, the next day for ten. It's just nice to play, to be on the road with the rest of the girls and to meet people. Like here, everybody is so nice and they are doing their utmost to make you feel good and be comfortable. I understand it's hard and sad for the arrangers of this festival that it's pouring rain, but you just have to keep up a good mood. Of course it's always nicer to play for as much people as possible, but... I mean, sometimes we play in night clubs in small towns, where there is a disco just before we play and as soon as we step off the stage the disco music starts pumping right away. You get used to the fact that there is a big variety in the audiences we play for. You are not appreciated by everyone, far from it, but as long as there are few persons showing up who are happy that we have come to their town to play then we are also happy since we have been able to brighten up someone's day.
Tribe: I guess it has to do a lot with a certain level of professionalism also.
Mia: Well, it would be just terrible if you would show up and be grumpy. There is absolutely no reason for such behavior, unless you've had a really bad day, but still you will just have to try to keep that to yourself during the gig. I feel confident for tonight, and I hope we can gather a decent crowd. Then we will be happy (laughs). I just feel sorry for the ones that are going to take down the stage later on in the rain and everything. At least we get to be inside where it is warm.
Related links: