Interview conducted April 06 2011
Interview published April 17 2011
Those Irish Metal Folk Lords known as Cruachan have just released their new album called 'Blood On The Black Robe'. These very wild rovers whelp with wolfe tone, and then the bloody sons dance a jubilant jig; all the while heeding Morrigan's Call.
I spoke with founding musician extraordinaire - Keith "Fay" O'Fathaigh - all about the band's Celtic legacy, and the new album, which even if minus the terrific talent of Karen Gilligan, still endures as a viscous, vicious blend of primeval odium, pagan hate, and provocative provender, sure to slander the louche and inspire the lugubrious. In our but brief tryst, we sojourned to the Metal kingdom, so read on...

MettleAngel: Hey Brother, I am an avid supporter of the band. I have all of your albums, and a digital promo of your latest.
MettleAngel: I am very drawn to the Irish Tradition, and lyrical themes expressed in your music.
Keith: When the band began almost 20 years ago, we were called Minas Tirith. We mostly played Black Metal, and more aggressive stuff.
MettleAngel: I have always commented that Cruachan is a solid blend of both Sabbat and Skyclad. I even spoke with Martin Walkyier about this, and he taught me how to properly pronounce the band name.
Keith: Good for him! I like that comparison, because we knew that early on we wanted to focus on both Irish Myth, and Irish History.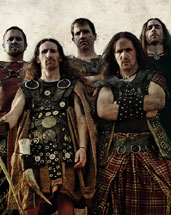 MettleAngel: Martin coined the term "Mythhistory". I have learned so much about both concepts, by reading your lyrics, and liner-notes. I do not have the lyrics for the new album, so I am a bit at a loss.
Keith: When we signed with Candlelight Records, this was part of our deal to include a full colour booklet with liner-notes, like we have done in the past.
MettleAngel: I will have to get my hands on the CD. I learned so much over the years listening to Skyclad, and I told that to Martin. I want to thank you personally for expanding my knowledge about all things Irish.
Keith: As we developed as a band, over the years, both our attitude and our style of music have evolved. Like Skyclad from Sabbat, when we began, our roots were in more extreme musical styles. I guess you could say we stem from a pure Black Metal vibe.
MettleAngel: That essence endures even on the new album.
Keith: When we decided to envelop our Irish culture into our music, we knew that we would be very serious, and not make mockery of ourselves. For us to incorporate Irish Folk elements into our music, we had to learn how to play these Traditional instruments properly.
MettleAngel: You play a variety of instruments like the Bodhran, Mandolin, Bouzouki, Banjo, as well as all guitars. When you resonate with your unique raspy vocals, it makes for a strange but wicked sensation.
Keith: We made sure to learn how to play each instrument properly, and not just in the studio. It was important to us to use Traditional instruments, and we all do.
MettleAngel: Bands like Rainbow and Jethro Tull from the UK set this precedent, but when Cruachan and Skyclad attempted it, it simply was not initially accepted in the early '90s.
MettleAngel: Waylander is the only other contemporary act I can think of, who was attempting this.
MettleAngel: I noticed that the new album has a more stripped down DIY approach. You are returning to your primitive roots. I see that Karen Gilligan has left the band. I always thought she was such an important part of the music, like George Biddle is in Skyclad.
Keith: Karen has always been crucial to the band, but she made the decision to depart. She does perform a few parts on the new album, including the title track. We know that in a live setting we will always make use of female vocalist to sing for her.
MettleAngel: I see that your brother John "Fay" O'Fathaigh has rejoined the band after a five year hiatus.
Keith: We are all grateful to have John play with us. My brother has been in and out of this band several times. I put up with him, because he is my blood brother. We all want to keep him in the band; he is part of us. He toured with us for 'The Morrigan's Call' album.
MettleAngel: I really like that album, as you sure do delve deep in to the realm of Tolkien. This is something you have always done, even before all the "LOTR" Movie hype.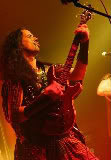 MettleAngel: What is meant by the title 'Blood On The Black Robe'?
Keith: I can understand your frustration, not having read the lyrics, as it can seem a bit ambiguous. I have read many favourable reviews, but I can tell the writers who do not have lyrics available, as they use mere conjecture to figure out the meaning of the song.
MettleAngel: From what I can cull and gather the song deals with priests, clerics, and druids, right?
Keith: It is more complex than that. The lyrics deal with Gaelic Pagan Priests. During the Christian oppression of Ireland, where we once had women priests, many atrocities occurred. If you look at the cover art, you will see a lady priest wearing a black robe.
MettleAngel: I do see a woman dressed in black with blood on her hands. At first glance, I thought she was a nun, not a priest. I respect your Irish integrity. Here in America, from Boston we have the band known as The Dropkick Murphys. They have garnered quite a loyal following.
Keith: Like Dropkick we like to have fun with Traditional Irish Folk songs, and add our own touch. We still stay true to our roots. We do not want to be viewed as another drunken pub band singing silly Gaelic Golden Oldies. We want to maintain our spirit.
MettleAngel: I like many of the songs you have covered. My favourite is "Some Say The Devil Is Dead".
Keith: This does seem to be a fan favourite, and we will still do it live now and then. After we released 'The Morrigan's Call', we felt that we had exhausted the Folk cliché. We had pushed this kitsch too far. Now we want to focus on Irish Myth and History from a personal perspective. Subjectively, we want others to identify with the joys and sadness of what it means to be Irish.
MettleAngel: I get it; you have told us the stories, so now you want us to delve into the fellow Irish character and spirit. You want us to have a vicarious experience with your ancestral folk essence.
MettleAngel: Obviously you are very pleased being signed to Candlelight. Your band fits perfect in their roster. I know you had issues with your past label: Karmageddon Media. They put out 'A Celtic Legacy ', which was a compilation that I understand did not receive your approval.
Keith: We were contracted to them for one more album, so we agreed to a "Best Of" deal. What upset us was that we had no say in the song selection or artwork. We take our cover art seriously, and this menagerie did not meet with our standard.
MettleAngel: I actually like the cover, as I thought that it would be a cool T-shirt design.
Keith: The cover is well-done, but we did not have a say in it. I did not even know they released the album, until a fan told me about it.
MettleAngel: I have heard this one before from Suicidal Tendencies. I recall that Martin was not pleased with the turn out for 'History Lessens'. The cover is very similar to the "Best of" that Noise put out called 'Old Rope'.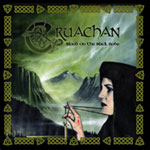 MettleAngel: Yes. Before you were signed to Candlelight, you worked with AFM. Did they treat you well?
MettleAngel: I assume you mean their strong Euro-Metal Power and Traditional thrust. They have signed Elvenking from Italy.
MettleAngel: My promo for 'The Morrigan's Call' came from Candlelight in the plain manila CD slipcase, with the band and album name stamped on what is basically a glorified CD-r.
Keith: Oh yes, I do remember those! With AFM, they really helped us when our then label - Black Lotus Records - went belly up. They covered our studio cost, since the bankrupt Black Lotus left us in a lurch.
MettleAngel: Well, it seems like the band has now found the perfect home. In the U.S. you should finally get some recognition; especially, since so many of those folk bands and their silly drinking songs are quite popular here.
MettleAngel: I am so pleased to hear this. Honestly I do prefer the 'Folk-Lore' and 'Pagan' albums most from your discography. I found the new album a little less enthralling; however, given the message you are attempting to express, I can truly understand this.
Keith: Michael, get the CD, read the lyrics, then decide.
MettleAngel: I agree, as once I do that I may have a whole other take on the album. I still congratulate on your success, and I wish you all the best.
MettleAngel: You are most welcome.
Related links:

www.cruachan.metalfan.nl
www.myspace.com/cruachanfanpage