Children Of Bodom are probably going through the most intense period in their careers so far, at the moment they're part of the Unholy Alliance II Tour, together with bands like Slayer and In Flames. In the midst of all this chaos we sat down with bassist Henkka T. Blacksmith to talk about the new DVD, the upcoming album and much more.

Niklas: It feels like you have been on the road for such a long time, promoting the new album. But now the touring comes to an end as you're going to start pre-production on another album. How does it feel to start anew?
Henkka: It kind of feels good to be home for a while. It feels like we'll be having the whole next year off; but obviously we'll be working on the new album quite a lot. But I think it's time, since we've been touring for a whole year. Not that I'm fed up with it, it's just that it's nice to do something else for a change.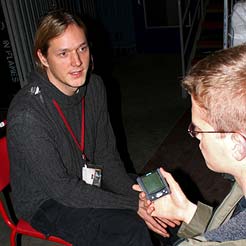 Niklas: How far are you into the production of the new album? Have you written any songs, do you have any ideas how it will sound?
Henkka: No, nothing at all. We never have any ideas in the beginning. We just sit down and rehearse together, and then we'll see how it's going to sound. But so far we have nothing.

Niklas: Okay, but the plan is to record it next summer?

Henkka: Yeah, next summer we're going into the studio, and then we'll probably release it early in 2008.
Niklas: How has the Unholy Alliance II tour worked out for you? Has the other bands been treating you nice?
Henkka: Oh yeah, it's been really good. The whole organization is very cool; everyone gets treated very well and equally. I'm a fan of all the bands, and I like them personally. It's the best tour you could be on as a metal-band, really. It's kind of a festival tour and the main idea was to make it very smooth for all the bands so that there is no hierarchy or something like that. Everyone has dressing rooms next to each other and gets the same food… I just love it.
Niklas: On this tour you can't play nearly as long as on your regular tours and you only play eight songs, is it a tough job to compress your set list? You obviously can't play all the best songs?
Henkka: We have a feeling that there are lots of people coming here tonight that haven't seen us before. So we have to try and make a set list that represent the sound of Children Of Bodom as good as possible. We try to pick the most popular songs, but it's always a little hard.
Niklas: You released a live-DVD not long ago, which was recorded here in Stockholm. Are you pleased with it and why did you choose to record it here?
Henkka: Yeah, we are very pleased with the result; the show and the crowd was good and Patric Ullaeus from Revolver did a really god job editing the whole thing. We chose Stockholm because we wanted to do it on that particular tour and we needed a big venue with space for all the cameras, cranes and stuff. And we realized that if we wanted to bring some equipment and people from Finland it would be easy because it's so close, and Patric Ullaeus is from Gothenburg so it was easy to bring him over with his equipment too. It made sense in many ways.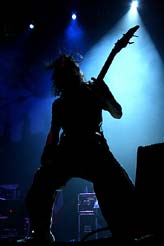 Niklas: You've probably been asked this many times, but still, why do you think that metal is so popular in Finland compared to other countries? When for example Children Of Bodom releases an album it always has a high entry on the Finnish charts, but when a Swedish metal-band releases an album it's rarely on the same level on the Swedish charts.
Niklas: But they are an exception!
Henkka: (laughs) It's hard to say, but Finland is a smaller country and there are less people, but I think there's the same amount of metal-fans as you have here in Sweden. So that's why the charts might look a bit different. Other than that I don't know, but I think Finland have more metal-fans per capita than everywhere else in the world.
Niklas: Finally, I would like to hear your opinions on all your albums you have released throughout the years. If we start with your first album Something Wild (1997), are you proud of that one today?

Henkka: I'm very proud of it because it was done in, like, seven days and was very cheap. It is played well and the sound is pretty good for that time and for the equipment and small amount of money we had. After all, it is our first album and where the whole thing began. It gave us our first fans.
Niklas: Hatebreeder (1999)?
Henkka: Hatebreeder was hard to record because we had more pressure on us, we were going to a studio for the first time and Something Wild was doing surprisingly well. But I think Hatebreeder has some really good songs and is well played, although it sounds a bit too tight at places where it doesn't feel groovy at all. But I still think it has many great songs and I know it's very popular among the fans.
Niklas: Follow The Reaper (2000)?
Henkka: That was the first time we went outside of Finland to record an album, and we chose Peter Tägtgren's studio in Sweden. On that album we got a little more depth to our sound, because Peter helped Alexi to do new things with his vocals and also introduced some new keyboard sounds. I think that album was a bigger step forward than the one before.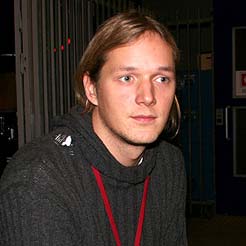 Niklas: Hate Crew Deathroll (2003)?
Niklas: And finally, Are You Dead Yet? (2005)?
Henkka: When the album came out, it sounded very fresh to me. When we were rehearsing the songs I didn't realize how different they would sound and I think the overall sound is a big step forward. Compared to the previous ones the production is very different. I think it's a very fresh album.
Niklas: Is it possible for you to pick a favourite out of these albums?
Henkka: Well, of course each of them is important to us, but the latest album is my favourite because it's the newest and I think all of us have developed as musicians and songwriters. Obviously the songs are best to us.
Niklas: Do you have anything to add?
Henkka: Well, I'm looking forward to tonight's show. It feels special to all of us to be back here and play, since we shot our DVD here.

Related links: