After Slayer's Final Commandments, the show ended and the fans dispersed, Wendy and I headed to the Finnish bastards dressing room to interrogate them from top to bottom about the chaos ridden years. What follows the reaper, is an in your face confrontation as we learned to "get stoned" with Roope, how to bend beer caps with the living dead wildchild, and how to easily needle Mr. Warman 24/7 by the mere mention of sin or Jesus! This interview will not be my downfall, because I know in my heart angels don't kill or hate me.

MettleAngel: Roope, you're about Wendy's age, and significantly older than the rest of the group, isn't this correct?
MettleAngel: Man, I must tell you I'm a huge Stone fan. (Michael instantly starts to thrash and sing "No commands no more...take orders from you no more... I got brain damage").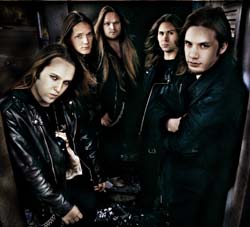 MettleAngel: You played in Stone with Pekka Kasari who was in Amorphis, even before you were in Sinergy or Children Of Bodom.

MettleAngel: No way dude! When I saw Amorphis in '98 I totally bugged Pekka about Stone and had him sign my cassette version on Mechanic records. Unfortunately all he really wanted to do was get stoned. The Stone self-titled release came out the same time as Vio-lence's "Eternal Nightmare" and it's now next to impossible to find original pressings on CD. I've never even heard the other releases either, as they are so hard to track down. So did you guys ever tour the US?
MettleAngel: Any chance of a Stone reunion?
MettleAngel: So how is the tour going so far?
MettleAngel: Yeah, we wanted to see you in Columbus last week, when you headlined for a one off show.
MettleAngel: Oh I see. Have you been getting along with the other bands on the Unholly Alliance Tour?
Roope: Lamb Of God have been great to us.
Now Wendy drags me over to Alexi so that we can question him while he's still somewhat coherent.
MettleAngel: Hey bro, you up for an interview?
Alexi: Yeah, as long as it's brief, man.
As I prepped my notes Alexi explains his tattoos to Wendy and how to swear in Finnish - "Heista vittu"
MettleAngel: So bro, how old are you, 27?
Children Of Bodom: (with glazed eyes) Yeah 27.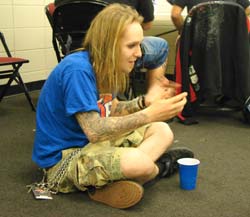 MettleAngel: Who are some of your main musical influences?
Children Of Bodom: Dude, I grew up listening to W.A.S.P. and Mötley Crüe.
MettleAngel: Yeah you covered W.A.S.P., you should cover Mötley Crüe.
MettleAngel: Come on man, I love the Britney Spears cover and all the controversy that ensued, and when you followed that up with a great Poison cover ("Talk Dirty To Me") that was the icing on the cake. Even still your other covers are very well done. Especially Ozzy's - "Shot In the Dark" and Sepultura's - "Mass Hypnosis"; not to mention you sing clean on Billy Idol's - "Rebel Yell".
Children Of Bodom: Yeah, we thrive on controversy, to many metalheads are too close minded, it's like (in a very effeminate tone) "I'm burning all my Bodom CDs because they like Poison and Britney Spears!".
MettleAngel: I remember back 15 years ago when posers gave me shit for wearing my Judas Priest jacket, because these rednecks protested "He's a fag!" and my response was, "Who knew! Who cares! Judas Priest rules!". Alexi relax, just so you know, there's now an entire chatroom dedicated to me being the worst writer in metal ever; but then again I am interviewing you and last week Schmeir (Destruction) so that must account for something....
Children Of Bodom: It's all because of the goddamn internet, where these wannabe kids say a bunch of shit, and hide behind their fake names and spread bullshit and gossip. In my day if you had something to say, even if it pissed off someone, it was face to face and throwdown. Fuck the internet!
MettleAngel: Yeah, but the internet is where this interview is going so you have to take the good with the bad, right?
Alexi: Well, when I was a teenager I acted real tough because I was totally into the Scandanavian Black Metal scene where everything was in your face and there was no internet. Now it's all just fucked.
MettleAngel: So let's talk about your mascot, the Reaper. Apparantly the man guilty of the Lake Bodom murders claims to have seen the Reaper when he was incarcerated. I've noticed that the reaper has been on each on of your album covers. Is he like a personal mascot similar to Eddie, Vic Rattlehead, Hektor, or the Metallian?
Alexi: It did not start out that way but now I guess he sorta is.
MettleAngel: Does he have a name?
Then Brent from Mastodon, who was blitzed beyond belief begins interrupting our interview desperately trying to get Alexi to bend a bottlecap with his bare hands. So we surreptitiously approached Janne for a quick chat.
MettleAngel: I know it's getting late and you're tired, but do you have time for some quick questions?
Janne: Oh yeah, that's fine man.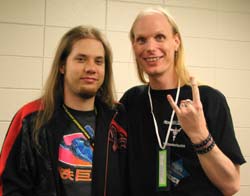 MettleAngel: So you and Alexi are the original members, how long have you been together?
Janne: 9 years now and Henkka has been with us since the begining too.
MettleAngel: How is the Unholly Alliance Tour been going thus far?
Janne: Pretty good. There's been excellent promotion and all the other bands are so cool. (then there is a discussion leading to the 'Yoko Ono' syndrome so I recharged my synergy and redirect my questioning).
MettleAngel: So since you are an amazing keyboardist give me some background as to who your favorite artists are.
Janne: I started playing keys when I was 5. My favorite is Jens Johanson. I began listening to him when he played with Dio and Yngwie in the 80's.
MettleAngel: I'm sure you appreciated his work with Silver Mountain and now of course with Stratovarious. (MettleMaiden:) So do you play any other instruments?
Janne: Yeah, I play drums but when I joined Bodom, they already had a drummer so I chose to play keyboards instead.
MettleAngel: I assume if you're a fan of Jens, then you also like Jon Lord from Deep Purple.
Janne: Yeah, yeah of course, let's move on.
MettleAngel: So what's your favorite Children Of Bodom release so far?
Janne: Well, I said in the past "Hate Crew Deathroll" (brief pause). I still think it's my favorite.
MettleAngel: I love that one too, but "Hatebreeder" is one of the best CDs of all times! When Wendy and I heard the closer "Downfall" we began to thrash in esctasy. Also when it was originally released I bought the special edition of "Hate Crew Deathroll" just to get the bonus track Slayer cover of "Silent Scream". I must say you match Jeff's solos note for note on that cover, ever talk to him about this?
Janne: No, no, no, it's OK.
MettleAngel: Now you headlined the US last year, how did that go?
Janne: It was so good, better than we expected, so many shows were sold out.
MettleAngel: Do you have a fair representation for your opinions on everything in the band, is it a democracy?
Janne: Yeah, we all decide, we vote, no one dominates, we all get along great.
MettleAngel: Now for some bullshit. We discussed "Silent Scream" as a killer cover and Alexi briefed us on all the bullshit with Britney Spears, but what other covers would you like to do? When I interviewed Graveworm last week, I relished in the fact that they did justice to R.E.M. and recently I just heard their rendition of the Pet Shop Boys "It's A Sin".
Janne: Pet Shop Boys, that's cool. We'd like to do Madonna and create more controversy. The Britney song was my favorite cover since we were all over Finnish radio & TV creating havoc. We were thinking about maybe doing Madonna.
MettleAngel: Another Finnish band called Twilight Guardians did justice to Madonna's "La Isla Bonita" and the American band Gothic Knights cover Duran Duran's "Hungry Like the Wolf".
Janne: Cool, yeah, we did all the basic metal covers so we just don't know what's next, but we're still going to piss people off, though.
MettleAngel: How about Judas Priest?
Janne: We were thinking about doing "Turbo Lover".
MettleAngel: Wow, that's perfect. Now we're talking, I'd love to hear that. Your keyboard playing would be killer. Back in '86 is when Judas Priest experimented with synthesized guitars. (MettleMaiden:) Have you ever heard Pat Boone's "In a Metal Mood"?
Janne: Oh, yeah, we have that on the bus. That CD rules.
MettleAngel: Now you talk about controversy, after recording that CD Pat Boone risked being kicked out of his church, being accused of playing the devil's music. Thankfully, Alice Cooper stood in the gap for him and the situation was resolved. (Then we all mimic the big band version of "Holy Diver" snapping our fingers in unison.) Thanks again brother, have fun at the show in Chicago tomorrow.

Related links: