Half an hour after Cloudscape's successful gig at Sweden Rock Festival I got the chance to speak with vocalist and front man Mike Anderson. It was a nice and interesting interview that revolved around the past, present and future of Cloudscape and Mike himself.

Hawk: The new album Crimson Skies has just been released. How has it been received so far?
Mike: It has been received really, really well! After the debut the reactions were ok but this time it has actually been much better. A few days ago I checked the charts at Ginza Records here in Sweden and found that Crimson Skies were at the tenth place in the chart for bestselling hard rock albums.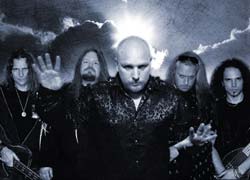 Hawk: Personally I find Crimson Skies a bit more progressive, dynamic and darker than the debut. Do you agree and if so, is it intentional?
Hawk: Crimson Skies is actually quite a grower if I might say so.

Hawk: I have read that the songs on your debut album were written under a long period of time. Was it hard or pressuring to write an entire new album in such short amount of time?
Mike: No, absolutely not. We were extremely inspired and we still are because we have already started writing for our next album. We don't force the writing process at all. Me and Björn, the other song writer of the band, both have ideas all the time so it's no problem at all. I also would like to add that we finished the debut album in the summer of 2004 but since the release got delayed it actually has passed two years between the first and second album.

Hawk: About the production, I think Crimson Skies sound extremely good. What is the secret?
Mike: Pontus Lindmark! He is working as a producer and engineer at Roasting House studios where the album were recorded and he is responsible for how the record is sounding. Anders "Theo" Theander is also partly responsible but more as an advisor, he was more practically involved on the debut album than this time. When we started the recording session we told Pontus about a couple of specific things that we strived for, such as how the drums should sound for instance. Pontus took it from there and contributed with his own ideas about the production.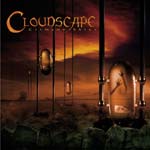 Hawk: About the brilliant album cover made by Mattias Norén, did you have a specific idea or concept that you told him to follow or did you leave him with free hands to draw whatever he felt like?
Mike: The only instruction we gave him for the debut album was that we wanted it purple and this time red. He also got the demo for Crimson Skies to make it easier for him to get in the right mood in his creative process. Apart from that he has been free to do almost whatever he wanted. We have no way near had something to complain about, he is extremely good!
Hawk: I recently noticed that Cloudscape has landed a record deal with Nightmare Records regarding the American market. What are your feelings about this?
Mike: All our fans are quite active writing to us and especially the American fans. We get reactions from America almost every day so I think there is a possibility for us doing quite well over there, we'll se.
Hawk: Can you tell us little about the history of Cloudscape?
Mike: Well, the history of Cloudscape is in fact quite unique. In 1992 a band called Doctor Weird was formed, without me in the band. In 1996 I was asked to join as their new keyboard player and I decided to join since I wasn't involved in any other band at this time. In 2000 we actually played at Sweden Rock Festival's demo stage but just hereafter the band split up mainly because the lack of a record deal. When I listen to the recordings today I also can understand why, not that it's bad in any way but noting spectacular either. The sound of Doctor Weird was by the way a lot more progressive than Cloudscape. After the break we decided to reform the band with a new band name and me on the vocal spot. We also decided to throw away the old songs and started to write new material for a fresh start. We recorded some new songs and sent them to Roasting House and they liked what they heard and from there you know the story.
Hawk: I'm a bit curious about the song writing process of Cloudscape, do you have a certain pattern you tend to follow?
Mike: I write my own songs by using the keyboard to program drums, bass, keyboards and my vocals on top of that. I record the songs at home and Patrik is helping me out adding the guitars. Björn Eliasson, the other song writer of Cloudscape, works in the same way and the vocals is done by me from scratch. So far we are sharing the song writing 50/50 but we never work together because we are both to stubborn, ha, ha…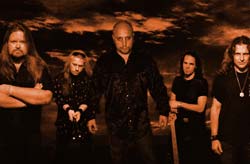 Hawk: Regarding the brilliant show I just saw you perform here at Sweden Rock Festival. The first thing that came to my mind when watching was that the performance was extremely tight. Do you rehearse a lot or what?
Mike: We rehearsed a lot more in the early days but nowadays it's only once a week. We have played such a long time together and we know each other quite well by know. Maybe that's the secret.
Hawk: How important is the lyrics?
Mike: Important of course but not as important as the music and the performance. I'm only partly responsible for the lyrics in Cloudscape but the ones I write usually evolve around matters that people can relate to.
Hawk: What about tours or upcoming concerts, what's the situation in that field?
Mike: We have one gig confirmed at the moment, in Stockholm (Klubben) 26 August. We are also confirmed for Progpower UK in March 2007. Apart from that there are some people working on a tour in Germany but at the moment we don't know if it's going to happen or not.
Hawk: Which song is your personal live favourite?
Mike: Phew… Judging by today's gig I have to say Will We Remain, but also Shapeshifter and Breach In My Sanity felt very good. But if I must pick one my is Will We Remain.
Hawk: What about the band members of Cloudscape, are you spending time together on your spare time also or is it just the music that brings you together?
Mike: The band members are my closest friends and I think I can speak for the rest of the guys in that aspect also.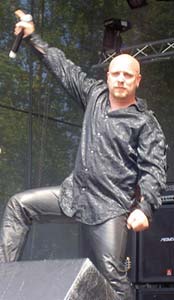 Hawk: The future of Cloudscape, how do you look upon it?
Mike: In the near future we would like to get some more gigs because we would love to play live a lot more that we have done so far. Apart from that we have, as I said earlier, started to write for our next album and hopefully we will take the next step from there.
Hawk: I would like to talk about some other matters about yourself rather than Cloudscape. You are involved in an exciting upcoming project called Planet Alliance. How was that project born?
Hawk: Who is writing the songs for this project then?
Mike: There are actually four song writers in total! I have written four songs, Magnus four as well, Janne Stark has contributed with one song and Bob Daisley has written two. I have gotten the honour to re-arrange Bob Daisley's songs because the versions we got from him were very, very bluesy which didn't fit the overall sound and some adjustments had to be done.
Hawk: This sounds very exciting; can you describe the musical direction of Planet Alliance?
Mike: It sounds a lot Magnus Karlsson I would say, a bit like Cloudscape also but less progressive and more melodic and straight to the point. I quite certain though that fans of Cloudscape also will like this. It will surely appeal to fans of Masterplan also.
Hawk: Do you have a release date for the record?
Mike: I recently talked to the record company and as it looks right now it will probably be released sometime in September.
Hawk: I just recently read that you also are involved in a Swiss band called Silent Memorial. What's the story about this collaboration?
Mike: They contacted me by e-mail and their presentation caught my interest. I have been contacted by a lot of unknown bands but usually I delete these mails instantly. When I investigated Silent More a bit deeper I discovered that they released an album in 1998 with Thomas Vikström on vocals and that made me even more interested. I got in contact with them and they sent me some demo tapes and what I found was that their music was extremely progressive, much more progressive than Cloudscape. It actually sounded a lot like the early stages of Dream Theater. The fact that it was something quite different from Cloudscape was also the reason why I decided to jump aboard; otherwise it wouldn't have been interesting at all. I simply felt that it was a challenge for me personally. Anyway, the album is recorded and is just about to be mixed. We have no record deal at the moment so I have no idea when it will be released though. We really hope there will be some interest because the quality of it is high.
Hawk: How do you look upon the climate for progressive metal in Sweden or the rest of the world of today?
Mike: Regarding the way Cloudscape sound, I believe that the climate in Sweden actually is quite good. But if you think of the bands that are more progressive I think it is the other way around. There are hardcore fans out there but in general I believe that Scandinavian people are not so interested in the most progressive bands. But when you come to Italy for instance it is the total opposite because there it seems to be more popular the more progressive the music is.
Hawk: When did you start to sing? Have you been taking singing lessons?
Hawk: Have you been singing in a lot of rock bands since the early days also?
Mike: Yes, my first serious attempt in the music business was a band that actually included a couple of members that you nowadays can find in Darkane, Peter Wildoer was one of them. The band was formed in 1987 but in the early nineties Peter got more and more interested in death metal and then we decided to break up and go our separate ways.
Hawk: What inspires you both as a singer and a song writer?
Mike: Nowadays I tend to get more inspiration from the nature, the weather, a beautiful town, special places etc. rather than other music. But if you want to know which bands I prefer listening to I would like to mention Yngwie Malmsteen, Sympony X, Yes, Kansas, Porcupine Tree, Saga and much more. I listen to a lot of music that belongs to a lot of different genres.
Hawk: Can you name the band of your dreams that you would be the vocalist for, if you could use the possibility to choose dead musicians as well.
Mike: Neil Peart (Rush) on drums, Geddy Lee (Rush) on bass guitar, Yngwie Malmsteen as the first guitarist and Steve Lukather (Toto) as the second and on the keyboardist Rick Wakeman (Yes).
Hawk: Which was the first rock/pop record you bought?
Hawk: Which was the last album that really knocked you out?
Hawk: Name the three best albums in rock history?
Mike: Yes - Close To The Edge, Kansas - Masque and Rush - Hemispheres, but I also would like to add Yngwie Malmsteen - Trilogy so there you have four!
Hawk: What's your biggest live experience as a spectator?
Hawk: My final question, do you have any other interests apart from the music?
Mike: First and foremost it's my family and I also love reading books. But apart from that it's the music that dominates my life.
Hawk: Well, thanks Mike and good luck in the future!
Mike: Thank you, it was nice talking to you.

See also: review of the gig the same day at Sweden Rock Festival »»

Related links: