Interview conducted September 09 2011
Interview published September 19 2011
On the day this chat took place, swedish metal band Cipher System celebrated the release of their second album "Communicate The Storms" with a gig at Sticky Fingers in Gothenburg. We got hold of bass player and founding member Henric Karlsson for a short interview.

Olof: How would you describe your music for those who have not heard it?
Henric: Melodic metal with a screaming maniac at the microphone. If I have to mention a few bands similar to us, I would say that if Dark Tranquility, Soilwork and Children Of Bodom were to have sex, and receive a small, ugly child, it would be us.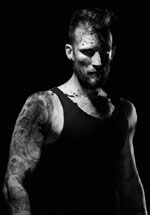 Olof: It´s been seven years since the first album. Why the long wait?
Henric: A lot of things contributed. After the first album we thought that everything would go by itself, but we learned the hard way. NOTHING happened and we did not really get any support from our company either. I started playing with Nightrage and stayed there a few years, and during that time Cipher System was pretty much gone. When I quit Nightrage, we started to pay attention to Cipher System again, and after a few years we had lost two singers, and put our energy on Dead By April for about a year. It wasn´t until we got Karl on vocals last year, that we had a stable line-up and started doing it for real again.
Olof: During these years, the line-up has been pretty instable. Do you feel that you found one to stay together during a longer period of time?
Henric: Absolutely. We are all old pals. Emil (drums) used to play with me and Johan (Guitar) in a rock band we had ten years ago. Andreas (guitar) and I have known each other for a long time, since I studied in Varberg 2002. Our first guitar player, who quit, was Andreas J. and he and Karl have had a band for several years. These are not new comers, but rather a family reunion.
Olof: Now that the album is released on a bigger company, how do the plans for gigs and tours look?
Henric: We hope for a lot more than it´s been the last few years. We really want to get out and play. We are looking for gigs as we speak, so if you can arrange gigs, or know someone who can, contact us: info@uprising.se.
Olof: If you could pick a band to tour with, who would it be, and why?
Henric: I´d go for Machine Head, Opeth or In Flames. Big bands who attract a crowd, plus we would fit well together live. We would bring something, and hopefully go well with the audience.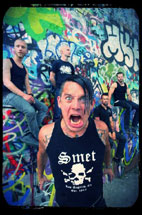 Olof: If you were to pick a song from the first album, and one from the new one, that you think represents Cipher System the best, what songs would it be?
Henric: Difficult. Many from the last album are typical Cipher System songs. But I think that I´ll go for "State Unknown" from the first one, and "The Failure Starts" or "Gods Terminal" from the new one.
Olof: The song "Repent" that you had on MySpace a few years ago had a riff that eventually was given to Dead By April. Is that song regarded as gone, or is it possible that a new version will be presented in the future?
Henric: I bet that song will turn up again. But we don´t have this 100% riff for it yet, so we´d rather put it aside until we find THE riff. I really like big parts of that song, so we haven´t given up hope!
Olof: Finally, what do you think, and hope, that the future brings?
Henric: We really hope that the album is well received, and that we can get out on the road and get some necks banging across Europe this fall/winter/spring. But also next summer, so make your wish to all the festivals to book us. Thanks for the interview!

See also: review of the album Communicate The Storms
Related links:

www.myspace.com/ciphersystem