They have been called "The Black Sabbath of Asia" by the Taiwanese newspaper Taipei Times and are practically seen as legends in Eastern Asia. During their eleven years as a band they have managed to become Taiwan's best-selling hard rock-act ever, both in their home country and abroad. But when I meet the five guys and one girl that form ChthoniC at Triada Promotions' office in central Stockholm on a cold and frosty morning, they turn out to be very much down to earth. They make jokes and kid around about the fact that the bass player Doris is not the only one in the band that gets looks from male interviewers - the Er-hu player Su-Nung is apparently rather popular as well. They are also eager to point out on their poster exactly what each and every corpse paint-motif stands for.
The band consists of Freddy (vocals), Jesse (guitar), Doris (bass), CJ (keyboard), Dani (drums) and finally Su-Nung (Er-hu). With their fourth album Seediq Bale being the first that is released in Europe, they are here to convince us that it's time to start taking notice of this constellation, that are so successful on their home-turf, but practically unheard of here.

Niklas: Welcome to Stockholm. Do you like it here so far?
ChthoniC: (Doris): Yeah! We are really glad to be here, even if we're not used to this kind of weather. (laughs) I especially like all the water and the surrounding mountains; the scenery is simply very beautiful here.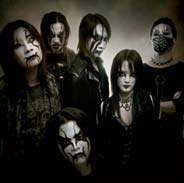 Niklas: You have made three albums before Seediq Bale, but this is the first album that is released in Europe, which means that you're pretty much unknown in these parts of the world. How would you like to present ChthoniC?
ChthoniC: (Freddy): We believe that we have a sound of our own, but we have certainly been influenced by many bands, particularly Scandinavian bands like Emperor, Dark Funeral and Dimmu Borgir, but also Cradle of Filth, of course. I guess we sound like many European black metal bands, but more sorrowful. We bring our own elements into the sound as well, and the traditional Taiwanese folk music definitely has a large place in ChthoniC. For example, or friend Su-Nung here plays an instrument called Er-hu, which can be described as a kind of violin but with only two strings. This instrument helps us convey the sorrow, which is necessary because of the important and tragic themes of our albums.
Niklas: There is a certain Taiwanese tribe that inspired the lyrics to Seediq Bale. Why did you dedicate the album's theme to them?

ChthoniC: (Freddy): The Seediq-tribe has such an interesting story to tell, simply. When Taiwan was ruled by the colonial power of Japan in the late nineteenth century and early twentieth century, this tribe lived in the mountains of northern Taiwan with many people in it. This was probably the most violent tribe of them all, they beheaded their enemies and drank their blood from the neck, among other things. We basically tell the story of how they lived and how they fought the Japanese. The tribe still exists, but today there are no more than about 200 people in it.
Niklas: Is this the reason you started the band, to make the modern world aware of ancient stories and atrocities like this one?
ChthoniC: (Freddy): We never intended to form the band just because of this; it was rather the love for metal that made us start ChthoniC and then the rest just followed. We do believe that we have a story that is important to us at least, but the music definitely comes first in ChthoniC - then the message.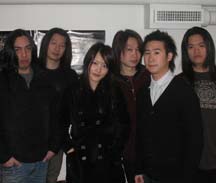 Niklas: There are three ChthoniC-albums prior to this one: Where The Ancestors' Souls Gathered (1999), 9th Empyrean (2000) and Relentless Recurrence (2002). Will there be re-issues of these albums to be released here for the fans that are interested?
ChthoniC: (Freddy): I don't think there will be any re-issues, because we are not very pleased with either the first or the second album. Especially Where The Ancestors' Souls Gathered we're not happy with at all. 9th Empyrean was a little better, but still not good enough. But if the fans are curious about our earlier sound, they should definitely import the albums from online stores.
Niklas: I would like to ask you, Freddy, about the music scene in Taiwan. From what I've gathered, you were the one who practically built the whole music scene in Taiwan? How would you like to describe the scene there today?
ChthoniC: (Freddy): The music scene in Taiwan has grown a lot in later years, but it didn't really exist in the same way before. The older musicians of Taiwan used to play in front of the American soldiers when they came here several years ago, and they rarely played any other songs than for example Hotel California by The Eagles. That's why the music life of Taiwan never really got as stimulated as should have been. The thing with most Taiwanese bands today is that they are happy as long as they get to play. Whether it's in a department store or a festival, they just want to play. But they don't record any albums or songs. I would say that there are about five or six bands, including ourselves, that really try to do something more and reach out with our music. The scene now is much richer, but still not good enough. There are young musicians that are educated by the older ones, but it's difficult for them to learn everything they teach, because most metal-bands refuse to play Hotel California today. (laughs)
Niklas: What can you tell us about the legendary Formoz Festival that you created?
ChthoniC: (Freddy): Doris and I have worked really hard over the years with the Formoz Festival, which has resulted in many great things.
(Doris): When we started the festival in 1995, there weren't more than maybe ten active bands in Taiwan. But this festival became very popular and many people from countries like Hong Kong, Singapore, Korea and Japan attended. This must have done something good for the music scene in our country, because now there are about one thousand bands in Taiwan! (Freddy): I guess you could say that ChthoniC is full of people who come from different parts of Taiwan but all fight for the same thing, to develop Taiwanese music and make it more heard than before.
Niklas: You won the category "Best Rock Band" in the Golden Melody Awards (the Asian Grammies) in the year 2003 and were handed the award by none other than Taiwan's president, Shui-Bian Chen. Is metal much recognized by the government and does it get much coverage in the media?
ChthoniC: (Freddy): I don't think that they are really interested about what we are doing, but since we sell so many records and more and more people start to get into us, they have to write about us in the newspapers even if they don't want to! But there is of course a big difference between Western and Taiwanese reporters. When we were at Midem in France earlier, all the reporters obviously know pretty much everything about the metal scene, but the Taiwanese reporters are still trying to learn and use the right words and terms. For example, there was a funny incident the other day, when a Taiwanese newspaper wrote an article about us, and described ChthoniC as a black metal techno-band. Our fans were like: "Techno? What the fuck?!" (laughs)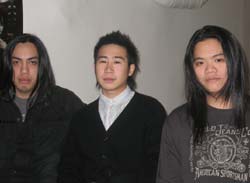 Niklas: You wear corpse paint as make-up on the stage, but this is not just inspired by the Scandinavian black metal-bands, but also from something called "The Eight Generals". Can you explain more about this?
ChthoniC: (Freddy): Actually, at first I just wanted to look like the guys in Immortal! Have you seen them? (laughs) Anyway, so I painted myself like them and started running around our house, when my mum asked me what the hell I was doing. "Why are you trying to look like 'The Eight Generals'?" she asked. I wasn't aware of them at the time, so I decided to try and learn more about them. It turned out that "The Eight Generals" is actually something that can be seen in religious parades that are based on ancient Taiwanese folklore. It was just really cool to discover that we had something that connected ourselves in the band with our ancestors, it made sense in many ways.
Niklas: I've heard that ChthoniC are banned in certain parts of China. Why is that?
ChthoniC: (Freddy): That is true. I mean, people can listen to our music if they really want to, on the Internet and through pirate copies. But we are not allowed to play there, unfortunately. There was once when we were booked to play on a certain festival, but they stopped us by shutting the power down. We are not welcomed there because we are a political band with strong opinions, and that don't go well together with the Chinese government.
Niklas: I heard the song Indigenous Laceration not long ago and was stunned by how great it was. Is this your favourite ChthoniC-song as well, or are there other songs you like even better?
ChthoniC: (Freddy): We all have different favourites, but I believe that Jesse likes Indigenous Laceration the best, just like you. (Jesse): That's because I wrote it! (laughs) (Freddy): Personally I would choose something else, like maybe Quasi Putrefaction. (Doris): My choice would be Bloody Gaya Fulfilled.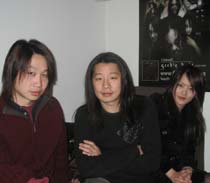 Niklas: It was recently announced that ChthoniC is going to play at Wacken Open Air, the world's biggest metal festival, this summer. How do you feel about that?
ChthoniC: (Freddy): Well, it's an honour to us because it's not that usual for Asian bands to come and play there. Hopefully there are many fans that will attend Wacken Open Air that has waited for an opportunity to see us perform, and perhaps we will get quite a few new fans as well. We also want to tour in the rest of Europe, so hopefully we will be able to do that sometime in the near future.
Niklas: Any last words to your fans here in Sweden?
ChthoniC: (Freddy): Yeah, I believe that our music has been much inspired by Swedish metal bands, and they play an important role in our music. There was a reviewer who said that he heard both Swedish and Asian elements in our music, and I think that is true. One of my all-time favourite bands is At The Gates, for example. I hope the fans over here will enjoy the Swedish metal elements that we have, as well as the things we offer with our music that is new to them.

See also: review of the album Seediq Bale
Related links:
www.myspace.com/chthonictw
chthonic.org/en