Interview conducted August 08 2008
Interview published August 16 2008
The second coming of "Biker Black Metal" presents its chromatic death knell, in the pale reflection of the doomsday riders - Chrome Division. These bad boys of Norway raise their glasses and flag, fornicating and frolicking, furiously. Their new release: Booze, Broads, & Beelzebub is a rock tease of mettle and might, a far cry from Shagrath's other entourage of ruthless defiance.
I briefly chatted with bassist - Björn Luna about writing the new album, the recording process, his influences, the ZZ Top cover, and what it's like playing with the members of Chrome Division. So let's hear it for this sharp dressed band!

MettleAngel: Hey Brother, congratulations on yet again another rockin' release.
MettleAngel: Both are stong albums. The production values have definitely improved the second time around, as well as the metal elements.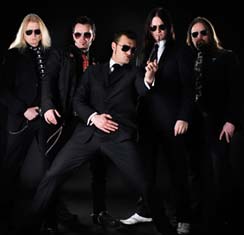 MettleAngel: Well, you have succeeded. I hear a blend of classic metal like Priest, Twisted Sister, W.A.S.P., with a hint of the real 70's glam of Slade, The Sweet, Alice Cooper, and Starz. There is also the 70's feel of Thin Lizzy, AC/DC, Nazareth, Motörhead, etc.

MettleAngel: You definitely do that, as there is also a strong 80's sleaze feel of Mötley Crüe, Ratt, Guns 'N' Roses, & Quiet Riot.
MettleAngel: I understand that your influences are more in the 80's sub-pop and gothic direction. I know you prefer Depeche Mode, but I also hear Joy Division, Bauhaus, Fields Of Nephilim, and definitely Sisters Of Mercy, and The Cult.
Björn: Yeah, that's my taste, but Rick and Shaggy wanted to create that rough sound, not so new wavish.
MettleAngel: You contributed to the writing of the new album, though, what songs did you do?
MettleAngel: I assume you were enjoying Quiet Riot's Metal Health album, when you penned that one?
MettleAngel: The song, "Slick Black Cadillac", of course! Surely, this was what inspired you?
MettleAngel: Man, I'm showing my age! It's the same when I spoke with Per Nilsson of Scar Symmetry, he had never heard any music by Voi Vod or Dead Brain Cells; even though I was convinced they were major influences. So what were your other contributions?
Björn: Eddie, Rick, & Shaggy did most of the song writing, but I helped with some lyrics. I like the catchy songs with a singable chorus.
MettleAngel: Chrome Division write commercially based music, which I enjoy as well. The lyrics have a real sybaritic, X-rated vibe, this time. There's that whole Anvil element of "Show Me Your Tits!"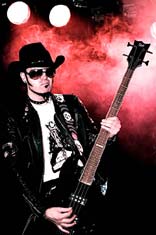 MettleAngel: Dimmu Borgir fans have a hard time accepting Chrome Division, some like it for what it is. Die-hard Dimmu Black Metal fans repudiate the notion of Shagrath singing about screwing hot chicks. I've seen Shaggy with Dimmu Borgir on tour back stage, without the make-up; he practices what he preaches with Chrome Division! I respect Shagrath's alter-ego. Some fans of Chrome Division, may not like Dimmu Borgir, as they are into the biker rock vibe. Overall, Chrome Division is great party rock. You have the drinking antics of Tankard, the pscho indulgence of 80's hair metal, and the great southern trend skill of Skynyrd, .38 Special, and ZZ Top. Tell me about the cover of "Sharp Dressed Man".
Björn: Everyone asks why we did this. We grew up watching MTV, those Eliminator videos had everything Chrome Divisions advocates, like hot chicks, and fast cars. We took this classic song, and gave it our own spin.
MettleAngel: You did justice to the track, as that song really stands out. When I play it for my friends and wife, they do a double take, not recognizing it, at first, as a ZZ Top song. I am glad Chrome Division has the balls to play a song like this.
Björn: We all love classic rock. We want to create our own sound, as best as we can. I don't know why when members of a band of a certain style, do a side project, it tends to sound like their main act. This is why Shagrath goes by his name Stian.
MettleAngel: You mean like Galder's Old Man's Child band, still basically being Black Metal, but more primitive?
MettleAngel: You also play in the symphonic power metal band Ashes To Ashes. That band is nothing like Chrome Division!
Björn: Yes, but Chrome Division is my main concern. I don't have the energy to play in other bands, at the moment.
MettleAngel: Are you at all familiar with Andy Sidaris, and his soft-core B-movies known as "Bullets, Bombs, And Babes"?
MettleAngel: They are basically late 80's/early 90's "T&A" spy flix, starring ex-Playboy/Penthouse playmates like Sybil Danning, Dona Spier, Cynthia Brimhall, Julie Strain, & Roberta Vasquez. They have had Erik Estrada, Pat Morita, and other 80's stars act in them. The best include: "Malibu Express", "Savage Beach", "Do Or Die", "Guns", & "Picasso Trigger". They get worse, and more cheesy over the years, like with "Hard Hunted" & "Fit To Kill".
Björn: Oh, I see, hence the name, "Bullets, Bombs And Babes", referring to our "Booze, Broads And Beezelbub". No, we did not know about this, so it's just a coincidence. I'll tell the guys to check into those movies. The title of the album is just our take on the whole "Sex, Drugs, & Rock 'N' Roll" vibe.
MettleAngel: That makes sense too. I guess I've been watching those movies, and listening to the CD at the same time, which led to the connection. At least I have given everyone food for thought. I recently watched "Malibu Express" again, and I really enjoyed it. I remember it from when I was young, staying up late to watch Cinemax & Showtime after dark. Crazy, how I remembered that movie so well, but I can not tell you what I did last week. The classics really stick with you.
MettleAngel: Is there a video in the works, with this concept in mind?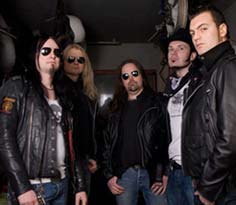 MettleAngel: I'm surprised Nuclear blast did not just go for a performance thing; something you could put on You Tube or My Space. I would not expect another Dimmu mini movie type thing. Hell, they are releasing another DVD, in October!
MettleAngel: I can see that, studio time is so damn expensive these days. What about plans to tour, especially here in America?
MettleAngel: I guess Shaggy is so busy with the Danzig/Dimmu Borgir/Moonspell/Skeletonwitch tour this fall. What about early next year?
MettleAngel: So, I'll keep my fingers crossed. In the mean time, I'll do a CD review, and tell all my friends. I even suggested the CD for Metal Covenant's Album Of The Month for July.
MettleAngel: I'm grateful you chose July as a release month. Late August, and all of September is just insane with new metal!
MettleAngel: Well, best of luck in all future endeavors.
MettleAngel: Definitely, it just makes for great summer listening, and I'm a heatseeker!

See also: review of the album Booze, Broads and Beelzebub
Related links:
www.chromedivision.com
www.myspace.com/chromedivision
www.bebo.com/chromedivision