Interview conducted July 08 2010
Interview published July 29 2010
Some hours prior to Cavalera Conspiracy's annihilating display at Getaway Rock Festival in Sweden, Metal Covenant got the opportunity to board the band's tour bus and ask Iggor Cavalera some questions. Due to the busy press schedule for Iggor and his brother Max, time was limited. Under all circumstances, the drummer proved to be courteous and easygoing, while showing genuine enthusiasm for other music and other bands as well.

Mozzy: You're playing just a few select shows with Cavalera Conspiracy this summer; is it difficult to plan the tour schedule because of other commitments such as Soulfly?
Iggor: Well yeah, but also our new album has not been released yet, so we will play just a couple of gigs this summer. The album is finished, but we haven't heard anything about a release date. It's very annoying; it seems to always be like this for us. We just want to release it, but we'll see when that happens.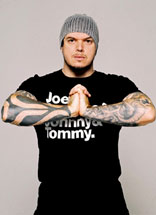 Mozzy: Can you tell us something of the new album; will it be similar to the debut, and will you have some guests like on that one?
Iggor: Yeah, it's quite similar, but I think this one is more brutal. And the songs are more direct. I'm very excited about it. We did a cover of a Black Flag song, Lynch Mob; Roger from Agnostic Front is singing on it. That was really cool. We also recorded Black Sabbath's Electric Funeral. And I'm also impressed by Max's vocals, he sounds great.
Mozzy: That sounds very promising. You have to tell Max that he's one of my favourite singers. Apart from the aggression, his voice has so much conviction; it really sounds genuine and from the heart.
Iggor: Yes, I agree. As I said, he did a really great job on the new album, it's sounds really brutal. And I really think too he has a unique voice; you can say it's his trademark. It's like Tom Araya in Slayer for example; when you hear him you can tell it's Slayer.
Mozzy: It's now been more than two years you and Max got together in Cavalera Conspiracy. Describe this period.
Iggor: It's been really nice. You know, apart from our family tie, me and Max always shared the same views on music, arts and so on. So it's great to play together and create music again.
Mozzy: Tell me about Mixhell, the band you have with your wife?
Iggor: Ok, that's very different. It's more like techno, but at the same time brutal, and I get to play aggressively on the drums. We actually played a show in Sweden some months back, I can't remember where…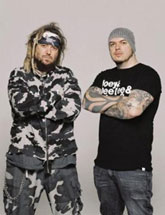 Mozzy: Yeah, that was in fact quite close to where I live, in the north. Unfortunately, I could not make it to the gig.
Iggor: Oh really? It was very cool actually; we had the drummer from Refused, David, guesting as a second drummer. He was awesome. I really admire his playing. To be able to do step out of your habitat, so to speak, and do something like this shows that you have much talent. I love Refused, and I remember bringing one of their CDs on the tour bus back in the 90´s. Max and everyone loved it.
Mozzy: What are your thoughts of tonight's gig? And will you be able to stay and watch some other bands?
Iggor: I'm looking forward to playing for sure. I've seen the line-up for the festival and it's great. I want to watch Exodus. It would be cool to see Mayhem, I'm not really a huge fan of black metal but it would be interesting to see them. But that's tomorrow and we're leaving late tonight. What time is Exodus playing by the way?
Mozzy: They're playing after you, on the other stage, at 21.15. Straight into the pit then!
Related links: