Interview conducted February 28 2015
Interview published April 20 2015
One of the main acts at this year's House of Metal was Swedish doom masters Candlemass. Unfortunately, the band's songwriter Leif Edling was still missing as he needs to regain his health. As Edling usually is the one doing interviews, guitarist Mats 'Mappe' Björkman and vocalist Mats Levén took the time to meet Metal Covenant in Umeå. The duo, not often getting the chance to do interviews, was very talkative and gracious and a long, interesting chat took place a couple of hours before their excellent concert.

Mozzy: You played at House Of Metal in 2008. How did you find that?
Mappe: Yes! We didn't remember which year it was ourselves, but someone told us today.
Mozzy: And you, Mats, have played here with Krux. Was it in 2010?
Mats: Hmm, it was 2011 I think. We had just done our third album.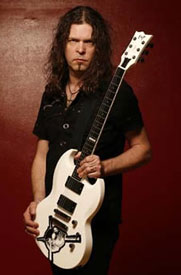 Mozzy: Tonight will be different for Candlemass since Leif is not playing. What is the status with him?
Mappe: He is still in a state that he needs to rest. He needs to do that in order to come back and do this again. That is our goal.
Mozzy: I read something before that he has been burned out. Is that still the case?
Mappe: Yes. (Mats:) The problem is also that you need to notify long in advance if you're going to play, at festivals and so on. And if you say yes to ten festivals you're putting yourself under a certain pressure. So it was easier to do turn it around and say to him 'do not feel any pressure over anything; if you feel later that you want to come along, that's perfect. But don't feel any pressure'. So it's better that we do it this way for now. He's taking it easy and we're using a stand-in guy in the meantime. He thinks that is nice. (Mappe:) Looking back, he should have taken a break earlier. He has been involved with booking the gigs and it has depended on his condition. We were doing one gig and then he was not feeling well and had to rest for quite some time. So this is a mutual decision we have done, us and Leif, on how we will do things this year. He said "I would like to rest and the best thing is that you carry on". So this is a mutual decision, absolutely. The decision is also based on how we think that we are such a good live band. For the last two years, we have been better than ever live.
Mozzy: I agree.
Mappe: Yes, Mats is such a huge addition to the line-up. We have had some problems before with various things… I don't want to talk bad about Rob (Robert Lowe, previous singer) at all, but everyone knows that he had some problems with being onstage and with the lyrics. That was his dilemma. So we feel that it would be really stupid to put the band on ice, from a live point of view, now that we are such a good live band. So then we decided that Leif will rest so that we can celebrate our 30th anniversary with him next year. All of us think that this is a good solution.
Mozzy: It must be annoying for Leif though, not being able to play with Candlemass.
Mats: It probably is. At the same time, it's maybe a relief. It might perhaps get harder for each show, not being a part of it, but it probably feels good in the beginning, being able to relax a bit. (Mappe:) Exactly. Not having to feel the pressure. For him, it has also been like 'Fuck, if I cannot play, I will ruin it for everyone'. In that sort of situation, you can become more stressed. Of course it's tough, and we think it's tough as well, not having him around. But because of that, we have brought in people from the Candlemass family as much as it's possible: tonight it is Jörgen (Sandström) on bass and otherwise we use Per (Wiberg), our keyboardist, on bass. That is what we will do in order to feel comfortable, both Leif and us.
Mozzy: You have done a gig without Leif before, haven't you?
Mappe: Yes, in Portugal. (Mats:) In 2012. (Mappe:) Yes. It was the last gig with Robert.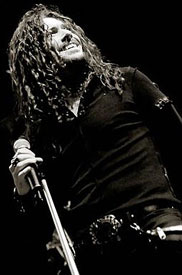 Mozzy: Aha. So that went well?
Mappe: Oh yes, it did. I know what reactions there can be to this sort of thing: 'without him or him, it's not the same'. But we're still playing his songs and if you don't want to see it you don't need to buy a ticket, you know. But those who want to see it, and that's almost everyone I think, now still have the chance to see Candlemass. I don't care about this attitude that it's not the same; that attitude exists with a lot of bands. It is not unique. Of course, Leif is a key guy because he does all the songs in Candlemass, but it's still his songs that we are playing.
Mozzy: Yeah. And you still have a couple of original members in the band other than Leif. There are some bands with just one original member and if that member is away then it's different.
Mappe: Exactly. And some bands don't have any left. We played with Riot on the 70000 Tons of Metal and they didn't have any original member. Now, that was because of deaths and it is very tragic, and I have the fullest respect for them. Keep going if you think it is fun and if people want to see it! (Mats:) Another thing is that some of the festivals and shows we are doing this year, we would not have had time to do with Leif. So this year we're concentrating on some shows which we perhaps had not been booked for otherwise. Maybe we would have been playing more of the larger festivals. So now we have the opportunity to play some different places. That will be a treat for the people at those places who perhaps have not had the chance to see us otherwise, like Bulgaria for example.
Mozzy: Yes, I noticed some places in the tour schedule which are not too common.
Mappe: It is quite different actually. (Mats:) It is cool. As long as it works out logistically. They seem to be some good festivals as well. It will be lots of fun. We would not have had time to do those festivals if we had done the usual bigger ones. It would have been too much.
Mozzy: Avatarium [Leif's side project] played here last year, and he was not able to play that time either, but the concert was marvellous.
Mats: Yeah, they are really good. (Mappe:) Yes. That is also within the Candlemass family, it's Leif's side project, although it is a real band of course. Same thing with Krux. (Mats:) Lars and Marcus (Avatarium's drummer and guitarist) have played with Krux too. (Mappe:) I have played with Krux! (Mats:) And Carl Westholm (keyboardist in Avatarium) has played with Candlemass. (Mappe:) So everything is linked together, sort of (laughs). I mean, Candlemass is Leif's baby, and his base, but he will be back! He will be. That is the aim of everyone. And as Mats is saying, it's cool to be able to play at some of these clubs in Sweden now, because we have a great metal scene. I don't think we would have done those if Leif had been well. Logistically, it would have been different. So it's actually awesome that we're doing these shows now, both for us and the audience.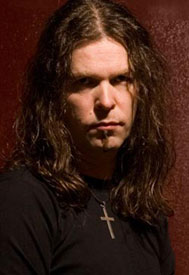 Mozzy: Going back to that 70000 Tons of Metal cruise, I was on that one and met you there!
Mappe: Oh yeah, I recognized you from somewhere! (Mats:) When was that?
Mozzy: In 2012.
Mappe: Yeah. We did one gig with Robert and one with Johan, I think.
Mozzy: Yes. You played the whole of Epicus Doomicus Metallicus with Johan, on the last night which was great. I was quite worn out by then though (laughs).
Mappe: (laughs). Well we had such bad luck, cause when we got onboard there were some problems with the stage. We were supposed to play at 8 PM but instead we played at 3 in the morning! Many people had gone to bed or were wasted. Then it was the last night; we were playing at 10 or 11 PM but then Overkill got that stage time and we had to play later, as the last band. Overkill felt bad for us so they put money on our cards, the ones you used for paying drinks, to provide some compensation (laughs).
Mozzy: Awesome. Well it was a fantastic cruise, with great partying (laughs).
Mappe: Definitely (smiles).
Mozzy: In later years, you have been using keyboards, but not this time then, I assume.
Mappe: Yes. That was a development which happened because we played many new songs, especially from Psalms For The Dead which has a lot of keyboards.
Mozzy: It has worked very well, I think.
Mappe: Absolutely! (Mats:) Then there are some older songs with some keyboard as well. (Mappe:) Exactly. It fits well, and even if the songs don't have keyboards, it's cool to add some colour. We will do that in the future too. We're not doing it in 2015, because we're basing the set around the classic Candlemass songs, the old songs. We have played for 27 years or so without keyboards so it's not the end of the world without keyboards, but it is a cool way of spicing it up. (Mats:) Plus, Per is so gifted, and he's good at flavouring the songs without adding too much.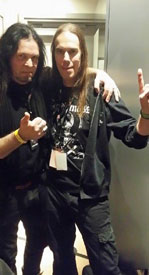 Mozzy: Having Mats in the band now must be a great boost. That has been obvious live.
Mappe: It's nice that you feel that way!
Mozzy: I mean, Rob had a great voice too but he was not as mobile onstage and so on.
Mappe: Yeah, it is very different now. Rob was nervous and it was tough for him live. I don't think that he felt comfortable onstage. We tried but it did not quite work out. He was excellent on the albums but it became too much for him live. At first, Mats would do just one gig or so to help us out in a tricky situation. Mats was the first choice, and he has sang on demos for Candlemass. He did the demos for the 'White album' (self-titled, 2005) for example. So that was the natural choice and it turned out awesome, which we knew it would. It's wonderful that Mats is still here and we will hold onto him firmly! (laughs). Now we have reached a point where we are just going to keep going with this line-up; this is the Candlemass that we will have.
Mozzy: So is Mats a permanent member now?
Mats: The thing is that when they asked me to do that first gig, I said yes without hesitation. But I also said that I think it's best to sit tight for a bit before bringing in another Candlemass singer. I was playing with Leif in Krux and I did not want to mix those two roles. Even though Candlemass is a much bigger and well-known band, I felt that it's better if I just do these first gigs to help out, and then we will see how it feels after a while. And it has felt very good, both for me and the rest of the guys in the band I think. But I also think that it was good not to force a new singer on the fans and the media right away. It feels like fans and journalists have been more open to how we sound today. It is better if they go like 'this sounds great, you should think about becoming the new singer in Candlemass!'. Then you can approach it in a different way. It works that way psychologically, I think. (Mappe:) Yeah.

(Mats:) If I would have gone 'I'm the new singer in Candlemass!' then everyone would have been more critical without really listening to how it sounded, you know what I mean?
And as long it was just a live situation and there was no new album in the pipeline, then it was better if we sat tight for a while and then if feels logical in the end the day comes when they say 'Absolutely, Mats Levén is the new singer in Candlemass, 100 percent'. And for me, I have to know that Candlemass will exist and function on a certain level and play enough gigs so that it will be worth focusing on the band. I would want nothing else than singing in Candlemass but it has to function on a certain level.

(Mappe:) Actually, Leif and I discussed Mats already after Messiah left. The best option was to have Mats coming in. This was when we did King Of The Grey Islands. Mats did some demo vocals and it was excellent, but then Krux was an existing band with another album planned. It would have been too much; a clash between the bands. But now it's different. And the years have rolled by, so it has become a case of… Mats is the singer in Candlemass, there nothing to discuss. It feels natural. (Mats:) I have been around for a while with various bands, and I know how sensitive it can be if you rush things. That's something one has learned in 25 years; that it's better for things to sink in and for everyone to find their roles and see if we fit together or not. If I may be a bit critical about when you recruited Robert; maybe that happened too fast because you did not really know what to do? Maybe you should have done a bunch of club gigs first just to try things out, before announcing a new singer and playing a bigger show straight away?

(Mappe:) Absolutely. I think we were in a situation back then that… Another album was the first priority, not gigs. (Mats:) I can see that. (Mappe:) It was just 'now it's time for an album!' But I agree, from a live perspective, we should have tested that first. (Mats:) You need time to get to know each other too; the older you get, the more you realise that it has to work socially. It's not like a footballer just coming in and scoring lots of goals; it has to work as a unit. It takes some time before you find you roles and get a cool thing going. It is not easy. (Mappe:) Especially as the years go by and you get older, that part of it is important. You travel a lot and there are lots of things besides the music; like discussions about the band and so on. It is very important.
Mozzy: And you are occupied with jobs outside Candlemass as well, I assume?
Mappe: Yes, I am, and the others too. But Mats only has the music. He is producing and doing other stuff. He is the one that actually works with music full-time. That is the combination we have to work on.
Mozzy: In later years, you have also had better time slots at festivals, like at Sweden Rock in 2013 where you headlined the first day. With Robert, you sometimes had to play during the afternoon.
Mappe: Exactly. (Mats:) That was what happened after 2012: it took some time before people got it and they saw that Candlemass were good and got good live reviews. Of course, it can take a year or so before everyone hears about it. So in 2013, it took off with that slot at Sweden Rock, and the one at Wacken for example. (Mappe:) Oh yeah! We had a good slot at Graspop too. We have really worked hard to build up our reputation live. We did excellent albums with Robert but live, it wasn't as great. So to promote the album, we had to do great gigs and we didn't. So the promotion of the album didn't succeed. It takes time to build these things again, because people went like 'they are not as good live, it does not rock'. Since Mats joined, we have noticed the difference in everything: we are selling more merchandise, and we are selling more albums, including the back catalogue. So the live part has been an important factor, for sure. There are larger audiences, with lots of young people too. It is great fun! It is really motivating and something that makes us want to continue.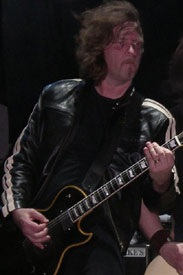 Mozzy: How about a new album with Mats, that must be tempting? You said that Psalms For The Dead would be the last album, though.
Mappe: Yeah, we said that. But that does not mean that we can't do new songs and put them out on other formats. But we have not reached that stage yet. We are of course discussing the future and yeah, we are tempted to do new stuff with Mats. We did that song for Sweden Rock Magazine (an Entombed cover), that is the only released studio track with Candlemass Mats has done. It is not carved in stone that we would not do another record.
Mozzy: Last weekend, I dug out the amazing Doomology box [a stylish box with six vinyl records and other cool stuff] which was released a few years ago. There are some old demos with Mats included, and it sounded good even then.
Mappe: Oh, yeah that is a nice box. (Mats:) At the same time, those were not meant to be released. When I did demos with Leif, it happened very quickly. He said "I have a couple of songs, could you help out with demos?" And apart from singing, I recorded drums, bass and guitar too, everything in four hours (laughs). Leif was humming the melodies and then I did the vocals in one take, so it was very quick. And on King Of The Grey Island, I did the demo vocals in three hours (laughs). That was mostly done just to show Nuclear Blast what it sounded like without Messiah in the band. There was some time pressure. (Mappe:) Mats has sung on the demos for the last few albums. He has been so close to Candlemass for a long time so it hasn't felt strange with him live. Something that is also great is that we can do songs from our whole repertoire now. We were quite restricted with Robert, because when we would do a new song in the setlist he found it hard. Mats is very open to everything and likes that. (Mats:) Yeah it's very cool!
Mozzy: That must be pleasing for you other guys in the band, getting to switch songs.
Mappe: Oh yeah! There are no problems with Mats. There have been certain songs I wanted to play and now we finally can. It makes it more fun being able to change songs, both for us and the fans.
Mozzy: Do you have any contact with Robert nowadays?
Mappe: Well, I don't have. But there is no schism, absolutely not. I read that he is in a band which is good news. I really hope he gets going with what he wants to do. I don't know what's happening with Solitude Aeturnus though, I haven't heard anything.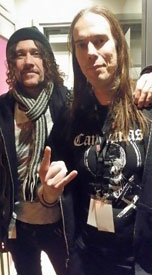 Mozzy: So the touring will just roll on this year then, and into next year?
Mappe: Yes. And next year there is the 30th anniversary, and the booking for that will be done in the autumn. So that is the next step. And the goal is that Leif will be back by then.
Mozzy: Epicus Doomicus Metallicus came in 1986, so you regard next year as the anniversary?
Mappe: Well, we have disputed it a bit (laughs). Epicus came in 1986, but we started the band in 1985… But the release of Epicus made Candlemass a name, so we're going for 2016 as the anniversary. Leif's health also plays a part in the decision.
Mozzy: I was thinking, even though you have not considered quitting altogether, that is must be difficult to just give up on music if you simply like playing? We have had some examples recently like Scorpions and Judas Priest, who both said they were going to quit but could not do it in the end.
Mappe: Yeah! Scorpions were sure that they were going to quit. And Judas Priest as well, but they are a prime example of how one member can provide a boost. I don't know what issues they had but I know that when Richie (Faulkner, guitarist) came in he made them thrive and made it fun to play again. And I understand them, I really do. Then it was difficult to stop, even though they had said they would. You should never say that, really. We sort of did it when we released the last album, but we will see what the future brings. (Mats:) Then we have certain bands who have said it just because it has been a good thing commercially. And it was the same with Scorpions, really. Before they said they would stop, they were not that hip but when they did the farewell tour everyone realised what great songs they had done. That's just the way it is, you know. It's like when someone dies and people praise their work afterwards. It was the same when Freddie Mercury died: I have a lot of friends who did not like Queen, but when Freddie died suddenly everyone was a long-time fan.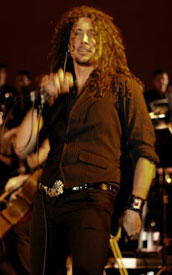 Mozzy: And like I said, it must be sad to stop playing music if you enjoy it.
Mappe: Yeah. And Candlemass have been doing this for so long. 30 years, that is crazy if you think about it… Plus we're so good now, so it wouldn't feel good to stop. It would have been different when we had worse periods but now there are no such thoughts. We just need to keep our health going (laughs).
Mozzy: Great to hear! To conclude with a side story: I read the Anvil book (Anvil: The Story of Anvil), and there is a brilliant tale in it when you, Mappe, meet them in London in the 80's.
Mappe: Yeah! Cool that you're bringing that up. That should have been in the movie too actually! They filmed an interview with me at Sweden Rock. But it's such a long story, I will try to make it shorter now... Leif and I are big Anvil fans, and we played with Candlemass in Spain in 2004. We met Anvil there and they thought it was awesome. I told them the story of how I met them in London 1983. I had seen them in Leeds before. A friend and I spotted them in the street and we got some autographs and pictures. Lips actually remembered this! The same day in London, we saw Anvil again from our taxi and we went to their hotel in Bayswater, the one we thought they walked into. We did not know Lips' full name so we asked for Robb Reiner at the reception and got the room number. I went up in the elevator and knocked on the door, thinking that 'I'm going to drink beer with Robb Reiner!' (laughs). It took quite some time before the door opened and it was dark. An old lady, like 90 years old, saw me in my long hair and studs, and went "what do you want?!" with a look of horror. " Is Robb Reiner there" I asked. "yes, what do you want?!". "Can I speak to him?" "yes, but don't do us any harm!" I thought 'what is this?' And then finally, a 90-year old man with a cane appeared - his name was also Robb Reiner (laughs). The guys in Anvil thought this was hilarious, but the interview was probably too long for it to be in the movie.
Mozzy: (laughs) What a fantastic story. The Anvil guys are awesome, I've met them a couple of times too.
Mappe: Yeah. I had some contact with Lips just the other day actually, he is a great guy. There you have a band that just keeps going because they think it is fun. Full credit to them!

See also: review of the gig the same night
Related links:

www.candlemass.se
www.facebook.com/candlemass