Interview conducted April 28 2009
Interview published May 05 2009
The new Candlemass is one of the best releases this year, thus far. I was eternally grateful to converse with vocalist - Robert Lowe - about all of his work with Death Magic Doom. What a joy to speak in solitude to the "Disciple Of Doom" himself, the same day as the much anticipated Heaven & Hell CD arrived in stores. I was surprised by his thick Dallas accent, and charmed by his beguiling nature. Come journey to the dark side of this lucid fear rising, and celebrate the solid attitude of our eternized mettle hearts.


MettleAngel: Hey Brother, I'm so pleased to be speaking with you about the new Candlemass. Honestly, I think it is their best effort since the glorious Metal Blade years.
MettleAngel: As well it should! When I spoke with Leif Edling a few years ago, discussing the release for the - King Of The Grey Islands - he explained to me that all the music had already been written and recorded, before you were even asked to join the band. I assume this time you were instrumental to the writing process, and contributed your immense vocal talents?
Robert: Then you would assume incorrectly, because it was all up to Leif, once again. Honestly, I prefer to keep it this way. I let Leif write everything, then I add my vocal harmonies. I did join everyone in the studio for a few weeks, just to gauge how everything was progressing. The sentiment of us all being together brought about a new felt energy, which sparked new life in to the whole band.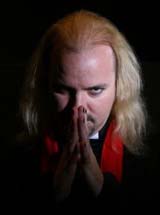 MettleAngel: That is probably why the album feels so tight, and flows so well.

Robert: This can be attributed to the fact that I did assist with some minor vocal phrasing. Overall, I just let Leif write the lyrics, and melodies. With Solitude Aeturnus, John Perez and I write and perform all the music. With Candlemass, I opt to give Leif his own space to create; probably, because I am just too lazy.
MettleAngel: Leif has done an outstanding job. Honestly, I was a bit jaded about hearing the new Candlemass, until I streamed it for free a few weeks ago at the band's My Space page. I listened to it over, and over. I was floored. Once I received a promo, I just played it everyday. I too felt a renewed spark of interest, reignited. I was not overly impressed with the last studio album. My favourite songs were the bonus tracks. This is why I celebrated the - Lucifer Rising EP.
MettleAngel: Death Magic Doom has such a great melodic sound. Lately, I have become so burned out with all the doom acts inundating the market. When the two best bands of the genre are merged into one being, with you on vocals, the magick happens. The perfect blessing, and curse is created.
Robert: There seems to be a real turn around in the band's attitude, too. They are 100% ready to proceed, and so pleased to be playing. They are finally over the B$ with Messiah.
MettleAngel: We won't go into all that...
Robert: Yeah, there is no need. I am not a jerk frontman. I don't have an arrogant attitude. I'm just a simple guy who is so grateful to be playing with my heroes. You mentioned that you liked the bonus tracks best on - King Of The Grey Islands. Did you know those were my audition songs?
MettleAngel: Yes, I think I had heard that, or perhaps Leif, himself informed me.
Robert: I was given those demos, and asked to add my vocals to them. Once I was in the band, I felt they would serve as a great addition to the album, or make killer bonus tracks for the digipak.
MettleAngel: I agree, and they do! This is why Lucifer Rising whets our appetites, hearing you sing even more of the classics.
Robert: As a band, we want to play the whole gambit, which is reflected on Lucifer Rising. The fans demand the classics, and I prefer to perform them, as well.
MettleAngel: I definitely prefer the early Candlemass albums. Chapter VI was it own entity. By the time - Dactylis Glomerata or From The 13th Sun - came out, they were expensive imports, which never measured up to the classics. I became bored with the tediousness of the music. I was excited when Messiah returned, but the S/T did not impress me as much as the originals. Death Magic Doom is a return to glory!
MettleAngel: I asked Leif if he would ever re-issue the Nemesis material. I would love to hear you sing on those songs! Sadly, he despises that, and there is no plan for a remaster. Just out of curiosity, what is your favourite Candlemass album?
Robert: I have to go back to when I first purchased the classic - Nightfall. For me, that is just an album which you can play from start to finish, with no need for hitting the skip button.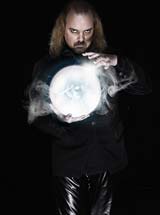 MettleAngel: Same goes for me! I'll never forget when I was in college, and I bought two tapes with my limited budget, so I could take them home on Spring Break. I chose Nightfall, and Barren Cross - Atomic Arena. I vividly remember how the Nightfall cassette insert folded down, and not outward. I played this tape over, and over. Being from Cincinnati, I was not aware of the previous release - Epicus Doomicus Metallicus - even though it was licensed by David T. Chastain's own label: Leviathan Records. After the experience of listening to Nightfall constantly, I bought every Metal Blade Candlemass title, even the live album.
MettleAngel: The songs were so unique. Well Of Souls reminded me of Indiana Jones. Samirithan, with its unique spelling, reminded me of the Bible story. I had no clue what the Codex Gigas was, then.
MettleAngel: I recall paying a pretty price for this on CD, many years later. I got the Active Records Pressing at a record convention. Here is a funny anecdote for you...I had the CD in my trunk, while I was driving home, from the show. I could not wait to take it home and play, as I still had a cassette deck in my car. While I was on the freeway, I was cut off, and run off the road, and I almost crashed. All I could think of is that I hope I have not broken my CD, as I did dent my fender, and rear of the car. I was more concerned about the damn CD, than the car itself, or my safety.
MettleAngel: What about Solitude Aeturnus, which one of those albums do you most prefer?
Robert: I would have to choose - Alone. That represents a conglomeration of all my previous efforts, musically and vocally. After that, would be - Adagio.
MettleAngel: So you choose the most recent, than the previous release? I myself, and most fans I know would choose the first two albums, first. My favourite being - Beyond The Crimson Horizon. I have always wondered if the artwork on the cover was somehow inspired by John Carpenter's - Prince Of Darkness movie.
Robert: I know, I hear this from everyone, how much the early albums influenced them. Honestly, I am not a fan of the first two, because of the manner in which I sing. Back then, I was just a simple kid who wanted to play guitar, and not really sing.
MettleAngel: That surprises me, as I think your vocals are incredible on the Roadrunner albums!
Robert: I feel I really found my niche while writing Alone. This is how I prefer to sing. We just played a show last week, and to honour our fans, we still do the classics like - Destiny Falls To Ruin, or Opaque Divinity.
MettleAngel: Yes, this can be seen on your DVD (and now CD) - Hour Of Despair. What is your opinion of the Metal Mind Remasters? I always wanted to get those, but there were so many other quality re-issues, when those first came out, like Toxik, Atrophy, Xentrix, Crimson Glory, etc.
Robert: Metal Mind have done a good job with our newer material, but we were not too impressed with the re-issues. I heard that they contain anomolies, and glitches. I think the sound could have been better. They did not do that great of a job, in my opinion.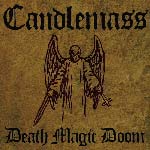 MettleAngel: Wow, most bands with whom I have conversed are usually very happy with their re-issues. Did you contribute liner notes, at least?
Robert: I'm sure John handled that part. One thing we did change for the re-issues was the bass frequency. We predominantly moved it up to create a more bottom end sound. The demo tracks are an added bonus. Some of the songs from - Into The Depths Of Sorrow - are from a recording which we found from an old jambox rehearsal tape.
MettleAngel: I also remember my first Solitude Aeturnus album - Beyond The Crimson Horizon - which is probably why it is still my favourite; although, I love - Adagio - too. I actually purchased it in the longbox CD format, the same day as Anthrax - Sound Of White Noise - came out. The record store was offering $2.00 off any CD with the purchase of the Anthrax. I was entranced by the cover art, and song titles like - Plague Of Procreation, and Black Castle - so I took a gamble and picked it up, on a whim. I was a fan forever, after this, but the CD did take several rotations to really sink in, for me. I was still very much into cassettes, and my CD collection was meager.
MettleAngel: Yeah, I do I guess, it makes the metal more meaningful to me. Unfortunately, as I get older, and more music is made readily available to me digitally, the anecdotes are not always as exciting or powerful. Fans have always been curious as to what preparations you undergo before singing in the studio live, or on stage. Do you use vocal exercises, or perhaps drink Throatcoat, to ensure that your voice is in adequate shape, in order to keep those pipes fresh?
Robert: Nope, I don't do anything. All I need is a six pack and perhaps a glass of wine, and I'm good to go.
MettleAngel: You have to be kidding me? Warrelll Dane always drank excessively, but now that has affected his voice, and he has gone cold turkey. Is this just perhaps another one of your Southern Deathstyle Traditions in Dallas?
Robert: Not really, this is just what I do, naturally. I don't think about it too much. As for being a Texan, I do love Nascar. John and I were just down at the Texas Speedway, the other day.
MettleAngel: What is it with you folks in Dallas? I know that King Diamond is really into auto racing too. My wife and I took our honeymoon to Daytona Beach, after having visited Orlando. We were not even aware of the big race going on at the same time. We chose to remain at the hotel, and just go to the beach, but the damn water was freezing. So, will you tour the US soon to promote Death Magic Doom? Last year I wanted to catch you in Cleveland, but I was too sick.
Robert: We won't be able to tour America this year, but hopefully in 2010. We have several European festivals booked for Candlemass and Solitude Aeturnus, and Solitude is planning a Euro Tour, too.
MettleAngel: Well, it was almost a year after Grey Islands, when Candlemass came over to America. Did you meet some older fans, while making some new ones?
Robert: It was mostly older fans, and the Solitude die-hards. We had a good time playing the older songs for the Americans, many of whom had never seen us before.
MettleAngel: Well for those of us who did see Candlemass, back in the day, this was our first experience with you in the band. Hopefully, I will get to see you next time too. At Metal Covenant, we are seriously considering making Death Magic Doom the Album Of The Month. The vote may be unanimous. Although, some of us also love the new Powerwolf, and Heaven & Hell which comes out today.
Robert: Ahh yes, the band who started it all! I have noticed that this seems to be an ongoing occurrence all over Europe, as several renown magazines have chosen us as their number one, or Album Of The Month. I've read reviews for Finland, Rock Hard in Germany, and many others. The Euro market has really received us quite favorably.
MettleAngel: Like with Metal Covenant, it is a perfect blend of both continents, and countries with Sweden and the US. You are an American, the band are Swedish. What are some of your favourite new songs?
Robert: I like Hammer Of Doom, The Bleeding Baroness, House Of 1000 Voices, My Funeral Dreams, etc. There are so many well-written songs!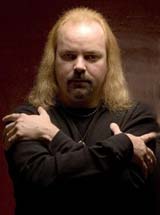 MettleAngel: I agree, and those are some of my choices, as well. I would also include - Demon Of The Deep - which has that Creature Of The Black Lagoon vibe. The US CD version which comes out next Tuesday, will include the Lucifer's Rising Studio Outake track. Some special editions will include a studio report DVD. Will the vinyl pressing which includes two bonus tracks - Lucifer Rising and White God - be like the other Nuclear Blast green vinyl editions?
Robert: I'm not sure if it will be green, as I have not seen it yet. Did you know that the gatefold vinyl for King Of The Grey Island includes a bonus song called - Edgar Grey? I put this up at my My Space page for fans to hear. This is one of my favourite Candlemass recordings.
MettleAngel: That song is awesome. Thank You for taking the time to answer all my curious inquisitions.
Robert: No problem, I'm just sitting around the house here. I have been doing interviews all day, so I am a bit burnt. I really love to talk about both bands, even if I have to repeat myself, I still enjoy doing this.
MettleAngel: Yeah, I imagine it can get a bit repetitive having to answer some of the same questions.
MettleAngel: Thank You, Man. Make sure you tell Leif, and the gang how much I do enjoy the new album. I'm so glad he was able to write an album of this caliber. After our last conversation, I was concerned he might turn Candlemass into a Mastodon. I guess this is what all his other bands are for, as long as he keeps Candlemass consistent. I have not heard his last solo effort - Songs Of Torment, Songs Of Joy - but it did receive favorable reviews.
Robert: Yeah, Candlemass is his baby, and main priority. He definitely wants to give the fans what they expect. He dug down deep, and really found his calling on this one.
MettleAngel: Indeed he did, and it has really paid off in spades. Robert, thank you again. Hopefully, I'll catch you with Solitude Aeturnus, someday as well.
Robert: That would be cool. Stay in touch brother.

See also: review of Death Magic Doom
Related links:
www.candlemass.se
www.myspace.com/candlemassdoom
www.myspace.com/discipleofdoomgod