Having heard Blind Guardian's A Twist In The Myth for the first time the same evening, Metal Covenant had many questions to ask vocalist Hansi Kürsch and lead guitarist André Olbrich.

Niklas: What can you tell us about the new album? Are you pleased with it?
Blind Guardian: (Hansi): It's still an early stage after finishing it, but ever since we started with the songwriting I've had a good feeling. One thing that is important to know, and this is the case with every song Blind Guardian has ever written, is that when we have accomplished a song, we like it ourselves. If there is something that doesn't attract us, we stop working on it or remove it afterwards. When we go into the studio we are always convinced about the songs and we improve the quality on them during the production. So basicallly it's still a fresh and entertaining album for me, and I've heard most of these songs for a whole year and sometime even more. That proves to me, as a fan, that they have long durability. And that is something that is important to Blind Guardian, because maintaining this high quality over the years has made us a relatively successful band. (chuckles)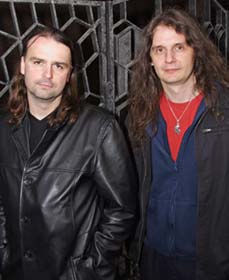 Niklas: To me, this abum sounds like a mix of older Blind Guardian together with something new as well. Would you agree on that?
Blind Guardian: (Hansi): Yes, to a hundred percent. We tried to find the right balance on A Twist In The Myth. We have a red line with the vocals, so that the listener can relate to something no matter how demanding, bombastic or progressive a song is. That is something we have learned from A Night At The Opera, which is a splendid album especially in terms of song writing, but have no single vocal line. It was more an experiment to establish choirs and multi-vocals at the same way, so it's difficult to follow the red line in the music. That's what we put our attention to when writing songs for the new album. I also think we did very well when bringing back the attention the more "let your hair down"-music that was so essential on Imaginations From The Other Side and partly on Nightfall In Middle-Earth.

Niklas: Do you feel that there are any songs that represent the old and new Blind Guardian extra well, or is it a mixture the whole way?

Blind Guardian: (Hansi): Well, at certain points on A Twist In The Myth it definitely sounds like a type of more modern songs, like for example the track Straight Through The Mirror. But nevertheless there are so many elements in there that are completely different from what we have done in the past. So even the more traditional inspired songs show Blind Guardian in a new mask.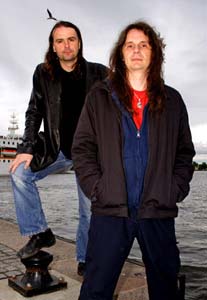 Niklas: It's heavier than your previous albums, isn't it?
Blind Guardian: (André): Yeah, the riffing is definitely heavier, because we removed some of the epic concept from A Night At The Opera, which means we left out the orchestral melody guitars and brought in the rhytm guitars and drums more. Especially the rhytms that our new drummer Frederik is bringing in there is a completely new approach to the rhytm section. Then there are some songs like for example Another Stranger Me, which is a little bit rockier, and it's more based on rhythm guitars than melody guitars, which is not that important on this song than normally for Blind Guardian.

Niklas: I was gonna ask about Frederik Ehmke, your new drummer. Has he had an impact on your new sound?
Blind Guardian: (Hansi): In terms of the songs yes, but not on the song writing. Firstly, he was and still is a huge Blind Guardian-fan, so it was good to have someone in the band who was familiar with the kind of drum playing that Thomen Stauch had when he was in the band. Frederik has also been important for us on the stuff that has a more modern approach. I believe the progression is based on the time spirit, and we try to bring that into our music. It's not just that we try to be innovative and make modern music in terms of being mainstream. But every age has a certain attitude and atmosphere. The late nineties were more about celtic, folk lore and epic music, but this age is more about going back to the eighties, I think.
Niklas: Do you have a particular song on the new album that you feel will fit very well in a live environment?
Blind Guardian: (Hansi): Almost everyone. A while ago we played Fly live, and that went extremely well with the programme. It was received very good by the audience which on that level was kind of surprising. Usually when you do a new song the reaction is weaker than on your older songs, which means they really appreciated that Fly was in the set list. The same can be said for Skalds And Shadows, and we also have a very good feeling about This Will Never End and Another Stranger Me. But I know that if we decide to go with a song like Turn The Page or Otherland it will work just as well. We have to consider the four best songs from A Twist In The Myth, and we are still discussing which one to play. We obviously cannot play the whole album, because the back catalogue must be played also, otherwise we will be killed. (laughs)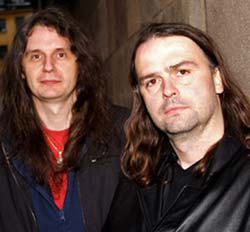 Niklas: Do you have any fond memories from your previous tours here in Sweden?
Blind Guardian: (Hansi): It has been great all over. On our last run we enjoyed Umeå very much, I don't believe we have ever been so far north before. It was so nice to meet the people and see the beautiful city, but unfortunately we won't be going there on our forthcoming tour. (André): It was such a long ride… (Hansi): We also liked Gothenburg, because the audience was amazing. Lund was very nice too, and Stockholm was actually one of the best shows on the whole tour, so we put two tracks on our live album from that particular show.
Niklas: This fall you are going to visit Stockholm, Gothenburg and Malmö on your tour. What can the Swedish audience expect to see?
Blind Guardian: (Hansi): It depends a bit on the size of the venues and if we have the opportunity to take the touring stuff from Germany with us. At the moment we are preparing the stage-setup and we are planning to bring a little bit of Pink Floyd into the metal scene this time, kind of. The scene will be almost artificial, so we are a little worried because it's still an experiment. We will have a lot of lightning, projections and moving pictures. We hope it will be a very visual experience.
Niklas: Where does your inspiration to write all this music come from?
Blind Guardian: (Hansi): Music is something related to your inner self. It's very difficult to explain where it comes from. Sure, you listen to music and have your mind set about things you want to try out, but Blind Guardian have never been a band that tries to copy other bands or trademarks, even if we sounded a bit like Helloween in the very beginning. It's hard work, you know. You go into your room or whatever and try to come up with something new, you have the whole world in front of you and don't know where to start. But mostly André comes up with the beginning and I pick up on that, and add things that will go well with the elements he has written. (André): Mainly the surroundings and the daily mood you are into plays a part. Perhaps the time spirit is important too, and you want to bring in something that is special to you at that very moment. If you play a few hours and you find something that exactly matches the mood you are into, then you can express your feelings with the music.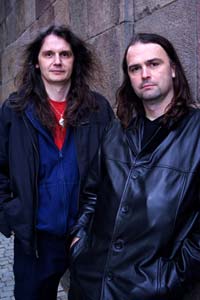 Niklas: We have heard rumours that you were offered to write the score to the Lord of the Rings-trilogy. Is this true?
Blind Guardian: (Hansi): No. There were votings on several homepages when the first movie was in post-production, and they were discussing the score and we won the competition. This didn't mean anything to the film company so we contacted them one day and asked them if they were interested in our music. They were willing to listen, even if they more or less already had decided for Howard Shore at that point. However, they offered us the chance to supply them with material, but that was when I was away on a promotion tour with my other band Demons & Wizards, so we couldn't prepare the stuff in time. It was a really small chance, and I've blown it because I wasn't at home.
Niklas: When you ask the typical Blind Guardian-fan which album he or she likes best, you will probably get many different answers…
Blind Guardian: (Hansi): (interrupts) I hope so! (André): That is because there is no typical Blind Guardian-fan! (laughs)
Niklas: But still, the most popular choices seem to be either Tales From The Twilight World, Somewhere Far Beyond, Imaginations From The Other Side or A Night At The Opera. Do you believe that you have reached your peak, or is the best yet to come?
Blind Guardian: (Hansi): Suprisingly enough, you didn't mention Nightfall In Middle-Earth which from what I've heard is the most praised album among the Blind Guardian-fans! (laughs) I don't believe we have reached our peak, but it's great to hear that many people think that A Night At The Opera is the best album. So far we have always found new ways to develop, sometime it takes a little time to attract people anew when you have reached a certain level, but so far we have never had problems with going back to the studio and find new elements that attract us. I wouldn't even dare to say that we are close to a peak.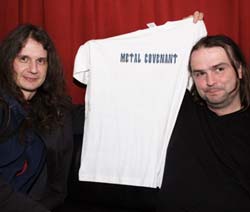 Niklas: Finally, I would like to have your help, guys. I'm trying to win some money by betting on the World Championships in football, which team do you think will win it?
Blind Guardian: (André): Is it enough if we say the two final teams? In that case I would go with Brazil and Argentina. (Hansi): It's a tough call, but I think that the group that Argentina is in, together with Netherlands, Serbia-Montenegro and Ivory Coast, has the winner. I don't believe both Argentina and Netherlands will make it to the second round, but I am certain that Serbia Montenegro will qualify, even if they won't make it to the finals. I think it will be either Argentina or Netherlands, depending who proceeds to the second round. And the other team in the final will be France. That's what I think.

See also: Pre-listening of the album A Twist In The Myth the same evening
Related links: