Interview conducted August 08 2014
Interview published October 09 2014
Before Black Star Riders treated the excited audience at Getaway Rock Festival, Sweden to a terrific rock show, Metal Covenant got the pleasure to talk to frontman Ricky Warwick. Chatting about Black Star Riders as well as the legacy of Thin Lizzy, the prolific Northern Irishman and former The Almighty star made a humble impression, relishing his current position very much.

Mozzy: You played at Wacken Open Air last weekend, which is more of a metal festival, how did that go?
Ricky: Yeah, it was incredible. Sure, you don't know what to expect. We played in a big tent and it was unbelievable. The place was packed, with a crazy reaction. It was a brilliant gig and day out at a great festival. We had a good time.
Mozzy: Yeah, that's the biggest metal festival really. I guess everyone recognised the old Lizzy songs, especially?
Ricky: Yeah, the Lizzy songs obviously went down really well, but the Black Star Riders songs too. During Kingdom Of The Lost, the place went crazy. So that was great to see.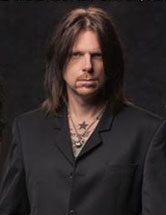 Mozzy: The album has been out for over a year now. Do you feel that people have really taken to the Black Star Riders songs now, singing along and so on?
Ricky: Yes, very much so! Like I said, Kingdom Of The Lost, and Bound For Glory - people sing along as much to those as to the Thin Lizzy stuff which is great.
Mozzy: It's a excellent album.
Ricky: Thank you.
Mozzy: I guess some people had their doubts though.
Ricky: Yeah, that's understandable. People didn't know what to expect, but I think people were surprised with how it turned out so that's great.
Mozzy: How was the tour in Japan in May, then?
Ricky: It was great. We only made a quick visit, we were there for about six days, but it was good. We played three shows and there was a great reaction.
Mozzy: In the future, with another album out, do you think you will play less Thin Lizzy songs?
Ricky: You know what, I think we'll always be playing Thin Lizzy songs. Because Scott's in the band and I was in Thin Lizzy myself for a few years. That's certainly a part of Black Star Riders. And we want to play those songs, but whether it will be as many, I don't know. We'll see when the record comes out. But there will always be some Thin Lizzy in Black Star Riders' music, you know.
Mozzy: About the new album, I guess your working on that? Is the writing done?
Ricky: Pretty much. We're still working on it, you're still writing right up the day before you go into the studio. You're always changing stuff. We're due to start September 1st. That's three weeks away so we can't wait to get started.
Mozzy: So you have Joe Elliot producing?
Ricky: No, we're not now! Joe had to pull out.
Mozzy: Oh, I hadn't heard that.
Ricky: Yeah, Def Leppard have become really busy with the Kiss tour so Joe pulled out some time ago. But it worked out good, we're working with Nick Raskulinecz. He's worked with Mastodon, Rush, Alice In Chains, Foo Fighters and so on.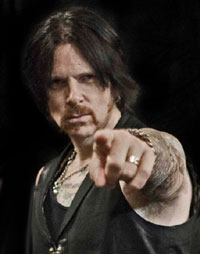 Mozzy: Oh yeah!
Ricky: So we're recording with Nick in Nashville which we're really excited about. I think it will be great for the band as well.
Mozzy: So you didn't get to produce in Ireland with Joe then?
Ricky: Well you know, Joe is a friend and he would have been great. But you know, if you had asked me for a list of producers, except Joe, Nick would have been at the top of the list. So it's great to work with him.
Mozzy: On the DVD that comes with the special edition of the first album, you say that the writing was smooth. Was it the same this time?
Ricky: Well…it's been harder… We've been touring very aggressively in America and when we were writing the album we were on some pretty big tours so we had a nice backstage area. We would write a lot in the dressing rooms. For some of the smaller shows we would write some stuff on the bus. But it has come together and I think that it have given it some edge. We have twenty songs or so.
Mozzy: You will choose from those then?
Ricky: Yeah, we'll pick ten or eleven.
Mozzy: Last time you recorded 12 songs in 12 days. Not this time, I guess.
Ricky: Oh, no no (laughs). That was great for what it was and it worked for that first record but I think we'll spend a bit more time this time for sure (smiles).
Mozzy: I read that Scott didn't really like that.
Ricky: No, Scott didn't enjoy that and fair play that he didn't. But because we knew the songs so well, and that is the way Kevin Shirley works, we got a good result. We wanted to take our time with this one and spend more time on each song, you know.
Mozzy: The line-up is slightly new, with Robbie Crane on bass. Will that have some effect on the sound?
Ricky: Well, it already has. Robbie's such a big personality and a great bass player. He has brought a lot to this band; he has brought his own style and flair. I think he's great, I love him. He has really brought a lot to Black Star Riders and made us a better band. And that's no disrespect to Marco (Mendoza). Robbie is great, you should see him live, he's phenomenal.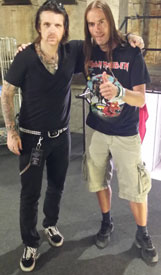 Mozzy: On that DVD, you also say that you had Phil (Lynott) in mind when doing the album.
Ricky: Well, I always do, you know. He's always in the back of my mind, everyday. You cannot get away from Phil and I mean that in a nice way. So he's always around, you know.
Mozzy: How is it to sing those Thin Lizzy songs live?
Ricky: Oh, it's a dream come true, you know! I'm so proud to be able to sing those songs. When I grew up, Thin Lizzy was my favourite band and it's such an influence and inspiration. Such great songs to sing. I love it, really love it.
Mozzy: When you changed the band name, did that ease the pressure and expectations a bit, do you think?
Ricky: Absolutely, it has. We are basically a new band and I can really get back to being Ricky Warwick if you know what I mean. I think it takes a bit of pressure off me, yes.
Mozzy: I think the band change was a wise move.
Ricky: Thank you. And we do too, we don't regret it. We felt it was the right thing to do and will stick by that.
Mozzy: You've been in Thin Lizzy and then Black Star Riders for four years or so now. What are your reflections on this period?
Ricky: It still feels as crazy and surreal as it did four years ago. I never take it for granted. When I'm standing there and looking over to Scott Gorham it's like 'fuck! this is great!', you know. So I still feel the same way, it hasn't changed at all.
Mozzy: Great. And what did you think about Brian Downey and Darren Wharton leaving?
Ricky: Well, I think it was for the right reasons. They just didn't want to tour as aggressively as we tour, that was really what it was down to. You know, I'm just happy I got to play with those guys as they are such great players and such great people. Brian is such an amazing drummer. So I'm happy I got to share the stage with those guys.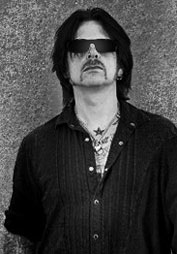 Mozzy: Cool. Do you regard this as a highlight in your career, although you've had a great career before in Almighty and so on?
Ricky: Yeah, I've been very lucky and very blessed you know. For 20 odd years I've been doing this and I've had some amazing experiences. But being in Thin Lizzy and Black Star Riders is by far the best.
Mozzy: I can understand that. And I've seen that Scott speaks highly of you as well.
Ricky: Yeah, Scott… What can I say… Scott believes in me so much and gives me so much confidence and makes me feel great. For someone like Scott Gorham to be confident in me and what I can do, it's a great shot in the arm for me. Scott is wonderful.
Mozzy: Great to hear. This fall, you're performing on the Rock boat in Sweden. It used to be called the Sweden Rock cruise. What are your expectations of that?
Ricky: Yes! I'm looking forward to it. It will be good, I think it's run by the Sweden Rock Festival people?
Mozzy: Yes.
Ricky: So it will be really well run. I mean, we just love playing in Sweden. Obviously Thin Lizzy have a huge history here. The country is always good, the shows are always good, and the people are great. Any excuse to come here is good so it will be fun.
Mozzy: You did the Rock At Sea cruise here a while back.
Ricky: We did, it was crazy, good fun!
Mozzy: Yeah, those rock cruises are quite a party (laughs).
Ricky: Pretty wild, yeah (laughs). We actually just got on the boat, played the show and then got off. But the show was great.
Mozzy: I'm going on the cruise this time so I'll see you there. That was all I had I think, thank you!
Ricky: Thank you man, I appreciate it.

See also: review of the gig the same night
Related links:

www.blackstarriders.com
www.facebook.com/blackstarridersofficial