Interview conducted March 25 2011
Interview published March 31 2011
Rising Valkyrie - Veronica Freeman - and her phenomenal fun creation known as Benedictum, bare bones and balls with their new album, establishing 'Dominion'. After several seasons of tragedy, label changes, and other ongoing serious shit in the shadowlands, they still reign, and are back to bang.
Like the return of the prodigal son, Benedictum are going to grind it, and create sheer madness. Lyrically and musically, the dark heart of their new album expresses sincere, yet beautiful pain. This stark, heartfelt passion is what creates an emotional journey dominated by mettle, ambition, and righteous resolve.
After several rotations of this third and mortal way of life, one will be swept and subsumed into the mystery of illusion. I invite you to be privy to my candid conversation with Veronica, where we focused on her presence in Benedictum, her appearance on "That Metal Show" (which was edited out, although her husband's was not), and her plans for playing this year's Warriors Of Metal IV Festival.

MettleAngel: Hey there Veronica, I am so glad that I was able to get this interview with you. I have been playing the new album, and it is really growing on me.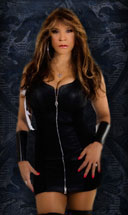 MettleAngel: This is a good thing. I contacted your promoter from Frontier Records and pushed for this interview, because I was very interested in speaking with you.
MettleAngel: One of my main reasons for doing so, besides commenting on your new album, was to discuss with you your plans for playing WOM IV. When I heard that Benedictum were playing this, I knew I was definitely going to attend.
MettleAngel: Yeah, it does not seem that you tour too much in America.
Veronica: Well it is difficult, as half of the band reside in San Diego, while Pete Wells, Tony Diaz, and I live here in Arizona.
MettleAngel: I imagine that makes rehearsal and band practice a real challenge, as well.
MettleAngel: Cage played last year, and Aska will be returning for a third time. It is really an awesome gathering of mettle souls. This year they have secured a far better outdoor venue that is closer to the airport. With bands like Shok Paris, Spellcaster, Split Heaven, Argonaut (formerly Zephaniah) playing, and Widow headlining, this should be quite an excellent time!
MettleAngel: A few of the bands playing the festival like Sacred Dawn and Aura Azul are teaming up to tour together. Spellcaster may even join up with Split Heaven which would be killer!
MettleAngel: You are originally from San Diego before you moved to Arizona. I too am from San Diego.
MettleAngel: Actually, I lived in Scottsdale, Arizona before this when I was very young. I misspent my youth on Coranado island though, so I really know San Diego. When I was in High School, bands like Rough Cutt, Ragged Lace, and Assassin (US) were making serious headway.
MettleAngel: Mad Jacks!
Veronica: Uh, no, but that verifies you are from San Diego! Actually, it was an outfit known as Installation Plus. We had a blast working with Assassin.
MettleAngel: I wish I still had their music. I used to dub them off the radio, and "Metal Shop", where I learned about a bunch of early '80s European acts.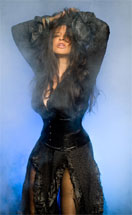 MettleAngel: WOM IV will have some International bands coming from Peurto Rico, like Dantesco who will be returning for a second time. Those guys were super cool.
MettleAngel: All that hard work has paid off. I know when Locomotive Records folded, it must have been a stress for the band, but now being on Frontiers is a blessing.
MettleAngel: Well except for the one at Metal Covenant. I gave a second opinion, because, I have to admit, I read Tommy's review before hearing the album. This in turn, slightly sullied my listening experience. Then, after playing the album constantly, and really listening to it, the music and meaning really hit me.
Veronica: Exactly! That is the point. The album is written so that the listener will dive into the experience. That anger, frustration, and emotion felt on the album is all very real!
MettleAngel: The new album shows real signs of maturity. My favourite album is still 'Seasons Of Tragedy', though.
MettleAngel: I love the song "Beast In The Field"! I have a pet name for my dog Maggie. I call her "Beast". Just this morning my wife and I were laying around listening to Benedictum, when that song came on, and our dog instantly jumped on the bed. She is a big dog, and when she gets on the bed, there is no room for us.
MettleAngel: That would be awesome! There are so many great songs on 'SOT', from the opener "Shell Shock" to the epic closer title track. I love your cover of "Balls To The Wall". I even commented on this when I spoke with Olavi of Amon Amarth, who also do their own version of this classic. Come to think of it, I even mentioned it to Wolf Hoffman.
MettleAngel: Honestly, I think I like the new album better than the debut.
MettleAngel: That was the first album I heard. I respect how you covered Sabbath from the Dio years, before the advent of Heaven & Hell. With 'Dominion', songs like "Dark Heart", "Prodigal Sun", "The Shadowlands" or the title track are evidence of this.
MettleAngel: I can tell. Of course "Bang" is the ultimate Metal anthem. I also love your cover of Rush. This was the first new song I heard, and am actually listening to now. You really sound like Geddy. I am a big fan of all of your covers! I have not heard your cover of Rainbow's "Catch The Rainbow", though.
Veronica: With the Sabbath covers, we did not originally set out to do both songs. We knew we were going to record "Heaven & Hell", for the album, but "The Mob Rules" was only supposed to be a limited edition bonus track.
MettleAngel: I am grateful both covers are on the debut. Rumour has it that you also were working on a cover of "Rainbow In The Dark".
Veronica: We were working on a number of covers, but focused on the Black Sabbath "Heaven & hell" song. I was surprised to see that when I received the album, "The Mob Rules" was on the basic edition.
MettleAngel: Just the fact that you were not doing Ozzy era Sabbath, at this time verifies that Benedictum is a champion of Traditional Metal. It is not like you were jumping on any cliché bandwagon.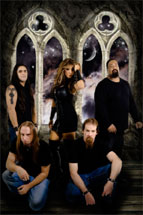 MettleAngel: Absolutely! I interviewed Don Jamieson last year. I am hoping to book an interview with Jim Florentine for this Spring. I am very excited about reading Eddie Trunk's new book. I just spoke with Doug Aldrich, and he was the guest guitarist for the season seven premiere.
MettleAngel: Eddie was right, when he answered, Wolf Hoffman's Classical". I knew it was just called 'Classical'. The reward of the Saxon DVD was sweet. Did Uli Jon Roth ever mention his appearance on "70,000 Tons of Metal", off camera?
MettleAngel: That sucks! I know they film two episodes simultaneously. What other episode did you witness?
MettleAngel: I am excited to see this. The new Whitesnake album is decent. Before you named the band Benedictum, you were called Bound and even Regime. Regime, at least the band for which I am most familiar, is Christian. I understand the label asked you to change the name to Benedictum.
MettleAngel: I must say I am impressed with your rendering of the Latin in the lyrics for this song.
Veronica: I did my homework. When we were working on a demo for this song, I was driving and humming the melodies. The sounds I was making resembled Latin, so I knew that adding Latin lyrics would be appropriate.
MettleAngel: I actually know Latin, even though some people refer to it as being a "dead language". I get frustrated when a Metal band uses Latin, but it is grammatically incorrect. Sometimes they do this for effect, like the overuse of calligraphy or umlauts.
MettleAngel: That is absurd! The Catholic Tradition of Benediction is all about blessings. Benedictum roughly translates into "word well spoken", which in essence is the case with the band and your lyrics.
MettleAngel: Did you know that a newly married man or longtime bachelor is referred to as a benedict?
Veronica: Man you really know a lot! The new album was like giving birth, like having labor pains but we finally did it. This one took a lot longer too but we are happy with the result. Some of the songs present are scaled back from their originals.
MettleAngel: The final result is truly worth the wait. Fans need to have the CD, or burn a digital copy so they can experience the result of continually listening, and then delving deeper.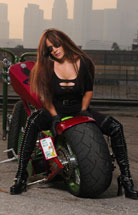 MettleAngel: The casual listener, or for that case reviewer, will not understand all the intricacies present. This is why ending the album with the epic "Epsilon", and even more emotional ballad of "Sanctuary" allows for a true harmonic balance all throughout.
MettleAngel: You deserve it! You sang with Doro on her anthem "Celebrate". What was it like working with her?
MettleAngel: I know she champions Women In Metal. In an age of oversaturated female fronted acts, many of who are mere Nightwish clones, I am grateful that a band like Benedictum still reign.
MettleAngel: I highly respect how you rally forth the troops in the same fashion as the late Dawn Crosby of Détente and Fear of God, or Debbie Gunn of Sentinel Beast, and Ann Boleyn of Hellion do, and have done in the past.
MettleAngel: I can only imagine. Veronica, thank you so much for taking the time to indulge me. I look forward to meeting you in person this summer.
MettleAngel: Then we will agree to stay in touch.
MettleAngel: I wish you all the best, always!

See also: review of the album Dominion
Related links:

www.benedictum.net
www.myspace.com/benedictum