Interview conducted April 06 2008
Interview published April 10 2008
I am ever so grateful for my nice fuckin' life! When Wendy and I learned that Joey Belladonna was coming to town, and that Jack Frost had joined his band, we instantly set up an interview, and purchased tickets for the show. Joey Belladonna has endured a hard life, but he is anything but anti-social, or on a power trip. To be blunt, man he is really a genuinely reserved soul. He works diligently at his own merch. booth, and since he has now got the time, he is more than willing to get to know his fans, personally.
Enjoy our candid conversation, which Wendy & I had with all members of Belladonna as we get caught in a mix mosh of past glories, discussing Joey's two faced role in "Pledge Night", his appearance on Married With Children, and night rager - Jack Frost's other seven wishes, including his body of work to near perfection. We are also very grateful we got to know the newest members of Belladonna: R.C. Ciejek on bass who was sponsoring a Dean Guitar give-away for all attendants, and the ever so swift and talented drummer Paul Marciano.

MettleAngel: Joey Jack, R.C., Paul - just let me say that this is a real joy to be speaking with you. (Joey continues to set up the merchandise booth).
Joey: That's no problem man, I am more than ready to begin, before the warm up band's sound check gets too loud.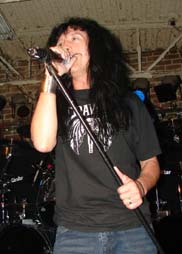 MettleAngel: Thank you! Let's begin. In order to celebrate this wonderful life I am now living, Wendy suggested that we watch our favorite episode of Married With Children, with Anthrax. Do you mind discussing Anthrax, is that cool, or a bitter pill?
MettleAngel: That rules, because, the last thing I wanted to do was to open any wounds.

Joey: No it's all good. That episode of Married With Children was so much fun for us all. We never had any experience quite like that. They wrote the script with us in mind. Altogether, it was real fun, before that we had not had done too much television.

MettleAngel: I thought Anthrax also did appearances on Newsradio & Cheers?
MettleAngel: So did you keep Edd "Kookie" Byrnes' comb, was it the gingiest?
Joey: (laughs) Man, those were crazy times, and I was familiar with him being on '77 Sunset Strip, I watched that in the late 60's.
MettleAngel: So tell me about your brief Hollywood experience playing the lead role in "Pledge Night".
Joey: That was a shit movie. I mean it was cool at that period in my life; especailly, since they asked me to do it. I had no idea what I was in store for, I tell you.
MettleAngel: Unfortunately, I've never seen this movie, it is really hard to find, as it's not on DVD. From what I understand, you play a man who is badly burnt, who goes on a killing spree. Basically, a Dark Man meets Jason, right?
MettleAngel: Was the song Two Faced from your solo debut release inspired by this role?
Joey: No not at all, that happened much later on. The song is not about that; but now that you mention it, I guess it could have been an unconscious reference.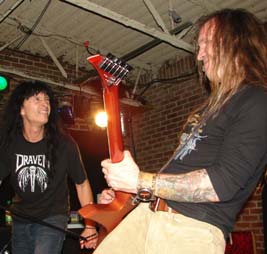 MettleAngel: You only played the non injured indian role, though, never the actor with the lame prosthetics, right?
Jack: No, Man that was Joey all the way, (laughs, and obviously joking) that is why he is so tanned; he is really all burnt! (Joey:) Yeah, the other actor was not me, he was taller, I did not play those parts.
MettleAngel: That it was I thought. Was not the movie concerned with continuity?
MettleAngel: That was the time when Ozzy & Gene Simmons did "Trick Or Treat" or Dave Mustaine opted for "Shocker". Metal and horror were real popular at this time. Bands were struggling to get their music on horror soundtracks, everywhere. Anthrax was on "Night Of The Living Dead III", and a few other unmentionables. Just look at one of the best metal soundtracks of all time on the deplorable "Leatherface:Texas Chainsaw Massacre III" which starred Mathew McConaughey and Renee Zellweger. This horrible flick had a ragin' soundtrack with mostly thrash acts like Lääz Rockit, Death Angel, Wrath, Sacred Reich, MX Machine, etc., but also Hurricane.
MettleAngel: Welcome to Cincinnati! Actually that is on Interstate 71 and closer to Colombus. Down here in Cincinnati, we are not as backward or preachy. (MettleMaiden:) If you were driving the other way, the sign dispalys the Ten Commandments. I'm surprised religious advertising like this is accepted. Michael always flips off the sign when we pass. If you head toward Dayton on 75 you will see a gigantic Jesus statue. (MettleMaiden:) Now, Joey let's discuss the band, and why Jack Frost decided to join.
Joey: Jack E-mailed me, expressing interest, and we met at a Borders Books in Syracuse, New York. I was familiar with his other bands and his work with Lizzy Borden & Savatage, and I appreciated his enthusiam to play with me.
MettleAngel: So, Jack you intiated the call?
Jack: Hell yeah, I wanted to get things off and running. (Paul:) He really wanted to play with us, and we were glad to have him. (R.C:) Jack is just perfect for this band.
MettleAngel: Wow, you met in a Borders. I remember when I met Charlie, Scott, & Frank when they came in for coffee, while I was working at Barnes & Noble. I showed Scott my original Judge Dredd key chain, and he told me to donate that to the Anthrax Archives. This was right after you recorded the Ball Of Confusion cover with them.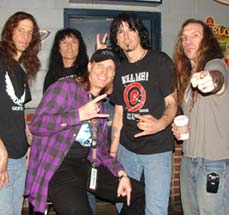 MettleMaiden: So Jack, how long have you been with playing with Joey Belladonna?
MettleAngel: Wow, you are that new to the project! I thought it was strange when I recently found out that you were in the band. What happened to Seven Witches? I imagine due to Alan Tecchio's journalistic job commitments for "Steppin' Out", this is on hold again?



Jack: Alan just had a new baby, and he is so consumed with work and family, so Seven Witches will have to wait, again.
MettleAngel: I've heard really good things about Deadly Sins, but I still have not heard the CD. What about Lizzy Borden, I so love your work on Appointment With Death.
Jack: Thank You Man, but I'm here with Joey now, and this is my priority. All the rest does not matter. I have just learned a ton of new songs, approximately 19 or so, and as you know how much I love to write, I am so excited to be jamming with these guys.
MettleAngel: I assume you learned a number of classic Anthrax songs, do you plan to add Armed & Dangerous to your repetoire? This was the first Anthrax song I ever heard Joey play on.
Jack: I love that song, and I am also a big Anthrax fan, so I was excited to learn these classics. I play in a different style than Scott Ian & Dan Spitz, and it is not easy to play these songs with just one guitarist. I want to get my head together, and eventually write some killer new songs with these guys.
MettleAngel: That is so encouraging. I had Fistful Of Metal on cassette, but once I heard Armed & Dangerous on Megaforce Records, I instantly became an Anthrax fanatic.
MettleAngel: I have been an Anthrax advocate ever since. (MettleMaiden:) I discovered Anthrax when I'm The Man came out. (MettleAngel:) And they say rap and metal will never mix! I'm The Man and Bring The Noise sure served as a gateway for many successful bands. Joey, we last saw you with Anthrax when you played two summers ago here at Riverbend with Judas Priest. I bet that was a fun tour?
Joey: Definitely, the Cincinnati show was our first gig on that tour. It was truly amazing, Rob Halford was so friendly, he walked right up to me and welcomed me aboard. I was so excited to be reunited with the guys. It is just too bad that they took a detour, and were not able to keep up with the program. It's all good, I'm fine with it. I bear no grudges, we are all still good friends.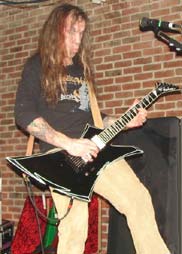 MettleAngel: That is an awesome attitude. It's a shame people cannot always accept change. I enjoy Anthrax with all their vocalists, even if the 'Belladonna Years' are my favorite. It's like Blaze with Maiden or Ripper with Priest. I always give every line-up a fair chance. We'll see what Anthrax does with Dan Nelson. Exodus has been successful with Rob Dukes.
Jack: I don't know why people just can't be happy and enjoy the music. I'm happy right now, I'm having the best time of my life. Look at Sammy Hagar, he is thriving, and he still plays Van Halen songs.
MettleAngel: Actually, I have been playing a bunch of Van Halen Sammy Hagar era, as I never did have those titles back in the day, falling into the David Lee Roth purist attitude. These are now the best years of my life, and I celebrate all the music I receive and enjoy. Jack, new Whitesnake is incredible, I've also been enjoying their older titles remastered. All these classic hard rock bands are releasing new albums, like Dokken, White Lion, House Of Lors, Asia, etc.
Paul: Yeah, we are all looking forward to hearing the Whitesnake. Everyone has to have something to say. We are pleased that Joey asked us to join his band. R.C. and I were asked to participate in Joey's tour, because we did not want to just be in another cover band. After Joey returned from Japan, we decided to join. Our original guitarist could not keep up with the touring commitments, so Jack joined. (Jack:) I'm such an Anthrax fan, I'm surprised that Joey and I never jammed together before, it's due time. I have a smile on my face when I'm on stage. For the first time in a long time, I am truly happy. You know Michael, I have played with many reknown acts.
MettleAngel: That is reassuring, I love it when I watch guitarists having a good time, high on life. Just watch Tony Iommi or Craig Goldy perform, those cats are always smiling.
Jack: I'd be grinning too if I were playing next to Dio! (Joey:) We all feel comfortable doing this, it just fits. (Jack:) Michael, let me ask you a question, why do you do this?
MettleAngel: Well, as I always tell everyone, Wendy & I are first and foremost fans, and we love to serve the essence of metal by contributing in any capacity to which we are capable. This is our bliss, our happiness, our pursuit of joy. When we serve others we are truly happy. (MettleMaiden:) We are pleased to be here with you, as we follow our hearts and savor every moment
Jack: Exactly, I do this because I love to play, I want to remain active. I too am a fan of all these bands. I'm sick of all the bullshit mystique. You know I've played in bands who are not even permitted to talk with their fans. Being with Joey is so much more personal. Joey is a real people person, he works his merch. booth all night, until it's time for us to play. There is no ego, no bitterness, no bullshit.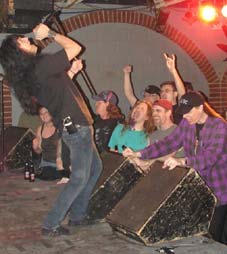 MettleAngel: And his positive energy radiates throughout the whole band, and onto the fans themselves. Metal is now a time of celebration not excoriation. Anthrax won't be the same without you and Danny.
Joey: That's just the deal, I'm doing this to have fun and reunite with older fans, while meeting new ones. I play a mix of my solo work with Anthrax to keep the balance.
MettleAngel: Speaking of your solo work, I have the debut on CD, but I only have Spells Of Fear on cassette. Is a song like Injun about you being an Indian?



Joey: Yes, and no, that is a song which I wrote on the fly. I had the music, but no lyrics when it was time to record. I just threw together some words based on what I was feeling at the time. Hell, when I write some new music, I may write a song dealing with this very experience and how cool it is to hang with you and Wendy.
MettleAngel: That would rule! You had an experience like Gerre of Tankard when he wrote Desperation (singing the chorus). As popular as it is for Anthrax to play Anti-social, how difficult was it for you to do the original Trust version all in French on the Penikufesin EP which came out in 1989? On this record you also play Sects, another Trust cover and Friggin' In The Riggin an amusing adaptation of the Sex Pistols' song.
Joey: Horrible, I sounded like crap on that French version, I just could not get the words right.
MettleMaiden: R.C., tell us a bit about this Dean Bass Guitar contest you are sponsoring.
R.C: Dean Guitars is giving away a free bass similar to the one I play. It is their way of welcoming me aboard. As fans come up to Joey's booth, I get them to register. Then they also get to know the rest of the guys. It is really just a fun gathering. The big give-away will occur in Canada.
MettleAngel: I bet! Another perk to draw in enthusiastic fans. Joey, Jack, R.C., Paul thank you for taking the time to indulge us.
Joey: No problem, you really know your stuff, I'm glad to help out. (Jack:) Definitely, you guys rule, you made my whole night! (R.C:) Yeah, you guys are way cool, thanks again!
Related links:
www.myspace.com/joeybelladonna
www.joeybelladonna.com
www.myspace.com/jackfrostsevenwitches
www.truemetal.org/jackfrost