Interview conducted July 15 2016
Interview published October 23 2016
Before the show at Gefle Metal Festival, Metal Covenant got the chance to sit down with the mighty Behemoth's bassist Orion. Being rather mighty physically himself, the Pole gave a humble and wise impression in light of the band's big success but also tough times.

Mozzy: I read on some social media that you had some issues during your way here.
Orion: Yes. Our drummer (Inferno - real name Zbigniew Robert Prominski) is not well, it's something a little more serious… He's considering not playing tonight, we'll see. He's gone through everything he can to make it happen, but if not his drum tech is going to play for him. But I believe he (Inferno) is going to do it tonight. Then we'll see for the next festivals.
Mozzy: Ok. I guess the drum tech knows all the songs but it must be a challenge.
Orion: It is a challenge. No matter if you know the songs or not, drums is drums - it's very special. Even if you know something by heart you need to practise, and he did not have time to do it, so… We'll see what happens.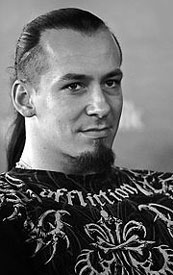 Mozzy: It will be fine I'm sure. I saw you at Graspop recently, actually. That was an awesome show.
Orion: Oh? Thank you. I remember seeing Iron Maiden, that was the same day wasn't it? That was so good.
Mozzy: Yes. The line-up was amazing, and the festival too.
Orion: Oh yeah, that is one of the very best festivals in Europe, for sure. Graspop and Hellfest, I love those two.
Mozzy: Your own live show, which I have seen before, it impresses more and more I have to say. I guess you're working on it all the time, the presentation and so on?
Orion: Every single piece is an important part of the whole image. So we're trying, you know. We're adding little things here and there and we're changing and replacing things. It depends on what we're doing at the moment. If our drummer plays with us tonight, we're going to do The Satanist setlist, playing the whole album, and we have some extras for it.
Mozzy: You've done that set, with the whole of The Satanist, quite often in recent times, and people seem to appreciate it.
Orion: Yes. The album has been out for two and a half years, and we thought that something like this would be something like the end of the cycle for us. We're planning to play shows up until the end of this year, and then probably have a little break in 2017. So that will be the end of The Satanist cycle.
Mozzy: You won the Metal Hammer Golden Gods award (in 2014) for best album for The Satanist, even.
Orion: Yes. That was such a long time ago, but it did happen. It's always a very pleasant thing that a lot of people appreciate what you do. Plus, the Golden Gods is one big happening, it's just a lot of fun and a big pleasure.
Mozzy: It's a great happening, I've attended a couple of times. And Metal Hammer really know their stuff too, so if they say you did the best album it's a big thing.
Orion: Cheers to them, then (laughs).
Mozzy: I saw you at Sweden Rock Festival back in 2005, at the smallest stage back then.
Orion: Oh, yeah! That was for the Demigod cycle I think. I remember the show very well, because I joined Behemoth in 2003. The festival made a big impression on me at the time, and it's still a great festival.
Mozzy: Oh yes. And since then you've advanced to bigger stages.
Orion: It has happened, yeah.
Mozzy: Behemoth is seen as a very hard-working, professional band, with a strong work-ethic. I guess you've had that all the time?
Orion: We do. Because we love what we do and we live with it. It became a part of each of us at some point, and we just care about it. I wouldn't be here if I didn't like what I'm doing. I think this band became a unity a long time ago and we've had the same line-up for thirteen years or something. So we enjoy working with each other, you know. There are a lot of challenging moments but also a lot of good times.
Mozzy: Great. In 2010, a colleague of mine did an interview with you, at Sweden Rock Festival as well actually. You said then that you wished to take it to the next level, to the level of Dimmu Borgir for example.
Orion: Oh... (laughs). Did I say that? (laughs).
Mozzy: Yeah, that you were aiming for that, sort of. Do you think you have succeeded?
Orion: This is not really the way I see things today. I think we have succeeded and that we have achieved the level that we were aiming for. I'm not sure if this is the level of certain bands or not.
Mozzy: It's difficult to compare also.
Orion: Yes. But it was very difficult for us after Evangelion (2009), which was very well received and was a big thing and a big album for us. Then there was Nergal's leukaemia and operation… It was very hard to get back together after that. To live through the stress and record the next album would be a lot worse than the previous one.

So somehow we came to the point where we were not thinking about it anymore; we just started to enjoy making music and it just happened that with the 10th album of the band we achieved the biggest goals ever. So what I see now is our own path. We're walking it and every single step is higher than the previous one, so that is what makes me happy. And if that's the level of any other band, I wouldn't know. It's not the way I see things today.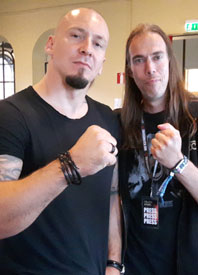 Mozzy: About Nergal's sickness, that must have been a very tough time for you other guys in the band too?
Orion: First of all, it was very tough for him. We were sort of going with the flow for ten years before that happened. You never think about things like these, and when everything is going well you think that you're fucking immortal and that everything will be great always. And then a thing like this happens and no-one has any influence on it. You have to find a way for yourself… just to find yourself in the situation and deal with it. The worst part of it is to deal with it on a really simple level. This is life-changing, in a way. It was a big lesson for him and for us as a band as well, and for us as individuals.

But it was there for a reason, somehow. I mean, we are not happy that it happened, but we learned a lesson. Whatever we do today we just appreciate it more and we cherish these little moments that we have and the point where we are at today - way, way more than before, you know.
Mozzy: That would be a useful lesson for everyone, for sure.
Orion: Yeah. Anything can happen, anytime. It was frightening, but I'm glad it is behind us.
Mozzy: Speaking about ambition again, although you don't compare yourselves to other bands, can you see Behemoth climbing more to a headline status, at the big festivals for example?
Orion: We have already headlined a few. There will always be bands like Maiden, Metallica, or Slayer, who headline the biggest festivals and there is no competition for them. But we're just trying to walk our path, you know, and if it happens then it happens. As I said before, we're just really happy to be where we are at the moment.
Mozzy: You should.
Orion: But we are ambitious as fuck, in the matter of ourselves and our own music. So it's not about comparing and competing, this is not the way we think.
Mozzy: That is very sensible. Well, that was all I had, thank you!
Orion: Thank you, thanks for your time!

See also: review of the gig the same day

Related links:

www.behemoth.pl
www.facebook.com/behemoth