Interview conducted January 05 2015
Interview published January 11 2015
Finland's out of contol, and sometimes over the top Battle Beast are ready to let it roar as they promote their third album of madness, speed and danger; available through Nuclear Blast this month. This is the second golden age release to feature the talents of the lionhearted femine presence of Noora Louhimo.
I began the new year reaching out in cyberspace and sparking up a conversation with her about her efforts on 'Unholy Savior'. Never one to shut down, this blonde ninja was more than pleased to comply with my pestering interrogation. So heed the angel's cry, honor her victory, and enter the metal world of this die-hard warrior of steel.

MettleAngel: Congratulations on your new album. I was a big supporter of the self-titled which was released in 2013, even if it took a bit longer to come out here in the states. Now that you have been in the band for over two years, do you feel that you are the best choice for the direction, for which the band is now heading?
Noora: Well, the best way to answer that is based on what the guys repeatedly speak backstage, when they were are all drunk, "Noora, you are the best thing that has ever happened to us!"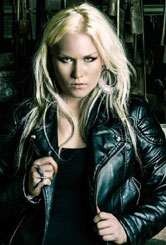 MettleAngel: That is reassuring. With the two videos you have so far released to support 'Unholy Savior', the music at times seems to be aiming towards a more commercial direction. The debut 'Steel' was straight forward Power Metal, evoking the glory days of compatriots Sinergy. With some of the newer material, I am hearing inclinations towards acts such as newer Nightwish, Within Temptation, Xandria, or even Amberian Dawn, but not always as epic or evocative. Would you agree, or disagree?
Noora: Our intention is to play straight forward Power Metal, now and into the future. Honestly, I do not see anything "wrong" with experimenting with the music. It is exciting to see how people will react. For me personally, I prefer a more heavier style; however Heavy Metal ballads are close to my heart too. I think "Touch In The Night" show balls, but in an almost pop-ish way. What is with the contention? It is only one song and it was selected as the single by a higher department, even though the band themselves would have rather it have been "Far Far Away".
MettleAngel: That is very probative. I would have preferred that, as well! Serious songs such as "Madness", "Speed And Danger", or "Lionheart" still maintain that Power Metal potential, with a hint of Doro, Warlock, Messiah Force, etc., but ballads like "Sea Of Dreams" or "Angel Cry" tend to remind me of what Liv Kristine does on her solo work. Was this intentional?
Noora: Anton Kabanen writes all the music, so I do not really know what was he had in mind while writing those songs. My intention is to bring out versatility and add different sounds and set a mood for the songs. Essentially, I did what I was asked to do.
MettleAngel: Has anyone ever told you that you sing like Jutta Weinhold of Velvet Viper or Zed Yago? Have you contributed to the songwriting? How have you adapted your musical background to the way in which Battle Beast play and perform?
Noora: I have not contributed to the songwriting as much as I would like. I love the rough style, but I do also want to bring other aspects out of my voice. I do not want to act as a singer who just has one particular range or set style. I have delivered to Anton what he has asked me to do. My main regret is that I have not allotted enough time to decide more how I would prefer to sing the songs. I know that I want to definitely keeping the Heavy Metal attitude and approach in the future.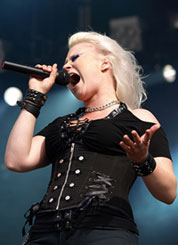 MettleAngel: In my last interview with Eero Sipilä, he told me that the band did not care for the "Female-Fronted" description. He feels the band is much more like the Traditional English acts. I do hear these influences, but I still cannot help noticing that Finnish sound associated with many Power Metal bands from this region. How would you respond to this statement?
Noora: I think the more important thing is how does the voice fit in with the music that has been written. In our case Battle Beast does not care if the singer is female or male. They are concerned with how this individual delivers the material. Since I am a woman, I do my best and hope that is enough. If not, they should kick me out, right?
MettleAngel: They did dismiss Nitte Valo who sang on the debut 'Steel'. Apparently, she was older, and just not into the music. You seem to have the right attitude. Do you feel that certain forces, whether they be the label, management, or the band themselves are pulling you in a more commercial direction as suggested on "Touch In The Night" which almost borders on what Amaranthe are doing, minus the harsh vocals. On the debut, there were a few male grunts here, and there, are those now no longer part of the style?
Noora: I certainly do not desire to become another Amaranthe, or the like. Although, I do feel that it is healthy to try different things to find the right direction.
MettleAngel: I respect that. You mentioned that Anton is the main songwriter, so who writes the lyrics? What are the main inspirations for the lyrics?
Noora: Anton has been writing all the music for each albums ever since the debut. He is not concerned whether the music is commercial, but rather if it is music that he himself wants to hear, and thus enjoys; otherwise what is the point! Anton looks forward to the future when the whole band will contribute to the overall songwriting though.
MettleAngel: Does he also write all the lyrics? Do you know what are the main inspirations for his lyrics?
Noora: Yes, Anton has been writing the lyrics since the beginning. The inspiration comes out of his life, but he also enjoys commenting on movies, fantasy fiction, and video games. For example, he is inspired by "Berserk" the Manga series.
MettleAngel: I am not too familiar with that. I must say that a title like 'Unholy Savior' sounds and suggests an evil quality, but the music does not necessarily come across as such. What is this song about, and why did the band choose to name the album with this title?
Noora: Again, Anton picked the album title. I guess he has his own reasons for choosing the name. However, the title is open to interpretation, and can mean different things to everyone. He has been talking about some of the changes in his life. All these things with which he is dealing are expressed in his form of music. If you look at the cover art carefully, you will see that the Unholy Savior is holding and defending something precious, namely the nude woman. perhaps this implies that the album, the music itself, and the lyrics all represent this "precious possession" for Anton.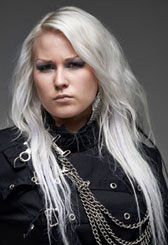 MettleAngel: I did not look at it that way, or even notice a woman on the cover until you have now drawn my attention to it, thusly. I suppose if Anton's familair is the Battle Beast and / or Unholy Savior, then the sacred woman would mirror his celebration for his art. We may both be reading too much into it, though. I do feel that the song "Hero's Quest' is by far the best song on the new album. Therefore, maybe Anton is the Hero on a quest to make his mettle his Metal.
Noora: Oh Thank You! I will have to tell him that! We are pleased that you appreciate this song. This means that there is something for everyone represented on the CD.
MettleAngel: Yeah, and fans of early Dark Moor, White Skull, Dawn Of Destiny, or even more recent artists like Italy's Ancient Bards will really appreciate this track, and several others. Speaking of the awesome artwork, who is your artist? Does he have the image painted before the album is complete, or does he create the artwork based on the album itself? It is the same guy who did the self-titled?
Noora: Claudio Bergamin is the artist, and the same guy who did the previous album cover art. Anton comes up with the image and idea, then gives detailed description to Claudio. I feel that sice Claudio is such a a very talented artist, he did an excellent job with what he understood as the concept. Although Anton was displeased with the way in which he portrayed the head of the beast, but I think it is awesome!
MettleAngel: I agree, and it is definitely Metal! I have to admit, when I saw the two videos last month, I was skeptical of the new material, as I so adore the last two efforts. Although, after playing the music and speaking with you, I have grown to acknowledge that there are songs for everyone, as you related. I am grateful that there are still enough fast and powerful tracks to satisfy fans and avid supporters of the band. Thank you for your time!
Noora: Thank you for the interview and know this, there is more Power Metal music coming your way, so no need to worry about us losing our sense of direction! Take care!
MettleAngel: Noora, thank you for your time!
Related links:

www.battlebeast.fi
www.facebook.com/battlebeastofficial