Interview conducted January 27 2014
Interview published February 04 2014
Nuclear Blast USA will finally release the sophomore self-titled effort by Finland's own Battle Beast. This female-fronted act bring back the golden age of Traditional Metal and steel. With their out of control antics and over the top melodies the '80s are alive and well in their metal world.
I was able to ask bassist and die-hard-warrior Eero Sipilä a few questions about this second release that has been out in Europe since last May. So raise the iron hand as you fight and decide to bang you head, Never shutdown your need to rock, and let it roar!

MettleAngel: Hey Brother, I want to come right out and tell you I really dig your band. In a worldd saturated with female-fronted acts, I really think Battle Beast make their mark.
Eero: Thanks!
MettleAngel: I appreciate how you embrace the Classic Power Metal sound which artists like DORO, Benedictum, White Skull, etc. strive to keep alive. You actually remind me a bit of Sinergy too, the band which once featured Kimberly Goss & Alex of Children Of Bodom.
Eero: You think...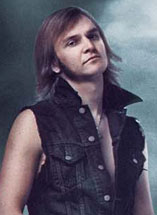 MettleAngel: Definitely, were they an influence for you, since you are from Finland?
Eero: Sure! When growing up, it was hard to avoid the music of all the big Finnish metal bands. I think those earlier Finnish bands showed everybody here, that you can make it big even if you are from a distant, lonely place like Finland.
MettleAngel: Yeah, in the last two decades Metal bands from Finland have made their mark.
Eero: Nowadays Finnish metal is recognized worldwide, and seeing what all those bands have achieved is very inspiring.
MettleAngel: I agree. The new Indica is so commercial, but I am grateful that on your sophomore outing you stuck to your guns. What happened to vocalist Nitte Valo from your debut 2011 "Steel" album? That album got me pumped and into the band. I dug her singing style?
Eero: She left abruptly without consulting us first.
MettleAngel: Wow, really! The album was getting favorable reviews.
Eero: I have not talked to here since. I gather she just wanted different things in her life. She was almost ten years older than the rest of us, so of course she was in a different point of life than the rest of us.
MettleAngel: Oh I was not aware that she was a decade older. How does your new vocalist fit in with what she accomplished?
Eero: Noora is much more versatile as a singer and she is more accustomed to working professionaly with a band. All in all, I think we are a much stronger unit with her than we ever were with Nitte.
MettleAngel: That is a fair assessment. How do you feel your band will contend with the Metal Milieu now over run by so many female led acts?
Eero: I would not go comparing us to those other, so-called "female-fronted Metal" bands. We are not like Evanescence or Epica. Musically I think we are much closer to the classic British metal bands.
MettleAngel: I agree which is why I mentioned DORO and Benedictum. Cleary Raven, Saxon, and Priest are influences.
Eero: After all, I think it is very narrow minded to categorize bands by the fact their singer is male or female.
MettleAngel: I totally agree, but as of late, that has become a major marketing scheme.
Eero: I think overall that is is a good thing to see more and more women stepping up in the scene and taking charge of the role.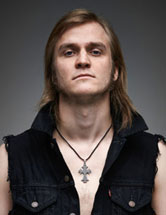 MettleAngel: I agree, as in the '80s Metal was no male dominated. Many feel your sound is too "Cheesy" and borderline commercial, but I prefer this over acts like Nightwish, Epica, Within Temptation, etc. all of who seem to have lost their creative mettle edge.
Eero: I think all kinds of "metal purism" becomes too boring and limiting. We simply aim to play the kind of music we ourselves would like to hear. If people think we are too poppy or "cheesy", then fuck 'em. Slayer is still here for their enjoyment.
MettleAngel: I know, it just seems that female-fronted Power acts never last or they become even more commercial like Halestorm. Then again so have the the Gothic ones. Many aforementioned artists work with Nuclear Blast. How do you feel you fit in with the direction of the label? Lately they have been expanding their horizons with all these '70s retro acts and now having signed the UK Punk act The Exploited.
Eero: Honestly, we do not think about that stuff. After all, our job is to make music, and other people should think about the business. If you start concerning yourself with the commercial side, you easily lose track of what you should actually be doing.
MettleAngel: Fair enough, sorry to drag that out, you do not want to lose your focus and the reason you do this, anyway. Who coined the name Battle Beast?
Eero: Our guitarist Anton came up with it spontaneously many years ago.
MettleAngel: Does the name hold any meaning or significance for the band? You have a cool logo too.
Eero: Nothing really. We feel that it is just a memorable name which fits the music we are doing.
MettleAngel: Are you familair with the Austrailan act Pegazus? They also had three albums out on Nuclear Blast about a decade ago. I feel your sound is very similar to them. Are they perhps an influence?
Eero: No, sorry, I have not heard of them.
MettleAngel: You should check them out. I am sure you will dig their traditional style. When I first heard "Steel" I totally rocked out to the songs, what tracks from this debut still remain in the live set today?
Eero: We like to alter the set a little from time to time just to keep things interesting for both us and the fans. People seem to be much more familiar with with our new stuff, but it is always fun to throw in a surprise song or two from 'Steel', if only to keep the older fans satisfied.
MettleAngel: Yeah that is usually the case. Musicians want to concentrate on their newer efforts. With the band which I am involved we are about to release our fifth album this spring. I revisited our debut and played the songs and was not as enthusiatic about them as I was a few years ago. I suppose you have to keep it fresh. So, is there a chance you may come over to America?
Eero: Hopefully, yes. Unfortunately, flying six musicians plus our crew and all their gear to another side of the world takes the kind of money we currently do not have.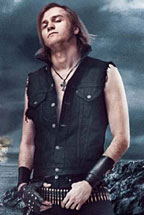 MettleAngel: I understand. Maybe I can catch you on something like the "70,000 Tons Of Metal Crusie". What bands are you enjoying hearing and touring with now, and who are your biggest influences?
Eero: Wow! That is a lot of questions.
MettleAngel: Sorry, I was asked to pose as many questions as feasible. Just answer one.
Eero: Well, there are a lot of cool metal bands coming out of Finland these days. I am especially fond of those Retro-Thrash acts who seem to be enjoying a big boom now.
MettleAngel: Yes, Thrash is making a major comeback now. I reviewed the debut by Lost Society, and they are coming out with a new album called 'Terror Hungry' in April. The thing is so many of these retro-acts just lack the vibe of the originators. I find myself becoming jaded, but I still try to give the bands a fair chance. Mortillery from Canada have a female singer and another chick in the band and I am very impressed with them.
Eero: Oh really?
MettleAngel: Everyone whom I have introduced to your band has been quite impressed so know you do have fans over here in America, as well. If Sabaton and Sonata Arctica can do it, so can you!
Eero: Yeah, it seems there still is a supportive crowd for this kind of music, even if it is not the trendiest thing imaginable. Thankfully people still seem to value good melodies and good songs.
MettleAngel: I have celebrated Metal for almost four decades and will continue to do so. Thanks for your time.
Eero: We appreciate the support!

See also: review of the album Battle Beast
Related links:

www.battlebeast.fi
www.myspace.com/battlebeastband
www.facebook.com/battlebeastofficial