Interview conducted May 19 2007
Interview published July 01 2007
Japanese bands that visit Sweden used to be about as usual as snow in the middle of the summer, but thanks to the production company New Nippon we've been seeing more and more snowflakes through the sunbeams. Later this summer we'll be giving the opportunity to see two of the real heavyweights here in Sweden; D'espairsray and Dir En Grey. But today we're greeted by the up and coming Visual Kei-band Ayabie, who has released two albums so far. The remarkable thing is that these albums are easy to get through Swedish online stores, something that was close to impossible a few years ago.
You might be familiar with the term Visual Kei by now. It basically means that the visual side is just as important as the music - a big wardrobe is simply a must. The music can range from genres as disparate as hardcore to Britney Spears-pop, and it rarely feels forced in any way. The audience is also a large part in the show, dressing up in spectacular outfits that make them look like angels, pandas, Japanese schoolgirls, etc. Just a few hours before the show at Klubben in Stockholm in May, Metal Covenant sat down with the five gir… - sorry: guys - to discuss what Ayabie is all about.

Niklas: Is this your first time in Sweden? How do you like it so far?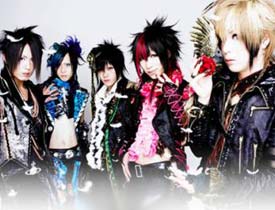 Niklas: What is it that makes Ayabie stand out from the rest of the Visual Kei-bands?
Ayabie: The difference is mostly in the live shows. We often do a special Japanese dance called Para-Para up on the stage, and then the audience do the same as us. This dance was very popular in Japan a few years ago, but we have brought it back, sort of. So it's a lot of interaction between the audience and us.



Niklas: Describe the difference between Japanese audiences and the non-Japanese ones; do they react differently to your shows?

Ayabie: Yes, certainly. Here in Europe, the crowd often cheers "Ayabie, Ayabie!" before the show has even begun. In Japan though, the audience often waits until after the songs before they start applauding and cheering.
Niklas: Is it mainly Japanese or non-Japanese bands that have influenced you? Or is it perhaps a bit of both?
Ayabie: We listen to many different things and genres in the band. Most of us have listened mainly to Japanese bands, and mostly X-Japan of course. However, our drummer and bassist listen mostly to European metal-bands. So it's quite a mix and that is what makes our sound unique.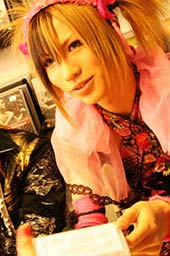 Niklas: If you could only pick one song that people who have never heard Ayabie should start listening to, which one would it be?
Ayabie: (after lots of discussions) We first thought of choosing the song Cubic [L/R]ock, but that one isn't even released yet! So people should start with listening to Kimin No Koe To Yakusoku, which is the first song we made as a band after our previous vocalist left us. But really, if they want to find out what Ayabie is about, just buy our live-DVD! (laughs)
Niklas: I've seen some of your videos, and they look really cool and expensive. Do you put a lot of effort into your videos?
Ayabie: (laughs) We are glad you liked them. Our videos are very important to us, since everyone don't understand our lyrics, but videos are much more universal. Through our videos, we try to bring our look on the world out to our fans.
Niklas: What do you think of the fans that dress up in spectacular outfits and come to your concerts? Aren't you afraid that they will "steal the show" for you?
Niklas: Finally, is there a new album coming out soon?
Related links:
www.ayabie-web.com/pc/top/index.html
www.newnippon.net