Interview conducted September 08 2009
Interview published September 11 2009
Axxis have just released their latest masterpiece - 'Utopia'. This is their second album with new guitarist - Marco Wriedt. I have been in correspondence with Marco, ever since I wrote my Axxis review for MetalCDratings, last month.
We had initially planned to speak over the phone, but rehearsal demands, and other pressing concerns took priority, so we agreed to an E-mail interchange. Enjoy our plume of jest and inspired wit. Behold our pure & rough dialogue, from me to you to peer over.

MettleAngel: Hey Brother, I was really hoping we would get a chance to speak to one another directly. I know this is something that you were excited about, as well.
Marco: Hey Man, I have been so freaking busy at the moment. I am still not home. You know how it is, I have some new music related dates to attend to, as well. so, I guess we need to do our interview via E- mail. I do feel that truly a phoner would be more personal, but this is just the way it is. Know this, you can ask me everything!! You can send me as many questions you want! :)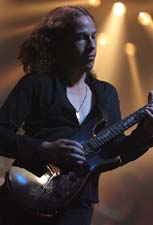 MettleAngel: I totally understand your position. I will narrow it down to fundamental questions. So let us begin. I know that this is your second album recording, for which you played with Axxis. Briefly explain to me just how did you get invited into the band? Did you have to audition? Did you, perchance, have the right connections?
Marco: No, I did not have any connections. It all happened, well...it just happened. It was the Year 2006, and I was working in a guitar store near Cologne, Germany. I was 21, back then, and I already had tasted some professional Musician air with Support Tours for Jeff Scott Soto, for example.
MettleAngel: Wow, that is cool! I never did hear him perform with Journey.
Marco: We did those gigs with my own band, back in 2005. So, I had some connections to some people, and I was pretty sure that I was going to move to L.A. in 2007.
MettleAngel: You were planning to come to the States, then?
Marco: Yes, I was working in that store to create some money, so that I would have enough to support myself for the first couple of weeks, or even months, while I was living in the US. Then, as we all know by now, everything changed. One day, our bass player in Axxis - Rob Schomaker - came into the store and bought some bass strings.
MettleAngel: I know that Rob Schomaker played with Regicide. I have that album - 'Welcome In The Family', and I love it! It is some killer Teutonic thrash like Vendetta, Deathrow, and Petty Pew. Do me a favour, and please let him know that I am a fan of his work with Regicide. I imagine it is quite rare to find this release on CD these days.
Marco: Cool! I will tell him. Anyway, in the Guitar Shop, where I was working, Rob asked my boss if he knew any players that like Melodic Rock. So, my boss suggested me. I met up with Rob to have a coffee. The chemistry was great, and three days later, I was invited to come to the Band´s own studio to do a first audition.
MettleAngel: Talk about serendipity!
Marco: It was right before Christmas 2006, and I was extremely nervous. So, once I arrived at the studio, I played on some demos, and after that, they invited me to a real Band rehearsal. They gave me all of the songs off their (back then) current Live Set.
MettleAngel: You mean songs from albums up to - 'Paradise In Flames', as your debut recording with them was for 'Doom Of Destiny', correct?
Marco: Yes, I had two weeks to learn all the songs. In early January 2007, we did that rehearsal, and that was it.
MettleAngel: You learned all those songs in two weeks!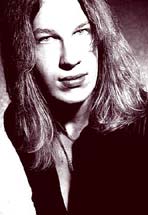 MettleAngel: Axxis had just released a 'Best Of' album in 2006, so I'm sure they were ready for some new, young blood, and a new vibe in the band. I realize that you are one of the youngest members of the band, does Bernhard Weiß treat every member with proper respect, as he is the only original member remaining in Axxis?
Marco: Actually I'm by far the youngest member of the band, but that doesn't mean anything, really. Ever since day one, everyone in the band has treated me with proper respect. I think it´s very rare, but I feel that it has to do with the music. Music unites and brings people together, which is a really great thing. Berny is a great person. We hang out a lot. We love to eat sushi! We do that quite a lot.
MettleAngel: Yuck, I hate sushi, each to his own! I do strongly agree with the fact that music unites, and brings us together into the true metal milieu. Bernhard Weiß does seem like quite a character, and he is even older than I. Since you are the only guitarist in Axxis, do you write all the music or just the guitar parts?
Marco: I do a lot of writing for the Band, but Berny and Harry are the heart and core of Axxis, because they know what is right for the Band, and what is not right for the Band. So basically my job is to bring it all together guitar-wise; and especially when it comes to my solos, I have complete freedom. I have to admit, that in this respect, I really do appreciate this.
MettleAngel: I think that it is wonderful that they let you write your own solos, and experiment with the guitar, as you seem fit; while they form and create the essence of the stylized music. I guess you could say that you are the "axe", and they are the "allies". Harry Öllers plays some really techo-pop type keyboards, how does that fit in with your guitar technique?
Marco: We like to mix it all up a little. When you listen to the complete Axxis history, you are going to notice that none of the albums sound the same. Those late '80s and early '90s recordings were more Classic, and in the Heavy Rock vein, than what they would produce later in their discography.
MettleAngel: I agree, when I first purchased my Axxis cassette of - 'Kingdom Of The Night', I was really into thrash, and German Speed. This album seemed rather weak to me, and more like Bonfire. I was not too impressed, and did not return to the band until a friend of mine played for me - 'Eyes Of Darkness'.
Marco: That is because those mid '90s albums were more influenced by Alternative Rock; but after 2004, (with the release of 'Time Machine') Axxis has possessed this Power Metal quality. Those musical elements became even more pronounced, and when I joined the Band, I knew that I could bring some of my Art Rock/ Progressive influences to the table.
MettleAngel: I assume you mean a more '70s based Prog Rock sound, and not so much the music categorized as such, these days?
Marco: I have many influences, same counts for Alex Landenburg, our new drummer. He also loves Prog. So it´s great that Harry and Berny are so open minded, when it comes to the Music-Related differentials. That makes everything more interesting for everyone, because each of us has different influences.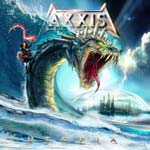 MettleAngel: All these aspects serve as ingredients into the concoction that is Axxis! Do you ever contribute to the lyric structure, or is that Bernhard's primary job? If so, is there a real dark theme lyrically present throughout 'Utopia'? It almost seems that the title itself is a bit ironic, don't you agree?
Marco: Yeah, you are right, that´s Berny's thing. He writes the lyrics, and I'm really happy with the new ones!! Everything is a bit ironic on this record. Basically, it is supposed to inform everyone that there is always a light at the end of the tunnel, and after a bad day there is going to be a better tomorrow. However, the album also shows a lot of darkness, that is just so prominent these days.
MettleAngel: In my review, I made these very suggestive implications, without ever having read any lyrics. Bernie's vocals are so unique, that it is easy to understand what he is saying, or tyrying to convey.
MettleAngel: The review may be viewed here: www.metalcdratings.com. I commented on how the lyrics were not too uplifting, but the music was still catchy and quite engaging. Consider the chorus for a song like: "Heavy Rain". Would you agree with my opinions considering the lyrics and music?
Marco: To a certain extent, as I mentioned before, 'Utopia' shows a dark and a bright side. It´s just the way it is. The world is a very strange, sick, hectic, chaotic place these days. I feel that it would be to easy to say, "Awwww everything sucks, and everything is so unfair, and so forth...". I believe that there still is beauty and greatness, you just have to look for it a little more. :)
MettleAngel: I absolutely agree with you, and life is what we make of it, as we all create our own destiny, and there are no victims or villains.
Marco: So that is the point we wanted to represent. We strive to combine the qualities of Good and Bad, Life & Death, as well as Fantasy, all together. That is what Life is all about. Life is a cocktail of all these ingredients.
MettleAngel: Indeed it is, and sometimes it is a Molotov cocktail, or sometimes one in which, if we over imbibe, we may become too drunk with power. What are your favorite new Axxis songs from the new album? What Classic songs, that Axxis has written over the last two decades, do you prefer to play?
Marco: I love "Sarah Wanna Die". That is my favourite cut from 'Utopia'. I love the theme, and it its high energy. I am also very happy with the solo. Then, I like the title track, and "For You I Will Die", because it´s quite proggy for an Axxis song. As regards the Classics, well, "Kingdom Of The Night" of course!! That´s our own - "Rock & Roll All Nite" - and I also enjoy - "Stay Don´t Leave Me". I feel that this is a great songwriter's song.
MettleAngel: I believe that song is from - 'Best Of Ballads & Acoustic Specials'. I sometimes get confused because there is the song - "Don't Leave Me" - From 'Paradise In Flames', and there is also the song - "Stay By Me" from the same album. I guess Bernie has a tendency to focus on common themes. On 'Doom Of Destiny' he had a song called - "Father, Father", and on Utopia, there is - "Father's Eyes". I am not a big fan of ballads, but I digress. Getting back on track, have you played in any other noteworthy bands, before joining Axxis?
MettleAngel: I am not familiar with her at all....is she some type of model or something?
MettleAngel: It sounds like you had a good time, and were able to expand your music horizons, and versatility. With Axxis, when you perform in a live setting, do you do all the guitar playing, or does the band bring along a touring guitarist?
Marco: No, I´m the sole guitar player. I do everything on my own. This gives me a lot of freedom, and when there is a solo part to be played, Harry fills in the rhythm with his keys. I must admit, I love keyboards. I always have them really turned up loud on my monitors.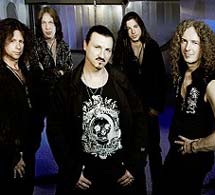 MettleAngel: Keyboards are a mixed bag in Metal. I feel they are one of those qualities which make Axxis stand above and beyond so many Germna Power Metal outfits. I have noticed that the guitar work on "Doom Of Destiny" & "Utopia" is very intricate and technical like Firewind, Rage, or early Stratovarius. Do you consider yourselve to be a Gus G, Victor Smolski, or Timo Tolkki fan? Who are your major influences?
MettleAngel: That is so cool. I have always appreciated his work with Rage, and Mind Odyssey.
Marco: He is a great guy, indeed, but I would not call him, or the others an influence, per se'. Although I listened to a lot of Stratovarius when I was younger.
MettleAngel: Man, it is just so hard to imagine you are younger than my brother. I did not discover Stratovarius, until I was out of Grad School, in the early '90s..
Marco: I guess you could say that I have a wide range of influences. Brian May is one of the most important to me, as is Steve Howe, John Petrucci, Al Di Meola, Tony Banks, Brian Eno, Andy Warhol, Steve Morse...
MettleAngel: I just got that new Queen album with Paul Rogers - 'The Cosmos Rocks'. It took awhile, but I really like the new Dream Theater, too. Those covers they did kill!
MettleAngel: Hence the Andy Warhol reference...
Marco: I´m very influenced by musicians and artists in general. I appreciate those individuals who can express themselves in a beautiful, and melodic way. I like technique, but I´m always searching for that one special note/phrase to be found in the solo. I play what touches me deeply, and most of the time that would be melancholic phrasing, just like those early Genesis albums.
MettleAngel: Indeed, thank Heavens for those, as those are the very albums which inspired Steve Harris to form Maiden, and thus Metal was born! As for me, I'm much more drawn to the '80s Genesis, and Peter Gabriel's solo work. Then again, I am not a musician. In keeping with this line of dialogue, what do you like to do when not involved with Axxis? Name a few of your favourite hobbies.
Marco: I like to hang out with my friends, giving guitar lessons, going to the movies, etc. I enjoy a good cup of coffee, and surfing the internet.
MettleAngel: My wife is the coffee connoisseur. I only use the internet when I have to, I just can not spend hours on there. Like you, I prefer to watch movies, and listen to music.
Marco: Besides those enjoyments, I just started jogging again. I missed that. When I listen to the music I like, everything makes sense. It's hard to describe. I just love music!!
MettleAngel: I know that very real feeling you describe about music. If it were not for Metal, I would truly go insane! I never jog, hell I seldom even walk for exercise. I am so damn lazy it hurts! I mean that literally, as I don't even exercise as much as I used to.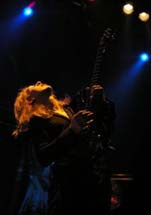 MettleAngel: I would love to travel more, but we just enrolled our son in his first year of school, so we won't be leaving town for too much for quite some time, save necessary concerts. A least we have some killer shows lined up for this fall. Neither my wife, son, or I have ever been to Europe, so that is our future goal! I understand that you have a relative in the USA, and that you are fond of America.
Marco: Yeah, it means a lot to get positive feedback from the US!! My uncle lives in El Paso, Texas, and everytime I visit him, I feel American. I love your country!!
MettleAngel: You almost moved here, before the golden Axxis opportunity, so is there any chance of Axxis ever coming over here to tour? We sure would love to see you.
MettleAngel: More and more Euro acts are coming and thriving when they tour the US. A year ago, we finally were able to see Helloween & Gamma Ray play in Chicago. Interestingly enough, the banner for the show had Axxis listed as the opening act, but I assume that was a European Tour flyer? Needless to say we were bummed when we discovered you were not on the tour.
Marco: I guess we just need to find a promoter that wants to have us over there, you know how it is! Chicago would be amazing city to play, because I visited there in 2005, after I missed my connecting flight. I fell in love with that city. So let´s keep our fingers crossed!!
MettleAngel: I actually can not tolerate Chicago, but they do have great Metal gigs perform there. As for Ohio, Cleveland is your best bet. We are going to see Doro and Destructor play there Thursday, September 10th. Then again, Stryper are actually coming to Cincinnati. The female fronted Lita Ford style act - Shadowside from Brazil - was going to come, but cancelled at the last minute. Marco, thank you for taking the time out of your busy schedule to answer these questions for me.
Related links: