Interview conducted March 01 2015
Interview published April 202015
The first band booked for this year's House of Metal was none other than At The Gates, one of the leading death metal bands, now with a brilliant new album out as well. Half an hour before we headed to see The Haunted, me and the band's frontman Tomas 'Tompa' Lindberg sat down in the hotel lobby for a short interview, mainly discussing the band's successful return. As expected, Lindberg was a very likable and humble guy to talk to.

Mozzy: What are your expectations about House of Metal? At The Gates have not played here before.
Tompa: No we have not. But I've been here with Disfear, and The Haunted have been here. It went well both times and the people here are nice so what can go wrong?
Mozzy: Yes, the organisers are great. And we don't get bigger bands up here in the North of Sweden so it will be a highlight. You were one the first bands being booked, and the sales have been terrific.
Tompa: Yes, it was early on. That sounds good, we are looking forward to tonight!
Mozzy: At The Gates have played in Umeå one time, a long time ago, in 1993. Can you remember anything from that?
Tompa: Yes, it was at the Galaxen I think. I think we went there by train, it was one of those crazy journeys. I'm trying to sort my memory…. I wonder if Throne Of Ahaz or Nocturnal Rites supported?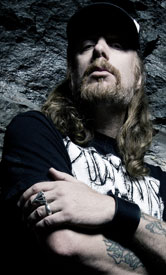 Mozzy: Nocturnal Rites played, I saw the poster today at my friend's place. Perhaps Throne Of Ahaz was on it as well.
Tompa: Ok! Well I find it difficult to remember everything (laughs). But it was fun, absolutely. In those days there were not many metal bands at all who travelled here, I think.
Mozzy: Tonight will be unusual as both At The Gates and The Haunted are playing. Has this happened before?
Tompa: Hmm... I think it is the first time with Adrian and Jonas in both bands. We have played quite a few gigs with Paradise Lost (who has Adrian as a drummer) during the same evening. That worked fine, from a physical point of view (laughs).
Mozzy: It is the most demanding for Adrian, I suppose.
Tompa: Yeah (laughs). Definitely. For me it is just fun; I do one gig and get to see a second good one.
Mozzy: Adrian and Jonas will get some variety too.
Tompa: Yes, exactly.
Mozzy: Congratulations on the Swedish Grammy win some days ago. That was a big thing.
Tompa: Thanks, that was fun (laughs). I didn't suspect that; that a death metal band would win it ahead of other bands.
Mozzy: How was that evening, then?
Tompa: Well, it was really weird, actually (smiles). We are a death metal band, from the underground in my opinion. When you look around, you see all these top dogs like Carola (famous Swedish pop singer), you know. You don't really understand what you're doing there, with all the champagne and glamour and so on. But when we had received the award, it was fun! But our record company people here in Sweden were happier than us, in a way. So there were some good celebrating going on (laughs).
Mozzy: Were you there all the five of you?
Tompa: No, it was just me and Adrian actually. The Haunted had to rehearse, and so on… Also, some find it easier to bear with these forced social events than others (smiles). Some just enjoy playing gigs, you know. I find it more fun to play gigs too (laughs). But you have to make an effort sometimes.
Mozzy: I saw a picture with you and Adrian together with Sven-Bertil Taube (legendary Swedish singer).
Tompa: Yeah (laughs). It took a while before we got the courage to approach him.
Mozzy: You were nominated for a Grammy in 1996 as well. So it's cool that you received one almost 20 years later.
Tompa: Yeah, that was fun. Back then, it was even more unlikely that we could win. Death metal was still kind of new then, very underground. But it's cool that our two last records were nominated (laughs).
Mozzy: This success was difficult to anticipate when you reunited, I guess.
Tompa: Yes. For us it is like… when we decided to do another record after all… The big goal, apart from satisfying ourselves musically, was to show that we were relevant and not just a cover band of ourselves; to show that we had something genuine to offer. Now, you cannot compete in music really but if it was possible, this Grammy could have been confirmation that we are still relevant. But the real confirmation is that there are people at the gigs and they think it's good. And that they are digging the new songs; that is really nice!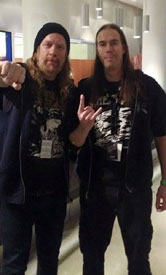 Mozzy: I have to say it's really well-deserved. The record is very strong, and varied as well.
Tompa: Thanks, that's very cool to hear. I mean, you cannot judge your own quality, but you can look at the work that has been put in to make it all possible, you know. So that we ended up happy with it. It took a couple of years after all. In that respect, it might be well-deserved but as I said, music is a matter of taste.
Mozzy: Absolutely. But the sales have been good too, haven't they?
Tompa: Yes, we have noticed it a bit. But it's rather the response from the record company that we have noticed. It has been good. And I know that the US branch is very happy, so it will be fun to go there in a month and see how it goes.
Mozzy: Speaking of the record company, is there any sort of pressure from them now that the new album is out and doing well?
Tompa: No. We were very clear with how we wanted things now; that it would be on our terms and that there would be no pressure on us. No long tours for example. But we're saying yes to almost all interviews and so on, so in that sense we're being behaved in their eyes (smiles). And Leif Jensen, who was involved in signing us and who has worked at Century Media for a long time, said "I just want to release this record!". He wanted to be the one to release it, he did not want to miss that. He did not give a damn how successful it would be. He wanted the record on Century Media. So there was no pressure.
Mozzy: What about you members of the band; do you feel like really going for it, so to speak, one more time now?
Tompa: Yeah, absolutely! But it's like, now that we have done this, we want to enjoy where we are now. 'Wow, we did it!', you know. So now we get to play the material for those who bought the album and we can enjoy that response. To think of the next album now is one step too far, really. It's like being a cross country skier; you shouldn't think beyond the 50 kilometre race you're in (smiles). I mean, we won't say again that we won't do another album. But we don't know now, we will see. When we feel that we are done touring for this record, we will see if Anders have some riffs and then off we go (laughs).
Mozzy: I guess it is not always easy to fit it all in with your other careers either? Some of you have day jobs.
Tompa: For sure. But it's more a matter of planning ahead, and to communicate. That has never been a problem for us, actually: we have a straight and open communication and respect for each other. That is why this is working. And we are getting older, so the egos are vanishing and you have to think a bit further (smiles).
Mozzy: I was working as a postman until recently, and when I was sorting the mail one day I noticed Lärarnas tidning (Teachers' union paper) which had you on the back cover, speaking of your job as a teacher. It said you were working 66 percent.
Tompa: Yeah (laughs). We'll see what happens in the summer, but that is sort of the level we're going for. We have to fit in both South America and Australia in the autumn, and there is only one school holiday break in the autumn so we will see how it works out (laughs).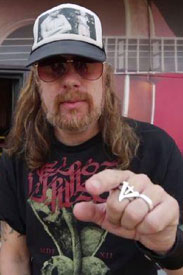 Mozzy: It was quite surprising when you reformed again, for the Metaltown festival in Gothenburg 2011. I met Adrian at a Paradise Lost after show party in London a few months after the announcement, and he joked "well, we were offered so much money".
Tompa: (Laughs). Well, for me it was a bit weird because I could not make a decision. Or I could have, really… All of us have veto right. I came home from a holiday and I had missed all the emails. Everyone was so excited, so I was 'well ok, let's do it' (laughs). The thoughts from the Metaltown staff were like 'now we have a big metal festival in your hometown and you are the biggest band, or at least the first big band from there. You must have played here!'. And we know the people at the festival and they really wanted us. It would have been as if a big band from Umeå has not played at this festival; it would have been the same thing.
Mozzy: It was a fun concert, with some guests appearing, Mikael Stanne from Dark Tranquility for example.
Tompa: Yes. It was one of those events where it had to be special. We invited friends and guests. We brought out the violin again, Andy (La Roque) played guitar, and so on. But above all, that gig was the most difficult step: to swallow your pride. After that, we had already broken one promise, you know (smiles). We could just go on then.
Mozzy: It must be nice to get to play new material now?
Tompa: Yes, it's very nice! This material is written by us now, and adapted to where we are right now. For example, I have adapted all the vocals to myself, to where I am now, as a 42-year-old. Other old songs are written for an 18-year-old, and there are some differences regarding the voice (laughs). So it feels very good, and also that there actually is a good response. It felt like large parts of the fans as well were longing for us to prove that we were relevant. They really think that the new songs are good. Sometimes when you watch a gig it can be like 'oh here is a new song' and the fans are just standing there watching. But it does not feel that way this time.
Mozzy: When you reunited the first time, you played mainly bigger places, at festivals and so on. This time, you're playing some smaller venues too. Is that fun?
Tompa: Yeah. Now we're playing for an audience that has paid money to see us. Then you now that these are our fans. First of all, it is much easier to get a connection, and also at a festival you don't really know whether some are just waiting to see Twisted Sister at another stage, you know. So this is more the real thing. And we are also playing larger venues than we did in 1996 so it has expanded (smiles). It's great fun.
Mozzy: One of the smaller places you're playing is in Sundsvall, Sweden, at Pipeline. That will be sweaty.
Tompa: Yeah! That is a cool place. It will be warm and hard (laughs).
Mozzy: And you have played there before with some of your other bands.
Tompa: Yes, I have played there with The Great Deceiver and Disfear, and The Haunted have played there. Those are the places we want, it's perfect!
Mozzy: We are looking forward to that very much and I will see you there. Thank you!
Tompa: Thanks! Now we will make it in time for The Haunted (laughs).

See also: review of the gig the same night
Related links:

www.atthegates.se
www.facebook.com/atthegatesofficial