Interview conducted May 12 2011
Interview published June 27 2011
Heed the warcry, because the omen is true, and after all of the violent storms of the season, ASKA are finishing up their highly anticipated new album - still not titled. I spoke with the immortal steel avenger himself - George Call - a Man of mettle, integrity, and a true sardonic sense of humour. He is truly not a vowbreaker, but a fine tongue, victorious soul who has followed the dream to perform and play with both Omen and Cloven Hoof.
Come heed the Call as we discuss ASKA's imperial roam around the world, with avid touring plans; including their third planned invasion of our senses, as these warriors return against the odds, to again headline "Warriors Of Metal IV".
I know this is a long interview, but still well worth the entire read; simply because the curious George is quite a talker, but even a better entertainer.

MettleAngel: It is always a good time to speak with you George. So tell me Brother, what is new in the world of ASKA?
MettleAngel: Finally!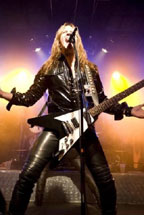 MettleAngel: Man, I am stoked to hear it!
MettleAngel: I will have to check that out immediately.
MettleAngel: I plan to see you for sure at WOM IV. Will the new album be an independent and self-produced release?
MettleAngel: I am very pleased to hear this!
MettleAngel: I like the way that you put that. Have you had offers from renowned labels?
MettleAngel: The reason I ask is that Omen just signed with Pure Steel Records, a label I love and strongly support. Their new album called 'Hammer Damage' is due in the fall.
MettleAngel: Oh really, because they just publicly announced this.
George: In fact, prior to that offer, Pure Steel had already released both of ASKA's last two records, 'Avenger' and 'Absolute Power' respectively, on limited edition vinyl and made an offer to do the same with our entire back catalog.
MettleAngel: Get out, I did not know that. I sure would love to get my hands on those!
MettleAngel: Well, now that makes sense!
George: They are a great label and good guys. I think they want to see whose record is going to be better, ours or the new Omen. If they both rock, then it is most certainly a victory for Heavy Metal.
MettleAngel: Indeed it is!
MettleAngel: I am sure both releases will be excellent. By the way, what happened with you being in Omen? You sounded so amazing live last year fronting them at "WOM III". Did you help write any of the new songs?
George: Thanks Michael. I had a great time singing in Omen and working with Kenny Powell onstage, but being around Kenny is like petting a bear. One minute he is fun and playful, the next he is ready to eat you.
MettleAngel: What a great analogy! I think I can relate after having spoken to him after the show. He was so wiry. This is why I did not officially interview him.
MettleAngel: That is funny that you should make that allusion, as on a recent episode of "That Metal Show" Sebastian Bach was making the same point about Axl. I am amazed that Baz knew about Razor, Exciter, and Pile Driver. Anyway, where were we?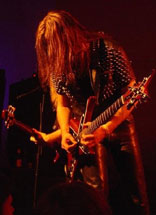 MettleAngel: What about 'Escape To Nowhere' and the modern sounding 'Reopening The Gates' (oops sorry to interrupt).
George: As I was saying, I felt proud that I played a factor in turning the band's fortunes around in the Metal press and on the concert stage. But I have to tell you - a more self- destructive personality, particularly behind the scenes - you could not hope to meet.
MettleAngel: Well I have met him twice, and both times he seemed a bit mental, and flakey.
MettleAngel: I agree; especially coming from such an affable and stand-up mettle head as you.
George: I am not alone here. Just speak to any of the guys who have ever been in Omen, and you will hear the same story. There are four or five that were fired just in the period I was in the band. The more someone protests and insists that they are really not so difficult to work with, the more you know it is not true.
MettleAngel: I am just forever grateful that I was able to witness you sing for the band, even if only one time.
George: As for my having written songs with Omen, I wrote all of my melodies and lyrics on the songs he had me record; though I am certain Kenny will not be using any of them, as he does not want to give me credit for anything now that I am no longer in the band.
MettleAngel: That is downright junfair, but this is a realistic case of sad but true, and it happens all too often. As of late, I had just spoke to Andy Sneap about this very thing!
MettleAngel: Damn! Danny is super cool!
George: It is kind of a sad state of affairs but what are you going to do? After all, we are talking about the same the guy that fired J.D. Kimball over trivialities that Kenny himself is guilty of ten, twenty times over.
MettleAngel: You, Kevin Goocher, and Coburn Pharr should share stories, since J.D. is now only with us in spirit.
George: Anybody that has worked with Omen, from band members to promoters to labels, knows the following to be true: Omen's biggest asset has unfortunately also been its biggest stumbling block: Kenny Powell. I wish him luck, good fortune, and a life change for the better.
MettleAngel: That is so noble of you! Do you have any special surprises awaiting us for "WOM IV"? Wendy, Stephen and I are doing our best to attend!
MettleAngel: This is the same deal with the new Widow album called 'Life's Blood'.
George: We definitely are adding a couple of the songs from the new album to the set that will be played for the first time ever, uh, maybe the second time; and we will have a new T-shirt out featuring the new album's cover art and the WOMfest logo on the back.
MettleAngel: Damn, I will have to dig into my pockets again! I bought one of the last shirts last year, and plan to wear that one this year!
George: It is going to be a great time. It always is. We have always had a great time in Ohio, and this time promises to be more of the same, but with a deluxe capacity.
MettleAngel: This will be your third time back. I am surprised that you are not headlining. Then again, I am amazed that Benedictum, who are signed to Frontiers Records, are not headlining as well.
George: No, we actually are the Saturday night headliner, though I understand how you might have thought such, as the adverts seem a little confusing, listing Friday's headliner, Widow first, and then ASKA.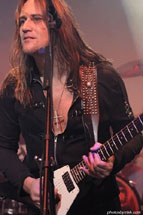 MettleAngel: Yeah, I am all confused! I know Widow are headlining Friday.
MettleAngel: That makes more sense to me!
George: We have headlined every year that we have played. Although last year, it was a co-headliner with our buddy Sean Peck's band, Cage.
MettleAngel: I interviewed Sean of Cage last year, and I just got their new DVD, but I have not watched it yet, for some dumb reason.
MettleAngel: Now that I did not know! Blaze is a good man, and has been through so much over the last few years, including the tragic death of his wife. I still have not heard that new Wolfsbane (EP). At least he is not in jail like Paul Di'Anno.
George: Aside from guest appearances and walk-ons from Omen at ASKA shows, that "WOM III" experience was the one and only time both groups ever shared a billing while I was in the band. We did open some shows for them years before I ever joined them though. That is how I met Kenny Powell.
MettleAngel: I will always be grateful for being there, and being able to stay awake. You even wished Kit Ekbeard and his wife happy anniversary. Oh and this year, we will be bringing our new dog Wheazy O' Whiner, a Shar-Pei we rescued two months ago! Hopefully she will howl for you, when the band plays "Blood Of the Wolf" like Kai does with Megan and Denis.
MettleAngel: I was interviewing Cris Bennett of Widow recently, and he mentioned that ASKA played in Cloven Hoof, and performed two songs with them live at "Sword Brothers Fest." Please tell me about your experience with this, as I assume you played guitar, and maybe sung backing vocals. What songs did you learn for the show, and what did you actually play live?
George: Yeah that was cool man and what a night. Right before "Sword Brothers" there was a huge blow up in the Hoof camp. They had fired their drummer, and lost the pair of guitarists all in the same week.
MettleAngel: That is crazy!
MettleAngel: So that is how you met?
George: When all the stuff went down, Lee contacted me and filled me in on what had happened, and he asked if we could help him out by learning a few of their songs, and of course we were only too happy to do it.
MettleAngel: Man ASKA gets around like Icarus Witch with Paul Di'Anno before his incarceration.
MettleAngel: You are my hero!
George: The band that performed then was Lee on bass, Russ North on vocals, Daryl Norton on lead guitar, Danny White on drums, me on rhytmh guitar with Lee and I doing backgrounds.
MettleAngel: So 3/4ths of ASKA was acting as Cloven Hoof?
George: We totally gelled. It felt like we had been playing together forever. It kicked total ass, but it was all over far too quickly. I wish we could have learned a few more songs for it; but nonetheless it was a great moment for all of us, in that we were able to save the day and play onstage together with the mighty Hoofsters.
MettleAngel: I wish I could have seen that!
MettleAngel: Man, I need to get my ass to YouTube, please send me some links. I always have issues streaming from there, though, for some reason.
George: We did 'Laying Down The Law' and 'Inquisitor', and yes sir, it was completely live without a net. "Sword Brothers" rocked man!
MettleAngel: So you did not play "At The Gates Of Gehenna"?
MettleAngel: I will say! I guess they will just have to rely on White Wizzard to play "Gates''! They are going on tour With Death Angel And Havok. I have heard that for "WOM IV" that the camping ground and stage are supposed to be much better. It just is not fair that the bands are not honestly remunerated according to their worth. Many will be flying in this time, on their own dime.
MettleAngel: Well I assumed so, as Ryan and Datis are charging for camping privileges.
George: It is going to be closer to Columbus. As for remunerations, clearly, I think I speak for all when I say that I wish everybody could receive their worth in all aspects of life on Earth, but it is refreshing here that you have all of these bands from all over the place pulling together to try and make Metal happen in America like it happens overseas.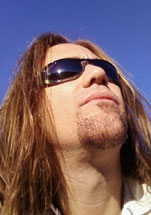 MettleAngel: Oh I whole heartedly agree, and this is why I do my best to promote the bands, like you. I focus on service.
George: It is rather noble. I mean, it would be something altogether different if the organizers were getting rich doing this, but they are struggling like everybody else, and they have found original and interesting ways to help offset their costs and expenditures.
MettleAngel: I know this all too well, too.
George: In other places you do not have to dance and juggle with the figures so closely, because there are, indeed, Metal fans everywhere you look.
MettleAngel: This is America, though, when it comes to True Metal, we are always one step behind.
George: Unfortunately, in the U.S. if you are not following the latest trends, and then sometimes even if you are, it is a much harder business. WOM fest could be huge right now if they added Korn and Creed or Hell Yeah to the bill, but then it would not really be true to the spirit of "Warriors Of Metal".
MettleAngel: I agree! This is what sullied Rocklahoma and Rockstar Energy Fest!
George: It would be another Pop culture trend-fest, and I think that is the antithesis of what they are trying to do with WOMfest. I think the fest will continue to grow larger and larger, but one has to remember that nothing good comes easy.
MettleAngel: I hear you, but there are some office politics involved. I have spoken with many artists who are performing, who have begged me to assist Datis, just so that things run more smoothly. I guess they just regard me as more knowledgeable in this area. Personally, I just want to be a fan and have a good time. I do my part by volunteering to do all these interviews.
George: We appreciate that! The fact remains, nobody on the bill is playing the music of the masses, and thank goodness for that.
MettleAngel: Amen! I am glad that Bill Peters has his band Shok Paris playing as well. They just opened recently for Accept and Stryper. What bands are you most excited to see play? I wish Skelator was returning, or Icarus Witch, or Twisted Tower Dire. Unfortunately, I think some bridges were burned from past performances at the fest.
George: I am not aware of any specific issues, you probably know something I do not, but if they exist hopefully everyone will be able to repair and rebuild those bridges.
MettleAngel: I am always attempting to bridge the gap. I know more dirt than I should. I am not out to slander or upset anyone, though.
George: After all, this festival series is about the spirit and brotherhood of Metal and the good feeling that this music fosters among its faithful. As for the band I am most excited to see, I would have to say, even though my former road roomie, good buddy, and ex-Omen band mate, Wampa, is no longer with them, I want to see Dantesco.
MettleAngel: They were amazing, and I am glad to see them return, as well. Erico always brings rare T-shirts and vinyl too!
George: Erico sent me a song off their new album and it kicked me on my ass, man. It was very impassioned. He was supposed to send me the album, but I am going to see if I can acquire a copy of their new disc at the festival.
MettleAngel: That poseur still owes me a Deathrow - 'Raging Steel' shirt too! When you were interrogated about your band and your plans to play "WOM IV", the website www.metal-rules.com was less than favourable to you with their sarcastic response to your obvious laid back sense of humour, when you refused to answer the same question twice. Here is their response: "(Editors Note: "Infidel? Redundant? What the hell cheeseburger titz? Don't give me no lip, your being featured on Metal-Rules.com the most bitchin' and awesome metal website in the universe...if you've never heard of us before just ASKA-round!' ...and you retorted with: "Cheesburger Titz"? He's clearly never seen my boyish physique!"
George: Ha ha! Yeah. That Metal-Rules editor's note was a little out of left field there as I was clearly being funny with my answer, but who knows really. Maybe he was being funny with his note but 'Cheeseburger Titz'? Really? He's clearly not seen me naked eh?
MettleAngel: I hope not!
George: Yet! I guess I should feel honoured that my interview was the only one that compelled him enough to force editorial interjection and broke the formulaic questionnaire. I am not going to get upset or anything, man. I roll with it bro.
MettleAngel: Good for you, now that is Mettle!
George: I like the site. I love all magazines, periodicals, websites and fanzines that support and promote this music that I have made my life.
MettleAngel: So then I know that this includes Metal Covenant! I was just turned off by the cut and paste, form letter mandatory responsorial that was farmed out to all WOM bands performing. It seems so unprofessional, and there was no editing!
George: Metal-Rules actually gave us a glowing review, write-up, and interview on our 'Avenger" CD back when it came out, so I am just going to leave it at that, and sum it up to somebody editing the thing after the fact, and then missing my obvious attempts at humour.
MettleAngel: That is so cool of you, and to remember that review, too!
George: You have to admit, though, that it is kind of crazy, considering that I had answered the question asked in an earlier question, and thought that responding to what amounted to the same question twice was silly.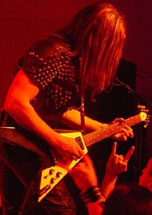 MettleAngel: This is why I found their editorial to be arrogant, self-assuming, and not in jest.
George: Instead of repeating all of the things I had just said, I answered with a bit of my silly humour, and somebody over there completely missed that, kind of like they missed that I had already answered the question the first time around.
MettleAngel: I know that publishing on the Internet has become a joke, but they left all of Erico's responses in all block capital letters!
George: I do have an irreverent, rather sardonic wit that can be mistaken for snobbery in print but anybody that knows me will tell you, I am puddin' n' pie, Michael.
MettleAngel: I am grateful to have become your friend. When I first met you we had such a great interview, If only Wendy would have checked the batteries in the camera!
MettleAngel: I probably should not blame my wife, but I am an asshole, and always do! Anyway, here we are now. What do you want to let Metal Covenant fans know about ASKA, please give us a brief history of the band and do tell us what we can look forward to in 2011.
George: Well, let me start by telling you this: Aska from Scandinavia is sort of a Johnny-come-lately solo project. It is basically one guy in his bedroom with a drum machine and an eight-track recorder. It is not a real band. And we had the name first.
MettleAngel: I know, and your style of music is True Classic Metal. The word "aska" is Swedish for "ashes" and the Texan band should not to be confused with those other Black & Death Metal projects using the same name. This is just typical, and what kind of a name is Pisk, anyway?
George: We released our first record, the self-titled 'ASKA', in 1991 and started our touring career doing military bases and embassies for the defense department in '92.
MettleAngel: I have always respected that! I am also grateful for you and Danny for giving me this CD, which is so ultra-rare!
MettleAngel: That is reassuring!
George: The third, 'Nine Tongues' had a couple tracks, ''Leprosy'' and another on Hard Radio, and we sold a ton of the things through the military's AAFES base and post exchange retail facilities.
MettleAngel: That is awesome. Are you referring to the song "Killashandra"? I first discovered you on the 'Maiden America' Tribute where you did "Flight Of Icarus" and "The Stalker". It was an American band tribute with one original song from the band, and one Iron Maiden cover?
George: Our first record sucked ass; sucked ASKA! The new one, which is still unnamed, but due later this year, will feature my best recorded vocal performances to date.
MettleAngel: I am sure this will be well worth the wait.
George: I am looking forward to getting it out there. It has been about three years in the making and features basically the same line-up as the 'Absolute Power' CD with the addition of Danny White, full time, replacing Jason Sweatt.
MettleAngel: Danny is a solid drummer. Those fireworks at "WOM III" freaked him out a bit, and he missed a beat.
MettleAngel: Danny mentioned that to me, in passing. Did he not also play on the rough version of "Freedom" on the 'High Voltage Rock On The Upsurge: Volume 1' compilation?
George: On the new record White and Sweatt have traded places with Jason Sweatt contributing drums to one song, "Son Of A God", while White carries the rest of the album. It is 'Absolute Power' in reverse. That song also features ex-ASKA cofounder, Darren Knapp, on it.
MettleAngel: That sounds promising!
George: We sincerely hope that his appearance on the record does not damn him to hell for eternity. He is born again now, you know. So basically, you have a song featuring our complete 'Avenger' line-up as a treat for those fans that keep telling us how much they love that record. Surprise!
MettleAngel: This sounds like a dream come true. Speaking of "The Dream", what is all that silliness at the end of the 'Nine Tongues' album? Were you all just drunk in the studio? This reminds me of what Kai Hansen is doing on the hidden track after "Rebellion In Dreamland", for the new Gamma Ray 'Skeletons & Majesties (EP)'.
George: Oh. One more thing, there is another act, a solo artist from Japan named, Ryo Aska, who comes up a lot when one is doing You Tube or generic online ASKA searches.
MettleAngel: I just read about him at Wikipedia!
MettleAngel: Oh No, George you better hire some private eyes to stop this maneater!
George: In the last year or two there is even another Aska that has managed to pop up; a girl from California I think, of Japanese descent.
MettleAngel: Is she a rich girl?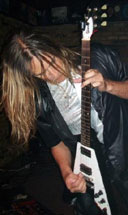 MettleAngel: God forbid, otherwise we just might need Darren to help us save our souls!
George: In this day and age, it is simple to do a general web search to see if some other act is using the name already, which we have been for over 20 years. Thus, our plan instantly becomes for one of those acts to make it huge, so then we can sue them and retire.
MettleAngel: Smart thinking! Man this interview is becoming long, sorry readers, but please do not stop reading just yet! George, tell me about your work with the amazing Axevyper. These former Assedium members released their awesome 'S/T' CD last year. Explain to me how this came about?
George: Assedium and Omen were staying at the same hotel in Germany the night we met and we took an instant liking to each other. A few weeks later they were on the bill with us in Italy, and we had a great time together there as well. I kept in touch with Fils and Guido.
MettleAngel: Cool! Axevyper already have a new (EP) out called - 'Angeli D' Acciaio'. I know you sing lead vocals on the song "Immortal Steel".
George: Assedium fell apart some months later, but from the ashes of that came Axevyper. One of them had the idea that they wanted me to do a guest vocal, a duet really, on one of their songs and I was happy to oblige them.
MettleAngel: The song is killer!
George: They liked my singing on it so much that they decided to have me record the entire song, and that is how that happened. My only complaint is that the guy that produced the record had my voice too low in the final production mix. Unfortunately, things like that are out of my control; but I do have a version of it with my voice much louder in the mix which sounds killer, and Luca has given me permission to use this.
MettleAngel: Please send me a copy of that! Luca "Fils" Cicero sounds like a cool dude!
George: I am sure we will put out our own mix of it at some point and give the Axevyper boys their due credit. It is a great, true Metal song and it was a complete honour for me to be on it with them.
MettleAngel: I bet! Will you be doing any live shows with them?
MettleAngel: So do I! They embody Epic Metal!
George: The last time I played Italy one of the bands on the bill invited me up to sing a song with them during their set. The song was 'Imperial Rome' from our 'Avenger' CD. That was so cool Man and probably the highlight of the evening for me. They get it, you know? The label that released our 'Avenger' CD was based in Milan, so we have always had great support from our fratellos of Metal in Italy.
MettleAngel: I have heard that you also worked with the Argentinean band, Violent Storm. Is this true? What album did you work on and what songs?
George: It is true. In addition to ASKA, I am actually in Violent Storm now which features ex-Ritchie Blackmore / Yngwie Malmsteen bassist, Mick Cervino, John 'Wolf' Covingon and Steve Mosely of Solitude Aeturnus fame, and a current ASKA, ex-Omen guy, namely: me.
MettleAngel: I have not heard too much about this band. Damn, you sure keep busy!
George: We are working on the band's sophomore record now, and have completed recording four songs, two of which feature Matt Thompson from King Diamond's band performing a guest appearance on the drums.
MettleAngel: Damn, that sound rad too!
George: The first album, which I am not on, was produced by K.K. Downing of Judas Priest and engineered by Roy Z.
MettleAngel: Why did K.K. leave Priest! You should check out Alex Skolnick's amazing interview with him on his site.
MettleAngel: Sorry about that, but I did not see any other band at the new and improved Metal-Archives. I mean that sarcastically, but navigating around the site now is a total nightmare! Please send me a link. What is going on with the Texas Metal Scene? I spoke with James Rivera recently. I am amazed at how many bands he is fronting. He is just sang with Malice at "Keep It True".
George: The Texas scene keeps keepin' on man. There is something in the water down here, because we keep making Metal and making Miss Americas. I have seen it healthier, but it is still viable, and it seems to be recuperating and that is better than we can say about a lot of other scenes around the U.S.
MettleAngel: This is so true!
MettleAngel: I know. I recently interviewed him, hung with him on the "70 K" Cruise, and I am excited for the new Seven Witches album due in June.
George: There is clearly a need for good Metal singers who can actually sing, as opposed to scream and grunt; otherwise, we would not be in such demand as we are. Case in point, I was offered the lead vocalist position in Cloven Hoof.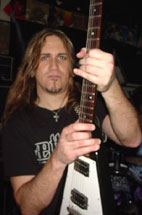 MettleAngel: Oh Wow! I understand that you and Danny will assist with the recording of the forthcoming new album by Cloven Hoof too!
George: Lee Payne is one of the nicest guys in Metal and they are a band that I absolutely adore. The only problem is, they are based in the U.K. so it would be a logistical nightmare for me to make such a thing work.
MettleAngel: I can see that...
George: Although, I do not think I would be opposed to trying, but first I think Russ and Lee have to figure out among themselves whether Russ is in or not, you know what I mean?
MettleAngel: Yes I do! I know certain Americans who have relocated to Europe to join bands, only to be dismissed a few months later, when the band returns to its original members; mostly to placate annoying fans.
MettleAngel: But then what would become of ASKA, and that band from Argentina?
MettleAngel: I love the first two Malice albums! I interviewed Jay Reynolds a few years ago. He still owes me a Malice shirt!
MettleAngel: Hallelujah! Before we wrap this up, are there any other important things we should know?
George: You should know that the members of ASKA are: Keith Knight, Daryl Norton, Danny White, and me, George Call. You can find each and every one of us on Facebook.
MettleAngel: I just watched "The Social Network" - a movie about the dude who founded Facebook. I am pleased not to be one of the 500 million people who are registered to that site. I know that bands need to be on Facebook to survive, though. Even Metal Covenant is on Facebook.
George: We do answer our own mail. For those that have not joined the computer age, you can reach us at ASKA HQ, PO BOX 561311, The Colony, TX 75056, USA. Visit us at any of these sites for show info, band info and more.
MettleAngel: Thank You and All The Best!
MettleAngel: You know I will!
Related links:

www.myspace.com/askaband