Interview conducted September 10 2008
Interview published September 20 2008
It is well documented that the music business can be precarious, with various ups and downs, and progress could quickly change into setbacks. Sweden's black metallers Apostasy are certainly aware of this. After years of effort and several line-up changes, they were signed to Black Mark Records, releasing two critically acclaimed albums on the label: Cell 666 in 2003 and Devilution in 2005. Then in April 2006, tragedy struck when guitarist Henrik Johansson was stabbed to death in his home. The band managed to continue, and with a new line-up they made a triumphant appearance at 2006's Summer Breeze Festival in Germany.
Apostasy have kept the momentum going and recently were offered a slot as one of the support acts on Lord Belial's Black Crusade tour, which will span over some three weeks and nine European countries. Vocalist Fredric Edin took the time to sit down with Metal Covenant to talk about the tour, new material and other topics.

Mozzy: So Fredric, what are your feelings about the upcoming tour?
Mozzy: What are your thoughts about the response you will get?
Fredric: Well, that's difficult to say. But judging by people writing at our MySpace page there seems at least to be a big interest in Eastern Europe, in countries such as Slovenia, Bulgaria, Romania and so on. It will be interesting to see how we are received, I'm hopeful.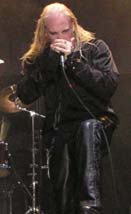 Mozzy: Describe how you were chosen for this tour.

Fredric: Well, Metal Masters, Lord Belial's management contacted us via our MySpace page. It was just a random thing really. One of us, I don't remember who, added them as a contact and just after a day or two they made contact and asked if we were interested in being part of the tour. We are certainly very grateful of them giving us this chance.
Mozzy: I can imagine. So how does it feel to be sharing the stage with Lord Belial and Graveworm, two established acts?
Fredric: In a way that feels comforting, since we haven't toured that extensively but mostly done shows here and there, like at festivals. I have talked to Thomas in Lord Belial a lot so that is cool. We'll do our best to destroy them on stage (laughter).
Mozzy: Focusing on these two bigger bands - the tour also includes The Cold Existence and Eastern Front - are these bands that you have listened to a lot yourself?
Fredric: Oh yeah. I have listened a lot to Graveworm, especially the 2, 3 latest releases. But also Lord Belial of course, mostly their older stuff.
Mozzy: How about new material; can we expect a new album anytime soon?
Fredric: Sure, we will begin the recording pretty soon, after we come back from the tour. Almost everything is written for the next album. Our aim is to spend a few weeks after we get back finishing the writing and begin recording. We will record ourselves this time.
Mozzy: Interesting. That was my next query actually; which studio and producer you have in mind. So you will produce yourselves?
Fredric: That's correct. We're tired of the limited time we have had to record the previous albums. We have also purchased new equipment which will help the recording process. Then we will send the material for the mixing. Two alternatives which have been discussed are Jonas Kjellgren's (of Scar Symmetry) Black Lounge Studio and Studio Fredman. We have spoken to both of them before and there seem to be good possibilities.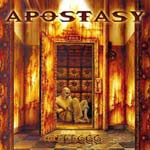 Mozzy: How would you describe the direction of the upcoming album?
Fredric: Well, I think that there is a significant difference compared to the two other albums. The keyboards will be less prominent in the sound, but will still be important. The guitars and drums will be more dominant in the mix, and it will be fatter sound-wise. Moreover, this material is probably more technical, but at the same time rawer and more straightforward and in-your-face. Since this is our third record, we wanted it to be kind of a statement so to speak. We are determined to make the best album possible, we will not be satisfied until every one of us think that it is great. There will be no compromises, that's for sure.
Mozzy: Who has been the main composer of the music this time?
Fredric: Mattias (Edin, guitar) has written a large portion of the album, but I and Ludwig (Johansson, guitar) have also contributed on a couple of songs.
Mozzy: Will you play any new songs on this tour?
Fredric: We will, actually. We will play Parasite Swarm, God's Assassin plus one more tune which does not have title at the moment. The work title is Sorken Arne (translation in English: the field mouse Arne). In fact, we have used quite a number of animal names as work titles. Other examples include (translated into English here) The Ermine and The Lemming (laughter). No, my mistake, it's The Neurotic Lemming even (laughter). We will perform three new songs, and it will be interesting to see the reception.
Mozzy: As regards to record companies, what is your situation on that front?
Fredric: We don't have a record contract at the moment. When the time has come to release the album we have to wait and see if we are offered a good deal, otherwise we will release it ourselves and get someone to distribute it. Sound Pollution distributed our first two releases so that would work, for example. But obviously it would be preferable to be signed to a record company; it would also enable us to get tours. If everything works out fine with Metal Masters on this trek it is possible that we will consider a management deal with them. They have expressed an interest in us and have even mentioned that they want to have us on future tours as well. That is great to hear. Our impression of them is very positive, they have been very cooperative.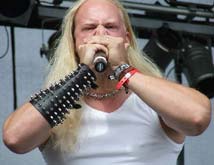 Mozzy: What happened with Black Mark Records? After two albums you went separate ways.
Fredric: Well, we just didn't think that it worked as well as it should. It was nothing personal; we just thought that there was not enough activity and progress. We felt that they could have showed more commitment. At the same time we have some understanding as well, because of what happened within the family (Black Mark boss Börje Forsberg's son died in 2004). Prior to this period we were happy with Black Mark; they released both of the albums in 35 countries. I spoke to Börje recently, and he was interested in catching up with what we were doing. But the priority for us at the moment is not to release the album but rather to play live. That's what you want to do, and I really believe that we need to do that as well. It is a way to catch people's attention; it's just a small fraction which discovers us via the internet. You know when you watch a gig; if you see a support act you haven't heard before and think that they are good it awakens your interest.

Mozzy: The sad event accounted for above lead us into my next topic: following the tragic loss of Henrik in 2006, what were the thoughts among the band members? Anyone could understand that you must have gone through a lot of grief as persons, but did you at any time consider quitting the band?
Fredric: No, I don't think so. We all felt that we had been fighting for this for a long time, and Henrik would also have wanted us move forward. Then we were blessed with finding top guys (Ludwig Johansson replaced Henrik on guitar and David Ekevärn was recruited as the new drummer); Ludwig and David are amazing, both as people and musicians. They are highly accomplished players; the music is their life, that's all they do really (laughter). Then again, no one can replace Henrik in that sense, but things turned out really well after all. And now it feels like we have a good thing going. For example, a great deal of people are checking out our MySpace site and listening to our songs on there, which is pleasing. And being part of this tour is very nice, especially since we don't have a record deal and the fact that they (Metal Masters) contacted us. That must be quite uncommon; we probably have had some luck. We have also signed a merchandise deal with True Metal Merch, who will sell our shirts on the homepage. That is also positive. Overall, the situation feels very good and genuine at the moment. We are very dedicated and fired up for the task ahead. Also, you sacrifice a lot when you take leave off work and so on, so we are determined to succeed.

Mozzy: Regarding the lineup, you seem to have found two suitable new members in David and Ludwig. But you have also just recently made a switch in bass players. What happened there?
Fredric: Well, Johan Edlund quit, due to a combination of a lack of interest and a lack of time. He also plays ice hockey on his spare time which is quite time consuming, so he stepped aside volunteerily since there was no time to spare for rehearsal and so on.
Mozzy: Please tell us a little bit about the new guy on the bass position, Patrik Wall.
Fredric: Ok, he is a really cool guy. He has lived in Umeå for a long time but is originally from Stockholm. He is just great and really dedicated to the music. He has been involved in bands before in the Stockholm area. He is a nice guy and easy-going. In addition, he has the right look too, with his long hair. Nowadays when I have cut off mine it fits good. It remains to be seen if there will be people wondering if it's Björn Strid (Soilwork) on vocals (laughter).
Mozzy: If we try to look ahead into the future, do you have a particular vision for the band?
Fredric: Hmm, well, one thing we aim for is a tour in USA, no doubt about it. That aside, it feels like we have already accomplished most things we dreamt about when starting with this. We have always believed in ourselves and thought that what we do is good, but perhaps we didn't think that we would reach this level we are at now. It started at home in the garage, went on via various small rehearsal rooms to a two album record deal. We also got to play at a big festival, being Summer Breeze. And now a european tour is coming up. We have actually reached many goals we set up in the beginning, but we are not satisfied yet.
Mozzy: To round this little chat off, do you have a last comment to your fans?
Fredric: Well, I don't know. That would be: continue to buy our albums and come see us live. Also check out our MySpace-site. During the tour we will have a blog there. You will be able to check out videos, which sometimes can turn out to be a bit twisted (laughter). There are among other things plans of a section called "Dagens Lavett", where anyone who deserves it will recieve a punch (laughter).
Related links:
www.apostasy.se
www.myspace.com/apostasysweden
apostasy.bloggsida.se