Prior to the gig Apocalyptica performed in Stockholm on May 26 at Klubben in Stokholm, we had the opportunity to have a chat with Paavo Lotjonen. Below you can find the result of that session........
Interview conducted by Michael Finnermark and Niklas Lundqvist
-------------------------------------------------------------------
Metal Covenant: What's happening in the world of Apocalyptica at the moment?
Paavo: We released our new album in the beginning of February, but we started our tour in the end of January. We began with supporting Rammstein for five weeks during their European tour, after that we went to North America and toured for two weeks. Then we started our own European tour, with bigger shows in the area around Germany. At the moment we are in the second phase of our tour, with shows with a bit smaller budget. After this the festival season starts, with gigs every week. We will do some more touring this autumn, which means that altogether we have about 140 shows.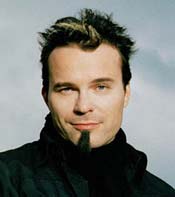 Metal Covenant: How has your latest album been received?
Paavo: The feedback has been very positive, actually. In certain areas it has really gone well. In some areas it's a bit worse, but there is still hope. *laughs*

Metal Covenant: How about the future, then? You obviously won't have time to start working on a new album this year?

Paavo: Well, it's hard to be really creative when you're on tour. The tour bus is not really the best place for composing, you know? But our plan is that early next year, when we have some free space; there will be time for some intellectual work. I believe that the next album will be ready in about two years, probably.

Metal Covenant: Where do you get your inspiration to write music? Is it the life on the road, or maybe everyday things?
Paavo: That's a difficult question. Mostly I would say that it's everyday life. It can be the nature around you, or maybe the touring and the feeling you get when you play live. But you know making music is not planned; it's more of a spontaneous thing.

Metal Covenant: How would you describe a typical Apocalyptica-concert? How much difference is it between the bigger shows and the smaller ones?
Paavo: We're more used to bigger venues; Klubben is actually one of the smallest ones we'll play at this year. You can't say that it's better or worse, but it's different and it's always good to play at different venues. Smaller shows have a more intimate feeling but you can't run around and make the big stage gestures. Every show is a challenge. It doesn't matter if you play in front of a huge or a small audience, because there are always individuals in the crowd. I get to play for you, and not just the big mass.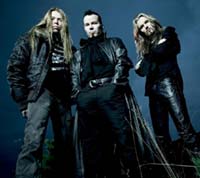 Metal Covenant: : Let's talk about the start of your career. I (Niklas) played cello when I was a kid, although I quit after a few years because I found it difficult. When did you guys start playing the cello, and what made you continue? Teenagers usually don't find classical music too exciting…
Paavo: I started when I was six years old. Perrtu started when he was five years old and Eicca when he was eight. Actually, I'm teaching cello students myself, the youngest ones being six and the oldest ones being twenty. If the playing becomes too difficult for you, it tends to be boring since you can't get any satisfaction out of it. It becomes frustrating. But if the pupil is talented, it doesn't matter what type of music he or she gets to play. If you manage to get past that troublesome age of 12-13, I think you should continue. When I'm teaching students I let them play both classical and rock songs, and I've noticed that the genre isn't too important, it's the deeper meaning of the music that matters.
Metal Covenant: Have you tried out any similar classical instruments? If so, why did you stick with the cello?
Paavo: I have played bass and piano. The reason I prefer the cello is that it's so challenging. In piano, when you play one note it's already beautiful. But with cello it doesn't sound good from the start, you have to practice hard to get the right sound.
Metal Covenant: You have released five albums so far; which one is your favourite?
Paavo: I would say that the latest album is the best overall, but in every album there are songs that are certain favourites of mine. I still enjoy the older albums, because they all contain things that are close to my heart.
Metal Covenant: Which of your songs do you particularly like?
Paavo: If we start with the past, then there is a song called "Pray" from the "Cult"-album that I really like. On our previous album "Reflections", "Cohkka" is my favourite. From the latest album there are a few favourites, for example "Quutamo" and "Deathzone". Then there is of course "Bittersweet" as well.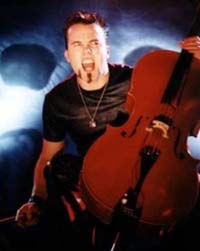 Metal Covenant: Do you have a diverse musical taste in Apocalyptica?
Paavo: Well, since there are three members there is bound to be some change in taste. Perrtu likes death metal and speed/thrash, with some opera on the side. Eicca enjoys rock, while I prefer the serious, dark mood things. I don't like it when it's too aggressive.
Metal Covenant: You mentioned "Bittersweet" as one of your favourites, where you collaborated with your countrymen Ville Valo (HIM) and Lauri Ylönen (The Rasmus). Another example is the Swedish singer Linda Sundblad (Lambretta) who sang on "Faraway". This is just a few of the celebrities that you have worked with during the years. Do you have someone in mind that you really want to collaborate with in the future?
Paavo: We have many names in our mind, but we prefer not to talk about since nothing is decided yet. If I have to say someone, I think it would be Marilyn Manson. In the past we always wanted to work with Björk, but she has done so many things with strings now so it doesn't feel as interesting anymore.
Metal Covenant: : One band that has influenced you a lot is obviously Metallica. What did you think about their much debated album "St. Anger"?
Paavo: In my opinion, that album was very good and had a good statement. But it's a bit hard to listen to. It's not my favourite and I enjoy the older ones more. If you're in the right mood it can be great to listen to, however.
Metal Covenant: Do you have anything special you want to say to your fans and the Metal Covenant readers?
Metal Covenant: : And finally, what is the one question that you have never been asked during an interview, but you wished you had?
Paavo: Hmm… How about, "What do you think about windsurfing?"
Metal Covenant: : So, what do you think about windsurfing?
-------------------------------------------------------------------

Related links: