Interview conducted July 15 2016
Interview published October 23 2016
One of the headliners at this year's Gefle Metal Festival in Sweden was thrash titans Anthrax, and an interview was duly arranged. With the whole band present, your correspondent got the honour of talking to none other than Joey Belladonna, one of the more familiar faces in metal.
As a long-time fan, it was a real treat to sit down and chat with the frontman, who was an easy-going, cheerful and talkative guy who seems to enjoy his role in the band as much as ever. Our restricted time went by way too fast but we will hopefully meet again, maybe even at a show with the passionate musician's cover band.

Mozzy: I've seen Anthrax twice recently, at Sweden Rock and at Graspop too, actually.
Joey: Oh, how was that for you (Graspop)? It was a good day, but a bit chilly. But it was nice, and a great atmosphere.
Mozzy: Maybe it was a bit chilly, but one can always have a couple of extra beers to get warm inside (smiles).
Joey: Oh yeah. Well, if I was going to those festivals, I would come with everything I need, man. Proper boots, warm jacket, raincoat, maybe even gloves for that matter.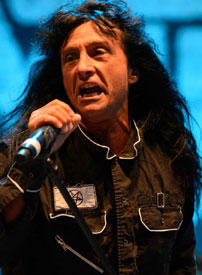 Mozzy: Did you go to festivals when you were younger?
Joey: Well, where we lived we didn't really have them. If we were lucky, we had one of those small blues festivals or jazz festivals. Like really, much much smaller ones. But it was decent, you know, we used to go to them and had a blast. You could meet some friends and everyone gathered. We would park and go in and spend the whole day listen to some good music.
Mozzy: Cool. Metal festivals are more of a recent phenomenon too.
Joey: Yeah. And hopefully the weather will stay nice today, it looks good.
Mozzy: About the recent shows again, you seem in great form live at the moment. Even more so than a couple of years ago, I think.
Joey: Thank you. I hear people saying that. What do you see, then? I feel like I'm just there doing what I do.
Mozzy: It just struck me when I saw you at Sweden Rock and then at Graspop. You just came onstage and went for it, and it feels like there is more energy onstage now. Could Jon (Donais, guitar) have something to do with it? He's been with you for four years now or so.
Joey: Cool. You know, I feel better at everything because I concentrate on a lot of stuff. I've gotten more used to doing what I'm doing with them, you know. But at the same time I was gone so long so I didn't really have any set things to do. I think I came back with a lot more thoughts and ability, I guess. I don't know.
Mozzy: I've heard other people too saying that Anthrax have impressed live. Maybe also with Rob (Caggiano, guitar); he was very good too but…
Joey: He was at our show the other night, he came and visited us in Norway.
Mozzy: Oh, cool.
Joey: But Jon does a great job. They're kind of similar, they have a little of the same trait so it's not that there is a completely new style.
Mozzy: But Jon is more energetic onstage, I think.
Joey: Yeah, he fits right in. It was a nice and easy transition for us.
Mozzy: And for yourself, you've been back in the band for six years now. How has that been?
Joey: Yeah. You know, I feel good about what we're doing. I like the material and the songs. I think the idea and structure of the music fits well for me. I think we're grown. Everybody's into it, you know. I don't think anyone lacks inspiration or expectation to be really good, you know.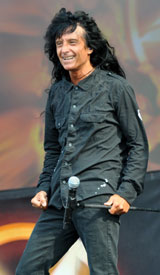 Mozzy: Maybe the fact that you were away all those years brought new inspiration and energy as well?
Joey: Yeah, you know before I felt like I was being pushed into a corner, like as if I wasn't accepted for what I was doing. Obviously, they had a reason for moving to a new vocalist, but I don't know why. I was doing what I was doing now. But this time, I didn't care so much. I said 'I do what I do'. Especially with the records; I do my singing alone now. I don't have people in there and it's so much better.

I get to try things and it makes it work for me. Especially with the records. Live, I have a lot more confidence. I don't worry about this guy feeling that way because I feel I know what I can do. I'm not worrying about someone thinking I'm not good enough. So I have more confidence, I think.
Mozzy: So maybe being away was positive in some way, although it must have sucked as well?
Joey: I guess. In one way, it sounds right, but in other ways it's kind of a drag. In fairness, it sucked, because it didn't make any sense, you know. But at the same time, I'm ok with it. I just do what I do and I love music so I don't ever let up. I really can't wait to go out and do a good job. And I want everybody, like yourself, to feel 'wow, he really did what I wanted him to do'. Because some people don't; they don't give everything they've got, or maybe they can't do that.
Mozzy: When you were away from Anthrax, you did a couple of records.
Joey: Well, they were more demos really, I wish I would have stated that. It was so fast, with people coming in and we were writing music. I just wanted to put something out, even if it was not really ready yet. I had to do something, I just wanted to. Unfortunately, it was not big-time, like Anthrax status or something.
Mozzy: Did you play live then as well?
Joey: Yeah! We went out with Motörhead for a month and so on. We did some shows, yeah.
Mozzy: Was that fun perhaps, to play at a smaller scale?
Joey: Oh. it was a blast! We were in a van, and four of the guys hadn't toured before. We loved every minute of it. Obviously, it was way different to what I had been doing. Some people say 'I can't do this, it's shit'. But I loved it, and what else would I be doing? I even have a cover band, I still play every week. I'm going to play the night I come back! And I drive and set it all up too (Joey plays drums and sings), so I don't give a shit.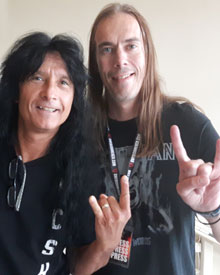 Mozzy: Very cool, it's a sign that you love music. I would love to see that cover band (smiles).
Joey: Yeah! If you were there you would see we were all having a good time.
Mozzy: I went to Prague for the Big 4 show in 2010.
Joey: Oh!
Mozzy: It just felt right then that you were back as singer.
Joey: I think that was started this whole thing; that Metallica asked us to do it. It was like 'you've got to have him', and lucky me, you know. So thanks to Metallica (smiles).
Mozzy: It felt more authentic with you on vocals.
Joey: Yeah. And I'm glad I got a chance to do those shows, because they were really a great thing to be part of.
Mozzy: It was special indeed.
Joey: Yes, I would love to do more actually. Maybe we could pull out more someday.
Mozzy: That time in 2010 you had the song Only in the set. That was a bit unexpected. It sounded good with you on vocals though.
Joey: Well, no offense to the song but I couldn't care less if we did any of that. I don't think we needed to do it, because we have that whole catalogue of records. They even re-did a whole record of the old stuff (The Greater Of Two Evils, came out in 2004). I remember Charlie saying about another band who did that, like "why did they do it?". I was like "well, you did it" (laughs).
Mozzy: (laughs). Yeah, that was not really necessary, that record.
Joey: Right.
Mozzy: Well, I think our time is up now. Thank you!
Joey: Oh really? Well, thank you!

See also: review of the gig the same day

Related links:

www.anthrax.com
www.facebook.com/anthrax