Interview conducted April 09 2011
Interview published April 17 2011
Annihilationmancer are a technical thrash act from Naples, Italy. They have been around for over 15 years, but finally, their first full-length album licensed by Pure Steel Records called 'The Involution Philosophy' is made available to avid enthusiasts. Fans of Pestilence, Death, Coroner, Believer, Anacrusis, or even Dream Theater will want to reflect on the images, words, and life cycles of their existence.
When Pure Steel contacted me about interviewing vocalist and guitarist - Bruno Masulli - concerning their new album, I was very excited to get in touch with him. He was quite busy, but we were able to exchange a few choice, symbolic words. Come join us, and wrap your mind around the esoteric and terrifying mysteries of 'The Involution Philosophy'.

MettleAngel: Hey Brother, how goes it?
MettleAngel: It is my absolute pleasure. I have been playing the Annihilationmancer album, for about a week, and I am totally digging it! Where did you come up with such an outrageous name?
Bruno: I am glad you asked. Well, to be honest, it comes from a very old band name called Annientamento (Annihilation).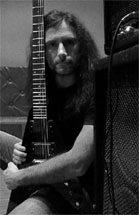 MettleAngel: Oh, I get it; you had an Italian name, and wanted to expand upon it.
Bruno: Well, sort of, for it was then that I thought about using a different name that was not necessarily in my native Italian language; but also one that was also not very common.
MettleAngel: I assumed that the name combined the word "annihilation" with the term "necromancer".
MettleAngel: I am a fan of the great Italian Thrash legacy. Several acts like Wyvern, Spitfire and Schizo from the past, and acts like Hyades, Subliminal Crusher, Nasty Tendency and yourself are spearheading the new movement.
MettleAngel: I am so grateful to have discovered the scene early on. It was the 'Metalmaster Compilation' which first introduced me to acts like Strana Officina, Mondocane, Deathrage, Death SS, Royal Air Force, Sabotage, and of course Bulldozer.
MettleAngel: Of course, how could I forget Necrodeath! Their current guitarist Pier Gonella contacted my wife about reviewing his other female fronted act Mastercastle, last year.
MettleAngel: He personally sent us the 'Old Skull' CD which includes killer covers of Sodom, Venom, Kreator, and Diamond Head. Tell me a little bit about the origin of your band.
MettleAngel: Tell me about it, some great bands were making some lame albums.
MettleAngel: Good for you! Are you familiar with the band Nuclear Simphony?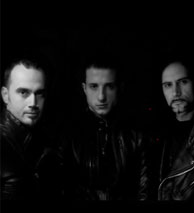 MettleAngel: Wow! They are my favourite Italian Thrash band ever! Their album 'Lost In Wonderland' is a very rare Thrash essential licensed by SPV. The reason I ask this is because your band and the music really remind me of them. I love their attitude and lyrics.
MettleAngel: Absolutely! The song "Create Your Destiny" still speaks to me! I was hoping that you knew, or were at least familiar with them. I assumed that perhaps you were even influenced by them.
MettleAngel: That is cool! When I do play the new album, I also hear a lot of Chuck Schuldiner Death elements in your music; especially, 'Human' and 'Individual Thought Patterns'. What are some of you other influences?
MettleAngel: This is what I thought.
Bruno: When I create Thrash Metal, I am influenced by these types of compositions. They serve as our great inspiration. Those albums you mentioned are very important, as are 'Symbolic' and 'The Sound Of Perseverance'.
MettleAngel: I enjoy all the Death albums, but the line-up on the aforementioned albums is crucial.
MettleAngel: When Andy LaRocque first joined the band, I was so impressed. I am very excited about his new project with Tony Martin, and Magnus Rosén. Strangely enough, I think they are just calling themselves Black. Magnus and Andy worked together in the much maligned X-World/5 with the Pagan's Mind vocalist Nils K.Rue.
Bruno: Our other influences include Megadeth, especially 'Rust In Peace' era, and Coroner, Carcass, Dark Angel.
MettleAngel: Gene Hoglan from Dark Angel was also a great drummer for Death. I saw him on the "70,000 Tons Of Metal" cruise filling the seat for Fear Factory. He has also been quite successful with Dethklok.
MettleAngel: I would definitely agree with the Coroner and Carcass parts. What is the 'Involution Philosophy'? Is there more to the bands' esoteric lyrics, are you experimenting musically, like Cynic, Sadus, & Pestilence have done?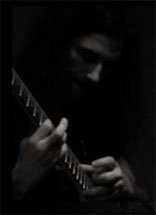 MettleAngel: Wow, what an epistemological nightmare, and a mouthful too! Like I said, I can hear the Pestilence influences; especially, when they stepped out of bounds with 'Spheres'. I am excited about their forthcoming release called 'Doctrine'.
MettleAngel: That seems a bit perplexing, and slightly enigmatic. Is this metaphysical suggestion intended to confound and lead to confutation?
Bruno: For us, the technology endures, but at the same time, forests die, and thousands of innocent people fall fatal to new and old diseases.
MettleAngel: Oh, so you are alluding to social entropy, and moral atrophy?
MettleAngel: This calls to mind the Rush song "Circumstances", "The more things change, the more they stay the same." You are thus referring to life as being a vicious cycle of existence, are you not?
Bruno: Yes! We have nuclear catastrophes, wars, and massacres for power, while religions rule and dominate over the weak and the uninformed people. These are primitive complexities, whereby such complex killings occur. The madness of the mass media dictates, as our economic interests are secured, such that everyone in turn becomes oppressed.
MettleAngel: I think I understand what you are inferring, namely that our involution is involuntary vice. In Eastern spirituality, though, involution can also translate as the inner path of the human soul to the very self.
MettleAngel: This may explain why several of your songs are of great length and very detailed. Perhaps there is also a Progressive 70's Rock influence to the band?
MettleAngel: You mean like Deep Purple, Maiden, and Rainbow?
Bruno: Yes, and no. When I was younger, I listened to many different styles of music like Fusion or other types of music, which assisted me in developing a more realistic scope of melody, and enveloping a complete vision of music.
MettleAngel: I thought I detected some Jazzy experimentation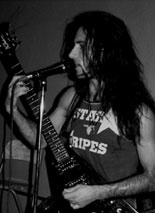 MettleAngel: You mean like Tony Choy, Roger Patterson, or Steve DiGiorgio?
Bruno: When he joined the band, he brought with him his immediate influences. Meanwhile, our drummer Andrea Cannata - the last of a very long list of previous drummers - brings with him his stylistically fluid-like techniques.
MettleAngel: Oh no, the Spinal Tap curse of ex-drummers!
Bruno: It certainly has not been a simple task to find a good drummer for us. Andrea may be young, but his Prog. Metal accountability and Jazz shifts allow for more versatility. He is simultaneously influenced by both Dream Theater and Virgil Donato.
MettleAngel: I wish Mike Portnoy was still in Dream Theater! How did you get signed to Pure Steel? Your album was self-released last year. Is this version now re-mastered?
Bruno: No, the album was released only for labels and for promotional use. We decided to send promotional copies to find a good deal, for an official release and distribution. Fortunately, we found Pure Underground Records. This is our actual label.
MettleAngel: I was confused, as it was Pure Steel who sent me the music, and asked me to do this interview with you. I am grateful that you are gaining their support.
MettleAngel: They must be a new label. I know they also signed the great Austrian act called ValSans. Their album, simply entitled 'Sword', is awesome... in the vein of Viron or Stormwarrior. What are you hoping that Annihilationmancer can contribute to the Metal Milieu?
MettleAngel: If every album is solid and inspiring like your debut, then I trust you will be successful. Bruno, thank you for your time.
Related links:

www.annihilationmancer.com
www.myspace.com/annihilationmancer