Interview conducted May 20 2009
Interview published June 02 2009
Helsinki's Amorphis have been at the top of their game for the past few years, due in no small part to the kick in the arse given to them by no-longer-new vocalist Tomi Joutsen. Skyclad (debatably) started it all with The Wayward Sons Of Mother Earth, but Amorphis gave folk-infused metal balls with 1992's The Karelian Isthmus. The early '00s saw the band stepping slightly away from their roots, but return to form Eclipse saw fans rejoice as the Finns revisited national epic the Kalevala. Silent Waters followed, which now flows into Skyforger, in this writer's opinion the most cohesive album since Elegy. Over the phone lines from Helsinki, Joutsen enlightens…

Lord Randall: You got your start with Amorphis with 2006's Eclipse, which was seen not only as a musical comeback for the band, but one in which they returned to their national roots with a tale taken from the Kalevala. Having been in bands yourself both as a singer and musician, and knowing the history of Amorphis, did you feel a bit of nervousness stepping into such an already established entity?
Tomi: Yeah, of course! I was a fan before I joined, and I knew that this band is one of legend, and they started something new in the metal scene of the early '90s. I had some pressures also because Pasi [Koskinen, former vocalist] did a great job, and lots of people love him. At the same time, I had some new ideas and things I wanted to bring to the band. I was quite optimistic when I joined Amorphis, but you never know how the fans are going to react when a member (especially a frontman) is replaced. I've been lucky in that, because both the fans and guys in the band have been really open-minded in their acceptance.
Lord Randall: In the past, vocalist Pasi Koskinen had written a good portion of the lyrics, yet it seems that since your appearance, guitarists Esa [Holopainen] and Tomi [Koivusaari] have contributed more lyrics. Was this due to your unfamiliarity with English as regards its use in lyric-writing?
Tomi: Exactly! Truthfully when Pasi left there wasn't anyone in the band who wanted to write lyrics, so we thought it would be a good time to get some more influence from the Kalevala. The music they were writing was more folk in a way, bringing in more influences from their past, so it made perfect sense.
Lord Randall: On Skyforger, lyrics are credited to Pekka Kainulainen, as they were on Still Waters. As a vocalist, do you feel it's more important to write your own lyrics when possible, or to feel genuinely passionate about what you're singing regardless of who wrote the words?
Tomi: As you said, he wrote the lyrics for the last album also, and did really great work, so we wanted to continue with him. He knows so much about the book, and he's an artist as well, so he really was the right guy for us. We fit the poems he wrote to the music that had been done, and came out with something we feel is best for Amorphis, as least for the time being. To be honest, the best situation would be that the singer is writing the lyrics, but I can tell you right now, that means we'd have a lot less fans [Laughter]! I haven't ever really been that into that aspect of being a vocalist, and I'm used to singing lyrics that other people have written, so it's not a problem for me. The passion, the emotion is what's important, and I feel I bring that in a way that is convincing and heartfelt.
Lord Randall: Understanding that Eclipse may have been mostly written and arranged before you even joined the band, what have you done since to put your own stamp, your own signature into the Amorphis sound?
Tomi: I think one thing we are is…I think we have more energy at the moment. If you see Amorphis playing live these days, we have more energy than we've had in the past 6 years, which is something I feel I had a part in. I was really motivated when I joined and wanted to show what I was capable of, while at the same time keeping my feet on the ground and being myself. I've done my time in other bands, and these guys have been playing together for so many years that I think we're in a good place right now to benefit from each other.
Lord Randall: Skyforger has been called the final installment in a trilogy of concept albums dealing with stories from the Kalevala. Was this planned from the start, and where do you go from here?
Tomi: Maybe the next will…what I'd like to do is something different, yet still Amorphis - something like possibly a death metal only EP, or an acoustic one. We've been working with the same team for the past 3 albums, and we've recorded 2 of them at Sonic Pump, which is here in Helsinki and gives us a chance to go home every night and clear our heads. By the time we get into the studio the songs are mostly if not all done, and we know what we want. It's good then that we can have some distance from the music at times instead of just living at a studio for weeks on end.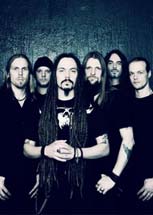 Lord Randall: Just like Van Halen never had a #1 album in American until Sammy Hagar joined, Amorphis has been the recipient of both their first gold albums, and now "Silver Bride" has entered the Finnish national chart at #1. It has to feel good to know you contributed to this success.
Tomi: [Laughs] I don't know what happened, but I guess we did something right! I'm very glad and humbled that people like what we did. We did lots of shows and promotion for those albums just like for this one, so this is just our energy coming back to us. We have lots of ideas for the future, and I could see us 10 years down the road still playing in this lineup.
Lord Randall: Esa calls Skyforger a "...unified entity", and the most musical album you've done. Do you feel that music - that albums can be in a very mystical sense living, breathing creatures speaking to the listener?
Tomi: My favourite albums were and still are the kind where you can't just listen to 1 song here or there and have it affect you. I like the ones where you have to give the album the time it deserves and let it take you away from the stresses and strain of everyday life. This album is one of those, though most of the topics are sad, or more gloomy. Even these types of music can be a good escape.
Lord Randall: I've often felt that albums and live shows are in a sense a dialogue between the musicians and their fans, with the band communicating through their albums, then the audience responding in the concert setting.
Tomi: Yeah, it's always nice to see people enjoying the music. We don't really have the kind of sound you could convincingly mosh to, and lots of times our audience isn't really the headbanging type anyway. Sometimes I'll look out and see people just standing with their eyes closed just enjoying the show. It's still a little confusing sometimes, because I'll be looking at the other guys going "Did we fuck up? What did we do?" [Laughter]. They're just enjoying the music in their own way.
Lord Randall: I've been a fan of the band since Tales From The Thousand Lakes, and I feel that Skyforger is the first album where the mixture of folk tales and rock and roll have reached the ideal blend.
Tomi: Thank you, that's a great compliment! I think that some of the folk metal bands who call themselves that just want to have a beer and dance to the music. There's nothing wrong with that, and I listen to that stuff myself, but for me the sad melodies are really what's important in Amorphis. We have pagan influences in our lyrics, but have never really tried to be anything except Amorphis, so I'm glad that's being noticed now.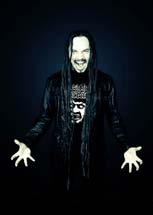 Lord Randall: Travis Smith has been involved in the art direction of all the albums of your tenure. What do you feel his images bring to the music within? I'm sure you've heard enough of the similarity between the cover image this time around and that of A Static Lullaby's Faso Latido.
Tomi: We will usually give him a few ideas - like with Silent Waters we knew we wanted to have a swan, as that's kind of the focus of the album. Of course he has his ideas, but he's really open-minded and ready to listen to our thoughts on his work. We appreciate that about him, because it can be really frustrating as an artist to hear critiques from band members who only have vague ideas and know little to nothing about the creation of that kind of art. [Laughter] Yeah, we know about the similarity of album covers, but there are as many things different as there are alike. It's not like every album with an upside down cross on the cover gets compared to every other, you know?
Lord Randall: Maybe I'm hallucinating a bit on this, but remember the old Iron Maiden albums, how there was always a hidden skull somewhere in the cover art that you had to look for? I noticed a circular theme in the art of the trilogy. There's the obvious sphere on the cover of Eclipse, the moon on Still Waters, and the circles in the flower on the back panel of Skyforger. Am I off base on this?
Tomi: I do remember that about the old Maiden albums, but I'd honestly never noticed the circle theme on the last 3 of ours! I'm going to have to pull them out and look more closely, because you might have something there! I do think it's great when an artist (maybe) subconsciously ties pieces with a similar theme together. It makes the whole thing more cohesive.
Lord Randall: So, spill it. How'd you get Lars Ulrich's dad to be in the "Silver Bride" video?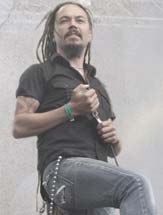 Lord Randall: Explain for those who aren't familiar a little of the story of the Silver Bride. Also, what do you think it is about the Kalevala that so captivates the hearts the Finnish people?
Tomi: In a way it's a sad love story. The main character is a blacksmith who wants to have a wife. He meets a girl but something goes wrong, so he makes a bride for himself out of silver and gold. He can't get love from her though. It's kind of like nowadays, you can have lots of money and possessions but still not be happy. Of course when we're at school we have to study about the book, which was one of my favourite parts of school [Laughs]. Not everyone has this respect for the old ways, not even in Finland. I mean, it's a part of the culture in statues and engravings and plaques around the different cities, but it's not like we're all walking around Helsinki thinking "Kalevala, Kalevala". For me at least it's more of a subconscious thing, this respect for our ancestry and the old way of thinking.
Lord Randall: Though most write mythological stories off as simple fairy tales, there was always an element of truth (however strained) to lessons they held within. What do you think happens when technology takes over the world? What happens when the legends are forgotten?
Tomi: It's really important to have a history, and to know something about where you came from. I think it gives you a sense of power. I really like older people in a way, because you know they have a kind of wisdom that we don't. They know how the world was working a hundred years ago before all the computers, cell phones and iPods. I use that stuff as much as anyone, but it seems that life was more simple back then as far as knowing how you related to those around you and to the Earth itself. It's really difficult to be alive today in that respect, because you have to search harder for that connection.
Lord Randall: What does the rest of the year look like for Amorphis?
Tomi: Summer's almost here in Finland, so we have a few festivals here, and some over in Europe, the summer festival circuit. After summer come some shows in Russia (which is always fun), then a new European tour. Early next year we want to get to South America and Australia, and later on hopefully a US tour if we can find a good package.
Related links: