Interview conducted March 15 2011
Interview published March 18 2011
Never one to disappoint in the pursuit of Viking mythology, and the most memorable runic riffs to my memory, with Oden on our side, we heed the sound of the victorious march, and the triumphant return of Amon Amarth. Soon the avenging wrath of the Norsemen will again be felt once these Guardians of Asgaard release their next crusher - 'Surtur Rising'.
Recently, I experienced the resounding twilight of the thunder gods on "70,000 Tons Of Metal". Next, I had a chance to speak with original guitarist - Olavi Mikkonen - about the new album, their choice of bands to cover, our fate of norms, and given recent world events - in the midst of the war of the gods - what it means to be us versus them.

MettleAngel: Hey Brother, we just saw you on "70 K". If you recall, you gave my son a guitar pick.
MettleAngel: Better! We were all so sick days after we deboarded. It was so cool to see you on that boat. If you recall the last show of the last night, where you played on the pool deck, it was so damn cold!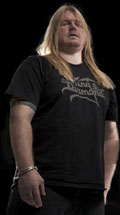 MettleAngel: All of us bangers went from T-shirts and jeans to hoodies! It was awesome, because while you were up there playing the melodic death tones in fire, it almost began to sleet. That was such a killer and memorable, breath-taking performance!
MettleAngel: We were hoping you would debut some new material. I asked you and Johan about this the first day, when we joined you in the dining room for lunch.
Olavi: Yeah, we just wanted to stick to the older songs, because we have a big US tour planned where we will play the new album in its entirety.
MettleAngel: I have read about this. You also will come back after a break, and then do a complete set of classics, right?
MettleAngel: The new album is awesome! I see you will also soon tour the UK with Children Of Bodom and Ensiferum.
MettleAngel: Man, talk about three bands above the crest of the norm! We saw Ensiferum on the cruise. I actually hung out with Sami Hinkka.
MettleAngel: We saw Saxon together. That poseur took the pick I was going to give to my son, and then he traded it for another drink. In all fairness, though, he did catch it, when it slipped out of my fingers.
MettleAngel: My wife and I would love to see Bodom too. Their new album is quite impressive, and the best they have done since 'Hatecrew', well, unless you count the cool covers compilation - 'Skeletons In the Closet'. I have not heard their new cover of Eddie Murphy, though.
MettleAngel: They do "Party All the Time", literally. I am sure it is hilarious, as most of their covers are quite creative! Hey, speaking of covers, I understand that you have a few planned for various special editions for the new album?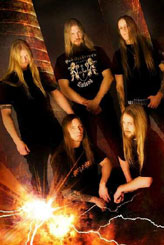 MettleAngel: I am dying to hear the Accept and Kiss. What is up with the cover of System Of A Down? I saw Johan sing that in karaoke, on the cruise, but I thought it was a joke.
Olavi: Yes, and no. We have recorded our own version of it for the digital release of 'Surtur Rising'. Johan knew the lyrics, already when he did that karaoke thing that night. There is an interesting story behind the evolution of that track and our eventually choosing to cover it.
MettleAngel: Oh please do tell!
Olavi: Well, it goes back to the first time we toured America. That song was all over the radio, then. Our driver loved the band, and that is the only cassette he would play in the van. It droves us batty!
MettleAngel: I too would feel a bit tetched, if I were submitted to that song ad nauseum. I just heard it for the first time ever, right before this interview. I watched the video at You Tube.
Olavi: Did you see that our version has already been leaked there! This upsets us a bit, because it means that someone in the digital industry did this, as we only made iTunes and Amazon privy to the song.
MettleAngel: That sucks!
Olavi: Well, what can we do! Anyway, we would sing this song while on the bus to annoy each other; especially while we were drunk. Then one day we began to seriously like it. We were in Japan at a really nice Karaoke bar, and the fans dug it, so then we decided we should attempt our own cover.
MettleAngel: I have heard the Black Sabbath cover of "Children of the Grave", as I have the Tribute CD which also features Turisas doing "Supernaut". I have not heard your Accept or Kiss covers though.
Olavi: Good! With Accept, we just did it justice, as it is one of the best Metal anthems ever! With Kiss we originally wanted to do "Gods Of Thunder", then realized how often this is covered in the Metal community.
MettleAngel: I can see that! In the mettle milieu this does seem to be redundant. The version by the late, great Chuck from Death, though, is killer!
MettleAngel: I agree, and it comes from a great album - 'Creatures Of the Night'!
MettleAngel: This and the Accept cover will be with the Pre-Order Edition, which also includes a DVD with the live performances from the Bochum shows where you did each album in its entirety, like on the remastered versions of 'Crusher', 'Avenger', 'Versus', and 'Golden Hall'. What made you chose to do these particular covers?
Olavi: There was no masterplan, really. I am a big fan of Accept. I really like their last album, and even without Udo, they put out a killer release, with their new singer.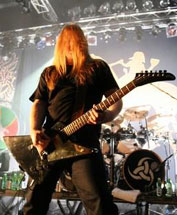 MettleAngel: Nuclear Blast made Accept one of their main priorities last year. Now they are focused on promoting the new Hell album with Andy Sneap. This is really not new at all, as most songs were written before he joined Sabbat in '81-83, when the rest of the guys were in Paralex.
MettleAngel: The new video for "On Earth As It Is In Hell" sure suggests this. I am also excited about the new project simply called Black with Andy LaRocque, Tony Martin, and Magnus Rosén!
MettleAngel: Talk about your simple names, but great musicians! This sure seems to be the year of supergroups, even when you consider Symfonia! I have been playing the new Amon Amarth album non-stop, and I noticed that this time you have attempted to use keyboards.
Olavi: No, not keyboards, but yes there are certain guitar effects, and synths.
MettleAngel: Yeah, like Maiden did with 'Somewhere In Time'.
MettleAngel: You mean like when you had Apocalyptica perform on "Live For The Kill" on the last album?
Olavi: Yeah, but not as intense. We are aiming for more orchestration in the studio. We keep it very subtle, and you may only notice it on repeated listens. Hell, the casual listener may not even notice it at all.
MettleAngel: I detected it right away, but then again, I am always tuned into the music you make. I still swear that Amon Amarth creates some of the most memorable riffs of all time. With every album, there are always at least two songs which just stick right with you.
Olavi: We really try to accomplish this, each time. It is not all that easy, as we do not want to fall into repetition. We are always concentrating on creating our own brand of music.
MettleAngel: I think that now after all this time you have created that Amon Amarth trademark sound. Speaking of this have you ever heard the Bluegrass cover of "Twilight Of The Thunder God" from the album called 'Slaughter Of The Bluegrass'?
MettleAngel: I like how for the second part it almost becomes Flamenco, and he sings in Spanish.
Olavi: Yeah, we play it as our outro music at shows, but most fans are like, "WTF!"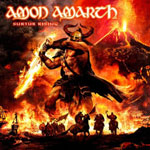 MettleAngel: I read recently in an interview with Johan that he does not want Amon Amarth to be viewed as a "Viking Metal" band.
Olavi: I personally have no problem with that label. I think what he was referring to, is that all these newer acts who call themselves this, also incorporate all these folk elements into their music. We do not use anything but traditional Heavy Metal instruments.
MettleAngel: Real "Viking Metal" ultimately began with Bathory, and is personified by Unleashed, Enslaved, and Einherjer. You saw "Twilight Of The Gods" play on the ship, they were awesome doing those early Viking era Bathory albums total justice.
Olavi: I agree, and the thing is we are Metal, and we sing about Vikings, so what is the big deal!
MettleAngel: Yeah, but your lyrics are not just like Manowar and "Thor The Powerhead", you really dig deep into the Viking Mythology. I learn something new about the legends every time I read your lyrics.
Olavi: Yeah, we do not just want to focus on the obvious. We know that some of our fans are really into the lyrics and want to learn more about Viking lore. Then again some of our fans could just care less about the lyrics.
MettleAngel: This sounds like what Karl says about Nile. Some fans care about the Egyptian and Sumerian themes, and some just like the music.
Olavi: The song 'War Of The Gods' is about the Asa-Gods war against the Vanir.
MettleAngel: Amon Amarth is not into Asatru and surely do not actually believe that Odin and Thor are real Gods.
MettleAngel: Well, I do not want to get too far off the subject. As you know I have the original purple cassette version of 'The Arrival Of the Fimbul Winter' Demo. I have supported the band for a long time. Now that you have been playing in this band for nigh two decades, what do you think is your best album?
Olavi: That is always a tough question to answer. I love 'Once Sent From The Golden Hall', but there are some songs on there which do not hold up. We did the best we could do then, but now we are so much better. This is why I would choose 'Versus The World'. There is no filler here.
MettleAngel: This was the album that gave me new hope for the band. After all that HammerFall B$, and neither 'Crusher' nor 'Avenger' moving me much back then, I was ready to give up on the band until I heard 'Versus'.
MettleAngel: I was also so grateful for the bonus disc which included the 'Sorrow Throughout The Nine Worlds' (EP) and demos. I had the original pressing of that on the Singapore label, before it was re-issued by Pulverised.
MettleAngel: I agree, and I love it. My friends and I always are excited about new Amon Amarth material, because it is always so fresh and vibrant. Also, you know you can count on the band to have the best packaging. I just wish I had the money to spend on those damn bobbleheads.
Olavi: (Laughs) Don't we all! People do not realize that when a band like ourselves become as successful as we are, we have to pay taxes. We are far from rich, but we do try to make all of our releases special for the fans who care, and will actually purchase the album. I myself buy tour T-shirts from the bands themselves, to support them.
MettleAngel: I do the same! Fans may not realize it when they bitch about paying $25-$30 for a tour shirt, that the club may take up to 30-40% of the profits, leaving the band with very little to tour on, given that the label seldom gives them much per diem.
MettleAngel: I wish, as that would be killer. I hope you at least will make a DVD of the experience.
MettleAngel: I know, but my family comes first, and the closest you will be coming is Cleveland. I will just have to catch you on YouTube, where anyone who missed "70 K" can practically see any band play live.
Olavi: Yeah, we have no problem when a fan posts live footage on there, we just do not want our music leaked before it is released!
MettleAngel: I understand, and I sympathize. Well, I guess we will wrap this up. Congratulations on another great album. Tell all the guys we send our best.

See also: review of the album Surtur Rising
Related links:

www.amonamarth.com
www.myspace.com/amonamarth